Mongolian Beef is a really quick and easy weeknight Chinese meal to make at home!
Popularized by the PF Chang's restaurant chain, it's a simple beef stir fry recipe that is made with thinly sliced beef cooked over a high heat with soy sauce, garlic, ginger and brown sugar to make a delicious sticky sauce you'll love!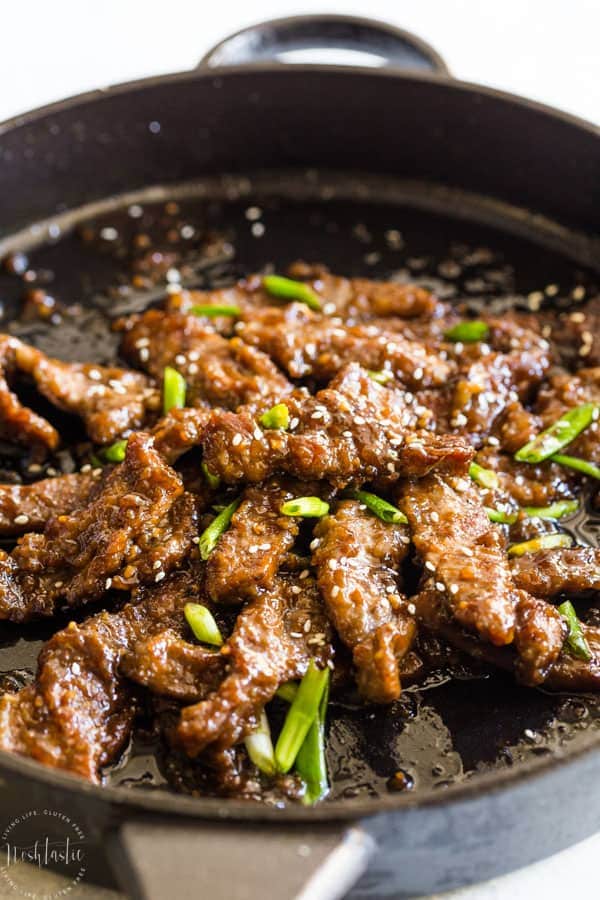 HOW TO MAKE MONGOLIAN BEEF
I used flat iron steak to make my Mongolian Beef recipe but you could also use flank steak, thin cut eye of round, or sirloin steak as an alternative.
A quick tip is to partially freeze the beef before you slice it, this allows you to make super thin slices of meat. When you cut it, cut the beef into thin strips against the grain.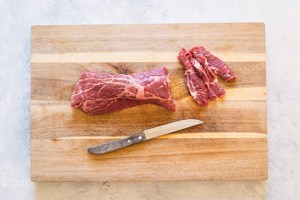 I like to marinade the beef first in just a little gluten free soy sauce. If you plan to serve your Mongolian Beef over rice then I'd put that on to cook first and then keep it warm while you cook the beef.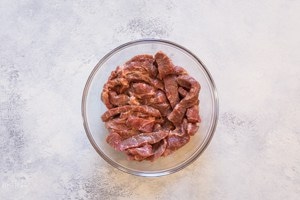 Then, after I've mixed up the Mongolian beef sauce and prepared the garlic, ginger and green onions I will get the skillet or wok ready with hot oil and then dredge the meat in a little cornstarch, be sure to shake of the excess starch.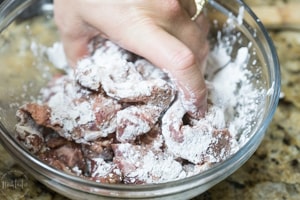 Then it's just a matter of adding the beef slices to the hot skillet and cooking quickly on both sides to crisp up, this will take just a minute or so per side and is best done in batches.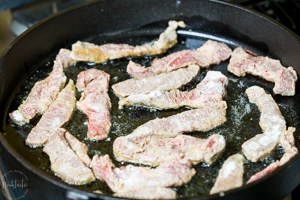 Next, you need to remove the beef to a rack,  I use a rack over a sheet pan so that it stays crispy.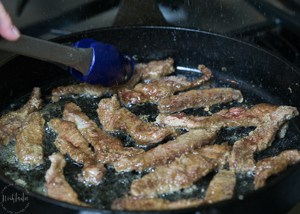 After the beef is all finished cooking you can remove some of the excess oil, add the garlic and ginger and then the remaining soy sauce, water and brown sugar and stir until the sugar is dissolved.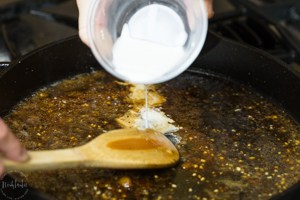 Then you can add the remaining cornstarch – you may not need it all – and let the sauce thicken up nicely.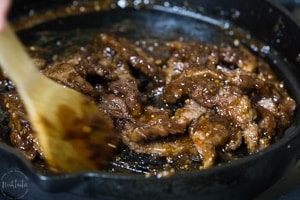 Add back the Mongolian Beef, green onions,  and stir everything for another 30 seconds. The sauce should be sticky and clinging to the beef.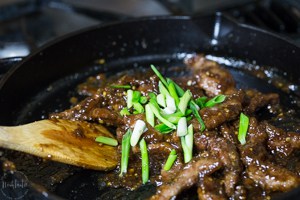 It's best served right away, you can reheat it but it won't be crispy any longer though it will still taste lovely and my kids will still eat it without complaint!
WHAT IS MONGOLIAN BEEF?
Mongolian Beef is a staple in many American Chinese restaurants and is my favorite thing to order when we visit PF Chang's! It may vary slightly from region to region but the basic recipe seems to be very similar.
Usually the beef is sliced into very thin slices and cooked in a super hot wok to get the edges a little bit charred and caramelized, In other areas it's served cooked in the Mongolian Beef sauce so it doesn't have the crispy caramelised edges.
This post contains affiliate links
IS MONGOLIAN BEEF AUTHENTIC?
Mongolian beef is not authentic to Mongolia and the version we know and love today evolved in American Chinese restaurants. There is a Chinese dish that is very similar but it has a different name.
WHAT VEGETABLE CAN I SERVE WITH MONGOLIAN BEEF?
Mongolian Beef is already made with a generous amount of sliced green onions and is typically served with rice. If you want to add another vegetable on the side I would recommend broccoli.
WHAT IS MONGOLIAN SAUCE MADE OF?
Mongolian sauce for this recipe is made from soy sauce, cornstarch and sugar.
WHAT SPICES ARE USED IN MONGOLIAN BEEF?
There are no actual spices in Mongolian Beef, it typically contains sliced beef, garlic, soy sauce, sugar and green onions.
Related Chinese Recipes
Mongolian Beef
Best Mongolian Beef Recipe, quick and easy to make!
Prep Time: 10 minutes
Cook Time: 10 minutes
Marinate: 1 hr
Total Time: 1 hour 20 minutes
Total Carbs: 18 g
Protein: 45 g
Servings: 4 people
Ingredients
MONGOLIAN BEEF STIR FRY
1/4 cup coconut oil , for frying the beef
1/4 cup cornstarch , for dredging the beef
1 teaspoon ginger , grated
2 cloves garlic , chopped
MONGOLIAN BEEF SAUCE
1/4 cup water
2 tbsp light brown sugar
1 tablespoon cornstarch , mixed with 1 tablespoon cold water
3 green onions , cut into 1-inch long diagonal slices
Instructions
Cook the rice first if you intend to serve it with that.

Marinate the beef for up to 1 hour in 1/4 cup soy sauce

Heat 1/4 cup coconut oil in the wok over high heat.

Dredge the meat in a ¼ cup of cornstarch until lightly coated and shake off the excess.

Just before the oil starts to smoke, spread the flat iron steak pieces evenly in the wok or large skillet, and let sear for 1 minute (depending upon the heat of your wok). Turn over and let the other side sear for another 30 seconds.

Remove the cooked beef to a rack over a sheet pan. The beef should be seared with a crusty coating.

Drain most of the oil from the wok leaving about a tablespoon behind and turn the heat to medium-high.

Add the ginger and garlic and cook for about 10 seconds, stir, then add the soy sauce and water for the sauce.

Bring the sauce to a simmer, add the brown sugar, and stir until dissolved.

Let the sauce simmer for about 2 minutes and slowly stir in the cornstarch slurry mixture (you may not need it all) until the sauce coats the back of a spoon.

Add the beef and scallions and toss everything for another 30 seconds. There should be almost no liquid as the sauce should be clinging to the beef. If you still have sauce, increase the heat slightly and stir until thickened.

Serve your Mongolian Beef with rice.
Recipe Notes
adapted from Woks of Life
MAKE IT PALEO
You can make a Paleo version of my Mongolian Beef recipe with a couple of simple substitutions. 
Do not coat the beef in cornstarch in the first part of the recipe, just cook it in the skillet uncoated. Replace the cornstarch with tapioca starch or arrowroot for thickening the sauce, please note that they are more sticky than cornstarch and you may not need as much. 
replace the gluten free soy sauce with coconut aminos
use coconut sugar instead of brown sugar.
Nutrition Facts
Mongolian Beef
Amount Per Serving
Calories 599 Calories from Fat 333
% Daily Value*
Fat 37g57%
Saturated Fat 20g125%
Cholesterol 149mg50%
Sodium 1235mg54%
Potassium 783mg22%
Carbohydrates 18g6%
Sugar 6g7%
Protein 45g90%
Vitamin A 90IU2%
Vitamin C 2.1mg3%
Calcium 33mg3%
Iron 6.1mg34%
* Percent Daily Values are based on a 2000 calorie diet.
Nutritional information on Noshtastic is provided as a courtesy and is approximate only. We cannot guarantee the accuracy of the nutritional information given for any recipe on this site.
Course: Main Course
Cuisine: Chinese / American