Easy baked Paleo Cilantro Lime Chicken!  Made with Cilantro, Honey, Allspice, Lime, Chili Flakes and Garlic marinade, this is a Paleo recipe with a Whole 30 and low carb option.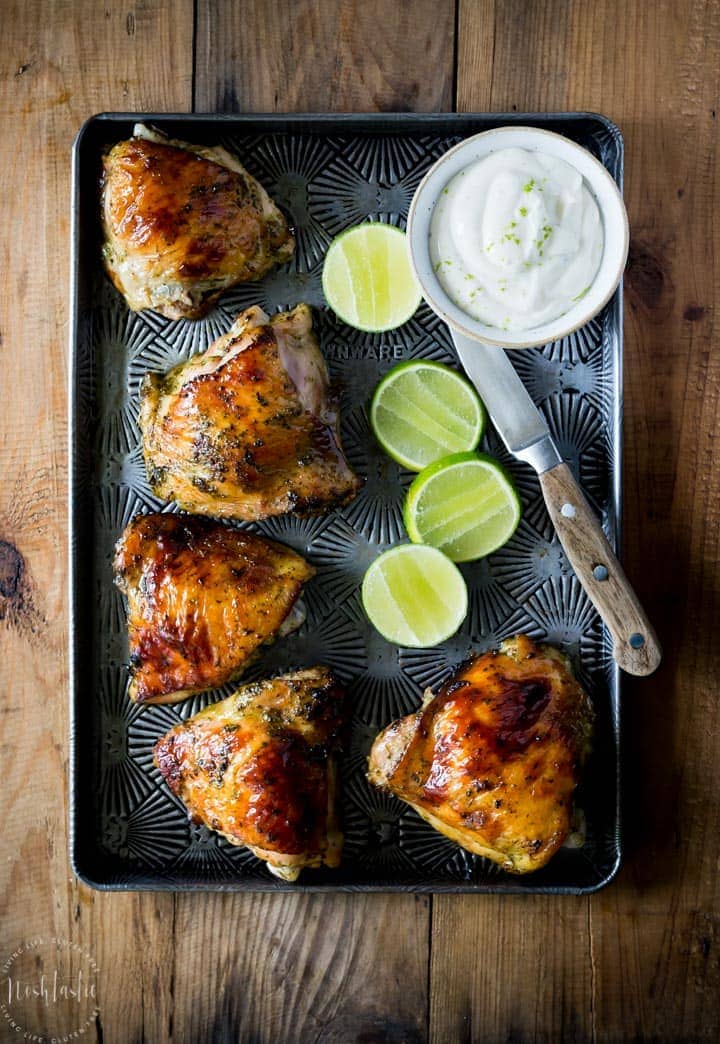 How to make Crispy Baked Cilantro Lime Chicken
Chicken and citrus flavors go so well together, don't you think? The lime juice with added cilantro makes such a wonderful combination of flavors in this marinade that you'll wish you'd made twice as much.
So the first thing you need to do is add all the cilantro lime marinade ingredients (except the chili flakes) to a food processor, or blender, and whiz it up until smooth. I always make sure I remove the cilantro stems as they don't always blend up as easily as the leaves.
Unless you have a very powerful blender you'll want to chop up the garlic cloves before you add them, otherwise they may not be properly blended into the marinade.
Once the marinade is ready you can add the chicken to a bowl or dish and simply pour over the marinade, cover, refrigerate, and let it marinate for an hour or more.
While the chicken is marinating, preheat your oven. I like to bake the chicken thighs on a Sheet Pan  for 45 minutes at 375f, that's usually long enough for them to be fully cooked and get a lovely crispy skin!
This post contains Amazon affiliate links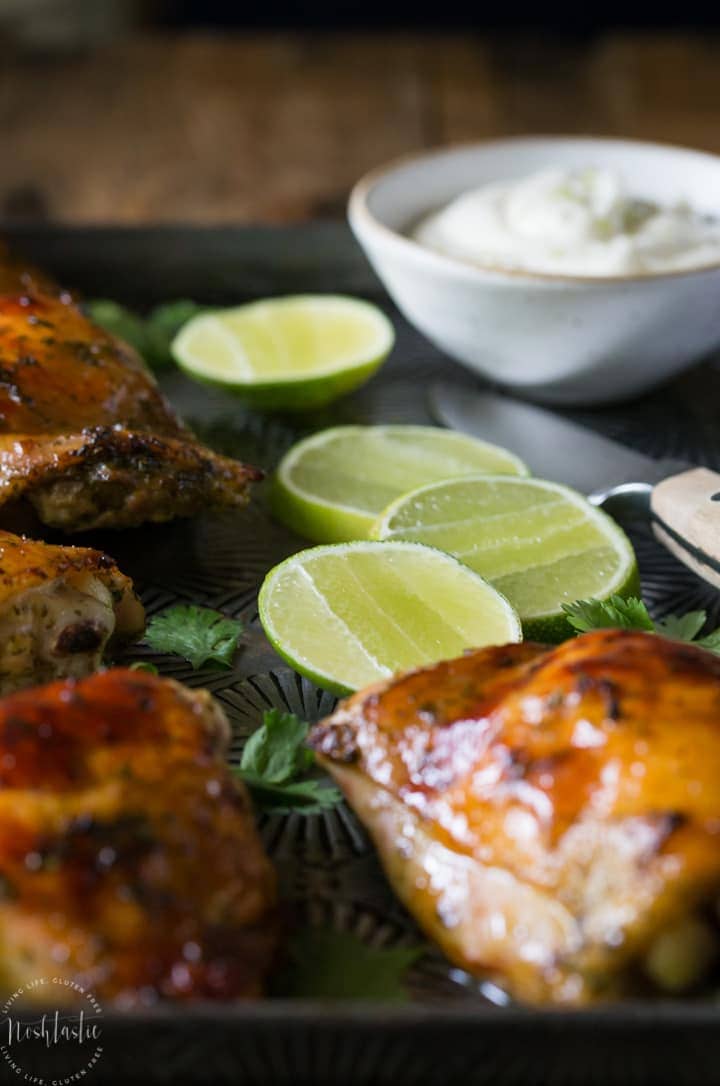 What to serve with Baked Cilantro Lime Chicken
I often serve this with rice for my other family members, but if you are following the paleo diet then cauliflower rice would be a good substitute,or a simple green salad with a vinaigrette dressing would work well too.
I also like it with zucchini noodles, they are really fun to make if you've not tried them! You'll need a spiralizer to make them properly. I have the Paderno Spiralizer and I LOVE it! It's worked really well for me so far and is a favorite with my fellow bloggers. Another fabulous option that I'd try if I didn't already have another spiralizer is the Inspiralizer, I know several people who have it and they swear by it.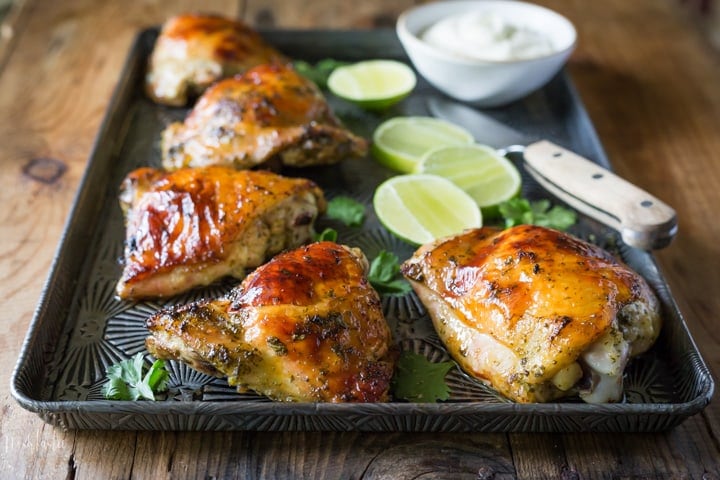 More Easy Paleo Dinner Options!
If you're like me, then I know that you're always on the lookout for easy weeknight dinners that don't require a culinary degree to cook, fancy ingredients, and will keep the rest of the household happy!
I have several options that I think you'll love. The first is my Paleo Meatloaf, it's a family favorite and is 100% paleo and Whole30 compliant. I added some shredded carrot to the meatloaf in place of the traditional breadcrumbs and I've also included instructions to make a yummy paleo gravy!
Next up is my Paleo Pot Roast! Its my paleo version of the classic company pot roast so you won't see any canned soups in my version! If you want to make it in the Instant Pot then this Pressure Cooker Pot Roast recipe will be perfect for you.
And lastly, you can't miss my Paleo Chicken Piccata, it's one of the top recipes on my blog and for good reason! It's really easy to make and has a lovely sauce.
Baked Paleo Cilantro Lime Chicken with Whole30 Option
Easy baked Cilantro Lime Chicken with Garlic! Made with a Cilantro, Honey, Allspice, Lime, Chili Flakes and Garlic marinade, this is a Paleo recipe with a Whole 30 option.
Prep Time: 2 hours
Cook Time: 45 minutes
Total Time: 2 hours 45 minutes
Total Carbs: 7 g
Net Carbs: 4 g
Protein: 37 g
Servings: 4
Ingredients
8 Chicken thighs , skin on
Instructions
Add all the marinade ingredients (except the chili flakes and chicken) to a blender, and pulse until smooth.

Place the chicken pieces in an oven proof dish. Add the chili flakes to the marinade, stir, and then pour it over the chicken.

Turn the pieces around in the marinade so it gets on all sides, cover and put in the fridge for at least an hour, or up to overnight.

Shortly before you are ready to bake the chicken, put your oven on at 375F

Bake the chicken thighs for 45 minutes or until they are fully cooked through.
Recipe Notes
CARB COUNT - if you omit the honey it comes it at around 4g carbs per serving.
Nutrition Facts
Baked Paleo Cilantro Lime Chicken with Whole30 Option
Amount Per Serving (119 g)
Calories 517 Calories from Fat 333
% Daily Value*
Fat 37g57%
Saturated Fat 10g63%
Cholesterol 221mg74%
Sodium 470mg20%
Potassium 507mg14%
Carbohydrates 7g2%
Sugar 3g3%
Protein 37g74%
Vitamin A 300IU6%
Vitamin C 9.7mg12%
Calcium 26mg3%
Iron 1.5mg8%
* Percent Daily Values are based on a 2000 calorie diet.
Nutritional information on Noshtastic is provided as a courtesy and is approximate only. We cannot guarantee the accuracy of the nutritional information given for any recipe on this site.
Course: Main Course
Cuisine: American