Packed with fresh ingredients and fabulous spices, you'll love my Two Minute Blender Salsa!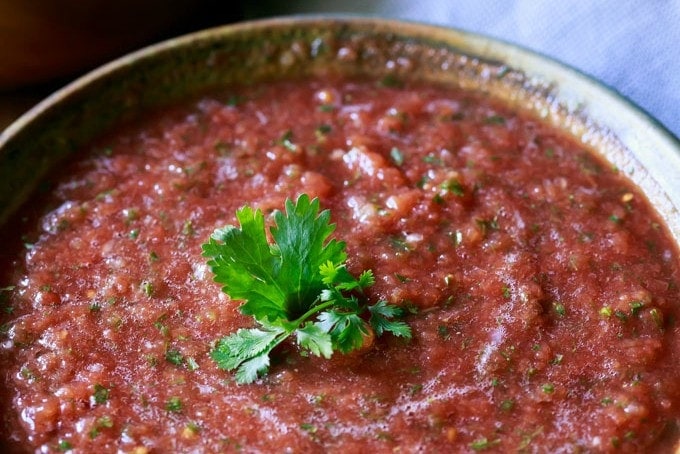 This post contains affiliate links
I thought about naming this recipe 'Instant Blender Salsa' as it's so unbelievably quick to make that it really is almost instant, but there are just a few quick steps that you need to do before throwing all the ingredients in a blender and turning it on.
Made with canned tomatoes, fresh cilantro, lime juice, cumin and onion, my blender restaurant salsa is so tasty and easy to make, and if you have company coming you can whip it up in next to no time.
Pair it with a big bag of tortilla chips and you've got an easy appetizer that everyone will enjoy!
Unless you like your salsa super hot then you'll need to remove the seeds from the Jalapeno pepper before you add it to the blender.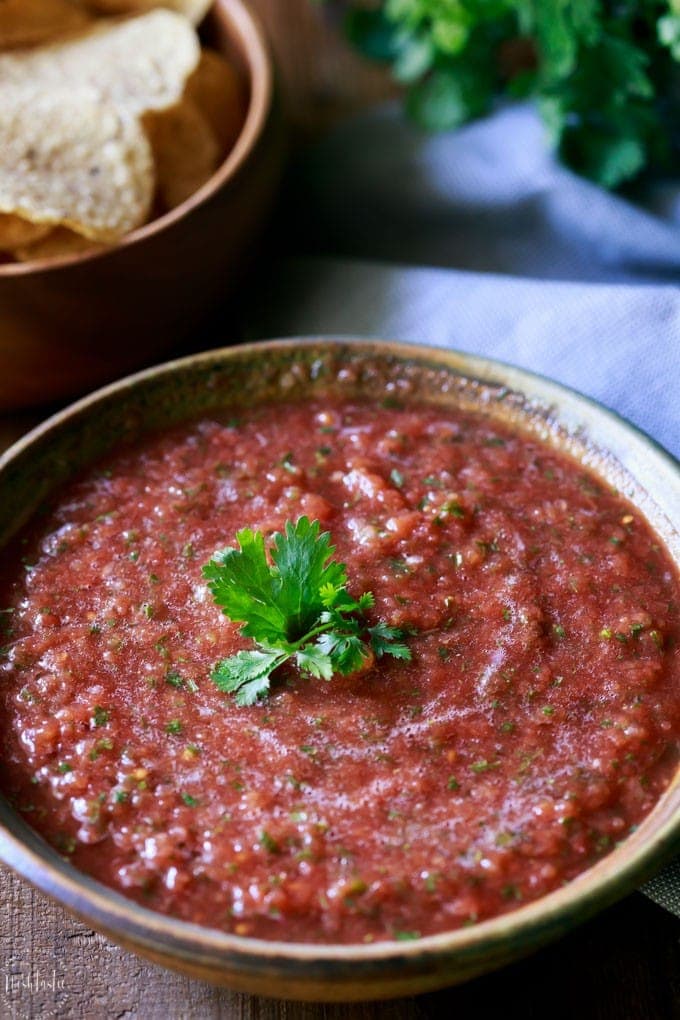 Be careful not to touch your eyes after you've prepped it, I've done that before and it was not pleasant! I discovered on the internet that if you get chili in your eye then you can pour full fat milk into it and should help, and guess what? It did!
It didn't take the heat out completely but it did make my eye feel a whole lot better. But I know you're much more sensible than me and wouldn't ever get chili in your eye 😉
I love the flavor of cilantro leaves in my salsa so I typically add a lot.
I think it's better if you can take just a minute or two to pick out the large stems from the cilantro as they don't always blend up particularly well unless you have one of those super expensive whizzy blenders that will blend anything.
Now all that's left to do is to add it all to your blender and switch it on until it's smooth!
It will keep in the fridge for several days and is great served with tacos, fajitas and all sorts of grilled meat.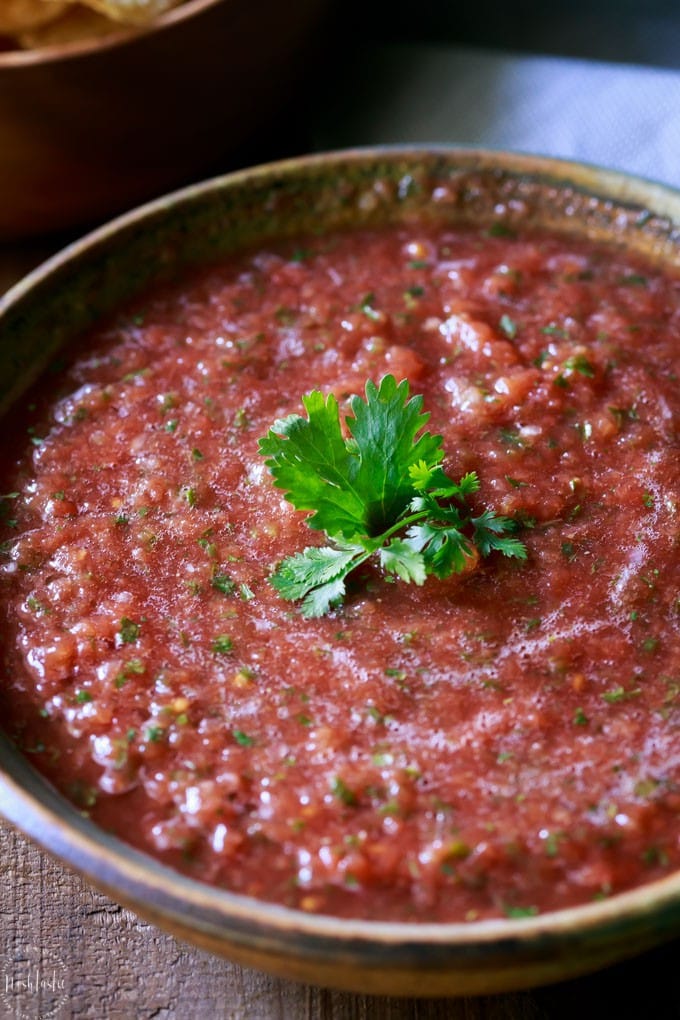 Blender Salsa
Easy restaurant style salsa recipe you can make at home.
Prep Time: 5 minutes
Total Time: 5 minutes
Total Carbs: 4 g
Net Carbs: 6 g
Servings: 10
Ingredients
28 oz chopped tomatoes in juice
1 bunch fresh cilantro
1/2 cup onion , chopped
2 cloves garlic , minced
2 medium whole jalapenos , chopped, no seeds
1/2 teaspoon ground cumin
1/4 teaspoon salt
2 tbsp lime juice
Instructions
Put all the ingredients in the in the blender, and then blend until smooth.

Just made sure you remove the jalapeno seeds unless you want extra heat, and remove the bigger stems from the cilantro before you add the leaves to the blender.

Taste and adjust the salt and seasonings, add a little more lime if you need to. Some people like to add a little sugar, I've not found this to be necessary for my taste.

Don't miss my recipe video! You'll find it right below the recipe directions.
Nutrition Facts
Blender Salsa
Amount Per Serving
Calories 19
% Daily Value*
Sodium 172mg7%
Potassium 172mg5%
Carbohydrates 4g1%
Fiber 1g4%
Sugar 2g2%
Vitamin A 175IU4%
Vitamin C 12.1mg15%
Calcium 28mg3%
Iron 0.8mg4%
* Percent Daily Values are based on a 2000 calorie diet.
Nutritional information on Noshtastic is provided as a courtesy and is approximate only. We cannot guarantee the accuracy of the nutritional information given for any recipe on this site.