It's so simple and easy to make, Peach Iced Tea Recipe made with real peaches and only three ingredients!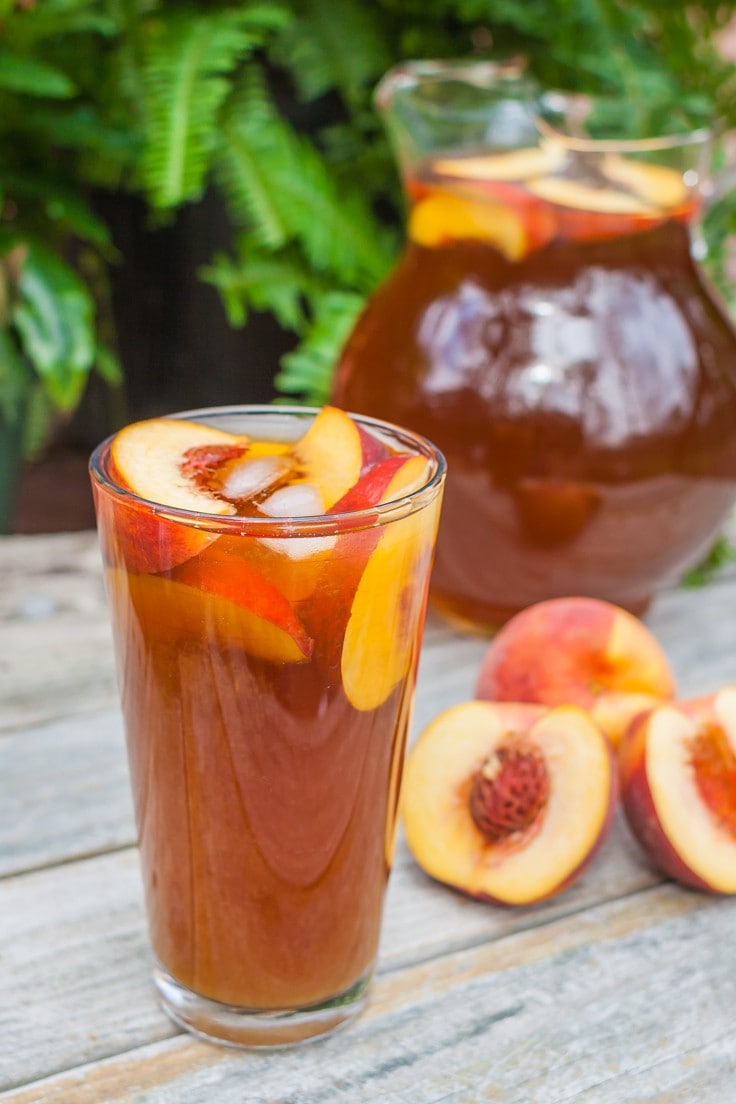 Peach Iced Tea
If you know even a little bit about Brits then you are probably aware that we drink tea a lot of tea, but usually only the hot kind.
I first came across Iced Tea was when I visited the Southern USA for vacation several years ago, long before me moved here to live. Mr Noshtastic was offered 'tea' in a home we were visiting and was a little taken aback when it came in a glass with ice instead of hot in a cup.
It was even funnier (to me at least) when he tasted it and nearly gagged because it was as sweet as syrup.
Well now we live in Mississippi and have embraced many of the cultural norms, including cold tea, sorry Scottish friends. Personally I love sweet tea but rarely drink it because I still want to fit in my jeans at the end of the week!
If we are going on a road trip we often stop by the drive through at Chick-Fil-A and I'll treat myself to a ridiculously large cup of their sweet tea, but other than that I usually go with unsweet tea, hot or cold.
Last week was spring break and we were at the beach, the kids picked up some bottled Peach Tea when we were out somewhere and I wondered if I could try and make some at home.
Now I know it's totally the wrong time of year for fresh peaches, but If I waited until the summer I'd forget all about it, I'm just bookmarking it for the future 🙂
I will concede that really fresh peaches, in season, and local if you can get them, would only improve this recipe tenfold, but even ripe out of season peaches tasted great.
Not sure if you would get the same flavor from frozen peaches but it might be worth a try. The syrup should keep several days in the fridge, but this amount only make about four 8oz glasses of Peach Iced Tea so it was all gone pretty soon after I made it.
If you're looking for more thirst quenching ideas for summer then what about some Homemade Strawberry Lemonade, or maybe you could try these Blackberry Lemon Tea Pops from Homemade and Yummy.
This post may contain Amazon affiliate links
MORE OF MY FAVORITE EASY RECIPES!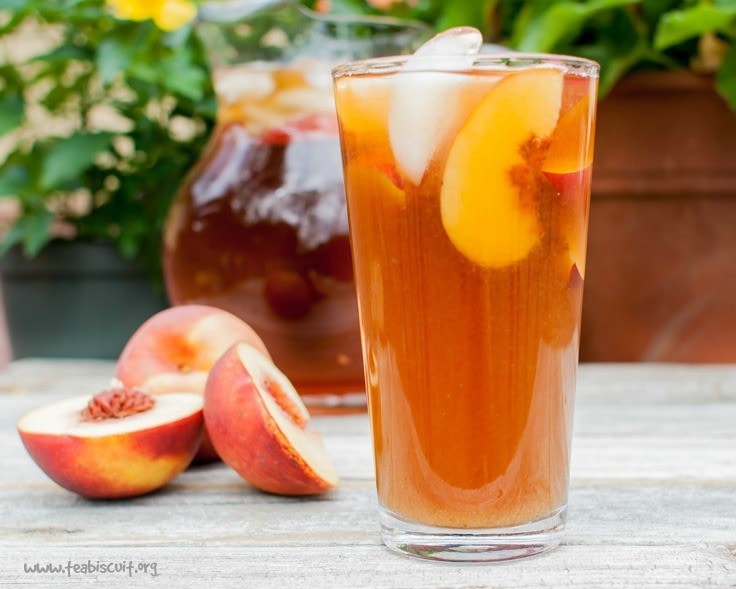 Delicious Peach Iced Tea Recipe!
It's so simple and easy to make, Peach Iced Tea made with real peaches and only three ingredients!
Instructions
Wash the peaches and cup them up into smallish pieces.
Put them in a pan with the water and sugar and simmer for five minutes or until soft.
Use a potato masher to smush them down some more, then cook on low simmer for ten more minutes.
Remove from the heat and let sit for 30 minutes or so, then put the whole mixture in a blender or food processor and whiz it all up!
Run the mixture through a sieve to get all the skin out, then you are left with your peach syrup.
Make a quart/1 litre of regular tea.
If you make sweet tea then it will be very sweet when you add the peach syrup, but it's really up to you!
Add the syrup to your individual glass of cooled tea and stir well.
Will make 2 - 4 8oz glasses depending on how much syrup you add.