Unbelievably easy Paleo Italian Meatballs! (Gluten Free and Whole 30 too) Perfect for a weeknight dinner and on the table in LESS than 30 minutes

Paleo Italian Meatballs with Marinara Sauce
I wanted to make a simple Paleo Italian meatballs recipe for a weeknight family dinner that would be easy, quick, gluten and dairy free, and my kids had to love it too.
I came up with my Paleo Italian Meatballs with Marinara sauce that can be cooked and on the table in less than thirty minutes!
What could be easier than throwing all the ingredients in a bowl and mixing them together?
Baking them in the oven is so much simpler than on the stove top when you are cooking a large batch like this and ensures they are cooked evenly, plus you don't need to watch them closely and can get on with making the sauce or setting the table.
Most Italian Meatballs recipes I've seen have cheese in them which is no doubt very tasty but two out of the four people in our house can't tolerate dairy so I left it out.
I also didn't think gluten free breadcrumbs would add any extra flavor to the meatballs so I omitted them too.
We served our meatballs over gluten free spaghetti, but zoodles (we use the Paderno Spiralizer to make them) or even mashed potatoes would be also be good options, I hope you enjoy them!
*This post may contain Amazon affiliate links*
MORE OF MY FAVORITE EASY RECIPES!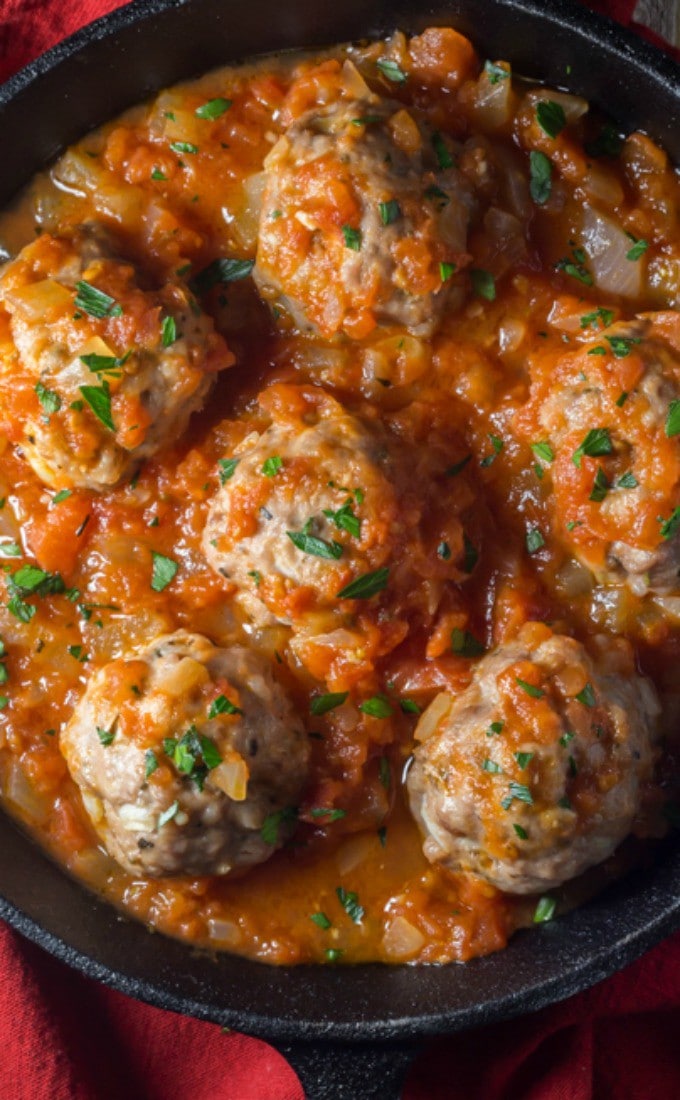 NUTRITION FACTS FOR PALEO ITALIAN MEATBALLS
Weight Watchers SmartPoints: 5 POINTS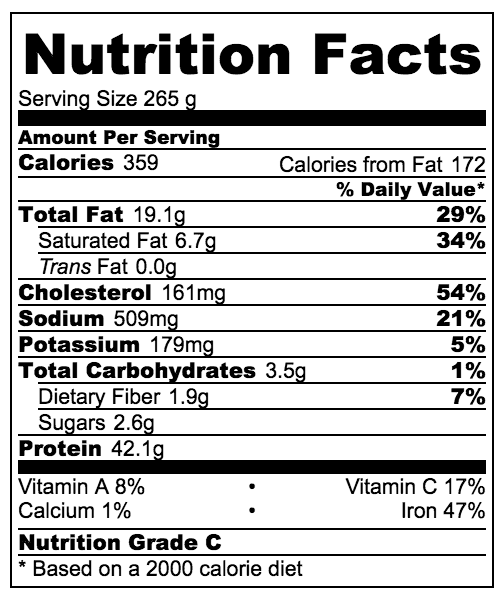 Oven Baked Paleo Italian Meatballs with Marinara Sauce
Unbelievably easy Oven Baked Paleo Italian Meatballs! (Gluten Free and Whole 30 too) Perfect for a weeknight dinner and on the table in LESS than 30 minutes
Ingredients
2lb Lean ground pork (95/5%)
1lb Lean ground beef (95/5%)
2 tbsps Italian Seasoning
1 egg
1 tbsp parsley, finely chopped
2 tsp salt
1 tsp ground black pepper
SAUCE:
1 28oz can crushed tomatoes
1 medium onion, finely chopped
2 tbsps olive oil
1 bay leaf
1 garlic clove, chopped
1 tbsps parsely, finely chopped
1 tsp black pepper
Instructions
preheat your oven to 400f
line a sheet pan with foil
Mix the meat, egg and seasonings together in a large bowl, then form about two tablespoons of the meat mixture into even sized meatballs and place them on the linedsheet pan.
Bake in a 400f oven for 20 minutes, or until cooked through.
MARINARA SAUCE
add the olive oil to a pan and heat up on a medium heat, then add the chopped onion and saute for five minutes. Add the chopped garlic, canned tomatoes, bay leaf and pepper.
Cook on a low - medium heat for 20 - 30 minutes.
Serve over the cooked meatballs and sprinkle with chopped parsley