Unbelievably easy Paleo Italian Meatballs with marinara sauce Perfect for a weeknight dinner and on the table in LESS than 30 minutes.
WATCH HOW TO MAKE PALEO ITALIAN MEATBALLS WITH MARINARA SAUCE!
Can you believe that I'd never eaten a meatball in my life until I moved to the USA in 2008?
It's true!
I'm from the North of Scotland and grew up eating plenty of dinners made with ground beef (like Shepherd's Pie for example) but meatballs? nope. They were never on the menu.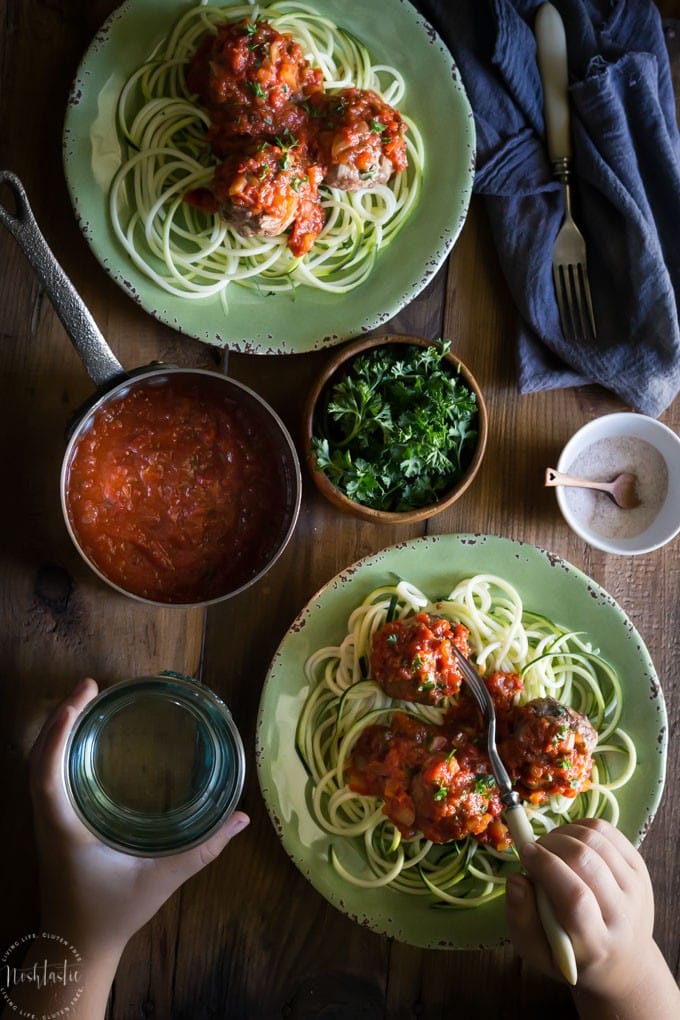 I know, I know, I can hardly believe it myself! As a child, I lived in a small rural fishing village with a tiny local store and I'm fairly sure they never had anything quite as exotic as Italian Seasoning.
Well skip forward thirty-something years and I now find myself living in Mississippi, so it's meatballs for everyone!
These Paleo Italian Meatballs are as easy as could be to make and are packed with flavor. I decided to forego the traditional addition of breadcrumbs, they are Paleo meatballs after all.
I went back and forth trying to decide whether I should substitute breadcrumbs with almond flour but I figured it's kind of pricey to have to buy a bag just for a few meatballs, so I've left them out.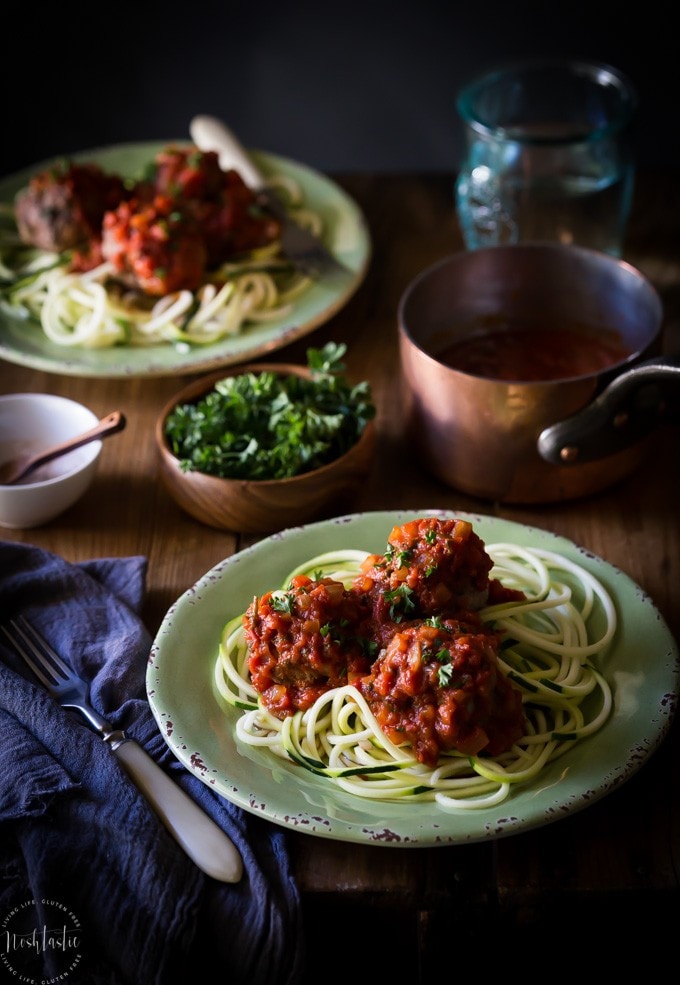 My husband told me they would be better with cheese, and he's probably right. I can't tolerate very much cheese so I haven't added them but if you can then, by all means, sprinkle some over the top.
I like Parmesan, or Pecorino Romano which is a sheep's milk cheese with a similar flavor
Baking the meatballs in the oven is so much simpler than on the stove top when you are cooking a large batch like this and ensures they are cooked evenly, plus you don't need to watch them closely and can get on with making the sauce, or setting the table.
I like to use parchment paper on the sheet pan, it makes for less scrubbing and cleaning later on.
Our non-paleo family members served the meatballs over gluten free spaghetti, sometimes I serve them over mashed potatoes too.
If you are following the Paleo diet then the best option would be to make some simple zucchini noodles like you see in the photos. For that you need a spiralizer, it's such a fun gadget!
There are several different models out there but the one we have is the Paderno Spiralizer, I really love it and it's simple to use.
I've found if you cut the zucchini in half and trim the ends off it will fit better on the spiralizer.
The first time I used it I just got little half moon shapes and no spirals, but I didn't have the zucchini centered on the tool properly.
*This post may contain Amazon affiliate links*
MORE OF MY FAVORITE EASY RECIPES!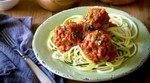 Best Ever Paleo Italian Meatballs in Marinara Sauce!
Unbelievably easy Oven Baked Paleo Italian Meatballs! (Gluten Free and Whole 30 too) Perfect for a weeknight dinner and on the table in LESS than 30 minutes
Ingredients
2

lb

Lean ground pork

1

lb

Lean ground beef

2

tbsps

Italian Seasoning

1

egg

1

tbsp

parsley

finely chopped

2

tsp

salt

1

tsp

ground black pepper

SAUCE:

28

oz

can crushed tomatoes

1

medium onion

finely chopped

2

tbsp

olive oil

1

bay leaf

1

clove

garlic

chopped

1

tbsp

parsely

finely chopped

1

tsp

black pepper
Instructions
preheat your oven to 400f

Mix the meat, egg and seasonings together in a

large bowl

, then form about two tablespoons of the meat mixture into even sized meatballs and place them on the lined

sheet pan

.

Bake in a 400f oven for 20 minutes, or until cooked through.

MARINARA SAUCE

add the olive oil to a pan and heat up on a medium heat, then add the chopped onion and saute for five minutes. Add the chopped garlic, canned tomatoes, bay leaf and pepper.

Cook on a low - medium heat for 20 - 30 minutes.

Serve over the cooked meatballs and sprinkle with chopped parsley