Easy Weeknight Gluten Free Chicken Piccata,ready in less than 30 Minutes! This recipe is Low Carb, with Paleo and Whole30 options, low calorie, gluten free, and dairy free

Gluten Free Chicken Piccata
Gluten Free Chicken Piccata was not on my menu until very recently but I have to say I was pleasantly surprised when I tried it, It only has a few  ingredients but it tastes fabulous despite its simplicity.
I always thought it was a fancy dish, better suited to a dinner party but it's really not complicated and cooks in about fifteen minutes to twenty minutes.
It has quite a tangy lemon flavor which I really liked but my  ten-year-old did not, all the more for me then!
I've not included Parmesan cheese in my recipe because I don't eat it. If you can tolerate it, a little cheese grated on top of the finished dish would be very nice.
I don't tolerate cow dairy very well at all but I am able to eat a little goat or sheep cheese occasionally, so sometimes I'll add a little Pecorino Romano cheese to it.  The taste and flavors are very similar to parmesan cheese.
If you're following the Paleo or Whole30 diet you could substitute the cornstarch with arrowroot and that should work just as well, and do make sure you rinse the capers before you add them to the pan or the taste could be quite overpowering.
Sometimes when you dredge meat in arrowroot powder it can end up slimy in a way that using cornstarch does not.
For that reason, I've edited the recipe for Paleo and Whole30 to simply have you brown the chicken pieces in the pan and then thicken the sauce separately with the arrowroot.
I just ate the chicken as it was (I was hungry…) but I think it would be lovely served with green beans, over some mashed potatoes, or with gluten free spaghetti noodles, whatever you prefer! I made this in my Lodge Cast Iron Skillet which I LOVE, I cook almost everything in it!
*This post may contain Amazon affiliate links*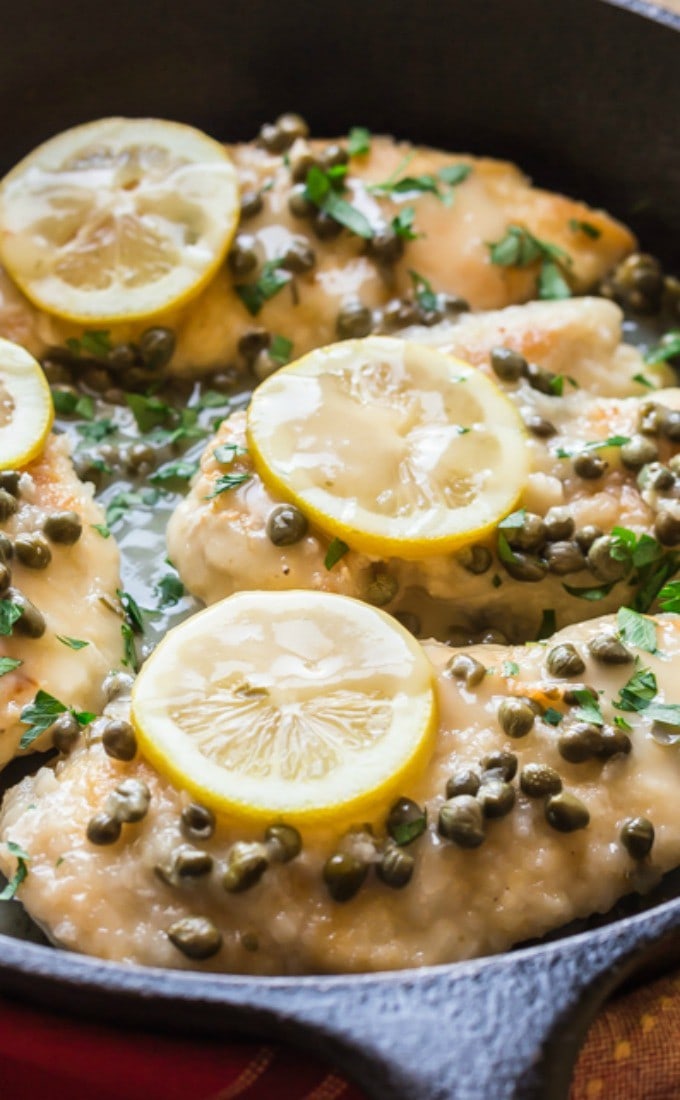 MORE OF MY FAVORITE EASY RECIPES!
Gluten Free Chicken Piccata
Easy Weeknight Gluten Free Chicken Piccata,ready in less than 30 Minutes! This recipe is Low Carb, Paleo, Whole 30, low calorie, gluten free, and dairy free
Cuisine:
Easy Chicken Piccata
Ingredients
2 Chicken Breasts - skinless, boneless
4 - 6 tablespoons oil
5 tbsp cornstarch (arrowroot for paleo/w30)
⅓ cup lemon juice
¼ cup capers
¼ cup parsley, finely chopped for garnish
lemons, thinly sliced for garnish
Instructions
Cut the chicken breasts in half lengthways.
If you are following Paleo/W30 simply season them with salt and pepper.
If you are not following Paleo/w30 then toss the chicken pieces in the cornstarch which is seasoned with salt and pepper.
Add about 3 tablespoons of oil to a non stick skillet and heat over a medium high heat.
If you have used cornstarch on your chicken shake the excess off.
Add two pieces of chicken to the skillet at a time and cook for about 3- 4 minutes on each side till a little brown.
Remove them to a plate and repeat with the other pieces of chicken, add a little more oil if you need to.
For those of you who did not use cornstarch on your chicken, then you will need to add ½ tbsp arrowroot to the cold chicken stock to thicken it, you can add more later if it's not thick enough.
Now add the stock, lemon juice and capers (rinse and drain the capers before adding them)
to the pan.
Now add the chicken pieces to the pan and cook for a further five minutes or until the chicken is cooked through.
Serve hot and garnish with parsley and lemon slices.