Gluten Free Shepherds Pie! It's easy to make it Paleo or Whole30 too, perfect comfort food for your whole family!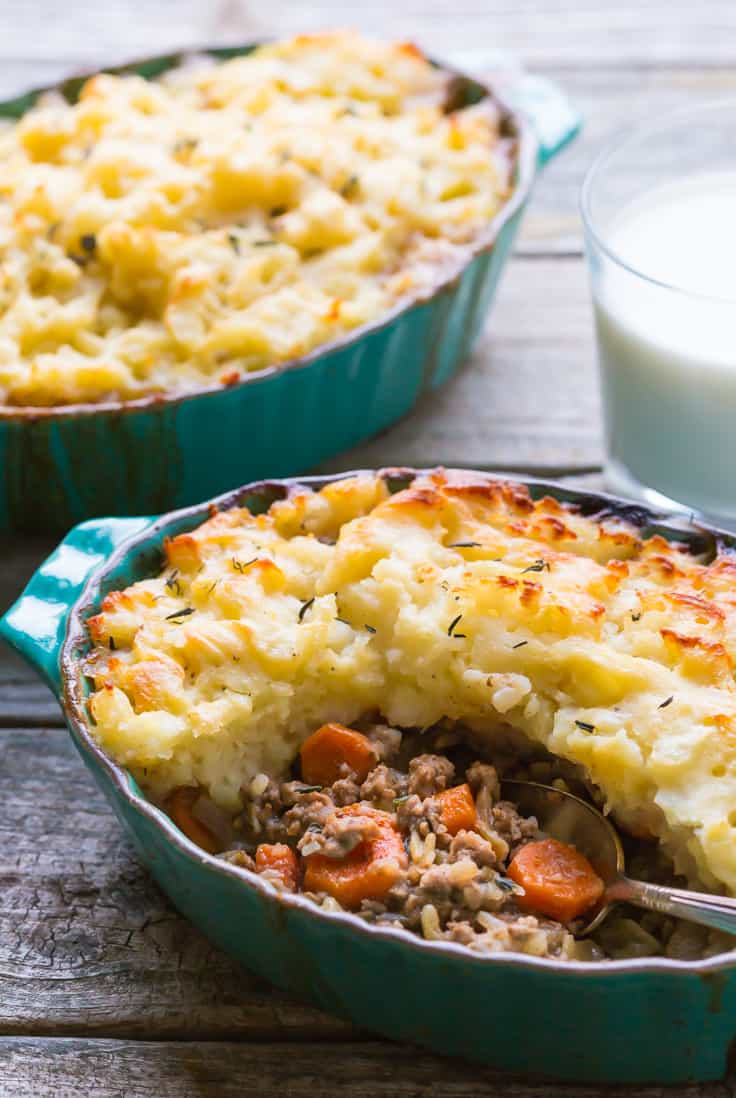 Well it was SUPER chilly in Mississippi this morning! I woke to below freezing temperatures and frost on the ground, it's even colder than it is back home in Scotland, which is really unusual!
It is however Perfect weather for comfort food and Snuggies, right? 🙂
Shepherd's pie was something I ate all the time growing up in the Highlands of Scotland. Lamb and mutton are popular back home but seem to be less so in Mississippi, it's probably my favourite meat and I would eat more often if I had the chance.
Anyway, my Shepherd's Pie recipe is true winter comfort food and I'm sure you'll love it!
Although the classic recipe calls for ground lamb you can simply substitute ground beef if you can't find any lamb and it will still be super tasty.
Back home the beef version, which is essentially the same recipe but with different meat, is referred to as Cottage Pie.
It's made from scratch but I promise its really very easy to make as the title suggests, no advanced culinary skills required!
I used a couple of pretty ceramic oval baking dishes I found in a local store to bake this in, but you can find similar bakeware on Amazon, and 8×8 pan works too.
*This post may contain Amazon affiliate links*
MORE OF MY FAVORITE DINNER RECIPES!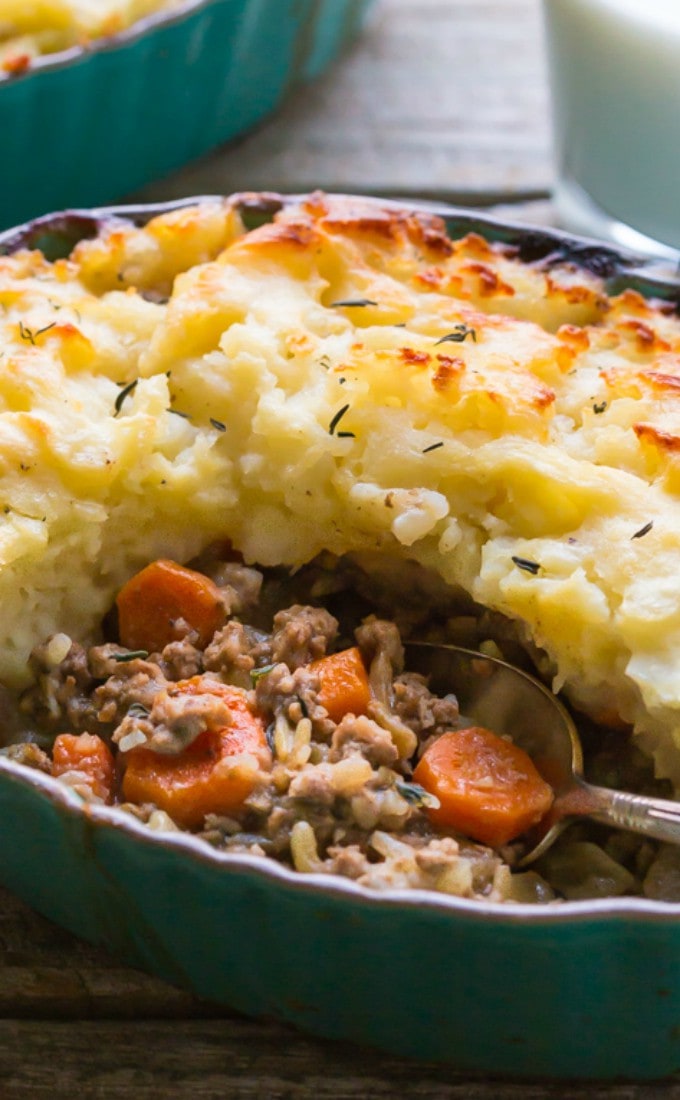 Nutrition Facts For Gluten Free Shepherds Pie (made with lean beef, 95% fat, and no cheese)
Weight Watchers SmartPoints: 8 Points
Easy Gluten Free Shepherds Pie
An easy to cook recipe for delicious winter comfort food, Easy Gluten Free Shepherds Pie, can easily be made Paleo or Whole 30 too.
Ingredients
1lb (450g) ground lamb or beef
1 tbsp oil
3 large carrots, medium dice
1 large onion, chopped
2 tbsp tomato purée
1 tbsp Gluten Free Worcestershire sauce (omit for paleo/W30)
500ml gluten free beef stock
4 medium potatoes, peeled and cut into large chunks
2 tbsp dairy free margarine (I use Earth Balance) or butter
2 tbsp arrowroot powder or cornstarch (optional)
½ cup shredded cheddar cheese - (optional - I used Daiya dairy free)
salt to taste
pepper to taste
Instructions
Heat the oil in a pan, adding the onion and carrots and gently saute for a 3 - 4 minutes. add the lamb or beef and brown over a medium heat, stirring all the time, spoon off excess fat if necessary. Add the tomato purée and Worcestershire sauce, then fry for a couple more minutes. Add the stock, bring to a simmer, then cover pan and cook for about 40 minutes, uncovering after 20 minutes. add salt and pepper to taste.
Heat the oven to 350f.
While the meat is cooking, boil the peeled potatoes in slightly salted water for 10-15 minutes until soft, but not soggy. Drain, then mash together with the margarine.
If after reducing liquid you think it's too runny to add to the oven dish you can add some arrowroot or cornstarch to thicken. If you are adding arrowroot or cornstarch to thicken then add two tablespoons to a cup with a 3-4 tablespoons of cold water. Remove the pan from the heat and add half of the starch mixture to the meat, stirring to avoid lumps and give it a few minutes to thicken up, add starch more if you need to.
Put the cooked meat mixture into an ovenproof dish, cover with the mashed potatoes and spread out with a fork, add shredded cheese on top if you like.
Place dish on a baking sheet and bake for 20-25 mins until the top is starting to colour and the meat gravy is starting to leak out around the edges.
Notes
You will need an 8x8 oven proof dish to bake this in.