If you're looking for a Keto meatloaf that is low carb, full of flavor, then you've come to the right place! Not only that, it's packed with healthy low carb vegetables, and it's gluten free too so it's a great option for the whole family.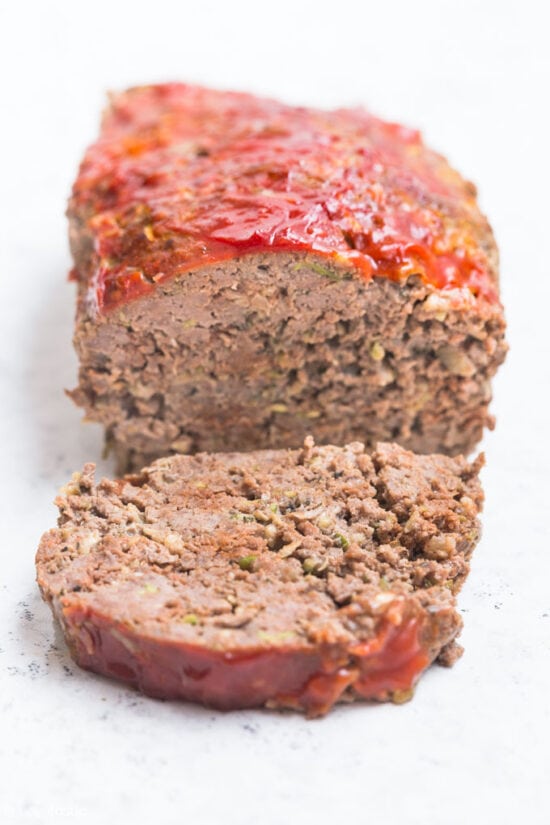 This post contains affiliate links
How to make Keto Meatloaf
Start by finely chopping the onions and mushrooms. You want to ensure they are chopped small or your meatloaf may have a hard time binding together.
Add a little oil to a skillet and saute the onions until they are soft and golden.
While the onions are cooking you can grate the zucchini and then squeeze it by hand to get rid of any excess moisture.
Get out a large bowl and crumble in the ground beef along with the mushrooms, onions, zucchini, garlic, tomato paste, Worcestershire sauce, salt, pepper, herbs, apple cider vinegar, mustard powder and the beaten eggs.
You need to ensure that all the ingredients are properly mixed together then you can add it to a loaf pan. If you prefer you can shape it into a loaf and place it on a lined sheet pan.
If you have low carb ketchup you can add that to the top of the meatloaf now.
Bake for 1-11/4 hours and then let it cool in the pan for about 15 minutes or so before trying to remove it.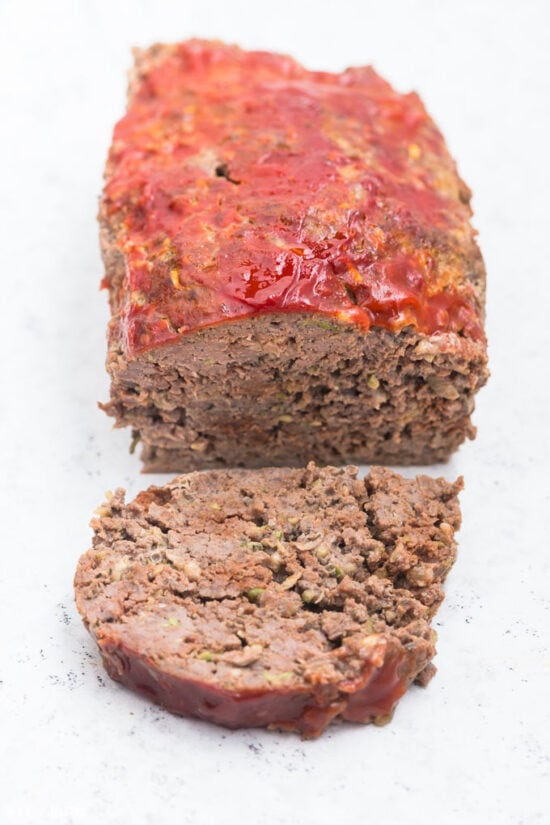 Keto Meatloaf FAQ's
Should I add Almond Flour or Pork Rinds? Adding milk soaked breadcrumbs to a regular meatloaf will change the texture to make it lighter and add moisture.
In a low carb meatloaf those options are off the table and I don't think that the popular substitutes will add a similar texture given that one is essentially ground nuts and the other is more protein, add to that the cost and I think it's better to just omit them entirely.
I do think that the addition of mushrooms, zucchini, and onions not only add flavor and nutrition but they also lighten the texture and add moisture so they are a great sub for breadcrumbs, and far more nutritious!
How Long Should I Bake the Meatloaf? It will take about 1-1/4 hours to fully bake. You can bake it on a sheet pan and shape it into a loaf by hand or you can add it to a loaf pan.
What I can I use for a Keto Glaze? Your best and easiest option is to choose a low carb ketchup for a topping.
Can I use really lean beef? You could, however the leaner you go the more likely it is to dry out as there is less fat there to keep it moist.
How Long will it Keep? You can store it cooked in the fridge for up to four days, it also freezes very well.
Keto Meatloaf
Easy healthy Keto Meatloaf recipe is packed with flavor and added vegetables.
Prep Time: 20 minutes
Cook Time: 1 hour 15 minutes
Total Time: 1 hour 35 minutes
Total Carbs: 4 g
Net Carbs: 3 g
Protein: 24 g
Servings: 8
Keto Meatloaf
Instructions
Scroll up to watch the short recipe video first.

Preheat your oven to 350°F

Finely chop the onions and mushrooms.

Grate the zucchini, then squeeze it in a sieve over a bowl, or by hand, to remove excess moisture.

Saute the onions in the oil until the onions are soft but not browned, about five minutes.

Break the two eggs into a bowl and whisk together with a fork.

Crumble the ground beef into the bowl along with the cooked onions, mushrooms, zucchini, garlic, tomato paste, Worcestershire sauce, salt, pepper, oregano, thyme, mustard powder, apple cider vinegar, and add the beaten eggs. Mix the keto meatloaf mixture really thoroughly until well combined

Put the mixture into a loaf pan and spread it out evenly. If you are using low carb ketchup you can apply that over the top of the meatloaf. Alternatively you can shape it into a loaf and place it directly on a foil or parchment lined sheet pan.

Put the loaf pan onto a sheet pan (in case any juices come over the sides) and bake for about 1hr – 1hr 15 mins.

Let the meatloaf cool in the loaf pan for 15 minutes and then remove it. I like to put it on paper towels to absorb any excess fat.
Recipe Notes
Nutrition – Assumes eight servings per meatloaf. Does not include low carb ketchup topping. 
Zucchini – I wanted to add some extra nutrition and vegetables while keeping it low carb. It's worth it to take the time to squeeze out the excess liquid because it can cause the meatloaf to be more crumbly, though it will still taste good.
Eggs – if you have to omit the eggs the meatloaf will still cook up properly and taste good but it will be very crumbly because the egg acts as binder.
Low Carb Breadcrumb Replacement – In traditional meatloaf you would usually add milk soaked breadcrumbs. As this is a Keto recipe I've obviously omitted them. The purpose of breadcrumbs is to lighten the texture of the meatloaf and add moisture, I think the addition of mushrooms, onions, and zucchini does this perfectly. 
Nutrition Facts
Keto Meatloaf
Amount Per Serving
Calories 296 Calories from Fat 180
% Daily Value*
Fat 20g31%
Saturated Fat 7g44%
Cholesterol 130mg43%
Sodium 440mg19%
Potassium 471mg13%
Carbohydrates 4g1%
Fiber 1g4%
Sugar 2g2%
Protein 24g48%
Vitamin A 162IU3%
Vitamin C 4mg5%
Calcium 38mg4%
Iron 3mg17%
* Percent Daily Values are based on a 2000 calorie diet.
Nutritional information on Noshtastic is provided as a courtesy and is approximate only. We cannot guarantee the accuracy of the nutritional information given for any recipe on this site.
Course: Main Course
Cuisine: American