Royal icing for cookies is an easy recipe if you plan ahead just a little and get the measurements and the timing correct, it works every time!
I've been making this Royal icing for cookies recipe for years. It's tried and tested and works super well to make cookie icing that hardens.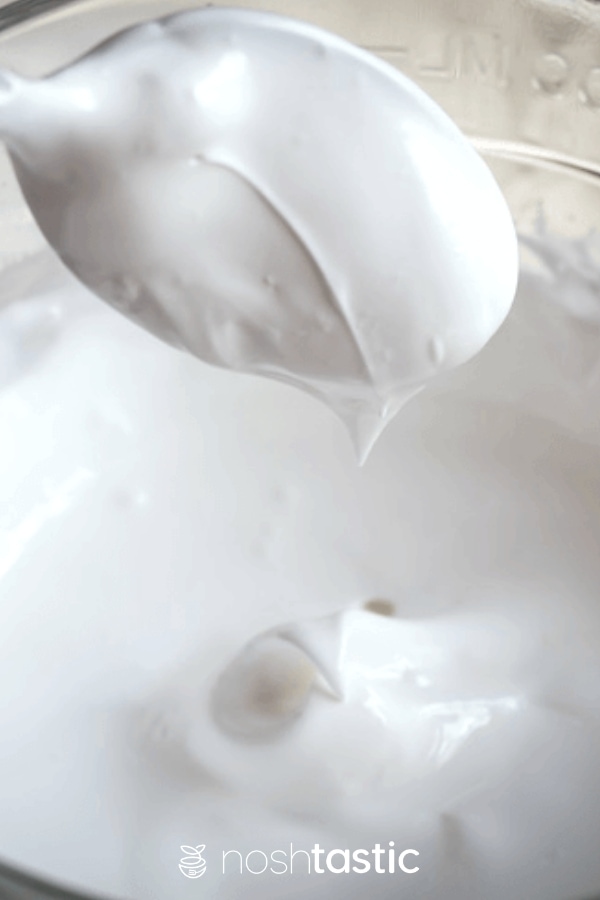 This post contains affiliate links
How do you make royal icing for cookies?
Start by measuring out the meringue powder and the water. It's important that you measure them both correctly and as stated in the recipe (see recipe card at the end of the post)
Step 1 – Add your powdered sugar a bit at a time so it doesn't make a big mess, then mix slowly until the sugar and liquid is all blended together.
Step 2 – Set your stand mixer on the medium/high setting and set a timer for 4 minutes, the timing is crucial so don't forget this step.
Step 3 – After 4 minutes check to see if the icing is forming stiff peaks (like you see in the image with the stand mixer below) if not beat for a minute more.
Step 4 – Cover the royal icing right away as it will harden if left uncovered, I like to use Press 'N' Seal as it works better than plastic wrap.
Un-thinned royal icing made with meringue powder will keep in an airtight container for a couple weeks on your counter, you do not need to refrigerate it.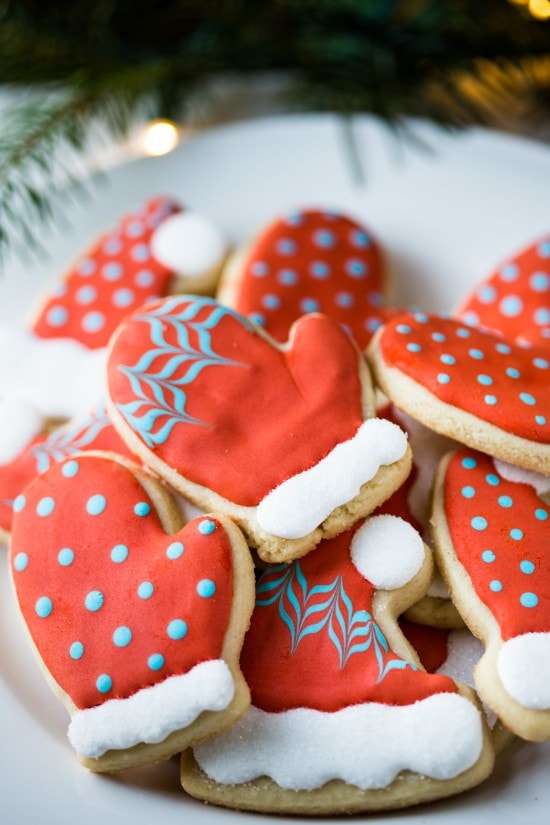 Cookie Decorating equipment you'll need
Here's a list of my recommended basic cookie decorating equipment you'll need to decorate one batch of cookies with Royal Icing:
Meringue powder I prefer to use either Wilton or Ateco meringue powder. Don't wait until too near to Christmas to buy it as almost every year I've had to go round all the stores in town looking for meringue powder but they often sell out.
Americolor Food Coloring – This is the best food coloring out there, so much better than the gel type! The colors are vibrant and the selection is the best you'll find.
No:2 Tips – If you only buy one size of decorating tip, the Wilton No:2 Tip would be a good size to get.
Decorating Bags – These disposable decorating bags by Wilton are what you'll need. I prefer to use re-usable bags and wash them, but if you don't decorate cookies very often the others may be a better bet.
Decorating Tip Set – if you want to splurge and get a whole set of tips, this is a nice one to start with.
Coupler Set – you'll need one coupler set for every decorating bag you use.
Icing Bag Ties – you need these to tie the bags tightly at the top.
Cookie Cutters – I have SO many cookie cutters, including this bucket of 101 cookie cutters which covers most of the holidays!
Toothpicks – they are awesome for popping bubbles in wet icing and helping to push icing around on the cookie surface.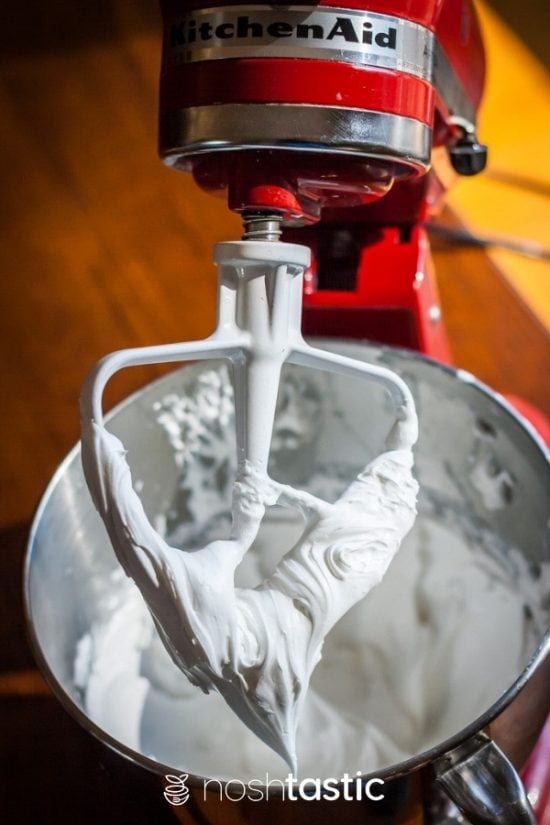 How To Use Royal Icing for Cookies
The first thing you need to do before you make your Royal Icing is figure out how much you need.
This batch of icing will make enough for 30-50 cookies depending on the size of your cookies.
The next thing you need to do is decide how many colors you want to use, and then get ready the correct number of bowls so you can mix it all up. Be sure you have cling wrap ready so that you can cover them as you go.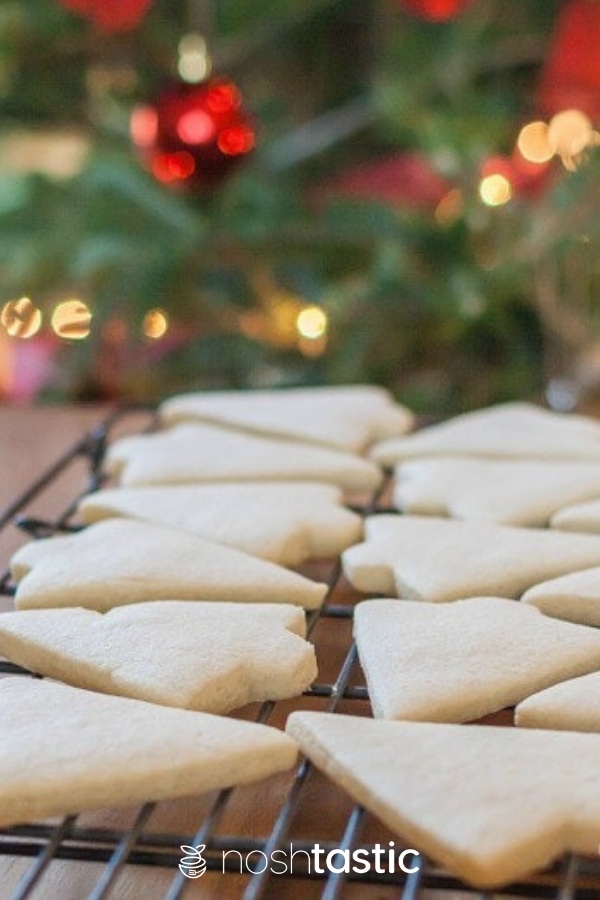 How to thin out Royal icing for Cookies
Spoon out the total amount of already made Royal icing you need into one separate bowl. Start to thin that out by adding water, a tiny amount at a time until you get the consistency you desire.
The consistency that you want for simple cookie decorating is for 15-20 second count icing.
All that means is that if you drizzle the icing back into the bowl with a spoon (like you see in the photo below) it will take 15-20 seconds for the line of icing to disappear back into the bowl.
Do this by hand and do not overmix or you will incorporate air bubbles which will be annoying to deal with when you try to decorate your cookies later on.
Don't rush this part or you will regret it later!
If it's too thin, it will disappear faster than 15 seconds. In that case your only option is to add more stiff icing to the bowl and mix again. If it's still to thick, just keep adding tiny amounts of water until you get it just right.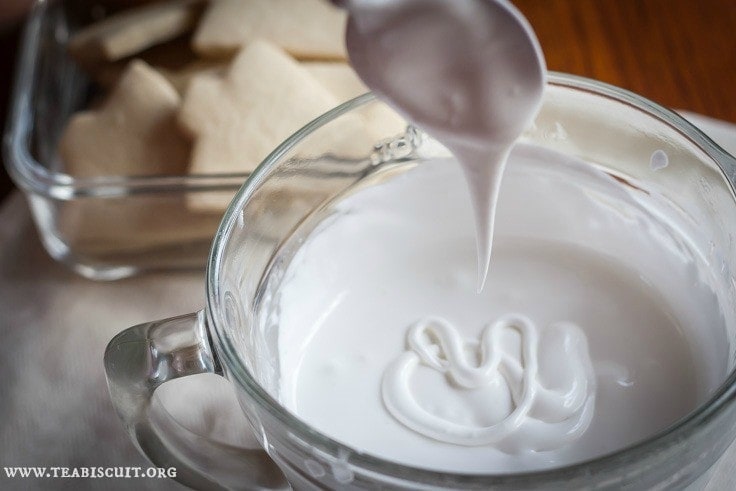 Make your cookies a day ahead
I usually make my gluten free cut out cookies a day ahead as I've had problems in the past with the butter/fat from the cookies bleeding up into my dried icing resulting in a stain on the cookie that can't be fixed.
That is the definition of a very bad cookie day!
There are many theories regarding the cause of this but it is definitely more of a problem for me in the hotter months.
I rarely have this issue now as I've found that baking the cookies a day ahead usually prevents it, and as I mention in my list of cookie decorating tips, using a fan to dry the icing also helps prevent this.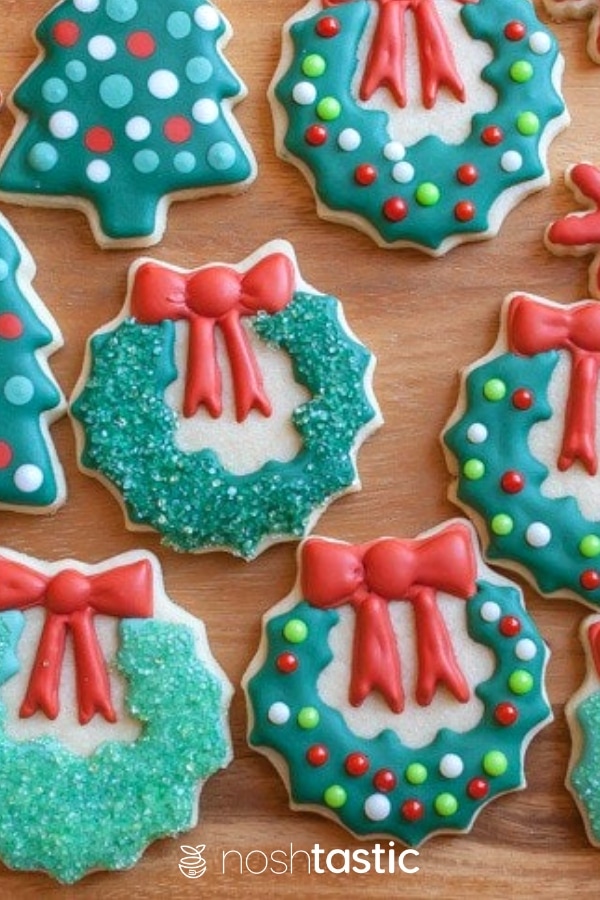 Adding Color to Royal Icing for Cookies
Once I've thinned out my icing, then I will divide it up again into smaller bowls in order to add the colors. I use the 'Press 'N' Seal' cling wrap to cover the bowls as you really need it to be airtight or the icing will start to dry in the bowl.
Regular cling wrap does not seal as well and I've had a few mishaps over the years with half dried bowls of icing!
Then, simply add in one or two drops (depends on the amount of icing) of food coloring and slowly mix until the color is evenly distributed through the icing.
I prefer the Americolor brand as they have a great selection and they are easier to work with than gel colors.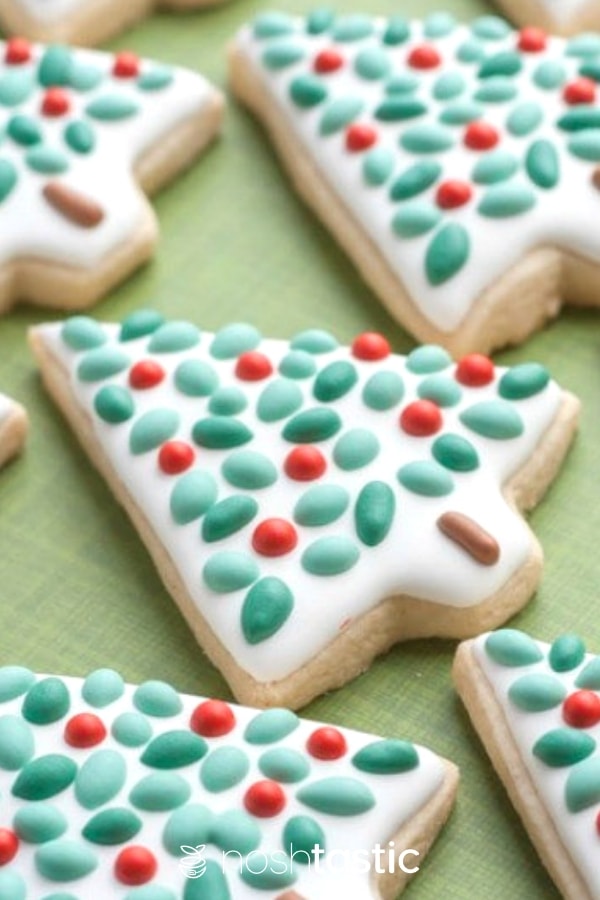 More Royal Icing FAQ's
Can I make Royal Icing without Meringue Powder?
If you live outside of the USA it may be tricky to find meringue powder, so then your best option would be to use a recipe that uses egg whites instead.
How long does it take for royal icing to set up?
Royal Icing for Cookies will take between 8-12 hours to fully harden. This exact time for it to set up will vary and depends how thick the icing layer is, and will be affected by heat and humidity.
What Makes Royal Icing Hard?
Egg white, which in this recipe comes in the form of meringue powder, is what makes Royal icing dry really hard. If you simply mix powdered sugar with water it will not dry hard like royal icing made with egg white.
Will my cookie Icing dry shiny?
It depends, it usually has a little sheen but tends toward being more matte finish. If I'm making a large batch of cookies I use a small table top fan to speed up the drying process and it can help make them just a tad more shiny.
I don't like the taste of the icing, can I fix it?
Royal Icing made with meringue powder is not in the same league in terms of taste as cupcake frosting and depending on the brand of meringue powder you use that can definitely affect the taste. You can add a few drops of flavored extract like vanilla or almond (oil free) to the icing when you add the liquid and that should help.
Is Royal Icing Hard to use?
I think the issues most people have with Royal Icing for cookies is that the consistency is wrong and then it may not behave the way they expect it to, or dry as hard as they had hoped.
Is it Safe to Eat Royal Icing?
This royal icing for cookies recipe is very safe to eat and poses no food poisoning risk as it is made with dried meringue powder and not raw eggs.
If you prefer to make royal icing with raw eggs rather than meringue powder just ensure that you used pasteurized egg white to minimize the risk.
More Tips for Cookie Decorating with Royal Icing
CUT OUT COOKIES
You must use a good cut out cookie recipe, it's so important that the cookies hold their shape and do not spread! This is my Gluten Free Cut out Cookie Recipe which works great for cookie decorating. If you are not gluten free then I recommend this cut out cookie recipe instead.
DARK COLORED ICING
dark colors like green, black, and red, can taste bitter, so don't over do the colors and only use in small amounts in your cookie decorating. Americolor have a 'no taste red' color which is great!
TOO MUCH COLOR – if you add too much color to your icing (especially dark colors like blacks, greens, and reds) there's a risk that your icing will not dry fully, this has only happened to me a couple times when I was trying to make the color darker. The Icing can separate and will become almost foamy and in the end it just won't dry. If this happens you'll need to start again.
USE A FAN – when you're drying your cookies it's a great idea to use a table top fan or one on a stand to help dry the icing, you can leave it on for a few hours to help speed up the drying process.
SUNLIGHT – Do not dry the decorated cookies in direct sunlight! The fat from your cookies will soften and bleed up into the icing causing greasy spots to appear. I learned the hard way with cookies left out on my dining table in the sun, they were dry but they looked terrible!
KEEP IT COOL – If you live in warmer climates then make sure your room is not too hot and humid as this will slow drying and may cause the same issues with the cookies drying in the sun (see above) put the AC on if you need to to help with both these issues.
DRYING TIME – how long it will take for the icing to fully harden will vary and depends on how thick it is, the temperature of your room, and similar factors like that. Be prepared to leave them over night to dry, then test them the next day.
STORING DECORATED COOKIES – decorated gluten free cookies will keep for a couple of days. The shelf life of a gluten free cut out cookie it a lot less than a regular cookies, which will still be edible a couple of weeks after decorating if you keep them in an airtight container.
Royal Icing for Cookies
How to Make Royal Icing for Cookies with ONLY 2 Ingredients! it's gluten free and dairy free too.
Prep Time: 10 minutes
Total Time: 10 minutes
Servings: 50 cookies (approx)
Instructions
Please read the details in the post before you start to make this icing, there's details on how to dry it, troubleshooting guides and more about cookie decorating,

Add in the

meringue powder

and water into the mixing bowl of your stand mixer and beat together for a few minutes until frothy.

Add in the powdered sugar and mix together slowly until all the liquid and powdered sugar is combined. If using flavored extract such as vanilla (it must be oil free!) you can add it now, I don't typically add flavor to my icing as I prefer to add it to the cookies.

If you have a

stand mixer

set it at a medium high speed and beat it together for 4 minutes with the paddle attachment, don't forget to set a timer!

Your icing should have semi-stiff peaks (see photos in post) when the icing is ready, not floppy peaks!

If the icing is not quite stiff enough then watch closely and beat for one more minute and check it again.

Icing (not thinned with water) made with

meringue powder

can be kept on the counter top in an airtight container for a week or so, it may require a little remixing after a day or two as the water can separate on the bottom of the bowl.

This icing will need to be thinned out prior to decorating cookies with it, please scroll back up to read the paragraph in the post for specific details on how to do that.
Nutrition Facts
Royal Icing for Cookies
Amount Per Serving (44 g)
Calories 168
* Percent Daily Values are based on a 2000 calorie diet.
Nutritional information on Noshtastic is provided as a courtesy and is approximate only. We cannot guarantee the accuracy of the nutritional information given for any recipe on this site.