Taco Shepherd's Pie recipe with the best flavors! Paleo, whole30 and gluten free, made with ground beef and spices, cheese is optional for the topping.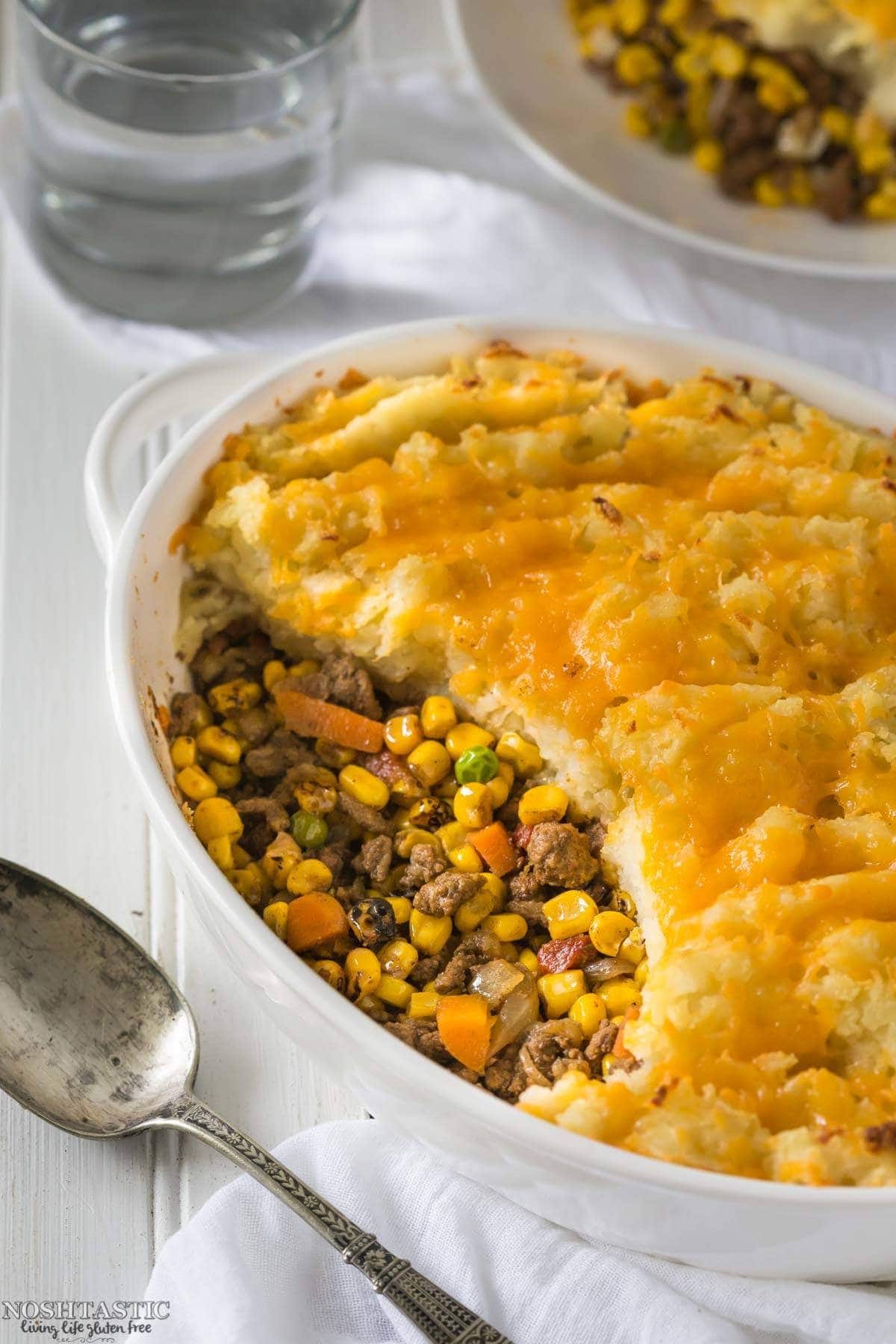 This post contains affiliate links
Taco Shepherd's Pie
I've always been a big fan of Shepherd's Pie and regularly cook it for my family. I prefer it with lamb rather than beef as I grew up in Scotland surrounded by sheep and so that's how it's served over there, the beef version is known as Cottage Pie.
For my Taco Shepherd's pie I used ground beef as that seemed to be more authentic to me, but I'm inserting a big fat disclaimer here that as I'm from Scotland I really have no idea if it's even remotely authentic.
I just know it tasted good and my kids asked for seconds, so if you're the foodie police I'm terribly sorry!
Please don't be put off by the long list of spices, I'm sure you have most of them in your pantry and it's essentially just a home made version of ready made taco seasoning you can buy in little packets.
I never use those because I my pantry is bursting at the seams with spices (maybe I should actually check what I have before I buy more at the grocery store..) and the ready made packets mixes usually contain wheat flour, which is a big no-no for me or anyone else who is gluten free.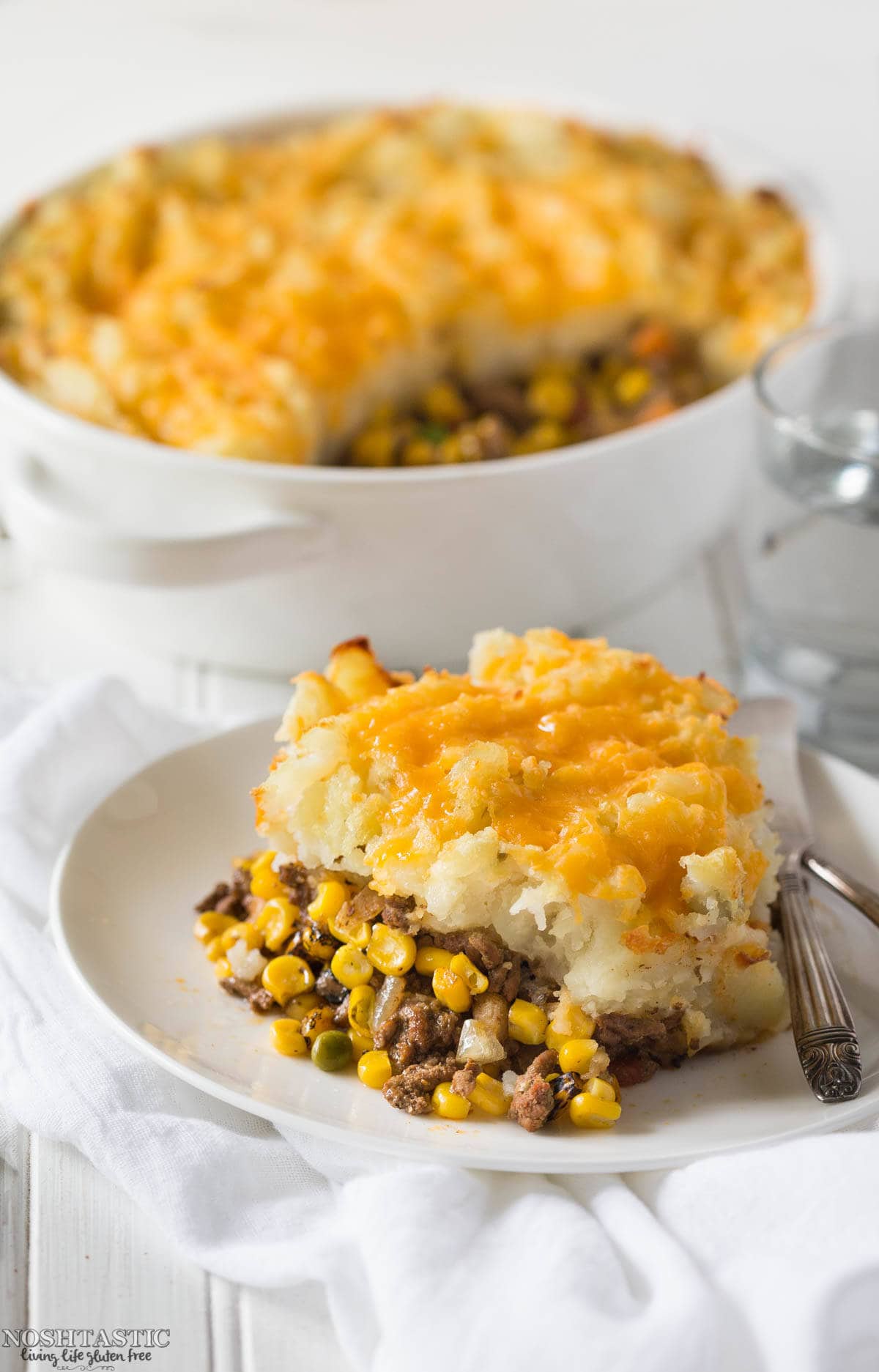 And let me tell you about the fire roasted corn! You may have known about this fabulous stuff for years, I on the other hand, have just discovered it and it's my favorite frozen veggie ever.
I really can't remember the brand of corn I used (sorry), I got mine in Kroger if that helps and I know that Trader Joe's also has some so you could check there too.
Of course if you can't find fire roasted corn you'll just have to slum it and use the regular stuff and it will work just fine. If you are Paleo or Whole30 you may or may not want to substitute the corn for another veggie, and the cheese is entirely optional.
I've added regular cheddar cheese to the potatoes even though I can't eat it, that's how much I love my kids. If you're like me and can't tolerate cheese then the vegan stuff will work instead.
I didn't serve this with any vegetables on the side as there's a lot of vegetables in the pie already, but broccoli or green beans would work well with it if you wanted something to go along with it.
And lastly I got my oval baking dish which I LOVE in HomeGoods so I don't know if you would be able to find it there anymore, but they have some similar oven proof dishes right here on Amazon.
This post may contain Amazon affiliate links
MORE OF MY FAVORITE EASY RECIPES!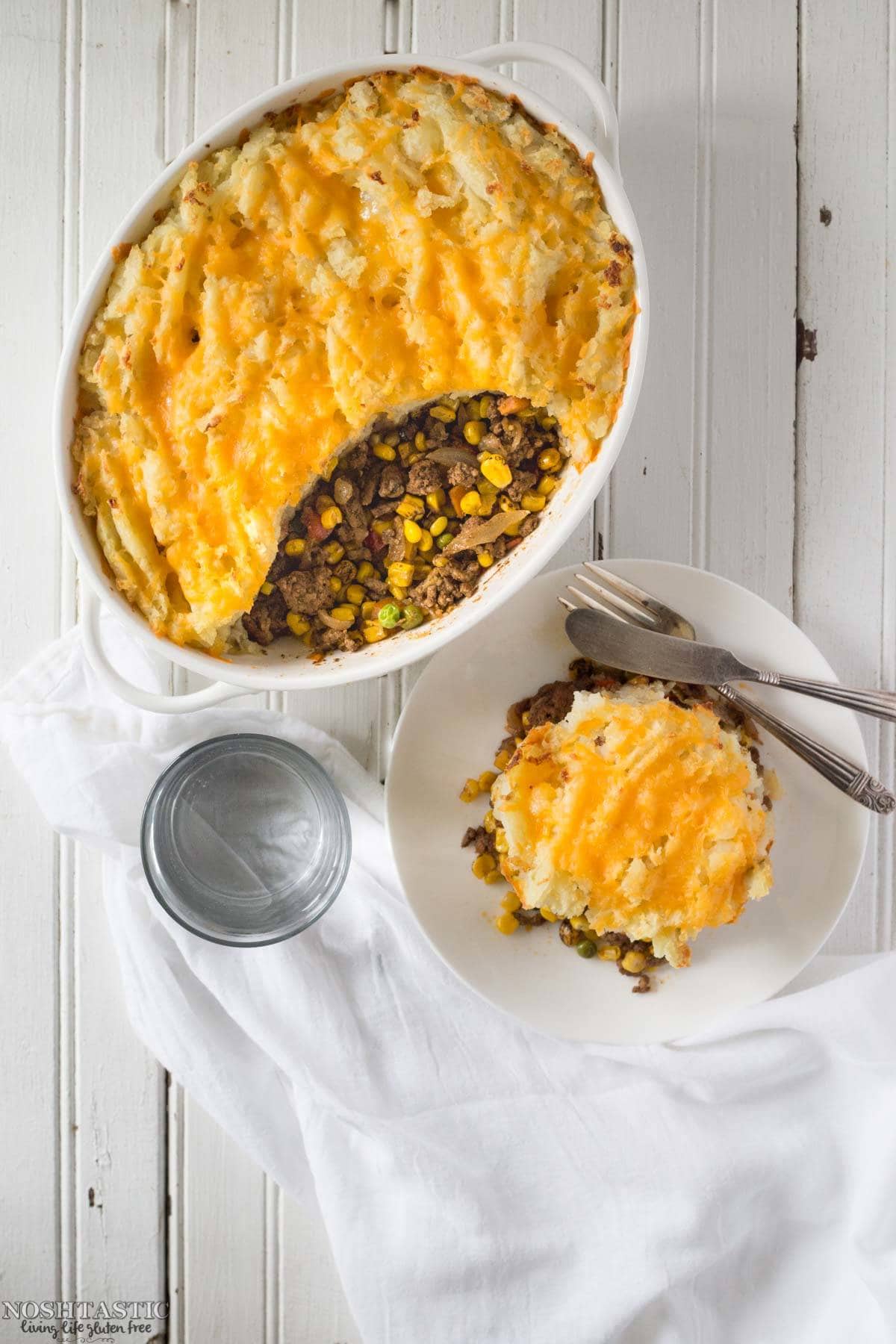 Taco Shepherd's Pie
Taco Shepherd's Pie recipe with the best flavors! Paleo, whole30 and gluten free, made with ground beef and spices, cheese is optional.
Prep Time: 15 minutes
Cook Time: 45 minutes
Total Time: 1 hour
Total Carbs: 58 g
Protein: 43 g
Servings: 4
Ingredients
4 cups potatoes , about 5 large
1-2 tbsp butter, or dairy free margarine , for potatoes
1 lb or 454g, extra lean ground beef
1 onion , finely chopped
1 tbsp olive oil
12 oz pack frozen fire roasted corn
6 oz frozen green peas , or carrots
1 cup cheddar cheese , shredded
Instructions
Please watch my short recipe video! It's right below the directions.

Preheat your oven to 350F

Peel the potatoes and put them in a large pan of water, bring to the boil and simmer for 10-20 minutes.

How long they take to cook depends on how small you cut them so you will need to check them after ten minutes until they are fully cooked.

While the potatoes are cooking, heat a little olive oil in a

skillet

and brown the beef, chopped onion and taco spices on a medium/high heat, stirring from time to time. This will take about ten minutes.

After ten minutes of browning the meat you can add the frozen vegetables (If you are Paleo or Whole30 you may want to substitute the corn for another veggie) and mix well together then pour the meat mixture into your

oven proof dish.

Once the potatoes are cooked drain them and mash with a little butter or dairy free margarine (omit for whole30) and spread evenly over the top of the meat mixture.

Add shredded cheese (optional) over the top of the potatoes (vegan cheese works too) and place the dish on a sheet pan and bake in the oven for 25 – 35 minutes.

Serve hot.
Nutrition Facts
Taco Shepherd's Pie
Amount Per Serving (493 g)
Calories 598 Calories from Fat 207
% Daily Value*
Fat 23g35%
Saturated Fat 11g69%
Cholesterol 107mg36%
Sodium 641mg28%
Potassium 1783mg51%
Carbohydrates 58g19%
Fiber 11g46%
Sugar 4g4%
Protein 43g86%
Vitamin A 1620IU32%
Vitamin C 49.3mg60%
Calcium 332mg33%
Iron 13.5mg75%
* Percent Daily Values are based on a 2000 calorie diet.
Nutritional information on Noshtastic is provided as a courtesy and is approximate only. We cannot guarantee the accuracy of the nutritional information given for any recipe on this site.