No need to worry, I've got you covered for your Paleo Thanksgiving Dinner Menu! All healthy, all tasty and all made from scratch, including Paleo Thanksgiving Turkey, an updated healthy Paleo Green Bean Casserole, Paleo Pumpkin Pie, Paleo Thanksgiving Stuffing and more!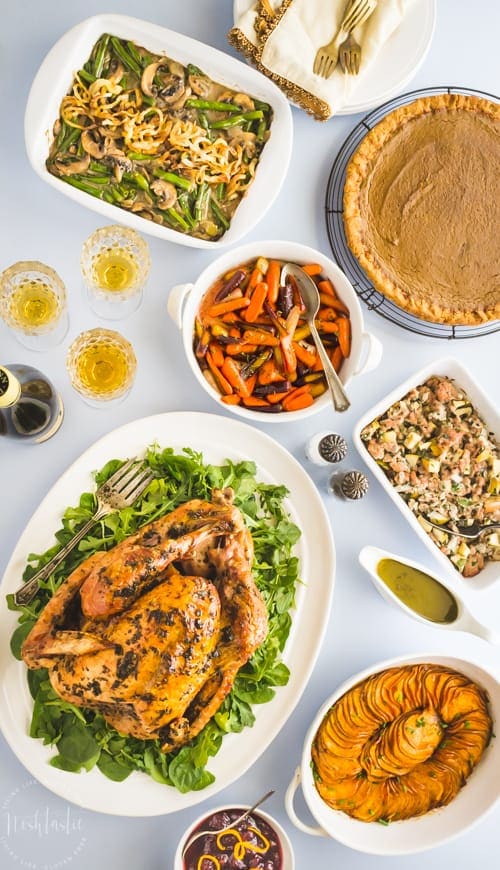 Paleo Thanksgiving Dinner Menu
This year I wanted to come up with a full Paleo Thanksgiving Menu that includes healthy Paleo versions of ALL the classic Thanksgiving menu items that you've probably grown up with, including a healthy Paleo remake of the classic Green Bean Casserole, a lovely herb rubbed Turkey, and a Paleo Pumpkin Pie.
Paleo Thanksgiving Turkey – my version of the classic roasted turkey has a lovely herb rub on the skin that just add a little extra something! I've not brined my turkey, you can read my rationale for that in the post.
Paleo Green Bean Casserole – I was absolutely determined to make a healthy version of this recipe that was similar to the original, but without all the canned soup junk, and good enough to serve to the whole family,  I think you'll love it!
Paleo Thanksgiving Stuffing – I hope you'll forgive me for adding a few classic British flavors into my Thanksgiving Stuffing! it's made with Pork, fresh sage, apples and onions.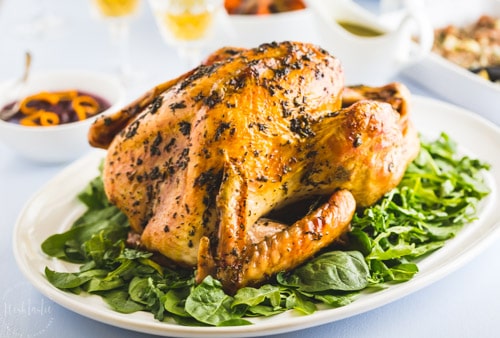 Paleo Scalloped Sweet Potatoes – You can see these lovely scalloped sweet potatoes in the photo below, they have a wonderful maple orange glaze on them and were a real hit with my kids!
Paleo Turkey Gravy – my recipe for turkey gravy is made ahead using chicken wings and vegetables, then you simply add the turkey juices on the day you cook the turkey for a really flavorful gravy.
Paleo Glazed Carrots – I've got two ways to cook these, both on the stovetop and in the oven.
Paleo Pumpkin Pie – No Thanksgiving would be complete without Pumpkin Pie and I certainly didn't want to miss out because of my dietary restrictions, so this year I won't!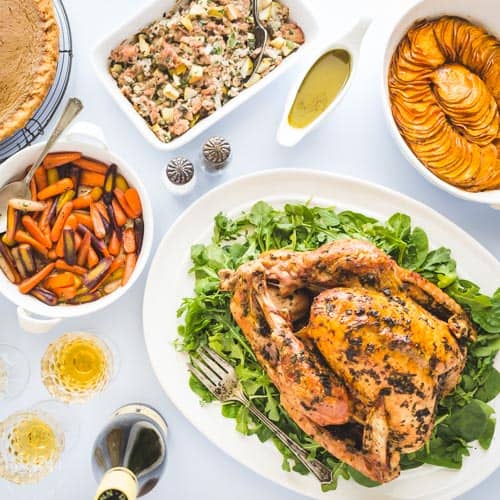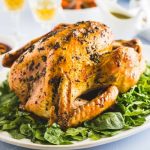 Paleo Thanksgiving Dinner Menu
This a fabulous collection of all your Paleo Thanksgiving Dinner Favorites in one place. Many of these Paleo Thanksgiving menu recipes can be made ahead of time!
Ingredients
Instructions
MAKE AHEAD RECIPES
You can prep many of the ingredients and recipes a day or more before you need to use them including my Paleo Mushroom soup which is used for the Green Bean Casserole.

My Paleo Cranberry Sauce can be made several days ahead and will keep in the fridge.

the make ahead turkey gravy can be made up to two days before and stored in the fridge.

I have made my Paleo Green Bean Casserole ahead of time, however I think it's best made fresh on the day.

My Paleo Pumpkin pie needs several hours in the fridge to set up, so you can make it a day ahead, or even just make the Paleo Pie Pastry a day ahead and make it early in the morning on the day you intend to serve it, then refrigerate it until it's time to serve.

Paleo Glazed Carrots can be made ahead on the stove top and reheated or made in the oven on the day. I included stove top instructions because I figured you may be pushed for space in your oven on Thanksgiving day.
THANKSGIVING DAY RECIPES
my Paleo Thanksgiving Turkey with Herb Rub really is best cooked and served on the same day.

The last time we served my Paleo Thanksgiving spread to my family one of the firm favorites was my Paleo Thanksgiving Stuffing.

It has the classic British Stuffing flavors of sage and onion that I remember from my childhood, but I think you'll love them too and they pair wonderfully with my Paleo Thanksgiving Turkey

The Paleo Scalloped Sweet Potatoes are best made and served on Thanksgiving Day.