You'll love my easy Paleo Thanksgiving Stuffing recipe, a perfect accompaniment to your Thanksgiving Turkey dinner!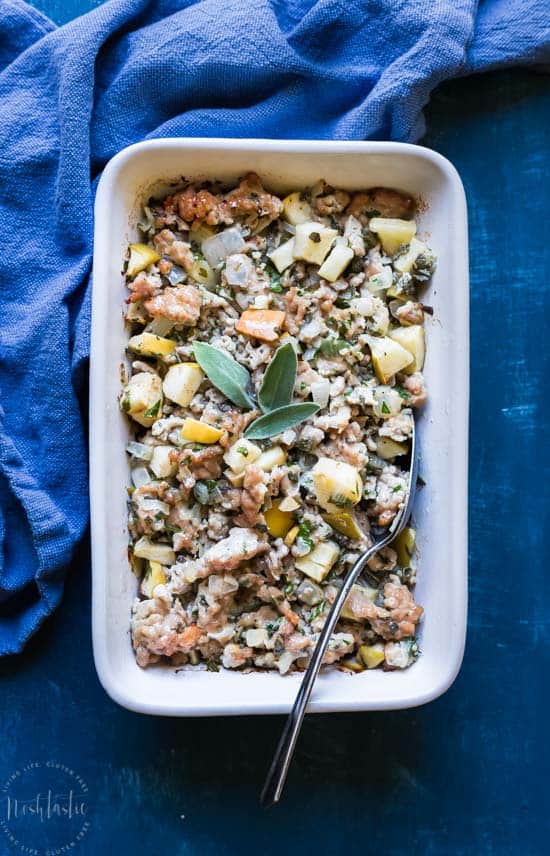 Easy Paleo Thanksgiving Stuffing
This post contains affiliate links
Thanksgiving stuffing, or dressing, is not something I want to miss out on just because I need to eat gluten free! Fortunately it's very easy to cook my tasty Paleo stuffing recipe without any gluten, you really won't miss the bread, I promise! 
Back home in Britain, Sage and Onion stuffing is a classic flavor combination that's usually served with turkey at Christmas time, either stuffed in the turkey, or baked separately like I've done here.
I've slightly tweaked the classic recipe to make it both paleo and gluten-free,  I think you'll love it! Honestly, it's good enough to eat on its own, the flavors are that great and it's very filling!
How to Make Paleo Thanksgiving Stuffing from Scratch
(full recipe card is at the end of the post)
Step 1 – Chop the Sage, Onion, and apples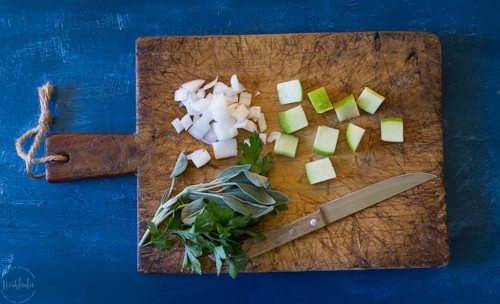 Step 2 – Soften the onions in a little olive oil, do not brown them.  Remove from the heat
Step 3 – Stir in the remaining stuffing ingredients and mix to combine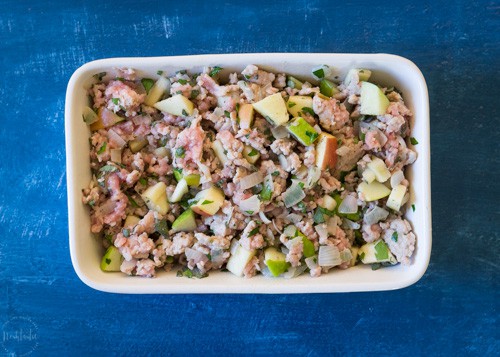 Step 3 – Place the stuffing into your casserole dish and bake for 30 to 40 minutes.
Can I stuff it in the Turkey?
Yes, you can stuff the turkey with this recipe. However, do please remember that a stuffed turkey will take longer to cook than a non stuffed turkey so please factor that in when planning your Thanksgiving menu.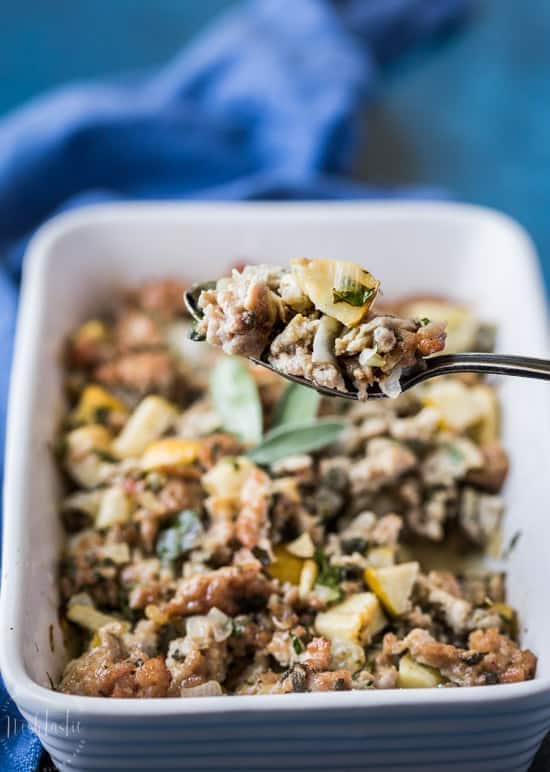 More Paleo Thanksgiving Recipes You'll Love!
You' ll love my easy, healthy,  Paleo Thanksgiving Turkey with Herb Rub, it's has such a great fresh flavor!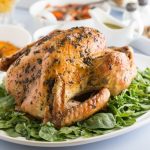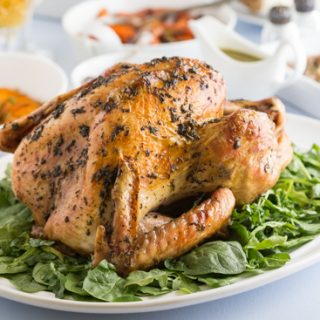 If you've enjoyed my Paleo Thanksgiving Turkey then you must try my easy Paleo Pumpkin Pie recipe with a made from scratch Paleo pie Crust and topped with  fabulous coconut milk whipped cream!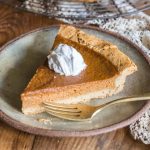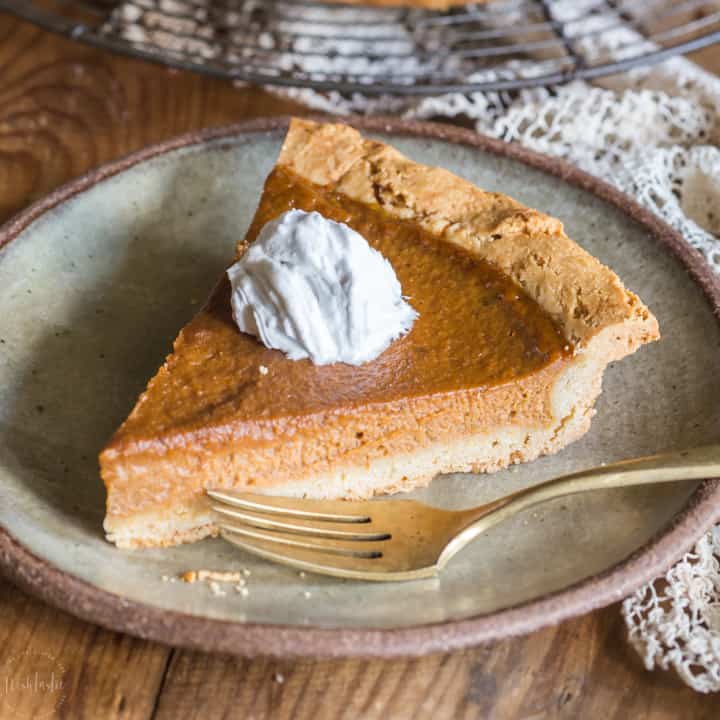 No Thanksgiving is complete without a Paleo Green Bean Casserole, there's no need to miss out this year!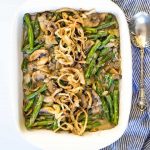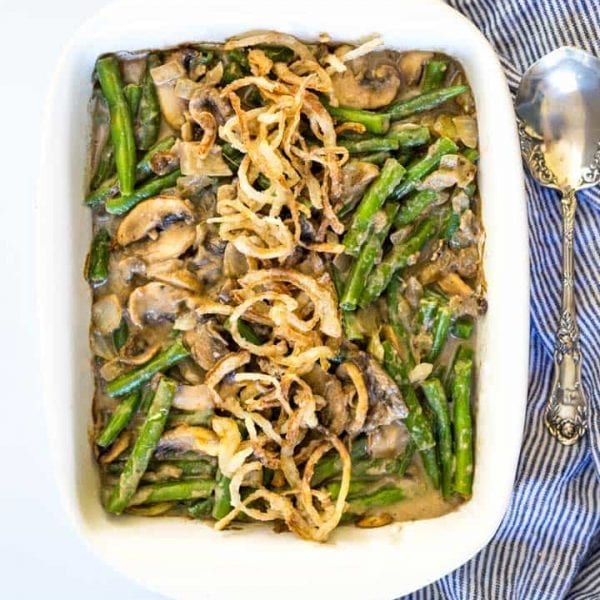 Paleo Thanksgiving Stuffing
You'll love my easy Paleo Thanksgiving Stuffing recipe, a perfect accompaniment to your Thanksgiving Turkey dinner!
Prep Time: 15 minutes
Cook Time: 50 minutes
Total Time: 1 hour 5 minutes
Total Carbs: 13 g
Protein: 20 g
Servings: 6
Ingredients
Instructions
Evenly season the pork with 1 tsp salt and 1 tsp ground black pepper and leave for at least 20 minutes.

Add the onion to a pan with the olive oil and fry gently for 8-10 minutes, or until softened. Remove from the heat.

Stir in the remaining stuffing ingredients and mix until well combined.

Add to a casserole dish and bake uncovered for 30-40 minutes, or until cooked through.
Recipe Notes
Apples - I used a combination of Granny Smith and Gala apples because that's what I had in the fridge, I think that the Granny Smiths held up a little bit better during cooking but both work.
Stuffing the Turkey - As mentioned in the post you can stuff the turkey with this but you'll need to calculate the cook time for a stuffed bird and factor that into to your menu plans. 
Ground Pork - Try to avoid ground pork that has a heavy salt solution added to it or is pre-seasoned as that will affect the taste of your stuffing.
Nutrition Facts
Paleo Thanksgiving Stuffing
Amount Per Serving
Calories 395 Calories from Fat 261
% Daily Value*
Fat 29g45%
Saturated Fat 9g56%
Cholesterol 81mg27%
Sodium 454mg20%
Potassium 482mg14%
Carbohydrates 13g4%
Fiber 3g13%
Sugar 7g8%
Protein 20g40%
Vitamin A 350IU7%
Vitamin C 9.7mg12%
Calcium 75mg8%
Iron 2.1mg12%
* Percent Daily Values are based on a 2000 calorie diet.
Nutritional information on Noshtastic is provided as a courtesy and is approximate only. We cannot guarantee the accuracy of the nutritional information given for any recipe on this site.
Course: Side Dish
Cuisine: American, British