You don't need to miss out this Thanksgiving with my easy Paleo Green Bean Casserole, your whole family will love it!
Traditional green bean casserole it's such an iconic part of most people's Thanksgiving tables but it's not been on mine for years because it's not even close to being gluten-free, far less Paleo.
This year I wanted to come up with a healthy Paleo green bean casserole that was not only gluten free and dairy free, but really tastes great too, otherwise what's the point if it isn't yummy, right?
So no need to feel left on the sidelines this year at Thanksgiving, with a bit of planning you can have have a green bean casserole that's healthy and delicious.
This post contains affiliate links
My youngest son is also gluten free like me, but the rest of my family are not so while it's pretty normal for me to simply "make do" if we are eating out and choose the safe but boring options.
At home I do try as far as possible to make Paleo and gluten-free recipes that my whole family will love, and especially at Thanksgiving!
Planning Ahead for your Paleo Green Bean Casserole
This Recipe requires a bit of pre-planning so I would advise you prepare some of it ahead of time if you want to serve it on Thanksgiving Day.
None of the elements of this Paleo Green Bean Casserole are particularly difficult to make but they are a little time consuming, especially the gluten free french fried onions.
My Paleo cream of mushroom soup is actually very easy to make and you can cook it the day before. The crispy onions could also be made the day before but they will likely lose some of their crispiness, however, Thanksgiving day is also usually really busy so it's totally your call whether you make them the day before or not.
You can slice the onions and green beans a day ahead. I used fresh green beans rather than canned, because I just don't like the texture or taste of canned green beans very much.
Here are a couple simple of step-by-step tips I took to make my Paleo Green Bean Casserole, the full recipe is at the end of the post.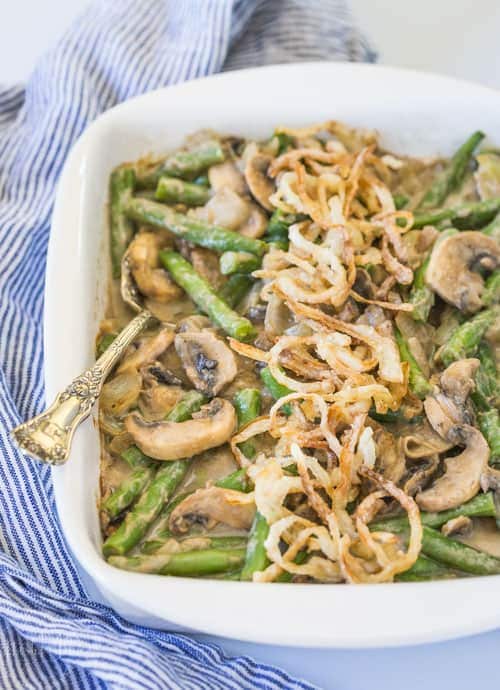 How to Make Paleo Green Bean Casserole
Step 1 – Make the Paleo Cream of Mushroom Soup, this will not take very long and is a simple recipe, I made mine the day before I needed it.
Step 2 – Make the gluten free French fried onions as mentioned above you'll need to decide whether you have time to meet them on the day you plan to use them. while you can make them ahead of time they will be most crispy if you make them on the day you plan to cook the casserole.
Step 3 – Sautee the onions and mushrooms, then Steam the green beans. The cook time I've included in the recipe ensures that the green beans still have a little bit of bite, if you like your green beans softer simply steam them for a little bit longer.
Step 4 – Assemble the green beans onions and mushrooms into the casserole dish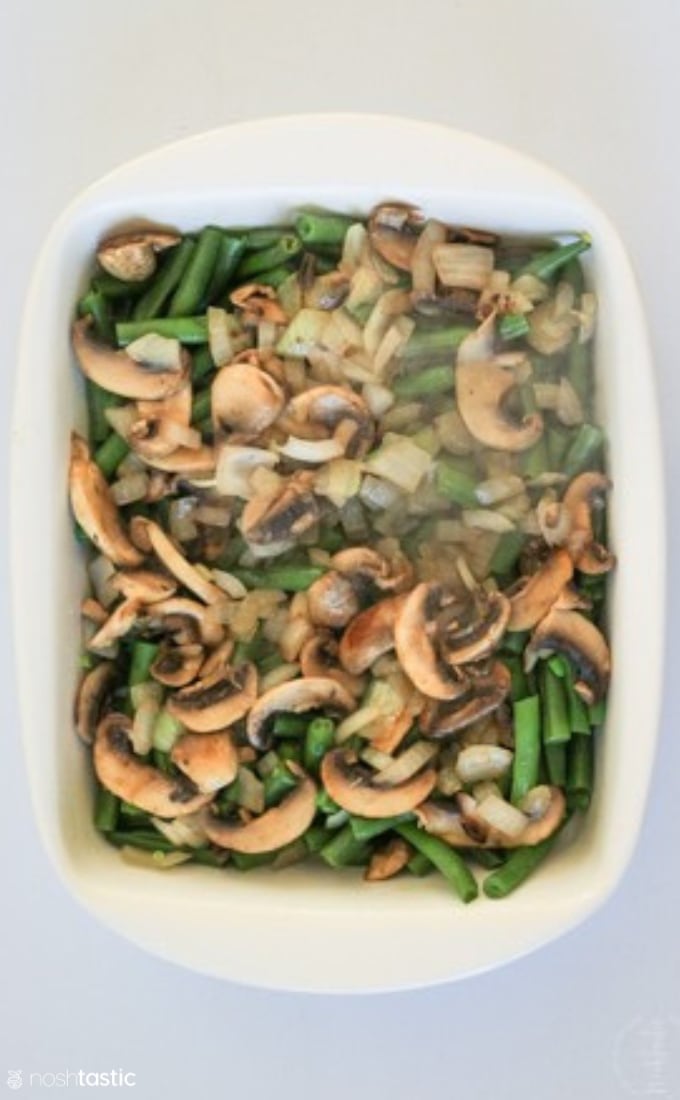 Step 5 – Pour over the mushroom soup then bake in the oven as directed for 20 minutes.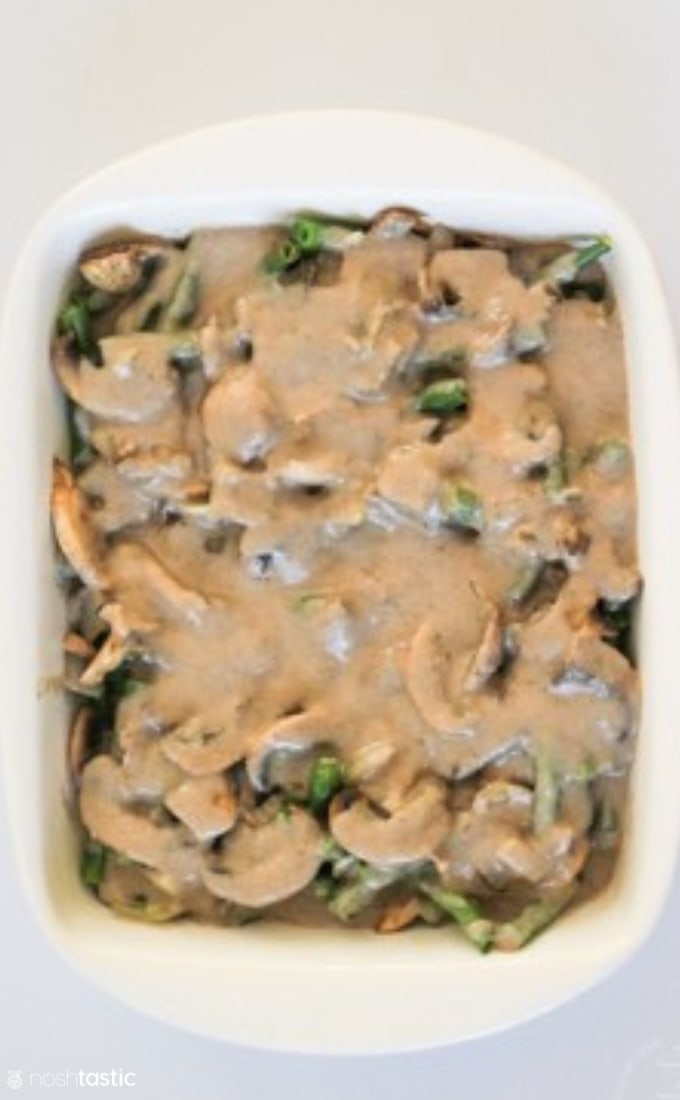 Step 6 – When the casserole is cooked and still hot, sprinkle over the gluten free french fried onions and serve.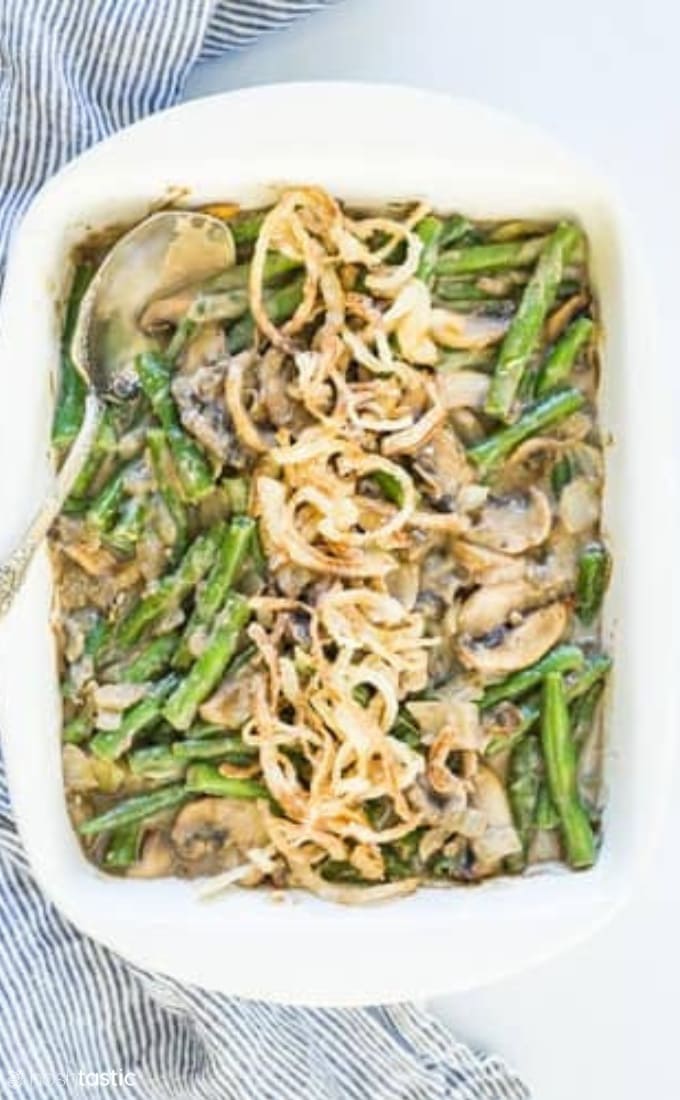 More Paleo Thanksgiving Recipes you'll Love!
You' ll love my easy, healthy, Paleo Thanksgiving Turkey with Herb Rub, it's has such a great fresh flavor! This easy recipe is naturally low carb too so it's a great all round option for everyone.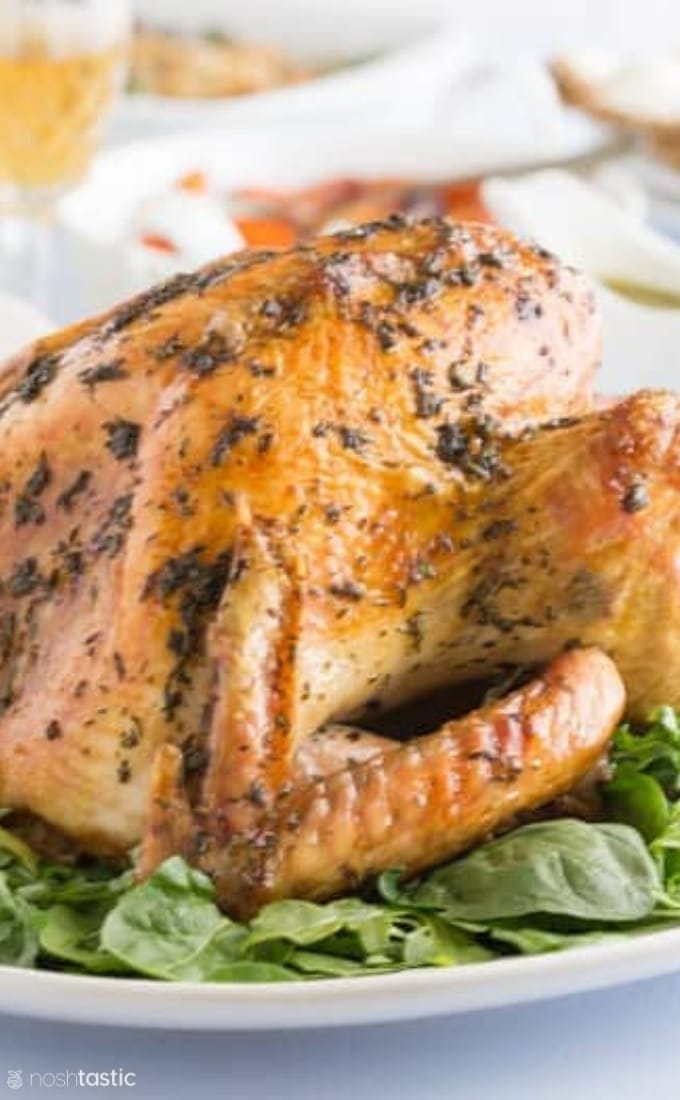 If you've enjoyed my Paleo Thanksgiving Turkey then you must try my easy Paleo Pumpkin Pie recipe with a made from scratch Paleo pie Crust and topped with fabulous coconut milk whipped cream!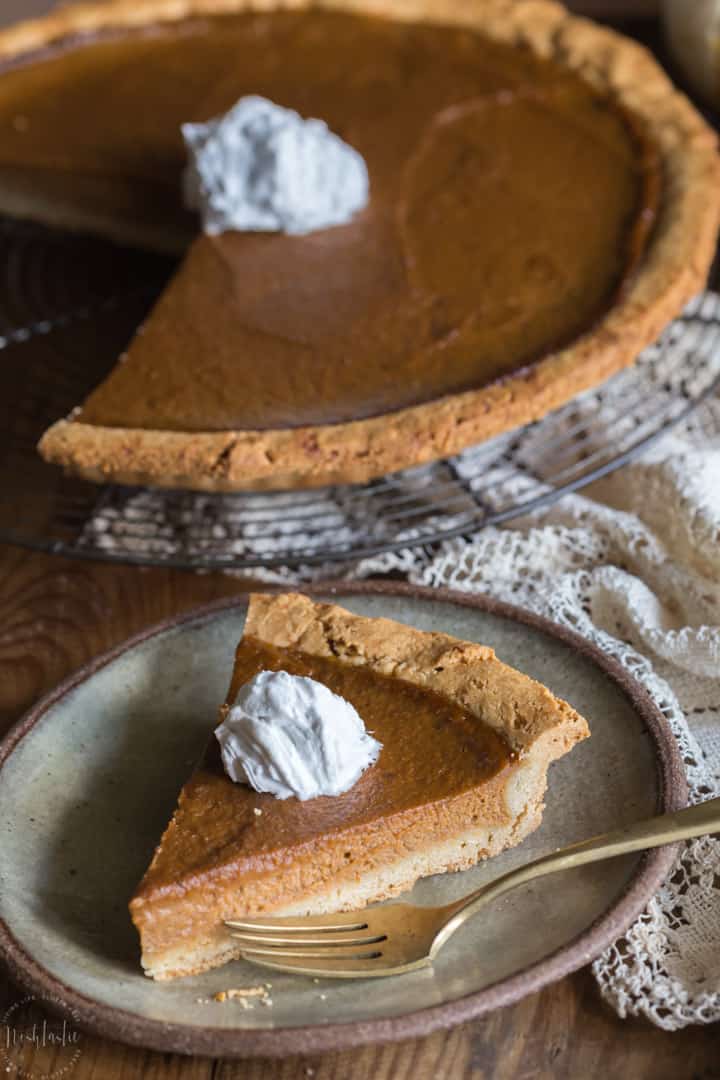 Paleo glazed carrots are a regular on our dinner table, the kids and adults love them and they are very easy to throw together. In anticipation of the fact that oven space may be at a premium during the holidays, I've provided both stove top and oven baked methods for this recipe, it works either way.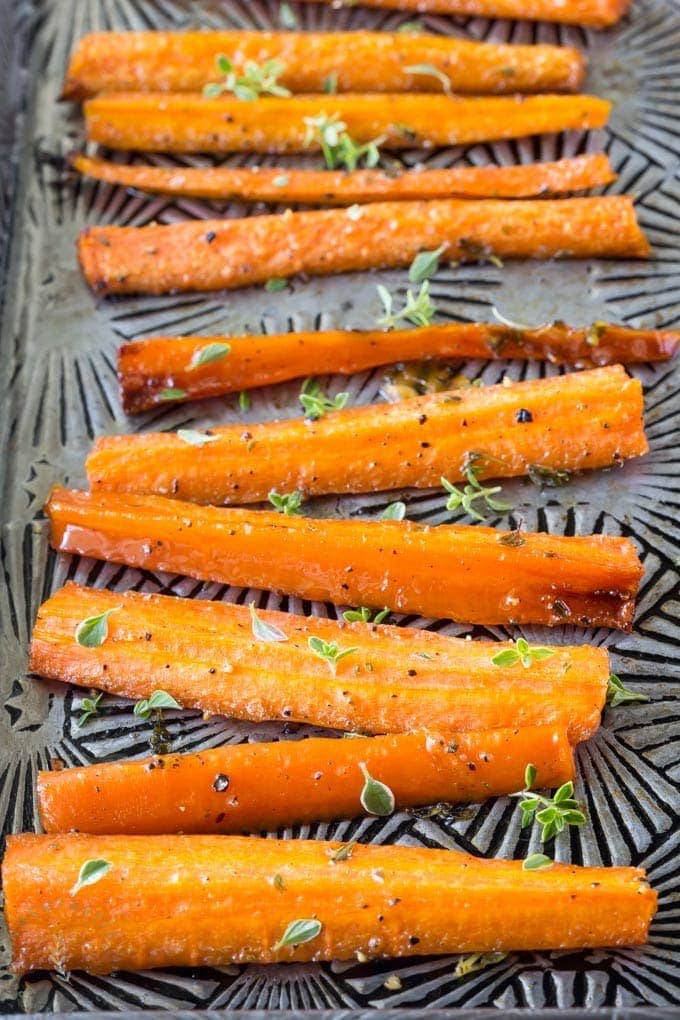 Paleo Scalloped Sweet Potatoes are a great alternative to the usual sugar laden casseroles, so if you're looking for something a little different you've come to the right place!
It's packed full of fabulous flavors including maple and orange and it will wow your Thanksgiving guests with it's beautiful presentation.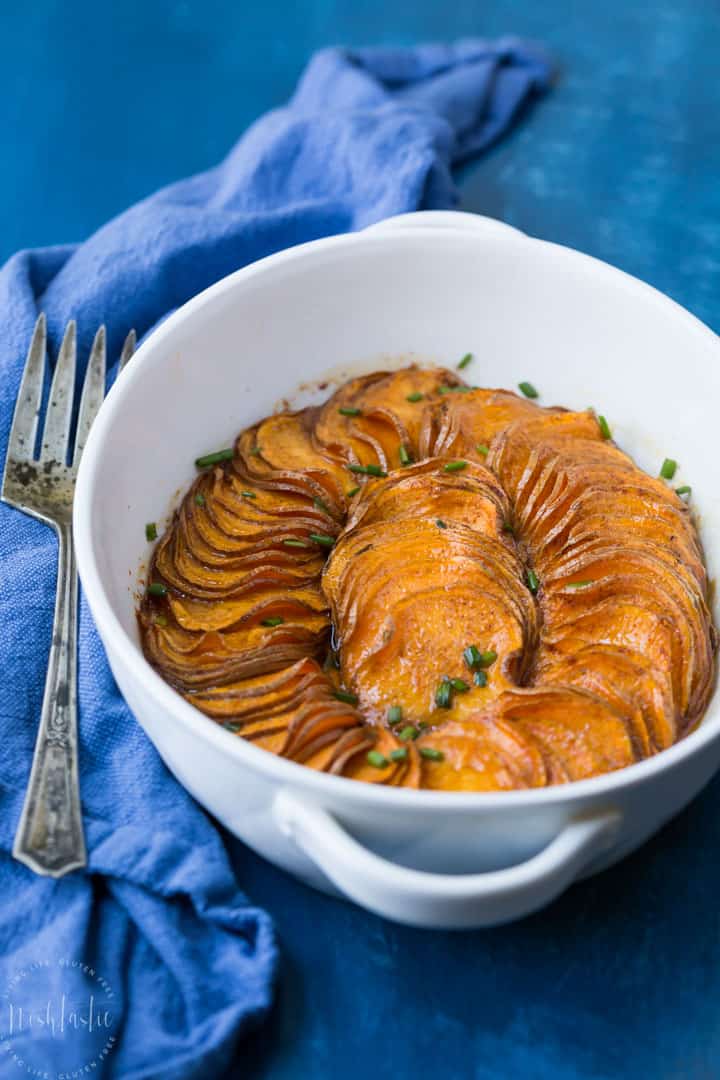 My Paleo Thanksgiving Stuffing can be made separately like you see here, or stuffed in the turkey if you prefer.
It's full of traditional British flavors with ground pork, apple, sage and onion so I think you'll love it!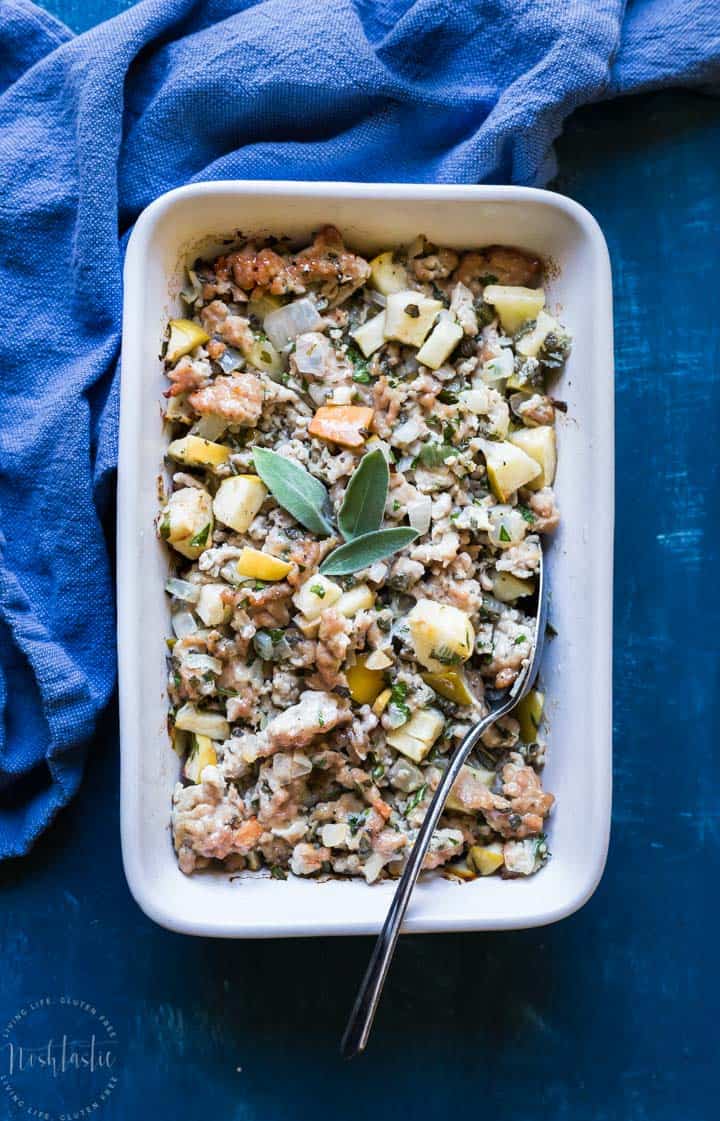 If your guests love to have soup as an appetizer course then you can't go wrong with my Pressure Cooker Pumpkin Soup recipe.
It's easy to prepare a day or two ahead of time and keep in the fridge until the big day!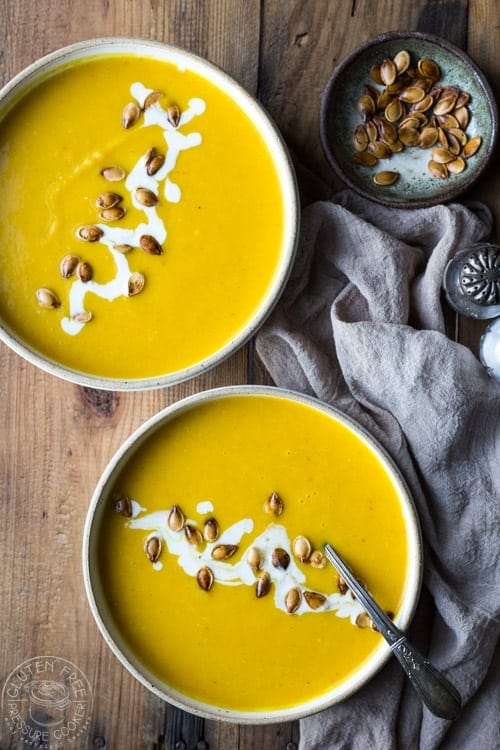 Pin this Recipe to your Thanksgiving Recipes Board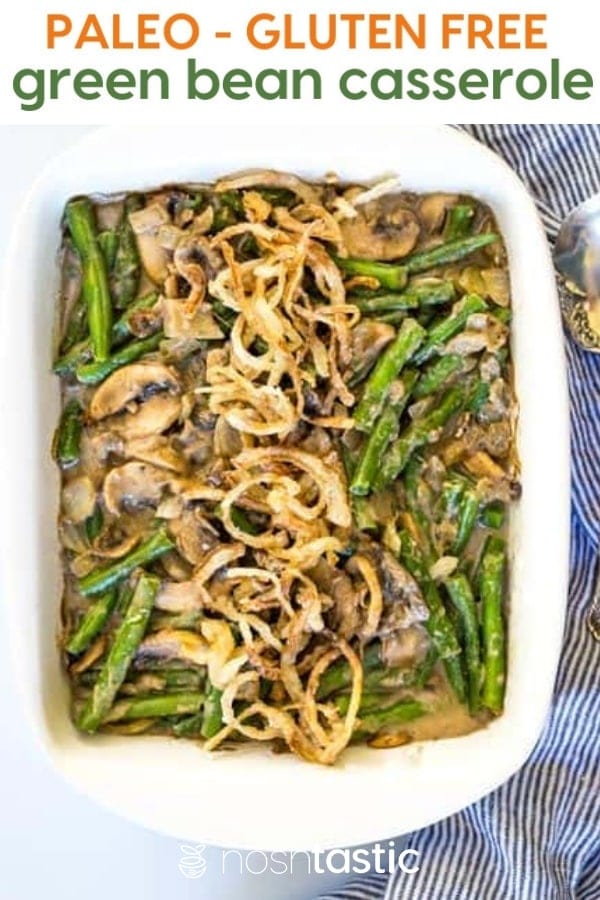 Kitchen Items you'll need to make Paleo Green Bean Casserole
Casserole Dish – you'll need a 9×13 inch oven proof baking dish to make your paleo green bean casserole in, and for Thanksgiving you want it to look nice on your table too!
Saute Pan – I love to use my cast iron skillet for sauteeing, it works perfectly every time and it's the most used pan in my kitchen.
Hand Blender – you'll need a blender of some sort to puree the mushroom soup for this casserole, a hand blender is a very versatile and space saving option if you don't already have one.
Tapioca Starch – if you opt to make the paleo French Fried onions – and I think you should! – then you'll need some Tapioca Starch to coat them with.
Mandoline – The French Fried onions work best if they are evenly cut and the very best and easiest way to ensure that this happens is to use a mandoline.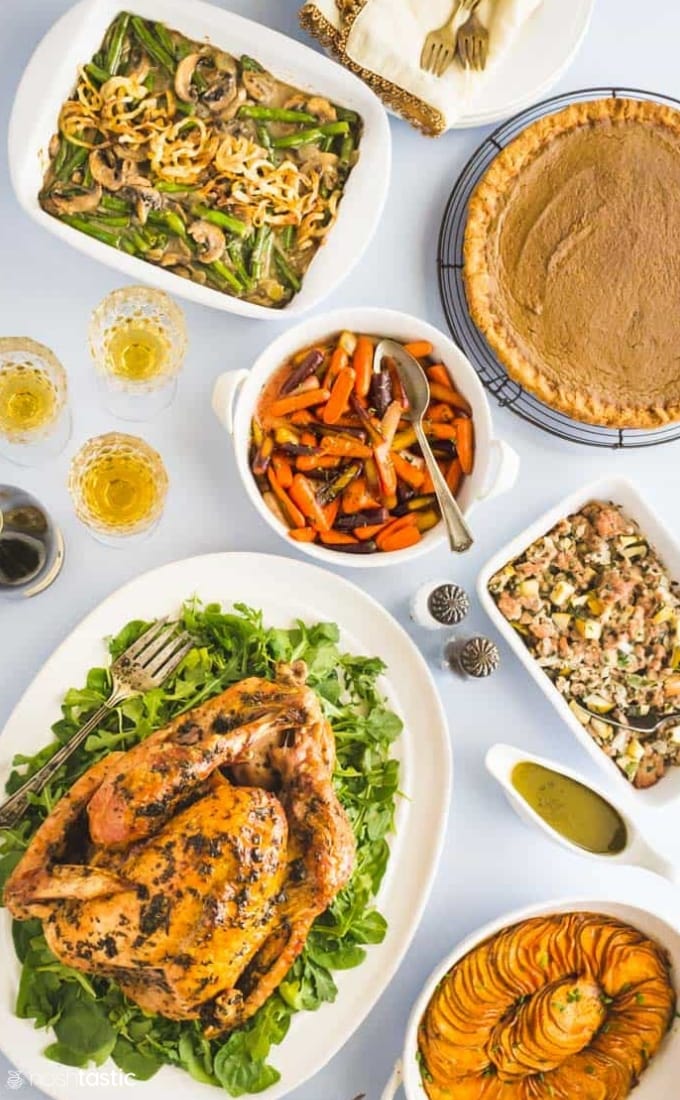 Paleo Green Bean Casserole
Don't miss out this Thanksgiving, plan ahead and make your own healthy, tasty, Paleo Green Bean Casserole!
Prep Time: 1 hour
Cook Time: 40 minutes
Total Time: 1 hour 40 minutes
Total Carbs: 9 g
Protein: 3 g
Servings: 8
Instructions
Preheat the oven to 350F.

Steam the green beans for 6-8 minutes, then remove from the heat and place them in a greased 9x13 casserole dish. If you like your green beans softer, just cook them a little longer.

Saute the onions and mushrooms in the olive oil for 5 minutes.

Add the onions and mushrooms into the casserole dish with the steamed green beans.

Pour over the mushroom soup and bake for 20 minutes, remove from the oven and sprinkle the gluten free French Fried onions over the top before serving.

If you made the onions the day before you may need to crisp them up some more by placing them under a broiler for a short time, be careful not to burn them!
Recipe Notes
NUTRITION FACTS - the calories listed are very approximate, you'd need to use an online calculator for all the elements (and brands) you use to get an accurate calorie count.
Nutrition Facts
Paleo Green Bean Casserole
Amount Per Serving
Calories 265 Calories from Fat 27
% Daily Value*
Fat 3g5%
Sodium 8mg0%
Potassium 342mg10%
Carbohydrates 9g3%
Fiber 3g13%
Sugar 4g4%
Protein 3g6%
Vitamin A 780IU16%
Vitamin C 15.1mg18%
Calcium 44mg4%
Iron 1.3mg7%
* Percent Daily Values are based on a 2000 calorie diet.
Nutritional information on Noshtastic is provided as a courtesy and is approximate only. We cannot guarantee the accuracy of the nutritional information given for any recipe on this site.
Course: Side Dish
Cuisine: American