A really easy Sweet Potato and Lentil Curry that's gluten free and Vegan too!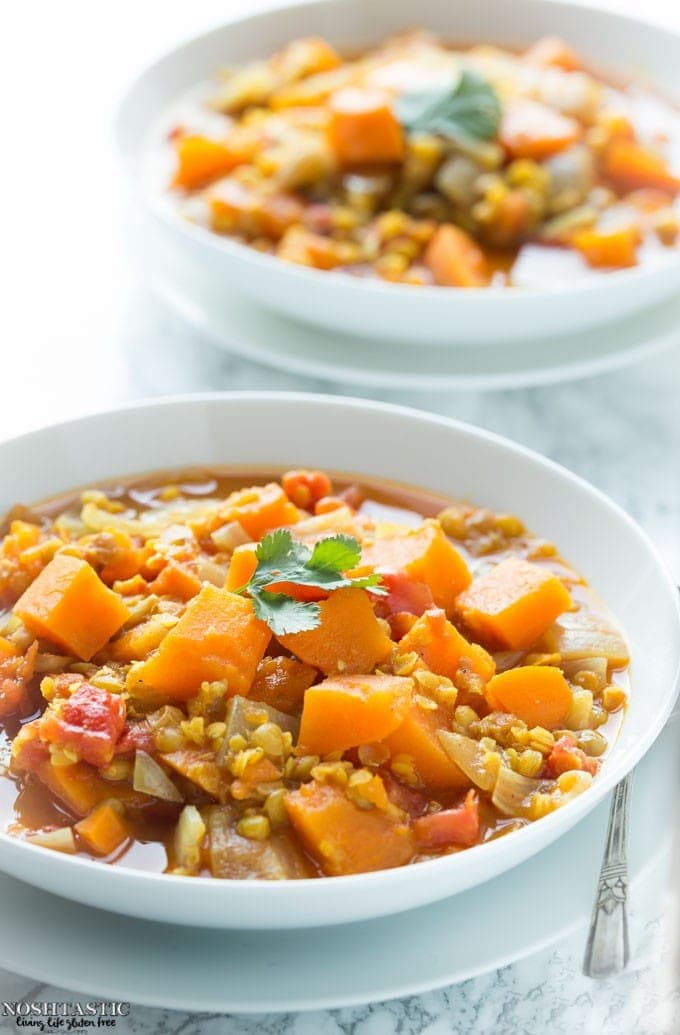 I think it's fair to say that in our house any kind of curry would trump most other dinner options on any day of the week, especially if it's my husband that's choosing the menu! I'm from Scotland and curry is as popular back home as Mexican take out is here, it's also affectionately known as Scotland's 'other' national dish. Curry is a fairly broad term and encompasses food from several continents but the curries that are most common in Scotland typically come from India and Pakistan.
I suspect that most people who have never tried any type of curry associate it with super spicy food but that's not always the case and the spiciness can be adjusted to suit your palate. My Sweet Potato and Lentil Curry is a very mild vegan curry, the only chili powder added to it is in the curry powder so unless you have a hot curry powder it will not set your mouth on fire. If you're like my husband and like it a bit more spicy then you can add some additional chili powder to kick it up a notch.
It's also a very healthy and cheap dinner option, I don't think you'll miss the meat. If you can find Naan bread in your grocery store (or make some yourself) that would be a perfect accompaniment. I can't tolerate dairy any more but if you can then a large dollop of natural yoghurt on top would also be a great way to serve it.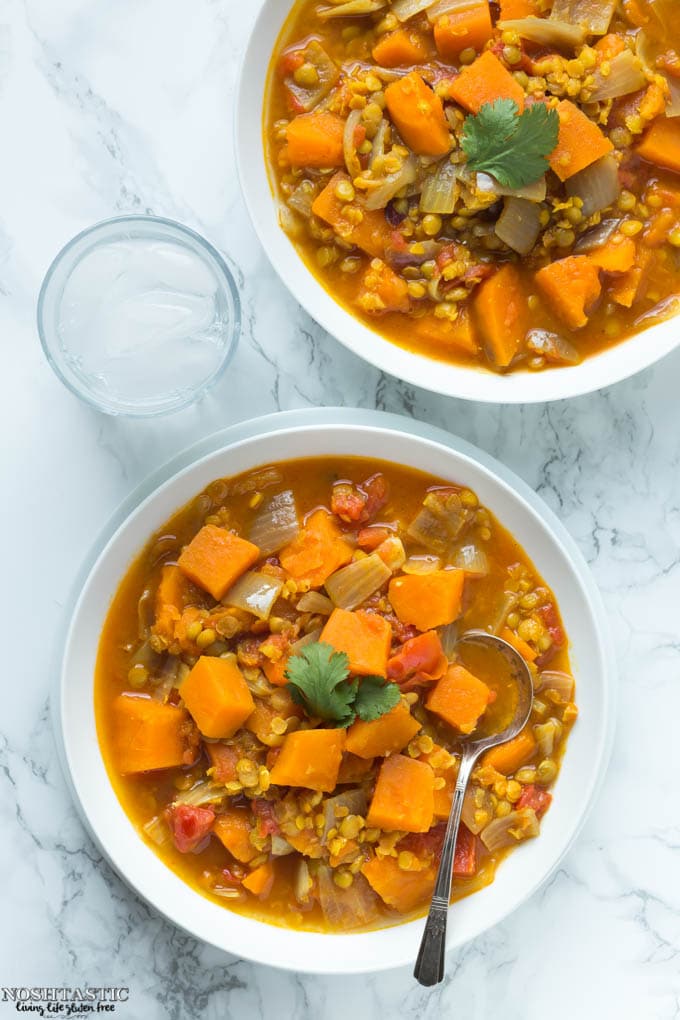 Easy Sweet Potato and Lentil Curry
A really easy Sweet Potato and Lentil Curry that's gluten free and Vegan too! Serve it with Naan Bread and Yoghurt
Prep Time: 15 minutes
Cook Time: 20 minutes
Total Time: 35 minutes
Total Carbs: 22 g
Protein: 7 g
Servings: 4
Ingredients
2 tbsp coconut oil
1 red onion , chopped
1 clove garlic , crushed
1 inch piece fresh ginger , peeled and grated
1 tsp cumin seed
1 tbsp mild or medium curry powder
1/4 cup red lentils , 50g
1/4 cup green lentils , 50g
2 medium sweet potatoes , peeled, cut into cubes
2 cups gluten free chicken or vegetable broth , 500 mls
14.5 oz can diced tomatoes , 411g
salt and pepper to taste
leaves cilantro , to serve (optional)
Chili powder , to taste (optional, to give extra heat)
Yoghurt and flatbread to serve , optional
Instructions
Heat coconut oil in a large pan and add the chopped onions and garlic, cook on a medium heat until they soften a bit.

Add the curry powder and cumin seeds and cook for a minute or two, then stir in the lentils, ginger, sweet potatoes, broth, and diced tomatoes.

Bring to the boil then cover and simmer gently for 20 mins or until the lentils and sweet potatoes are cooked.

Don't overcook it or the sweet potatoes with turn to mush!

Season with salt and pepper and garnish with cilantro leaves.

serve with flatbread such as naan, and if you eat dairy natural yoghurt works well too.
Recipe Notes
This is typically a very mild curry, the only chili powder added is what's included in the curry powder mix. That said, curry powders are often labeled mild, medium, and hot so make sure you check the label before you use it!
If you want additional heat you can add some chili powder to kick it up a notch.
Nutrition Facts
Easy Sweet Potato and Lentil Curry
Amount Per Serving
Calories 181 Calories from Fat 63
% Daily Value*
Fat 7g11%
Saturated Fat 6g38%
Sodium 581mg25%
Potassium 575mg16%
Carbohydrates 22g7%
Fiber 8g33%
Sugar 4g4%
Protein 7g14%
Vitamin A 205IU4%
Vitamin C 21mg25%
Calcium 70mg7%
Iron 3.8mg21%
* Percent Daily Values are based on a 2000 calorie diet.
Nutritional information on Noshtastic is provided as a courtesy and is approximate only. We cannot guarantee the accuracy of the nutritional information given for any recipe on this site.
Course: Curry
Cuisine: Indian