Paleo Thanksgiving Turkey with Herb Rub is the perfect addition to your Thanksgiving table and very simple to create.
It will make a wonderful centerpiece to on your Thanksgiving table and it not only tastes great, it looks good too!
This post contains affiliate links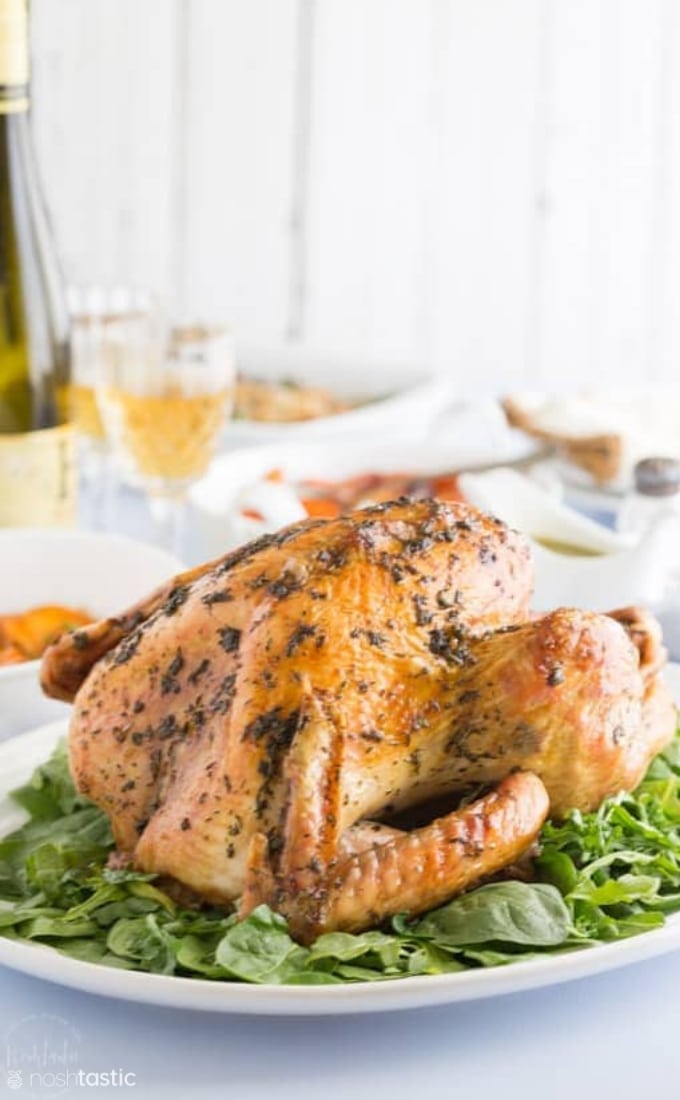 Tips for making Paleo Thanksgiving Turkey
The first tip is to make sure that you have fresh herbs and not dried herbs.
There's really no substitute for the fresh herbs in this recipe, dried herbs simply won't give you the same flavor.
Mix the chopped fresh herbs with either coconut oil, avocado oil, or olive oil  and rub all over the skin of your paleo Thanksgiving turkey.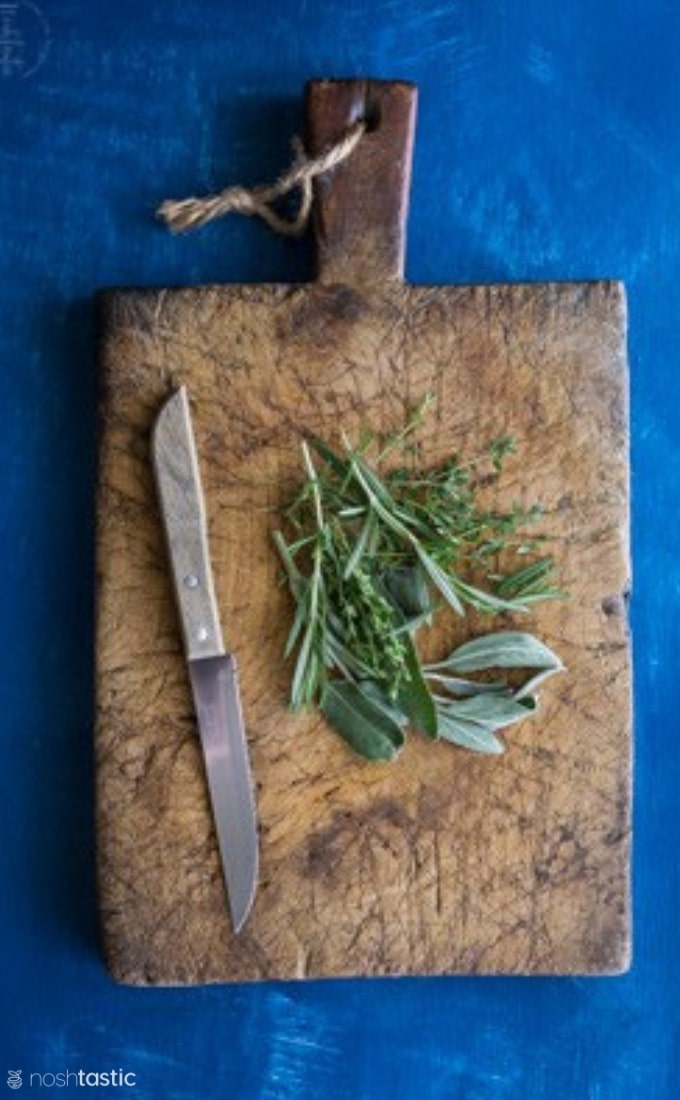 I like to leave my turkey uncovered in the fridge overnight to help the skin dry out so that it becomes good and crispy in the oven, but you can also bake it right away.
It's a good idea to baste the turkey every 30 minutes or so during cooking, you can add a little more water to the pan if you need to.
When the turkey has browned on the outside you can cover it with aluminum foil to prevent it from getting too dark while it continues to cook.
You can check if it's done with an Instant Read Thermometer.
When the turkey is cooked remove it from the oven cover it with foil and let it rest for at least 30 minutes.  it should stay hot during this resting time.
Tips for buying Turkey
The first thing you need to decide before you choose your turkey is how many people you want to feed with it.
Typically, you'll need an average of 1lb of bone in turkey per person or 1.5lbs per person if you want enough for leftovers.
My top tip would be to avoid buying frozen grocery store turkeys.
Usually these frozen turkeys are known as 'self basting' which really means that they've been injected with a 'flavor enhancing solution' that usually contains a mixture of salt, oil, seasoning, and sometimes sugar.
However, in my experience this does nothing to enhance the flavor. The last frozen turkey I had tasted sweet and eating it was not a pleasant experience.
And, even if you find a frozen turkey that does not have a brining solution already added to it you also have the inconvenience of waiting several days for the turkey to fully defrost before you cook it.
The best type of turkey to buy if you can afford it would be a fresh organic and properly free range bird from a local farmer.
Or, if you have access to a specialty grocery store like Whole Foods they can usually order one for you.
They are significantly more expensive than your average grocery store turkey but the taste is far superior and worth it for Thanksgiving!
Regardless of the type of fresh turkey you eventually decide to get, if you're buying it for Thanksgiving or Christmas it really pays to place an order at the grocery store ahead of time, it won't cost you extra to do this.
Don't make the mistake of assuming that your grocery store will still have a fresh turkey in the size that you want two days prior to Thanksgiving, often all that's left by then are the turkeys that nobody else wants!
You also need to make sure that you have a large roasting pan that will accommodate the turkey, and that the turkey will fit in your oven comfortably.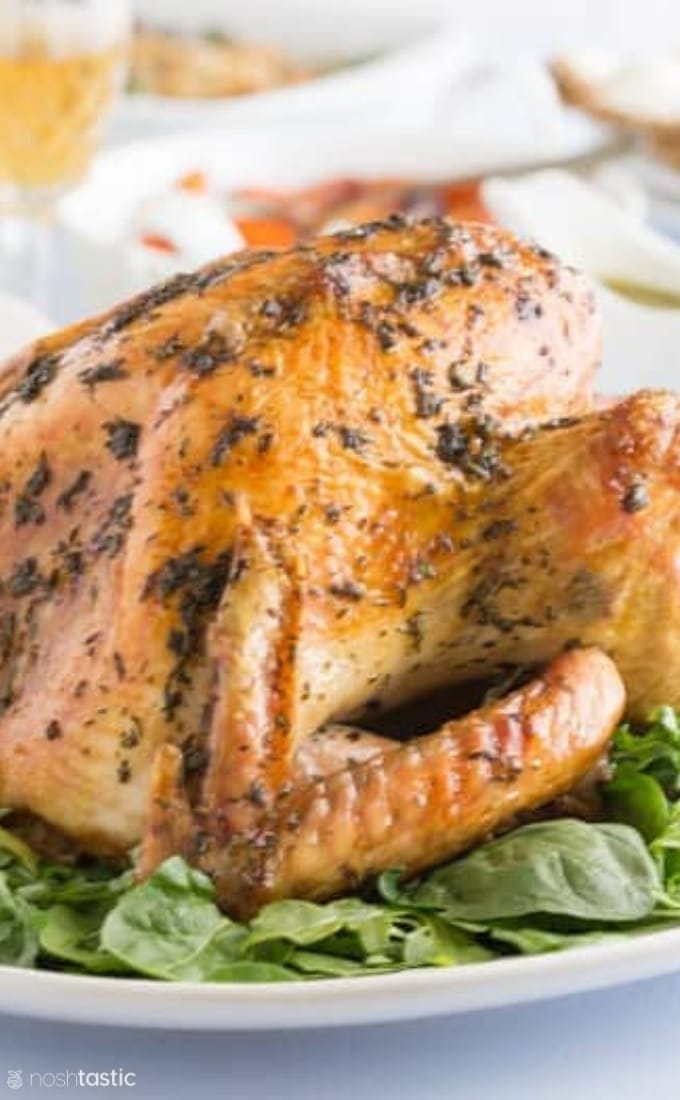 Do I really need to brine my Paleo Thanksgiving Turkey?
There are two types of brining, wet brining and dry brining with a seasoned salt rub.
There are as many opinions on whether to brine your turkey as there are recipes for Turkey Brine on the Internet,  it's quite the controversial topic!
I tend to fall in line with Kenji Lopez on this one. He tested multiple pieces of chicken in various solutions of brine, water, and and other flavor solutions to see if it impacted both the taste and texture of the cooked chicken breasts.
At the end of the day he decided brining turkey was a waste of time because it simply diluted the flavor of the meat, even if in some cases it arguably improved the texture.
He did say that if you still insist on brining a turkey, that a dry brine was the best option in terms of taste and texture.
What to serve with Paleo Thanksgiving Turkey
I have a full paleo thanksgiving menu you can serve to all your guests that not only tastes fantastic but is paleo compliant and much of it works for Whole30 too. I'll link all the recipes below.
Paleo Green Bean Casserole – this is my paleo version of the ubiquitous green bean casserole, but without any trace of canned soup. It will require you to make my very simple paleo mushroom soup recipe.
Paleo Thanksgiving Stuffing – with added British flavors, this  Thanksgiving stuffing will not disappoint! it's made with Pork, fresh sage, apples and onions.
Paleo Scalloped Sweet Potatoes – pretty scalloped sweet potatoes with a wonderful maple orange glaze, the whole family loved them!
Paleo Turkey Gravy – easy recipe for turkey gravy is prepared ahead using chicken wings and vegetables, then you simply add the turkey juices on the day you cook the turkey for a really tasty gravy.
Paleo Glazed Carrots – you can cook these on the stove top or in the oven if you have room on the day
Paleo Pumpkin Pie – No Paleo Thanksgiving would be complete without Pumpkin Pie! Now you don't need to miss out if you are paleo or dairy free.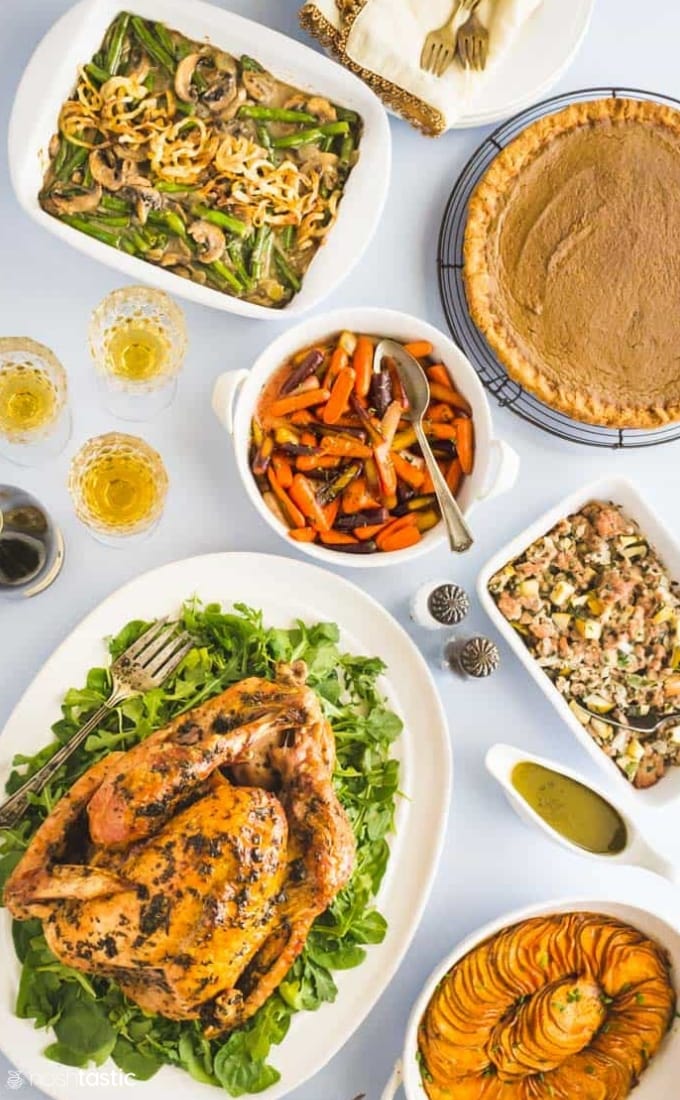 Paleo Thanksgiving Turkey with Fresh Herb Rub
A wonderfully flavorful and healthy herb rub that will enhance your Paleo Thanksgiving Turkey this year!
Prep Time: 15 minutes
Cook Time: 2 hours 35 minutes
Total Time: 2 hours 50 minutes
Total Carbs: 5 g
Net Carbs: 3 g
Protein: 87 g
Servings: 8
Ingredients
10 lb fresh turkey
2 ribs celery , cut in chunks
2 large carrots , cut in chunks
1 medium onion , roughly chopped
1 sprig thyme
Herb crust:
1 bunch rosemary , fresh, finely chopped
1 bunch thyme , fresh, finely chopped
1 bunch sage , fresh, finely chopped
½ cup olive oil , or, coconut or avocado oil
1 tbsp kosher salt
Instructions
Finely chop the rosemary, sage, thyme. Then add the herbs, salt, and oil together in a small bowl and rub it all over the skin of the fresh turkey.

Add the the onions, carrots, celery, and bay leaves in a large roasting pan.

Put the turkey on top of the vegetables and refrigerate overnight if you have time, this will help the skin dry out and become nice and crispy.

Preheat your oven to 450 degrees F. Cook time is about 17 minutes per pound.

Put 1 cup water into the bottom of the roasting pan. Roast the turkey in the preheated oven until the skin becomes brown, about 40 minutes.

Reduce the oven temperature to 350F for the rest of the cook time.

Baste the turkey every 30 minutes with the pan juices, add a little more water to the roasting pan, if needed.

Once it has browned you can loosely tent the turkey with foil to prevent it from getting too dark and drying out.

Remove the turkey from the oven when an instant-read thermometer inserted in the thickest part of the turkey registers 160F. Make sure that the thermometer is not touching a bone when doing the reading.

When the turkey is fully cooked remove it from the oven and let it rest for at least 30 minutes. Cover loosely with aluminum foil while it's resting.
Recipe Notes
3g net carbs
Turkey recipe slightly adapted from Food Network
Nutrition Facts
Paleo Thanksgiving Turkey with Fresh Herb Rub
Amount Per Serving
Calories 712 Calories from Fat 324
% Daily Value*
Fat 36g55%
Saturated Fat 8g50%
Cholesterol 289mg96%
Sodium 1344mg58%
Potassium 1038mg30%
Carbohydrates 5g2%
Fiber 2g8%
Sugar 1g1%
Protein 87g174%
Vitamin A 3495IU70%
Vitamin C 4.5mg5%
Calcium 114mg11%
Iron 4.7mg26%
* Percent Daily Values are based on a 2000 calorie diet.
Nutritional information on Noshtastic is provided as a courtesy and is approximate only. We cannot guarantee the accuracy of the nutritional information given for any recipe on this site.
Course: Main Course
Cuisine: American