This easy to make breakfast casserole will feed your whole family. Made with eggs, cheese, bacon, mushrooms, peppers and green onions it's a healthy way to start the day!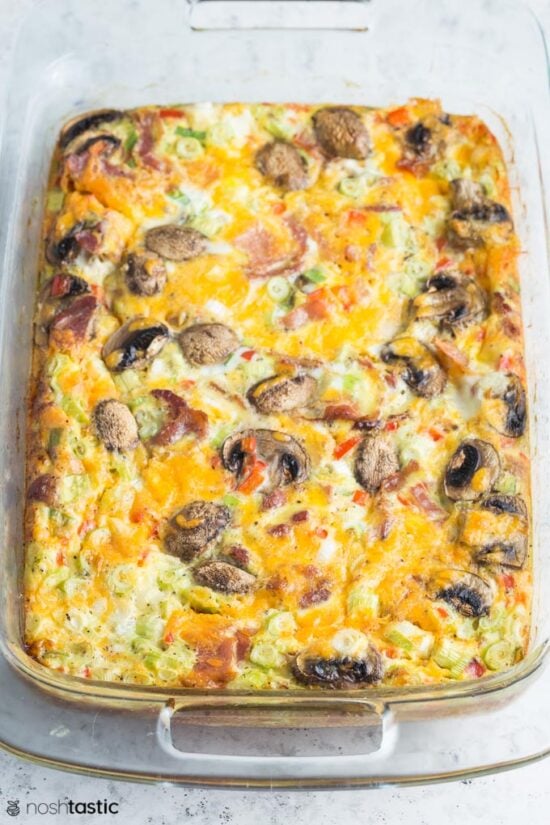 This post contains affiliate links
How to Make Breakfast Casserole
Start by preheating your oven to 375°F, and then break all the eggs into a large bowl and add half of the cheese along with salt, pepper, and garlic if you are adding it.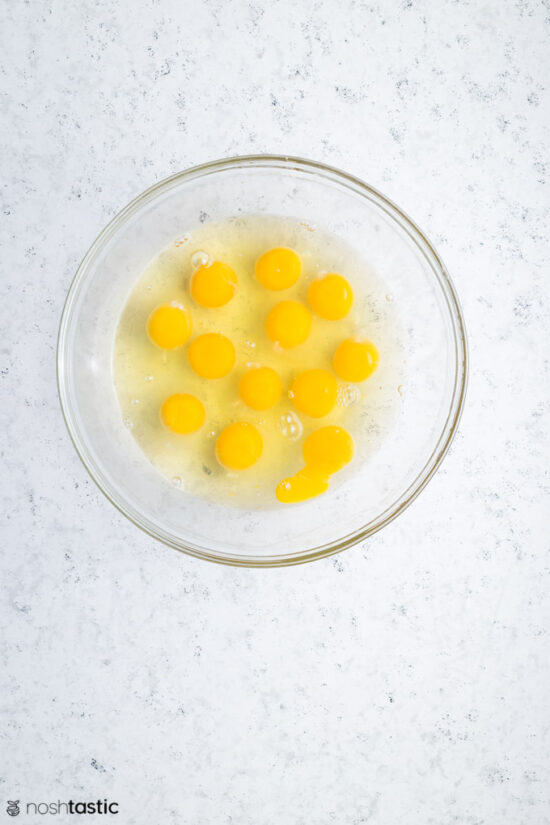 Next, prepare the vegetables including the green onions, bell pepper, and mushrooms by cutting them into small pieces. Break up the already cooked bacon into small pieces too.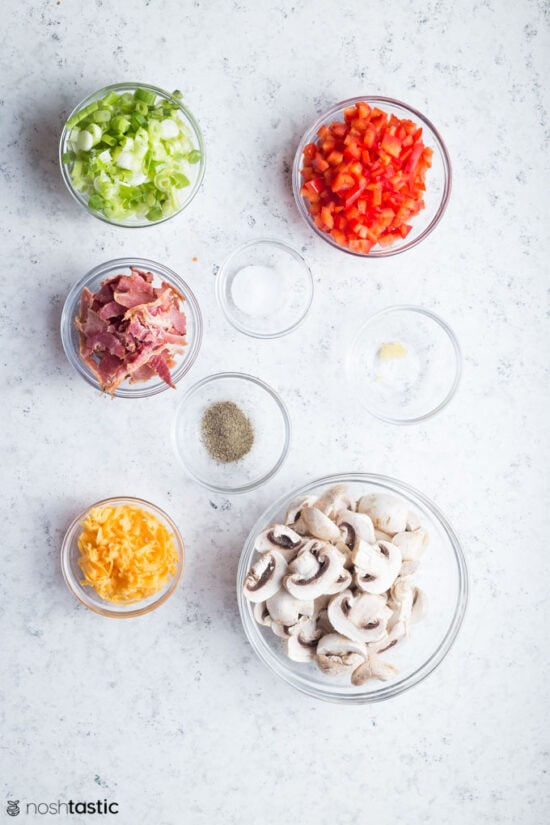 Get your 9 x 13 ovenproof baking pan and grease the sides a little then evenly spread the vegetables and bacon pieces into the dish and then pour over the beaten egg and cheese mixture and sprinkle over the rest of the cheese.
Your breakfast casserole will take about 30-40 minutes to fully bake but oven temperatures vary so be sure to check it so it does not overcook.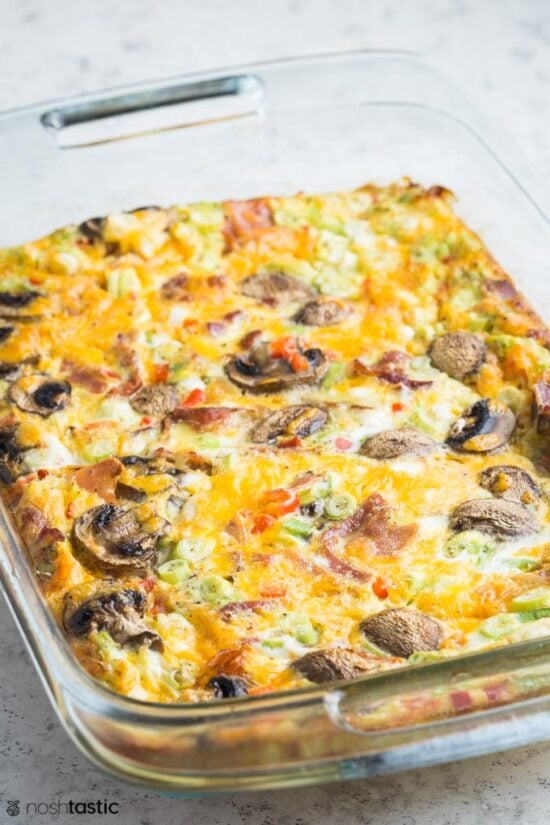 More Easy Breakfast Recipes
Make Ahead and Freezing Tips
Make ahead – my favorite way to do this is to prepare all vegetables ahead of time, place them into the greased 9×13 pan along with the bacon pieces and cling wrap it in the fridge. Then simply whisk the egg, cheese, salt, pepper and garlic together in a bowl and cover and store them in the fridge overnight. All you need to do in the morning is pour over the egg mixture and bake it.
Freeze it – I like to portion up the cooked breakfast casserole and place it into freezer bags. You can defrost in the fridge overnight or use the microwave to defrost and reheat.
Breakfast Casserole
Easy breakfast casserole made with bell peppers, onions, msuhrooms, eggs, bacon, and cheese, a great make ahead breakfast.
Total Carbs: 4 g
Net Carbs: 3 g
Protein: 19 g
Servings: 6
Breakfast Casserole
Ingredients
12 eggs
1 tsp salt
1/2 tsp ground black pepper
1 clove garlic (optional) , crushed
8 slices cooked bacon
1 red bell pepper
6 green onions
3 oz mushrooms , sliced
3/4 cup cheddar cheese , shredded
Instructions
Preheat oven to 375°F (190°C)

Whisk together all the eggs, half of the shredded cheese, salt, black pepper and optional garlic and set aside.

Dice the bell pepper, slice the mushrooms, and green onions, and cut the already cooked bacon slices into small pieces.

Place the bell pepper, mushrooms, green onions, and bacon evenly over the base of the 9 x 13 inch baking pan, then pour over the egg and cheese mixture and top with the remaining cheese.

Bake for 30-40 minutes or until the center of the casserole is fully cooked.
Recipe Notes
Nutrition and Servings – makes six servings, this recipe is low carb and Keto friendly with only 4g carbs and 3g net carbs per serving. 
Dairy Free – you can omit the cheese and it will still taste great, or you can substitute a dairy free cheese option like Daiya. 
Make ahead – Prepare the vegetables and bacon per recipe directions and place them into the greased 9×13 pan then cling wrap it in the fridge. Whisk the egg, cheese, salt, pepper and garlic together in a bowl and cover and refrigerate. All you need to do in the morning is pour over the egg mixture and bake it.
Fridge – Will keep for up to four days covered in the fridge.
Freezer  – You can keep it for a couple of months in the freezer. It's easiest if you portion it up and freeze the portions separately. 
Nutrition Facts
Breakfast Casserole
Amount Per Serving
Calories 247 Calories from Fat 153
% Daily Value*
Fat 17g26%
Saturated Fat 7g44%
Cholesterol 353mg118%
Sodium 787mg34%
Potassium 309mg9%
Carbohydrates 4g1%
Fiber 1g4%
Sugar 2g2%
Protein 19g38%
Vitamin A 1357IU27%
Vitamin C 28mg34%
Calcium 160mg16%
Iron 2mg11%
* Percent Daily Values are based on a 2000 calorie diet.
Nutritional information on Noshtastic is provided as a courtesy and is approximate only. We cannot guarantee the accuracy of the nutritional information given for any recipe on this site.
Course: Breakfast
Cuisine: American