You need to try my delicious, easy, sheet pan Balsamic Chicken recipe with Roasted Potatoes, Red Onion, Tomatoes & fresh herbs! You can cook it on one pan in the oven in an hour or less!
It's such an easy year round gluten free recipe that the whole family will love, it's one of our favorites as it has everything you need all in one pan!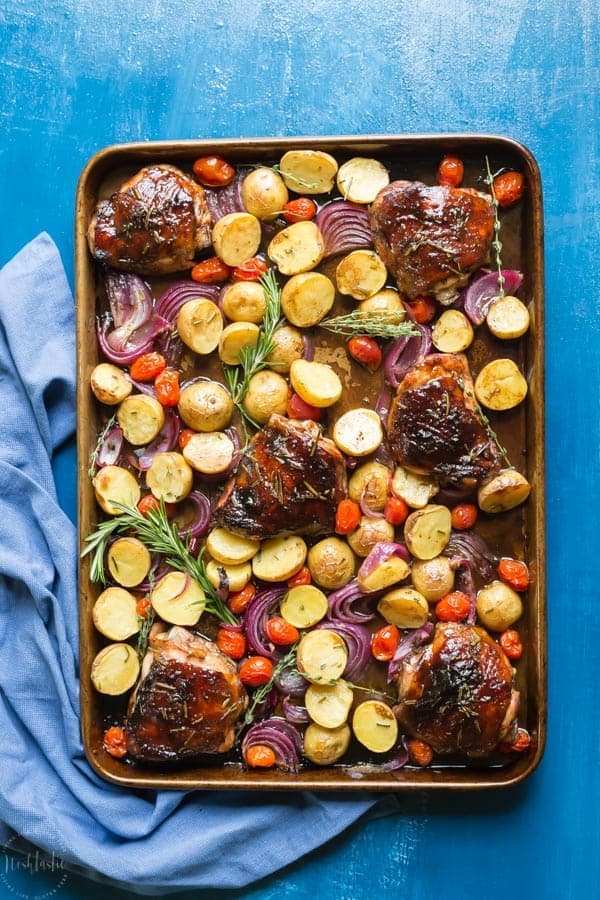 What is Balsamic Vinegar made of?
Balsamic vinegar is a very dark, concentrated vinegar made wholly or partially from freshly pressed grape juice, and it comes from Italy.
Balsamic Vinegar of Modena, is probably the type you have in your pantry and can be found in most supermarkets and grocery stores in the USA .
It's made from a combination of grape must (that's the pressed grape juice) and wine vinegar which when mixed together must be aged in wood containers for a duration of at least 60 days.
This post contains affiliate links
What is a good quality Balsamic Vinegar?
Traditional Balsamic Vinegar (or Aceto Balsamico Tradizionale) is a type of balsamic vinegar that is made only in the Emilia Romagna region of Italy.
Unlike its much cheaper cousin, Balsamic Vinegar of Modena, Traditional Balsamic Vinegar is made in a different way, and must be aged for at least nine years resulting in a far superior product, with a superior price tag to match! [1]
For this recipe the supermarket Balsamic Vinegars are plenty good enough, though some versions are definitely better than others.
I tend to avoid any that have added caramel color as I'm guessing that's there to somewhat cover up an inferior product, but that's just a hunch as I'm certainly no vinegar expert.
Is Balsamic Vinegar Good for your Health?
Balsamic vinegar is good for your health and is low in calories, I've listed just a few of the health benefits below.
Helps lower Cholesterol – In a 2010 study published in the "Journal of Nutritional Science and Vitaminology," researchers found that the polyphenols in balsamic vinegar limited the ability of LDL cholesterol to oxidize, meaning that the amount of damage done to your body by LDL cholesterol was reduced [1]
Low Calorie – while low calorie diets have somewhat fallen out of favor recently, avoiding unnecessary extra calories is not always a bad thing! Balsamic vinegar averages about 14 calories per tablespoon, or 16g, which is pretty low.
Digestive Aid – It's said that Balsamic vinegar is good as a digestive aid, so I think it's worth a try, plus it tastes great!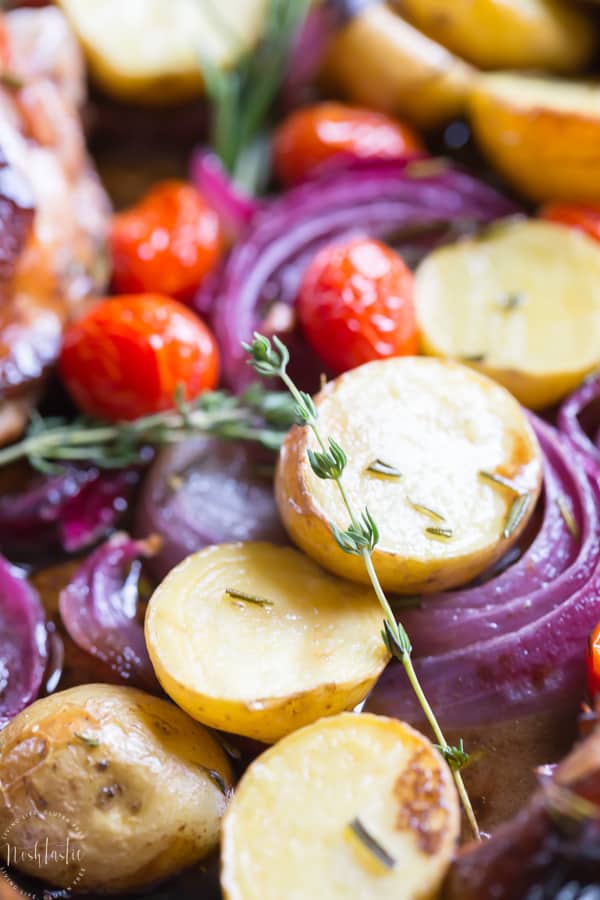 How to Make Baked Balsamic Chicken
The full recipe, with ingredients and directions is at the end of the post in the printable recipe card, these are a few quick tips and step by step instructions.
The first step is to mix the marinade and then add the chicken thighs. I used bone in thighs with the skin on, but you can also use boneless, they may take a bit less time depending on the size.
If you are in doubt use an Digital Thermometer to check the chicken.
I usually always line my sheet pans before I add anything to them (I didn't this time, as I was photographing the food) and I have found that parchment works much better than foil, as even when it's well greased I find that food sticks to it sometimes and that can be frustrating, especially if it comes off in little pieces.
You need to toss the potatoes in a little olive oil, and then bake them first for 15 minutes before you add the chicken and other vegetables.
The first time I tested this recipe the potatoes were still not done after 45 minutes total, but were perfect after 1hr.
The next step is to add the chicken and all the marinade, red onion, and herbs, to the sheet pan, brush the chicken with the marinade and put it back in the oven for 25 minutes more cooking time.
And lastly, remove the sheet pan from the oven again, add the cherry tomatoes, and spoon the balsamic sauce over the chicken pieces again before putting it back to cook for 20 more minutes.
When the cook time is up, make sure the chicken is fully cooked to an internal temp 165° F.
Boneless skinless thighs are very quick to cook, skin on thighs take a little longer, and bone in skin on thighs take the longest.
I'm using bone in thighs for this recipe, but you can use whatever you prefer as long as you adjust the cook time to compensate.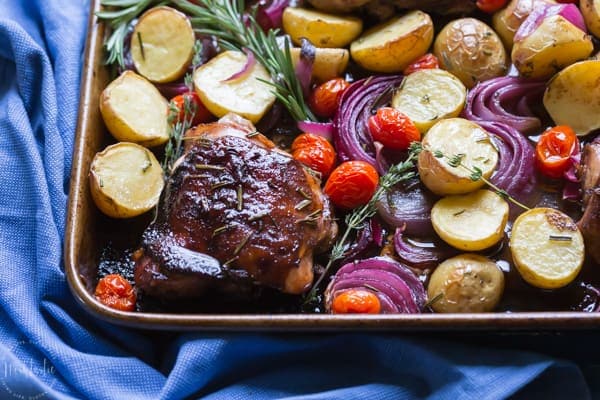 Related Chicken Dinner Recipes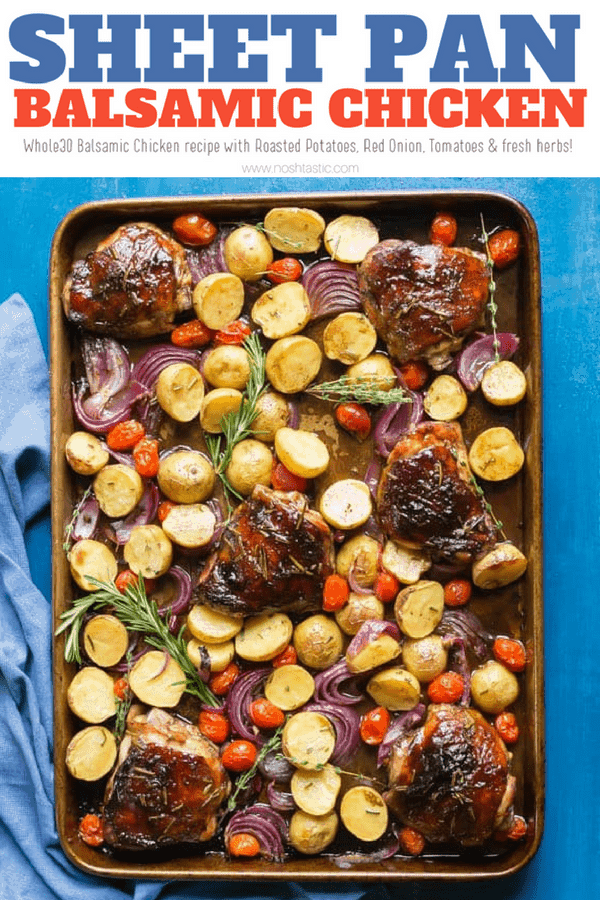 Balsamic Chicken and Roasted Vegetables
You need to try my delicious, easy, sheet pan Balsamic Chicken recipe with Roasted Potatoes, Red Onion, Tomatoes & fresh herbs! You can cook it on one pan in the oven in an hour or less!
Prep Time: 15 minutes
Cook Time: 1 hour
Total Time: 1 hour 15 minutes
Total Carbs: 22 g
Protein: 22 g
Servings: 6
Ingredients
6 chicken thighs , skin on, bone in
Vegetables
Instructions
Turn on your oven to 400° F or 200° C

Mix the marinade together and add the chicken, toss it around to coat it and put it in the fridge.

Get out a half sheet pan. You can line it with parchment for easy clean up, I find that the food will stick to foil lined pans, so I no longer use that as a liner.

Toss the halved potatoes and onions in a small amount of olive oil, and then place the potatoes only on the sheet pan and bake for 15 minutes. Put the onions to one side.

After 15 minutes, remove the sheet pan and add the red onion and the chicken along with the marinade, then sprinkle on the chopped rosemary and thyme and a little salt and pepper, and put it back in the oven.

Cook for a further 25 minutes, then take out the pan again to add the cherry tomatoes, and cook for 20 minutes more.

After 45 minutes the chicken thighs should be fully cooked to an internal temperature of 165°F
Recipe Notes
BALSAMIC VINEGAR – Any supermarket balsamic vinegar will work for this recipe, but as with anything else some are better than others and that's often reflected in the price tag.
CHICKEN THIGHS – I'm using bone in for the timing of this recipe, but you can use skinless boneless thighs, or skin on boneless variety too. The skinless boneless thighs will not take as long to cook as the bone in versions so you will need to adjust the cook time to compensate for that. HERBS – I used fresh herbs for this recipe, you can use dried if that's all you have but it won't be quite the same.
POTATOES – I used a little bag of baby gold potatoes cut in half. If you have a different variety that's totally fine, just cut them to a similar size as you see in the photos if you want them to cook with the same timing listed in the recipe
Nutrition Facts
Balsamic Chicken and Roasted Vegetables
Amount Per Serving
Calories 394 Calories from Fat 207
% Daily Value*
Fat 23g35%
Saturated Fat 5g31%
Cholesterol 110mg37%
Sodium 360mg16%
Potassium 823mg24%
Carbohydrates 22g7%
Fiber 3g13%
Sugar 5g6%
Protein 22g44%
Vitamin A 285IU6%
Vitamin C 22.1mg27%
Calcium 59mg6%
Iron 5mg28%
* Percent Daily Values are based on a 2000 calorie diet.
Nutritional information on Noshtastic is provided as a courtesy and is approximate only. We cannot guarantee the accuracy of the nutritional information given for any recipe on this site.
Course: Main Course
Cuisine: American