Chicken Tikka Masala is a classic British Indian restaurant recipe that's not complicated to make and is absolutely delicious! It's also naturally low carb and Keto friendly coming in at around 6g Net Carbs per serving.
For my Chicken Tikka Masala recipe we've added yogurt and lemon juice helps which helps to tenderize the chicken pieces, and the salt, garlic, ginger, and spice marinade help to create a wonderfully aromatic flavor to the finished dish.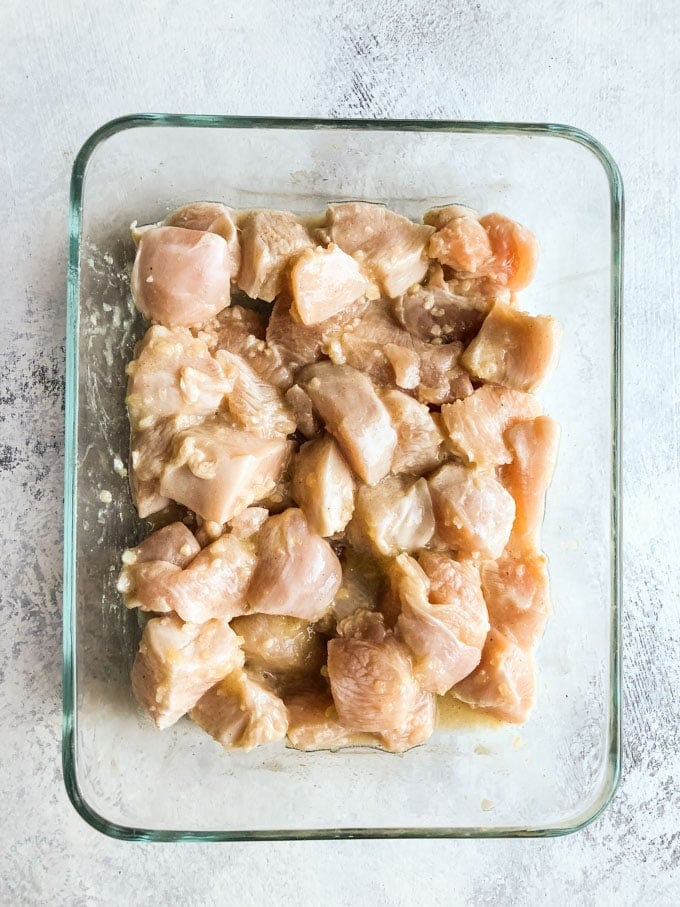 How to Make Chicken Tikka Masala
STEP 1 – Start by cutting the chicken into small pieces, then add the salt, lemon juice, mix it all together, cover and put it in the fridge for 30 minutes.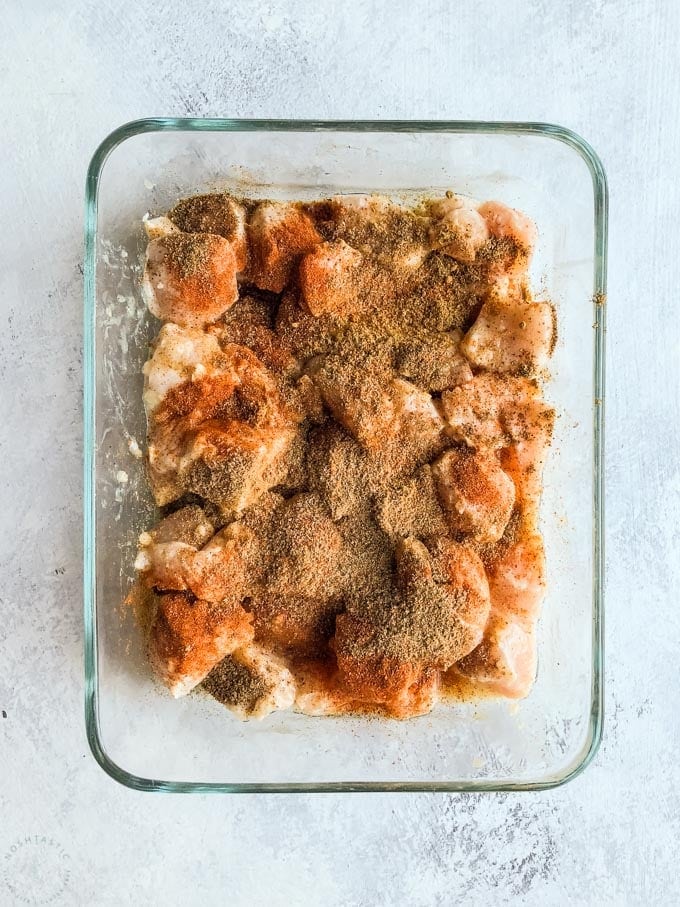 STEP 2 – Puree the fresh ginger and garlic together in a blender or mini food processor then combine it with the yoghurt, spices, and mix it well with the already cut up chicken.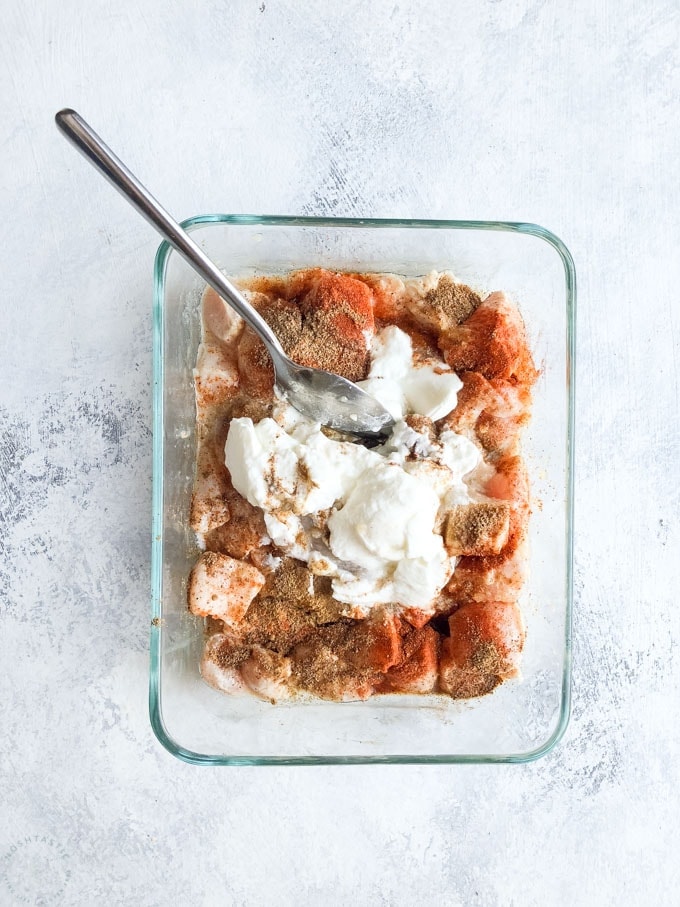 STEP 3 – Cover the marinated chicken pieces and refrigerate for at least 6 hours, or overnight.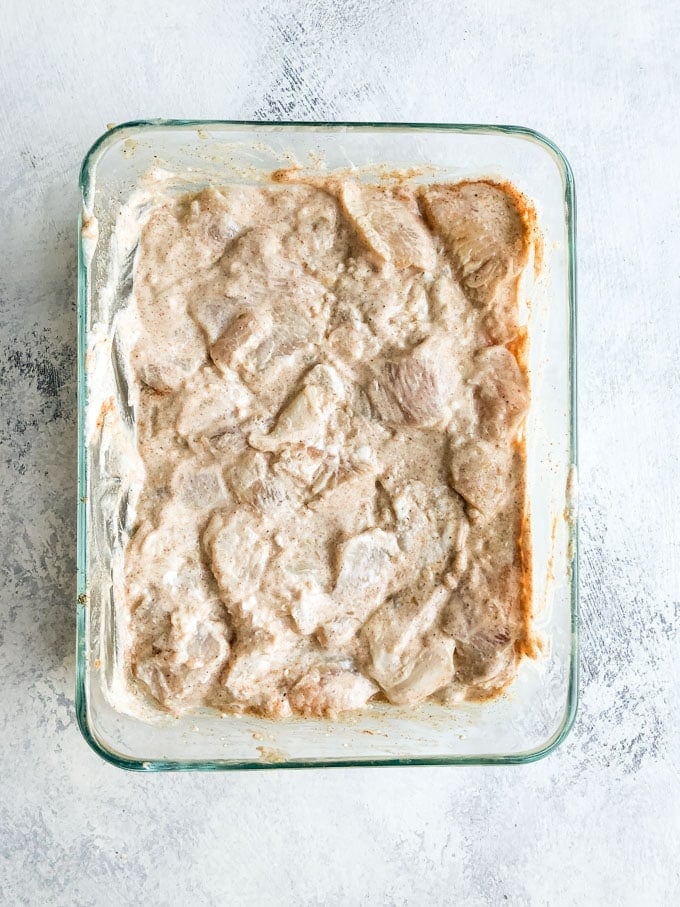 Step 4 – After the marinate time is complete and you are ready to cook the chicken you have two options. You can thread the chicken onto skewers like you see in the picture below. Or, can use a wire rack over a half sheet pan which will keep the chicken from sitting in the juices under the broiler.
This post contains affiliate links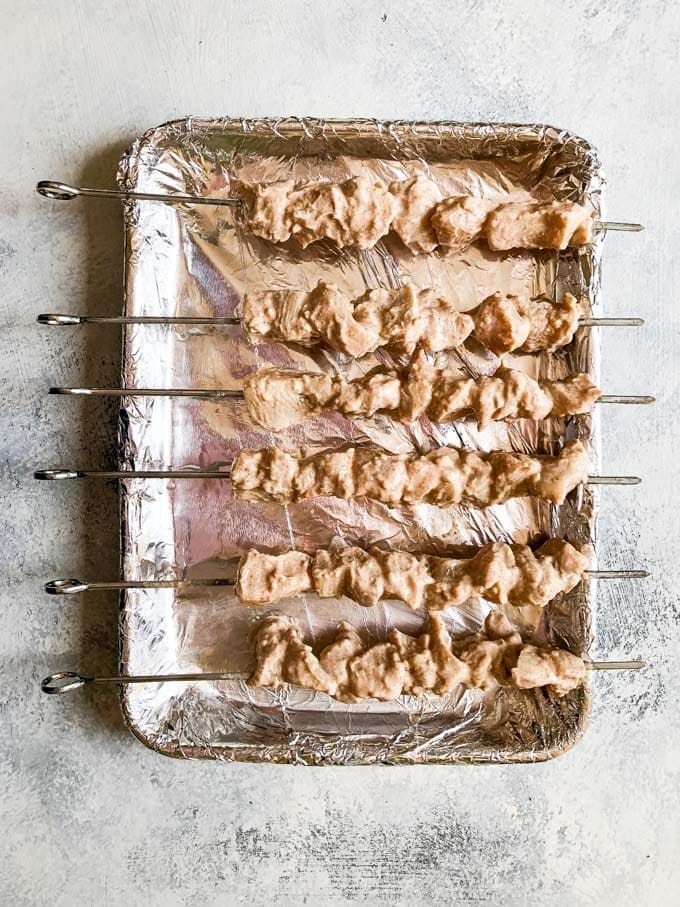 Step 5 – Broil your chicken tikka about 5 inches from the heat for 4 to 5 minutes per side, turning as needed for about 10-12 minutes total or until chicken is cooked all the way through. Do not overcook or your chicken will dry out.
You could also grill chicken tikka skewers over a direct heat for about 4 minutes per side, turning until each side is a little charred around the edges and the chicken is fully cooked. This will take about 8-12 minutes depending on the size of the chicken pieces and the heat of the grill.
Step 6 – Heat the oil and add the onions, ginger, and garlic. Fry over a medium heat until they brown a little.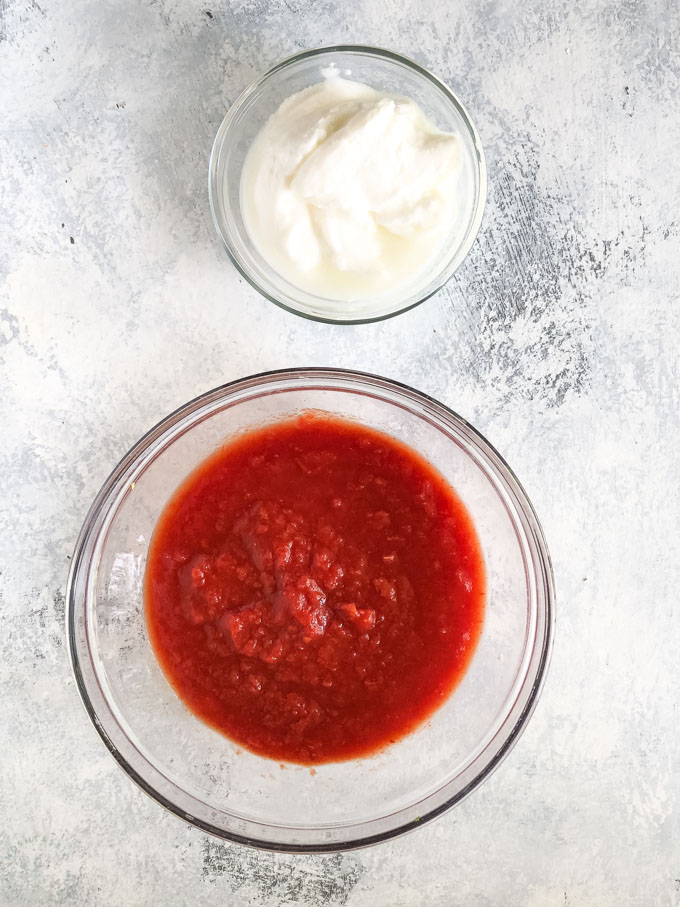 Step 7 – Add the ground coriander, turmeric, chilli powder and paprika. Stir for a few seconds, then add a tablespoon of yogurt. stir again, and add the remaining yoghurt in the same manner.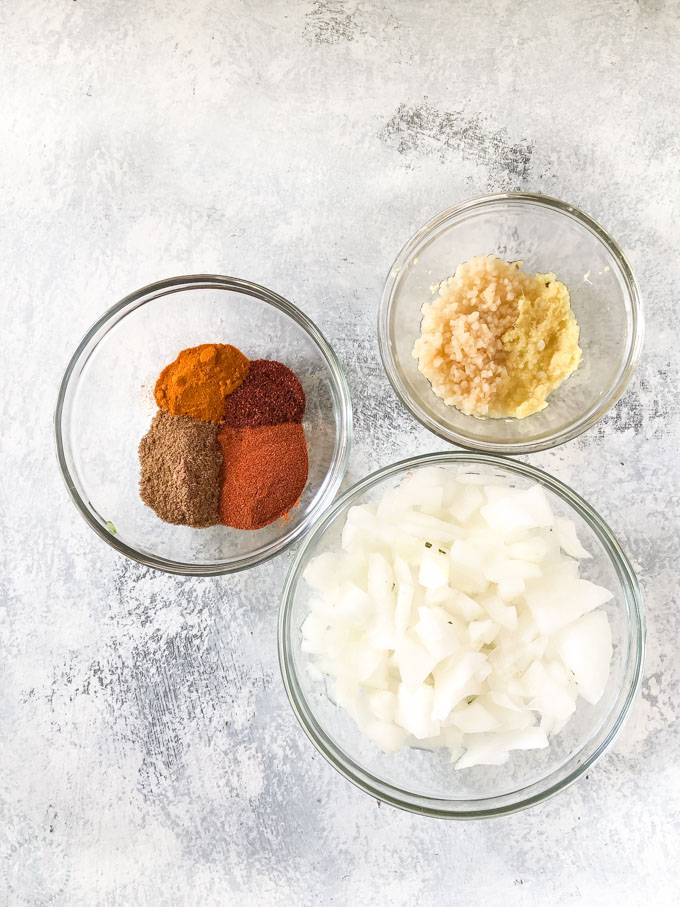 Step 8 – Add the tomatoes and the chicken broth, then simmer for 15 – 20 minutes. Then stir in the garam masala.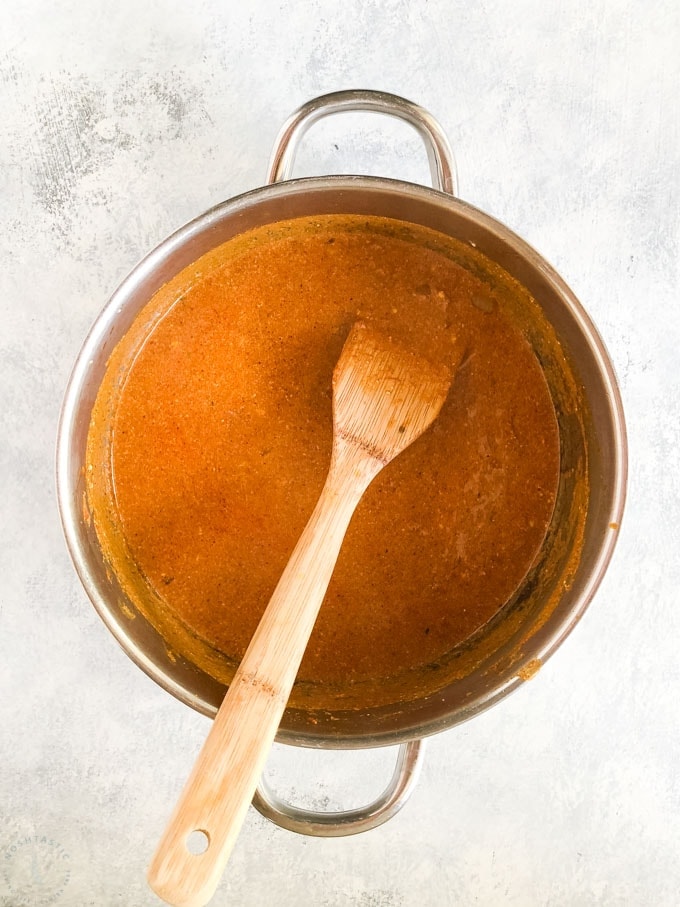 Step 9 – When the chicken skewers are cooked, reheat the sauce and fold in the chicken. Serve immediately.
ARE CHICKEN TIKKA AND CHICKEN TIKKA MASALA THE SAME?
Chicken Tikka is really just marinated grilled pieces of boneless chicken.
In order to create a Chicken Tikka Masala recipe as we've done here,  you simply simmer our already grilled pieces of chicken in a masala sauce which is usually made with a spicy tomato based sauce.
Many Chicken Tikka Masala recipes include either coconut, heavy cream, yoghurt, or some combination of them all. There is no one standard for the recipe and it can vary widely depending on where it's made and what recipe they prefer.</div
What is the difference between butter chicken and chicken tikka masala?
The short version is that's there's very little difference between Tikka Makhani (Butter chicken) and Chicken Tikka Masala. Butter chicken has as the name suggests, butter in the recipe and Chicken Tikka Masala does not.
Typically most Chicken Tikka Masala recipes have a sauce that is more tomato based and less creamy, and butter chicken tends to have a more creamy tomato sauce in the finished dish.
Is Chicken Tikka Masala Indian?
Chicken Tikka Masala is a popular British Indian restaurant recipe. Claims to it's origins vary with most people suggesting it was first made in Glasgow, Scotland in the Shish Mahal restaurant in the west end of the city. Others dispute that and claim it was created many years earlier in the Punjab, India.
What is in Chicken tikka masala spice?
Chicken Tikka Masala spice mix usually contains garlic, salt, pepper, cumin, paprika, coriander, and Garam Masala.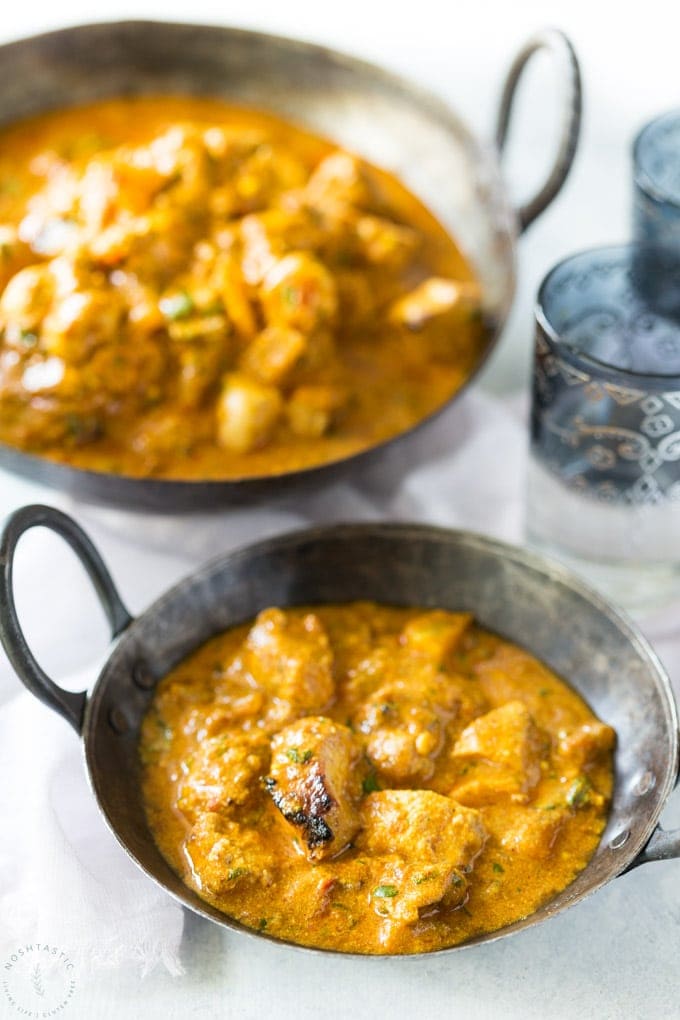 More Low Carb Chicken Recipes
Chicken Tikka Masala
Low Carb & Keto friendly Chicken Tikka Masala is easy to make, full of fresh healthy flavors, a great Indian Restaurant recipe to make at home, very similar recipe to butter chicken.
Prep Time: 20 minutes
Cook Time: 20 minutes
Marinate: 6 hrs
Total Time: 40 minutes
Total Carbs: 7 g
Protein: 26 g
Servings: 6
Ingredients
1.5 lb skinless chicken breasts , cut into chunks 675g
CHICKEN TIKKA MARINADE
1 tsp salt
3 tbsp lemon juice
2 tbsp fresh ginger, peeled and grated , do not use powdered ginger!
3 cloves garlic minced
1/2 cup natural yoghurt , use full fat coconut milk for dairy free
2 tsp ground cumin
1 tsp paprika
1 tsp garam masala
1/2 tsp coriander
½ tsp cayenne pepper
MASALA SAUCE
4 tbsp olive oil
1/2 cup onion , finely sliced
1 tbsp fresh ginger , peeled and finely grated
4 cloved garlic cloves , crushed
1 tbsp ground coriander
1 tsp turmeric
1 tsp chilli powder
2 tsp paprika
1/2 cup yoghurt
1 cup crushed tomatoes
¼ tsp garam masala
1/3 cup cilantro leaves , to garnish
Instructions
Cut the chicken into 1 inch sized chunks and place in a bowl or ziplock bag for marinating.

Add the salt and lemon juice and let the chicken sit in that for 30 minutes in the fridge.

Finely chop or puree the fresh ginger and garlic together in a blender.

To make the Chicken Tikka Marinade simply add the pureed fresh ginger, garlic, yoghurt and spices and mix well, then add it to the chicken pieces and stir until the chicken pieces are well coated.

Marinade for 6 hours or overnight.
COOK CHICKEN TIKKA UNDER BROILER
Either use a rack over a half sheet pan and place the chicken pieces on the rack, or thread them onto skewers and balance over a small sheet pan (see in post photo for details)

Broil the marinated chicken pieces about 5 inches from the heat for 4-5 minutes per side, turning as needed for about 10-12 minutes total or until chicken is cooked all the way through.
COOK CHICKEN TIKKA ON A GRILL
Brush the hot grill grates with a little oil.

Cook the marinated chicken pieces over direct heat for about 4 minutes per side, turning until each side is charred and the chicken is fully cooked, will take 8-12 minutes.
HOW TO MAKE THE CHICKEN TIKKA MASALA SAUCE
Add olive oil into a large pan over a medium-high heat. Then add the onions to the hot oil. Gently fry until they are a little brown which will take about for 6-7 minutes.

Now add the ginger and garlic and continue to fry, stirring for just a minute.

Add the ground coriander, turmeric, chili powder and paprika to the onion. Stir for 10 seconds, then add a tablespoon of yogurt. Stir and cook for a minute or two, then add the remaining yogurt in this way, a tablespoon at a time.

Add the crushed tomatoes and cook on a medium low heat for 5 minutes. Add the gluten free chicken broth and bring to a simmer. Reduce the heat to low, and simmer gently for 10-15 minutes or until the sauce thickens.

Stir in the garam masala, taste and add more salt if you need it. Shortly before you are ready eat, preheat the grill or broiler.

When the chicken is cooked, rewarm the sauce and stir in the chicken. Garnish with cilantro leaves and serve immediately.
Recipe Notes
Root Ginger – use only root ginger, this is not interchangeable with powdered ginger that you typically use in baking. You should be able to find ginger root at any grocery store so just ask if you are not sure. You need to peel it first and then grate it or finely chop it.
Net Carbs
This recipe contains approximately 6g net carbs. Most of the carbs come from the onions and garlic so if you want to reduce the carb count further you could also reduce those ingredients but that may be detrimental to the final outcome of the recipe as it relies on those ingredients for flavor.
Nutrition Facts
Chicken Tikka Masala
Amount Per Serving
Calories 287 Calories from Fat 144
% Daily Value*
Fat 16g25%
Saturated Fat 3g19%
Cholesterol 77mg26%
Sodium 694mg30%
Potassium 675mg19%
Carbohydrates 7g2%
Fiber 1g4%
Sugar 3g3%
Protein 26g52%
Vitamin A 1035IU21%
Vitamin C 13.4mg16%
Calcium 77mg8%
Iron 1.7mg9%
* Percent Daily Values are based on a 2000 calorie diet.
Nutritional information on Noshtastic is provided as a courtesy and is approximate only. We cannot guarantee the accuracy of the nutritional information given for any recipe on this site.
Course: Main Course
Cuisine: British, Indian