Mediterranean Chicken Salad is one of my favorite summer salads to make, it's quick, easy, full of flavor and low carb too! with around 8g net carbs per serving this is a large salad that's filling enough for dinner!
I marinated the chicken for my salad in lemon juice, olive oil, garlic, thyme, and salt and pepper. It's really worth it to marinate it for at least an hour or longer for maximum flavor.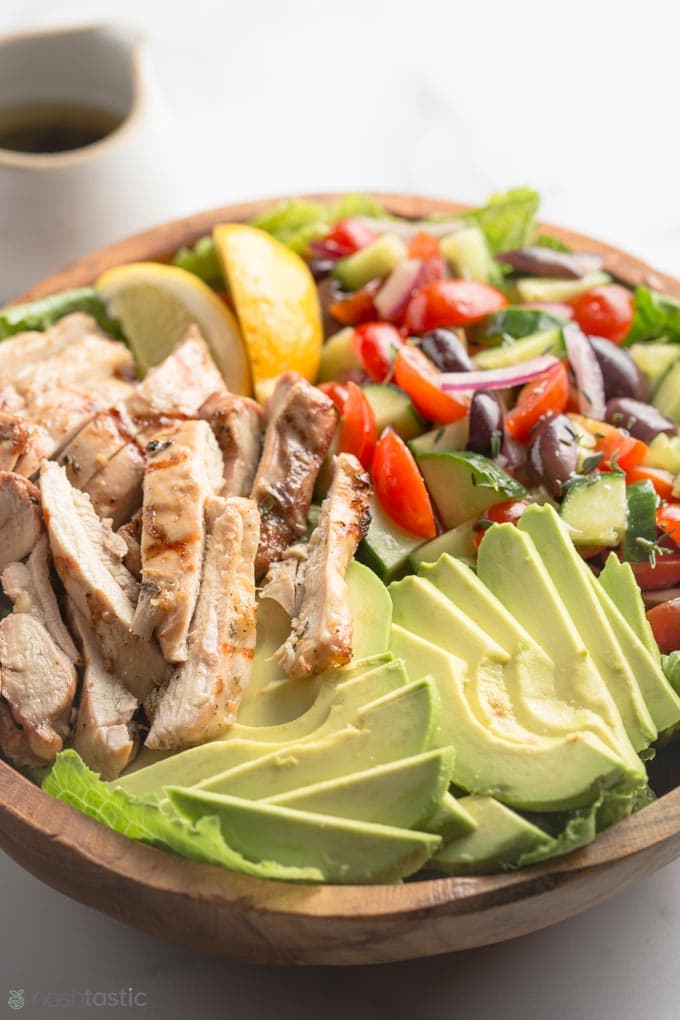 The Easy way to make Mediterranean Chicken Salad
I promise this is not a complex salad to create, but I'm going to show you three ways to cook the chicken and then you can pick the method that's most convenient for you!
Start by assembling all the ingredients you'll need for the grilled chicken marinade. You can see them in the photo below and they include lemon juice, olive oil, fresh thyme, salt, garlic, and pepper.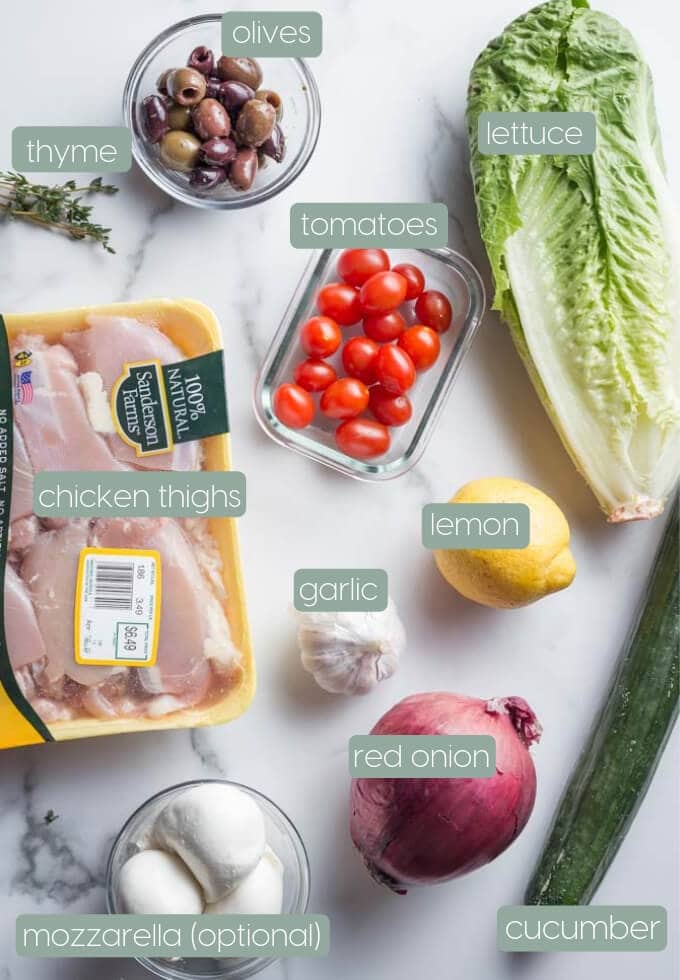 Mix the marinade together and pour over the skinless boneless chicken thighs (see photo below) and turn the chicken pieces around in the marinade so it's evenly coated. Marinade for at least one hour.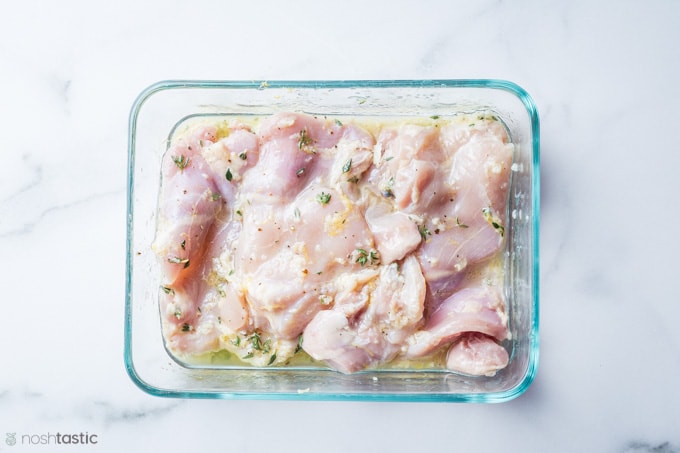 Cook it on the Grill
Now you have a choice of how to cook your chicken! You can cook it on a grill like I did in the photo below, or you can opt for a skillet, or bake it in the oven.
It took about ten to fifteen minutes to grill it, and I turned it a couple of times.  Watch out for flare ups and if that happens move the chicken away from being directly over the flames. And finally, check it with an instant read thermometer to ensure it's fully cooked.
Cook it in a skillet
I often cook it in a cast iron skillet if I don't want to fire up the grill and it's really easy. Just get the skillet hot, add a little oil, and then cook for five minutes per side, turn it over and cook for five minutes more. The cook time will vary depending on the thickness of the chicken, so again check it with a thermometer to be sure.
Bake it in the Oven
Turn the oven to 400F and line a sheet pan with parchment, or use a wire rack over the sheet pan and lay the chicken on that. It will take about 25 – 35 minutes to cook fully.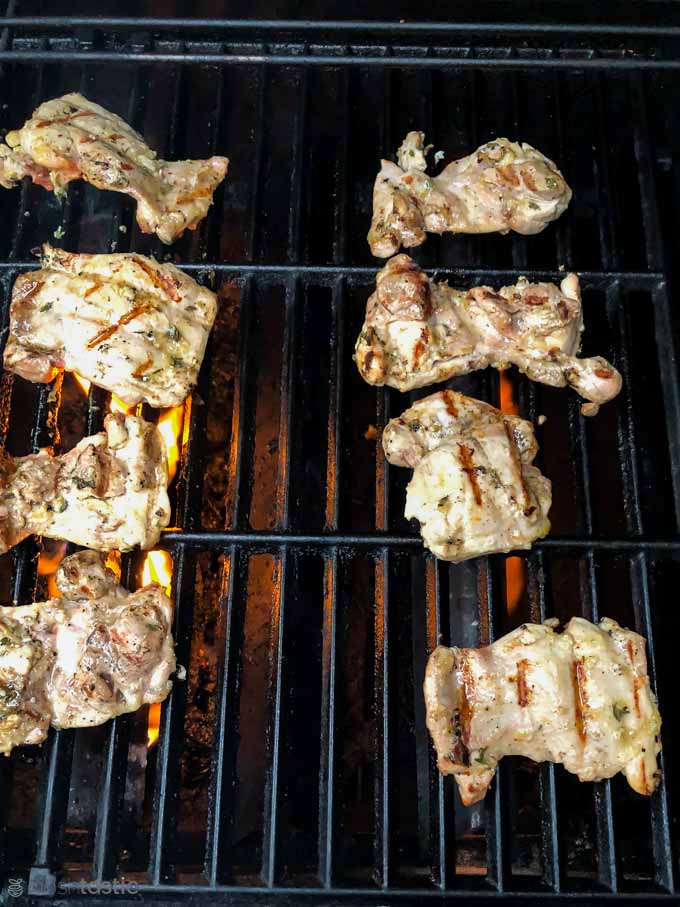 More Mediterranean Chicken Salad Tips!
Use the FULL marinate time, it will make a big difference in the finished flavor of the salad.
When using a skillet to cook the chicken make sure it's properly hot so you get a great finish on your chicken.
If you want to change up the salad vegetables you can swap them out for any others you prefer.
Extra vinaigrette dressing can be kept it in the fridge for later.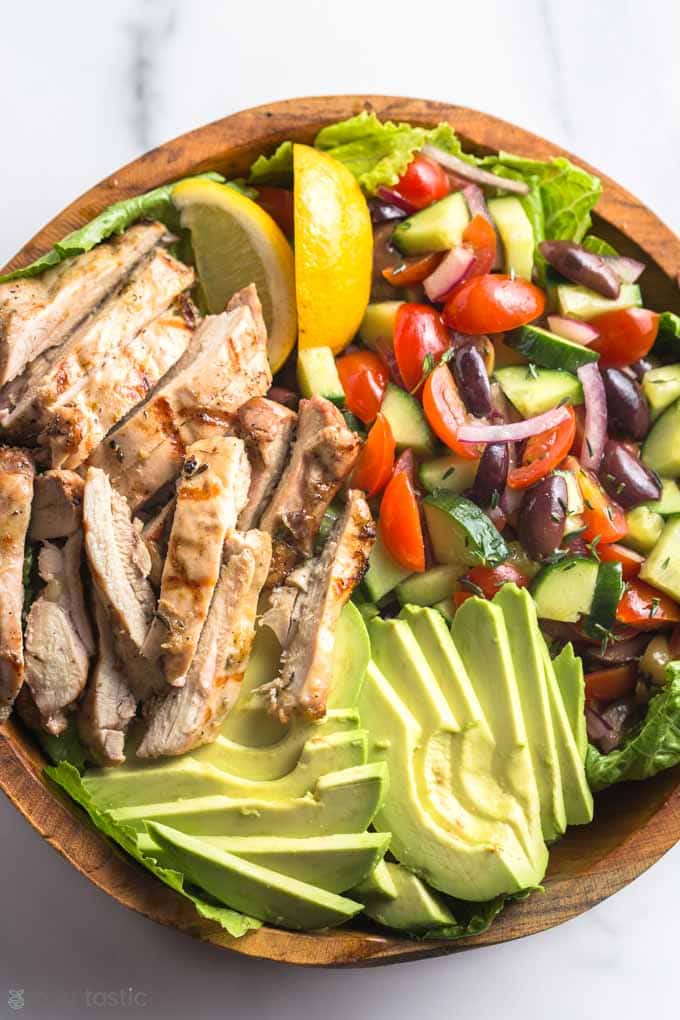 Can I make this Mediterranean Chicken Salad Ahead?
Yes! you absolutely can make this ahead of time. I would recommend cooking the chicken, prepping the vegetables and making the dressing ahead of time.
Then, when you are ready to serve the salad you can assemble it, this will ensure that the salad isn't soggy when you go to serve it.
This post contains affiliate links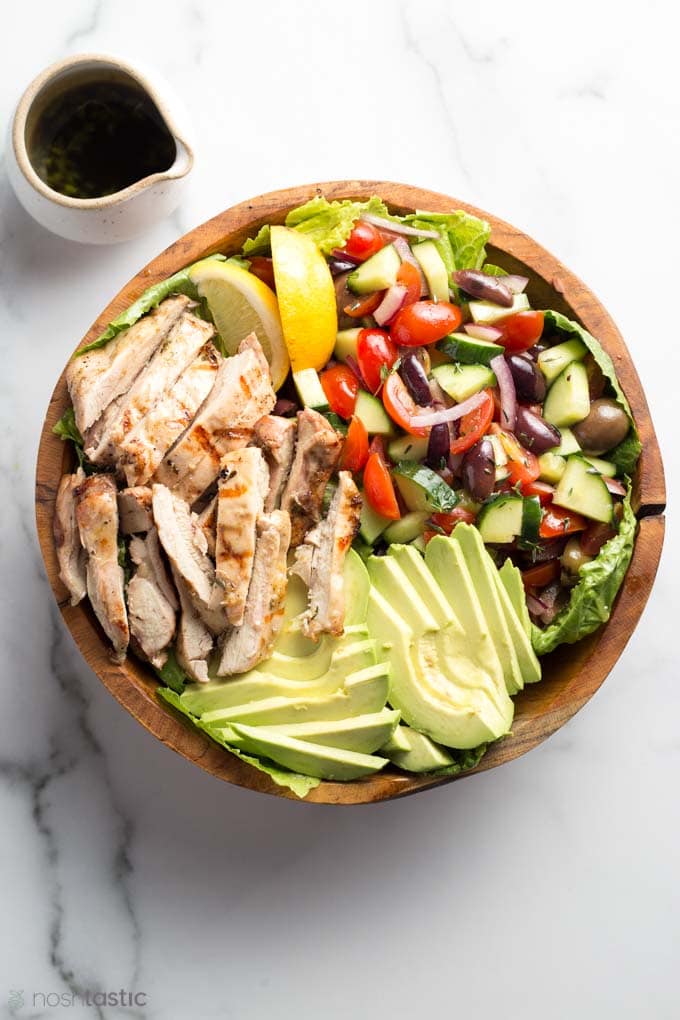 Related Chicken Salad Recipes
Mediterranean Chicken Salad
Quick and Easy Mediterranean Chicken Salad recipe you'll love! With options to cook the chicken on the grill, in a skillet, or in the oven.
Prep Time: 15 minutes
Cook Time: 10 minutes
Total Time: 25 minutes
Total Carbs: 14 g
Net Carbs: 8 g
Protein: 24 g
Servings: 4
Ingredients
2 cups Romaine lettuce
2 cups arugula
2 cups baby spinach
1 cup cherry tomatoes
1/2 English Cucumber
3/4 cup Kalamata Olives , pitted
2 ounces red onion, thinly sliced
1 avocado, sliced
Optional Salad Extras
handful basil leaves , torn or sliced
1 cup mozzarella cheese balls , optional
Mediterranean Chicken Salad Marinade
Balsamic Vinaigrette Dressing
Instructions
Mix together the Mediterranean Chicken Marinade and pour over the chicken. Marinate for 1 hour.
Cook chicken on grill
Cook over direct heat for around five minutes per side, exact time will vary. Check if the chicken is cooked with an instant read thermometer.
Cook chicken in a skillet
A cast iron skillet is best for this. Use a little oil and get the skillet hot then cook the chicken for about five minutes per side.

Cook time will cary depending on the thickness of the chicken. Check if it's done with an instant read thermometer.
Bake Chicken in the oven
Preheat your oven to 400F

Place the chicken thighs on a parchment lined sheet pan. Do not use foil, the chicken may stick to it. If you have a wire rack that fits over a sheet pan that's also a great way to cook it.
Make the salad dressing
To make the Balsamic vinaigrette simply whisk all the ingredients together until the oil and vinegar are combined.

Assemble your Mediterranean chicken salad by adding the romaine lettuce, arugula, baby spinach, avocado, sliced grilled chicken, tomatoes, cucumber, olives, red onion, and any other salad toppings you like such as cheese.

Pour over the salad dressing (you may not need it all) and toss the salad.
Nutrition Facts
Mediterranean Chicken Salad
Amount Per Serving
Calories 595 Calories from Fat 450
% Daily Value*
Fat 50g77%
Saturated Fat 9g56%
Cholesterol 86mg29%
Sodium 1098mg48%
Potassium 840mg24%
Carbohydrates 14g5%
Fiber 6g25%
Sugar 4g4%
Protein 24g48%
Vitamin A 4330IU87%
Vitamin C 30.8mg37%
Calcium 96mg10%
Iron 3.1mg17%
* Percent Daily Values are based on a 2000 calorie diet.
Nutritional information on Noshtastic is provided as a courtesy and is approximate only. We cannot guarantee the accuracy of the nutritional information given for any recipe on this site.
Course: Salad
Cuisine: Mediterranean