You'll love my Instant Pot Salisbury Steak with Mushroom Gravy recipe! It's a really easy weeknight pressure cooker meal that's also gluten and dairy free.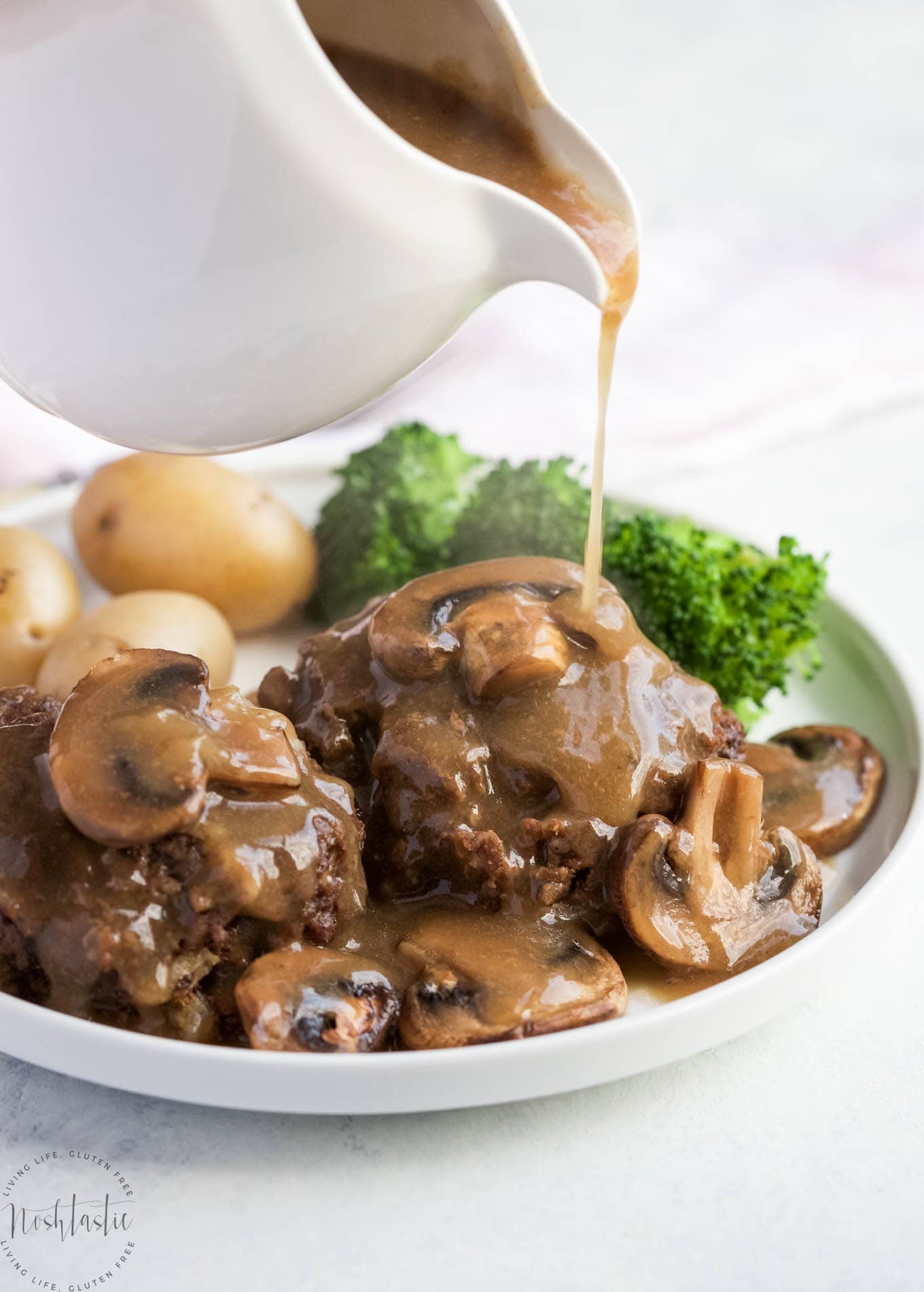 How to Cook Instant Pot Salisbury Steak
You can't beat a homemade Salisbury Steak and gravy recipe and what better way to cook it than in your Instant Pot, it's a match made in pressure cooker heaven!
My recipe is very simple and a great option for an easy weeknight meal. It has just a few everyday ingredients that help to ramp up the flavor of the burger patties and transform them from good to great! The gravy is very easy to make and  tastes fabulous due to the flavor from the onions and all that lovely juice from the pressure cooked burgers.
I think the mushrooms really make the dish, so unless you dislike them don't skip adding them to the gravy.
WANT MORE INSTANT POT RECIPES?
I have another brand new website with fabulous Gluten Free Pressure Cooker recipes I know you'll love! Some of them have become firm family favorites already!
First up is my Instant Pot Chili, it's such a great recipe and I've worked hard creating the recipe to preserve the robust chili flavors, I think you'll love it!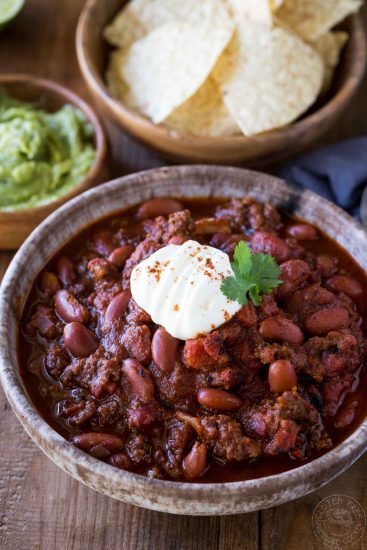 If you've ever wanted to know how to cook an Instant Pot Whole Chicken then I know you'll find this recipe useful, it really is very easy to pressure cooker a whole chicken.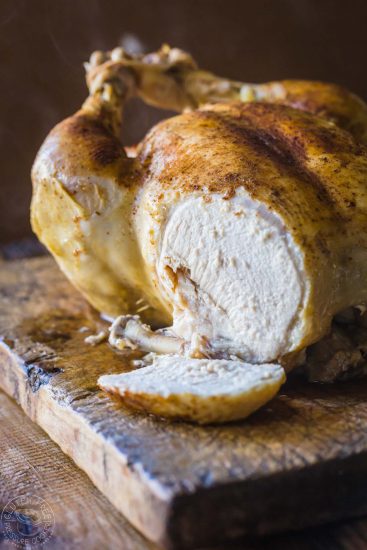 My Pressure Cooker Italian Wedding Soup is a really easy, light, flavorful soup that you can whip up very quickly.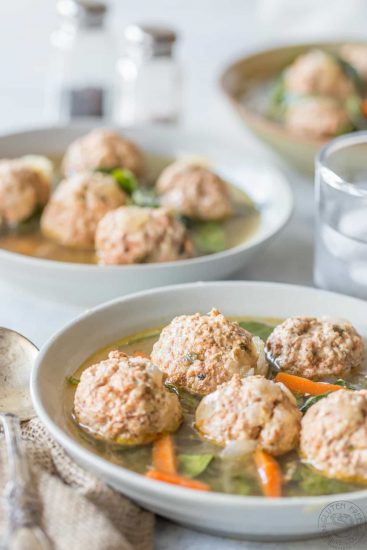 My most popular Instant Pot recipe is for my Pressure Cooker Pot Roast, it's easy to make, gluten free, paleo and full of healthy ingredients, not a can of condensed soup in sight!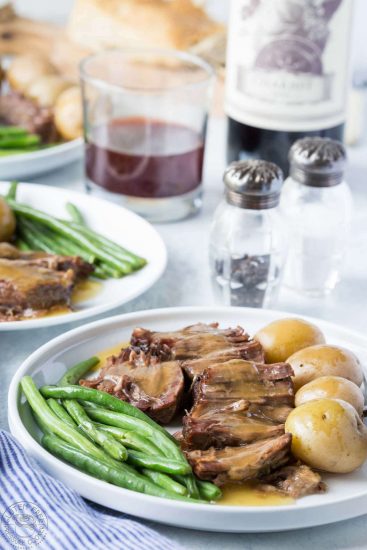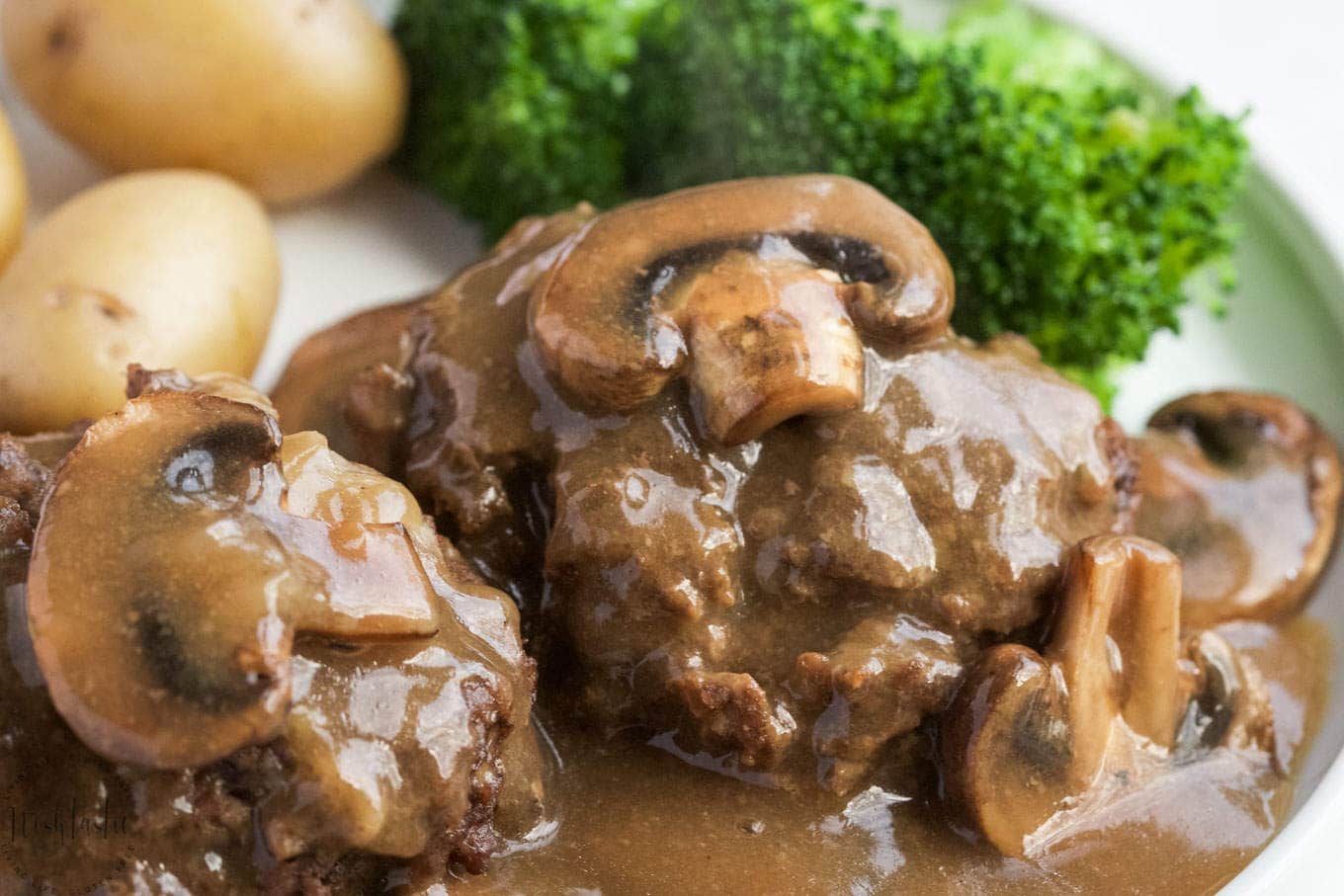 Kitchen Items you'll need to cook Instant Pot Salisbury Steak
In order to cook this recipe you'll need an electric pressure cooker, I have an Instant Pot Duo 6QT multi functional Pressure Cooker and I LOVE it!
While I mostly use it as a pressure cooker (I love to get my dinners on the table FAST!) it can also double up as a rice cooker, a slow cooker, a yoghurt maker, and a steamer.
It doesn't wash the dishes though, if they bring out a model that does that I'll be first in line 😉
I also recommend you get a tall trivet so that you can cook vegetables and other items in a steamer basket at the same time as your meat.
It does come with a small trivet but it won't work for a meal like this where you want to cook the potatoes with the meat, it's simply not tall enough so I recommend this K-Steel tall trivet which is made for going inside a pressure cooker.
This post may contain Amazon affiliate links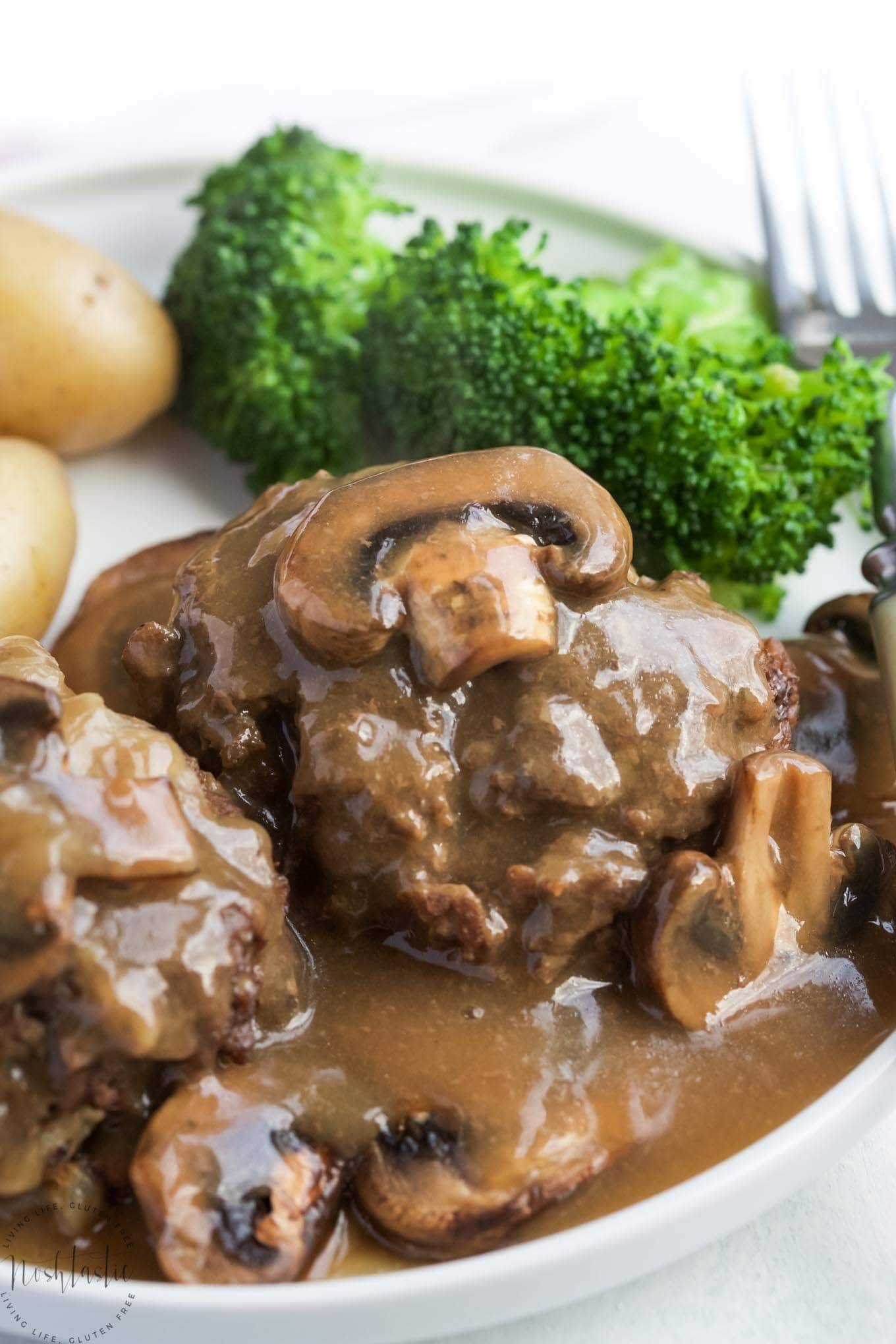 Serving Suggestions for Instant Pot Salisbury Steak
I recommend you serve this over some lovely mashed potatoes, it's the classic way to serve it! We also love it  with fresh green beans or broccoli, but carrots are nice too!
It will keep well in the fridge for a day or two and can easily be reheated, it will also freeze well.
Join our Gluten Free Pressure Cooker Group!
Have you joined our Gluten Free Pressure Cooker Facebook group yet? If you're looking for a place to share and find more gluten free pressure cooker recipes, learn how to use your new pressure cooker, or simply ask for advice, tips and recipe ideas then don't miss out on all the fun!
If you've already joined, be sure to add your friends who love pressure cookers!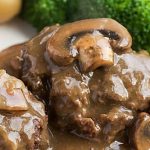 Instant Pot Salisbury Steak
Easy Weeknight Salisbury Steak with Mushroom Gravy that you can cook in your Instant Pot Pressure Cooker! This recipe is gluten free and dairy free.
Ingredients
HAMBURGER PATTIES

1.5

lbs

ground beef 90/10

680g

1/2

cup

gluten free panko breadcrumbs

55g

1

tbsp

ketchup

2

tsp

dry mustard powder

1/8th

tsp

gluten free worcestershire sauce

1/2

tsp

garlic powder

1/2

tsp

onion powder

GRAVY INGREDIENTS

1

tbsp

olive oil

1

large

onion

thinly sliced

2

cups

gluten free beef broth

500mls

1/8th

tsp

gluten free worcestershire sauce

1

tbsp

ketchup

1-2

tsp

cornstarch

or tapioca, or arrowroot

1

lb

waxy potatoes - optional

453g

1/2

lb

mushrooms

226g

1

egg - optional
Instructions
Total cook time including time to pressure, cooking time at pressure, and time allowing the pressure to drop naturally: Approximately 26 minutes.

If you want to make the potatoes in the pot along with the burgers you will need a tall rust proof trivet, suitable for a pressure cooker, and a steamer basket.


I used Gluten Free Panko Breadcrumbs, I found them at Whole Foods Market but you can get them on Amazon at that link above.

The patties have a tendency to break into large pieces once cooked, more than if you make meat only patties, so you could add an optional egg to help bind it together if that bothers you.

FOR THE PATTIES: In a large bowl combine the ground beef and the remaining hamburger patty ingredients along with a little salt and pepper.

Make them into 4 to 6 round even sized patties

Turn your Instant Pot on, press the 'Saute' button and adjust it to the medium heat option, then add about a tablespoon of oil and swirl it around the bowl.

After about a minute (you do not need to wait until the display says 'hot') add the patties, a couple at a time if they don't all fit, and sear them for a few minutes on each side until they are brown.

Remove the patties to a plate and drain any excess grease from the pot, but leave a little to cook the onions with.

Add the thinly sliced onion to the pot (add a little more oil if you need to) and cook for just a few minutes until they are soft and light golden in color. You don't want them to brown so you will need to watch them closely.

Add two cups (500ml) of gluten free beef broth, ketchup and Worcestershire sauce to the pot, press the 'Saute' button and adjust it to the medium heat option, and then make sure you scrape up any remaining sticky bits off the base of the pan from cooking the onions and beef bits.

Simmer until the liquid volume is reduced by about a third (but no more, you need enough liquid to come to have it come to pressure) there are handy measurement markings on the inside of the pot to guide you.

(While the liquid is reducing peel and cut your potatoes into small pieces, about 2 inch squares sized should be fine. ) You can also slice your mushrooms and get them ready for the gravy.

Turn off the saute function once the liquid has reduced.


Add the burger patties into the onion gravy, if you are cooking the potatoes at the same time put a tall rust proof trivet into the pot, place your steamer basket on top and add the potatoes to the basket.

lock the lid, turn the vent to 'sealing' and using the manual setting, set it to cook for 5 minutes at High Pressure.

When the cook time time is up, allow the unit to reduce pressure on its own without opening the steam release vent (Natural Release) for at least 12 minutes.

When the 12 minutes are up you can very gently ease the steam vent a little at a time (I like to do it in small, gentle bursts) if the float valve has not already dropped completely.

Carefully remove the lid.

Add sliced mushrooms to the gravy and thicken it as follows:

To thicken the gravy first remove the patties to a plate and cover with foil to keep warm.

Add two teaspoons of corn or tapioca starch to a cup with 1 tbsp cold water and mix. add half the mixture to the hot gravy and stir well to prevent lumps. If you want a thicker gravy add the remaining starch mixture.

If the mushrooms are not fully cooked then heat the gravy up using the 'saute' function on a medium heat for just a minute or two.

Serve the patties with the mushroom gravy over the top.


















Nutrition Facts
Instant Pot Salisbury Steak
Amount Per Serving
Calories 422
* Percent Daily Values are based on a 2000 calorie diet.
PIN THIS TO YOUR PRESSURE COOKER RECIPES BOARD!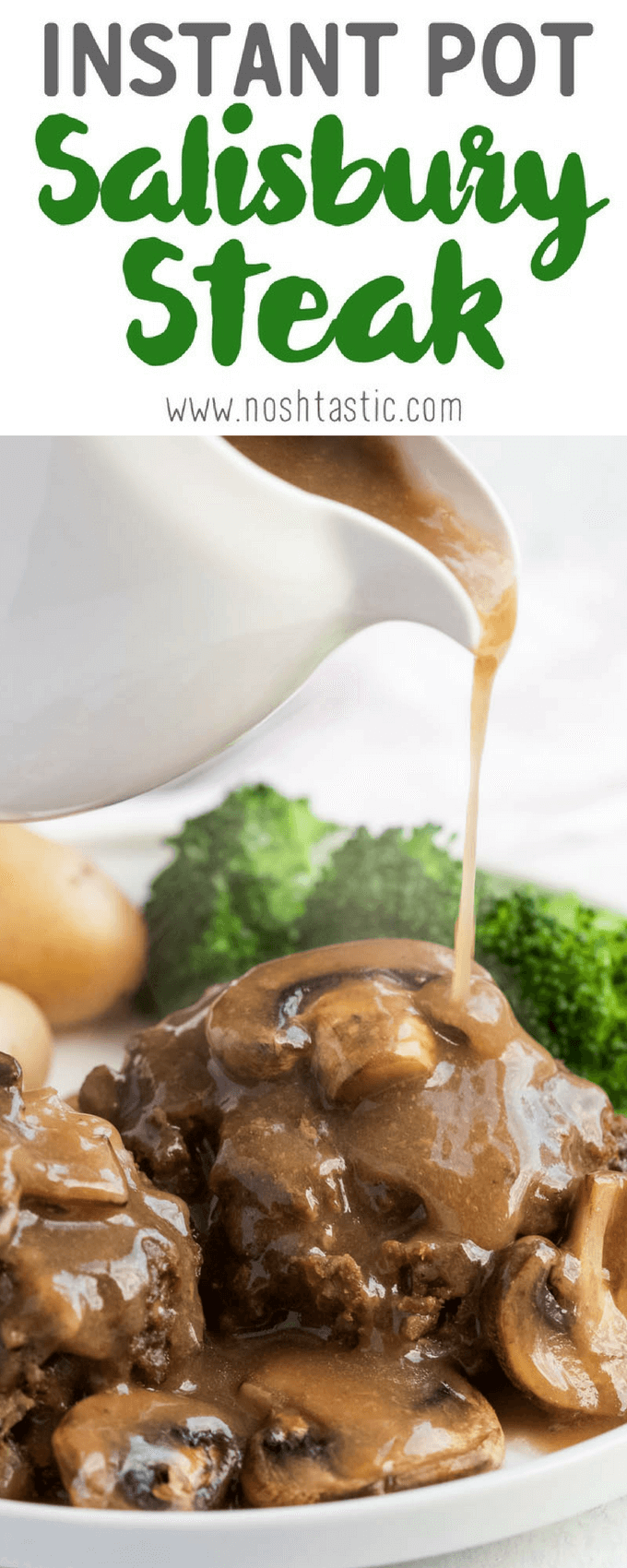 Looking for More Instant Pot Recipes?
Looking for more easy gluten free Instant Pot Recipe ideas? I've started a NEW blog just for Gluten Free Pressure Cooker Recipes, so please go and check it out!
One of the first posts you should take a look at is my Instant Pot Whole Chicken, it's really easy to 'roast' a whole chicken in your Instant Pot, I've done it many times already and it's so quick!
I used to make this recipe for Korean Style Pressure Cooker Short Ribs all the time in my slow cooker, but it's SO much easier in my Instant Pot and it's ready in a fraction of the time.
Lastly my recipe for Pressure Cooker Italian Wedding Soup is quick and simple enough to make for lunch, you'll really love it!