My Air Fryer burger recipe makes the juiciest hamburgers ever and they cook quickly and evenly! I'll show you how to cook Cheeseburgers in your air fryer with my easy recipe, or if you prefer you can simply use ready made or frozen beef burgers, or make air fryer turkey burgers, it's really up to you!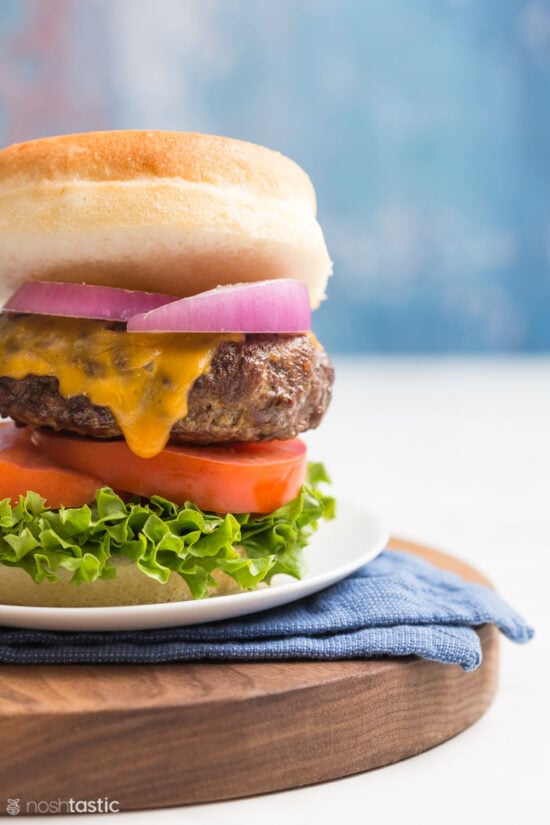 This post contains affiliate links
How do you make hamburgers in the air fryer?
We usually make our own burger patties as they are fast and easy to make and we find the flavor is better than frozen or store bought.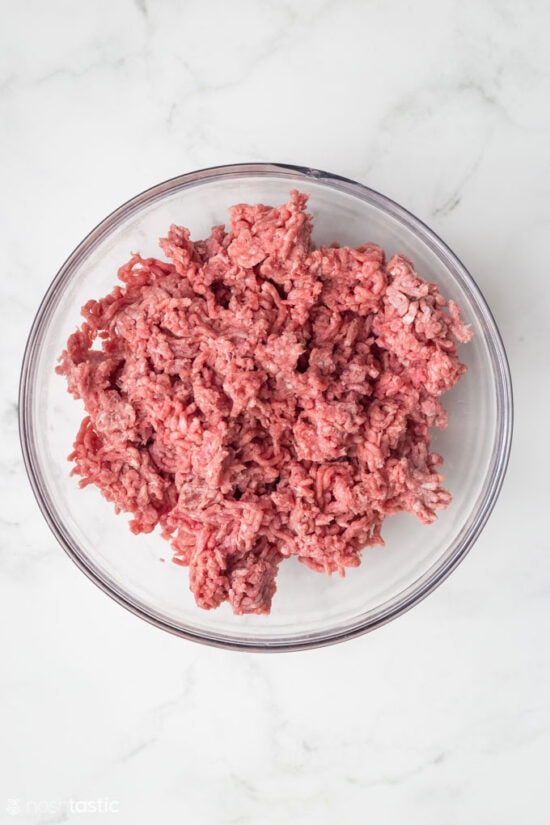 Crumble the ground beef ( we used 80/20 ground chuck) into a medium bowl and add the salt and pepper and mix it well in and then let it sit for 15 minutes before you make the patties. You can preheat your air fryer to 350°F while you wait.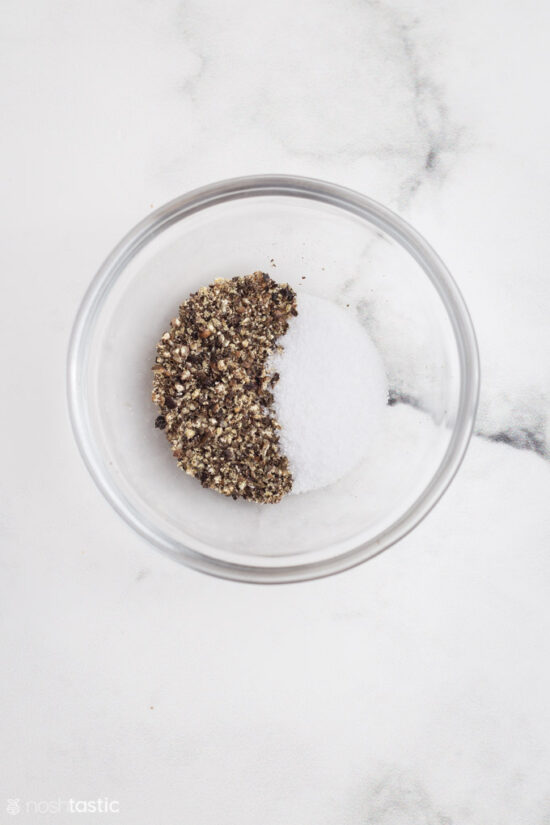 I like to use a burger press to make the patty, but you can form them by hand if you prefer, just try to make sure they are an equal size so that they will cook evenly at the same time.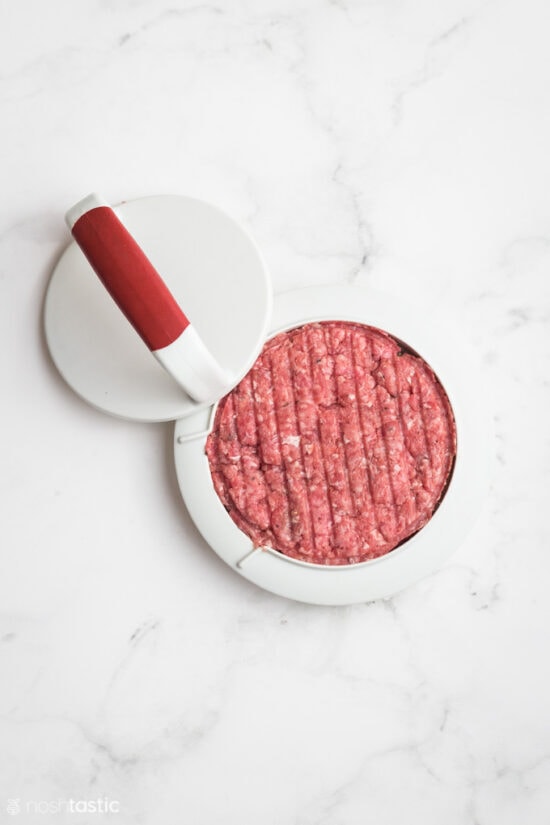 Place your burger patties directly into the air fryer basket and set the timer for 8-12 minutes depending on the thickness of the patty. I turned the burger over after about 4 minutes.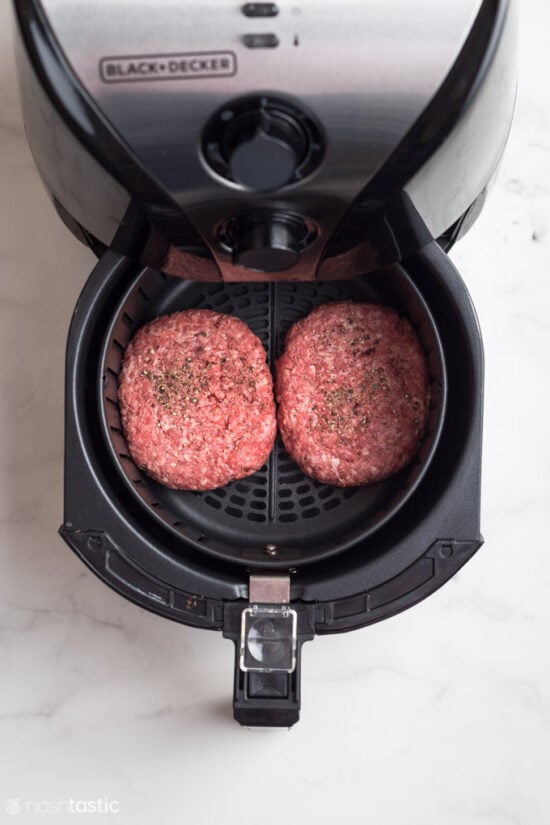 If you want to add cheese then you might want to turn off the air fryer first or you may find the fan will blow the cheese off the burger! It probably depends on your exact model of air fryer, I just added the cheese to the hot burger and shut the drawer with the air fryer turned off and that was hot enough to melt it and create a tasty air fried cheeseburger!
Air Fryer Burger FAQ's
How do I cook Air Fryer Turkey Burgers? They cook in exactly the same way as hamburgers. The cook time is typically the same and will vary depending on the size of the burger. You must make sure they are fully cooked all the way through to a minimum temperature of 165°F
How long do frozen hamburger patties take to cook in an air fryer? They will take longer than thawed burgers, usually about 15-20 minutes to fully cook but it depends what size they are.
What's the best Air Fryer to get? It depends on your needs and how many people you are cooking for. Some of the more popular brands include the Power Air Fryer XL which has a bigger basket and can cook a whole chicken, or you could opt for a smaller model such as the GoWISE 3.7-Quart.
Are your Air Fryer Burgers Keto? Yes, this hamburger recipe is low carb and keto friendly and has virtually no net carbs if made as written.
Air Fryer Burgers
Juiciest Air Fryer Hamburger recipe, that makes the best from scratch Air Fried burger ever!
Prep Time: 10 minutes
Cook Time: 12 minutes
Total Time: 22 minutes
Total Carbs: 1 g
Protein: 19 g
Servings: 4 burgers
Ingredients
Optional Burger Toppings
4 slices tomato
1 cup shredded lettuce
4 tbsp mayonnaise
4 slices cheddar cheese
Instructions
Crumble the ground beef into a bowl and sprinkle over the salt and pepper. Let sit for 15 minutes.

Form into four evenly sized burger patties by hand or with a burger press.

Cook for 8-12 minutes, or until the burger patty is cooked to your liking, flip the burger over after 4 minutes of cooking. Exact cook time will vary based on the thickness of your burgers and the model of your air fryer.

If you want to add a slice of cheese simply add it on top of each hot burger after the air fryer has switched off, if it's still on it may blow the cheese off the burger!

Serve while hot and add your preferred burger toppings.
Recipe Notes
Nutrition Facts and Serving Size – Makes four large 1/4lb burgers. Nutrition label is for burger ingredients only and does not include optional burger buns, toppings and so on. 
Cook Time – I've given the approximate time in the recipe, but you should know that the exact time will vary based on the model of air fryer you have, and how big your burgers are, and how well you want them cooked. 
Cheeseburgers – really easy to make by adding a slice of cheese once the burger is cooked. I found that if the air fryer was still on the force of the fan blew the cheese right off! This may be unique to my model of air fryer though. I found that it worked just fine to add it to the hot cooked burger patty (with the air fryer off) and shut the drawer of the air fryer for a minute or two and that melted the cheese.
Turkey Burgers – Make and cook them in the same way as hamburgers, cook time is the same but you must ensure they are fully cooked.
Frozen Burgers – you can make these burgers ahead of time and freeze them or buy frozen burger from the store and cook them from frozen in your air fryer. The cook time will obviously be longer than if they are thawed and will depend on how thick they are but estimate around 15-20 minutes. 
Optional Toppings – You can dress up your hamburger anyway you like, I love to serve it on a gluten free bun with lettuce, red onion and mayo, my kids love burger relish too. And if you are low carb or keto you can omit the bun as the burger recipe has almost no net carbs. 
Nutrition Facts
Air Fryer Burgers
Amount Per Serving
Calories 289 Calories from Fat 207
% Daily Value*
Fat 23g35%
Saturated Fat 9g56%
Cholesterol 81mg27%
Sodium 512mg22%
Potassium 306mg9%
Carbohydrates 1g0%
Fiber 1g4%
Sugar 1g1%
Protein 19g38%
Calcium 20mg2%
Iron 2mg11%
* Percent Daily Values are based on a 2000 calorie diet.
Nutritional information on Noshtastic is provided as a courtesy and is approximate only. We cannot guarantee the accuracy of the nutritional information given for any recipe on this site.
Course: Main Course
Cuisine: American