An easy gluten free chocolate cupcake recipe that even a beginner can make, throw it all in one bowl, mix and bake! it's also dairy free.
Even if you've never attempted baking anything more ambitious than a box of cookie mix, you'll find my recipe for gluten free chocolate cupcakes really easy to make!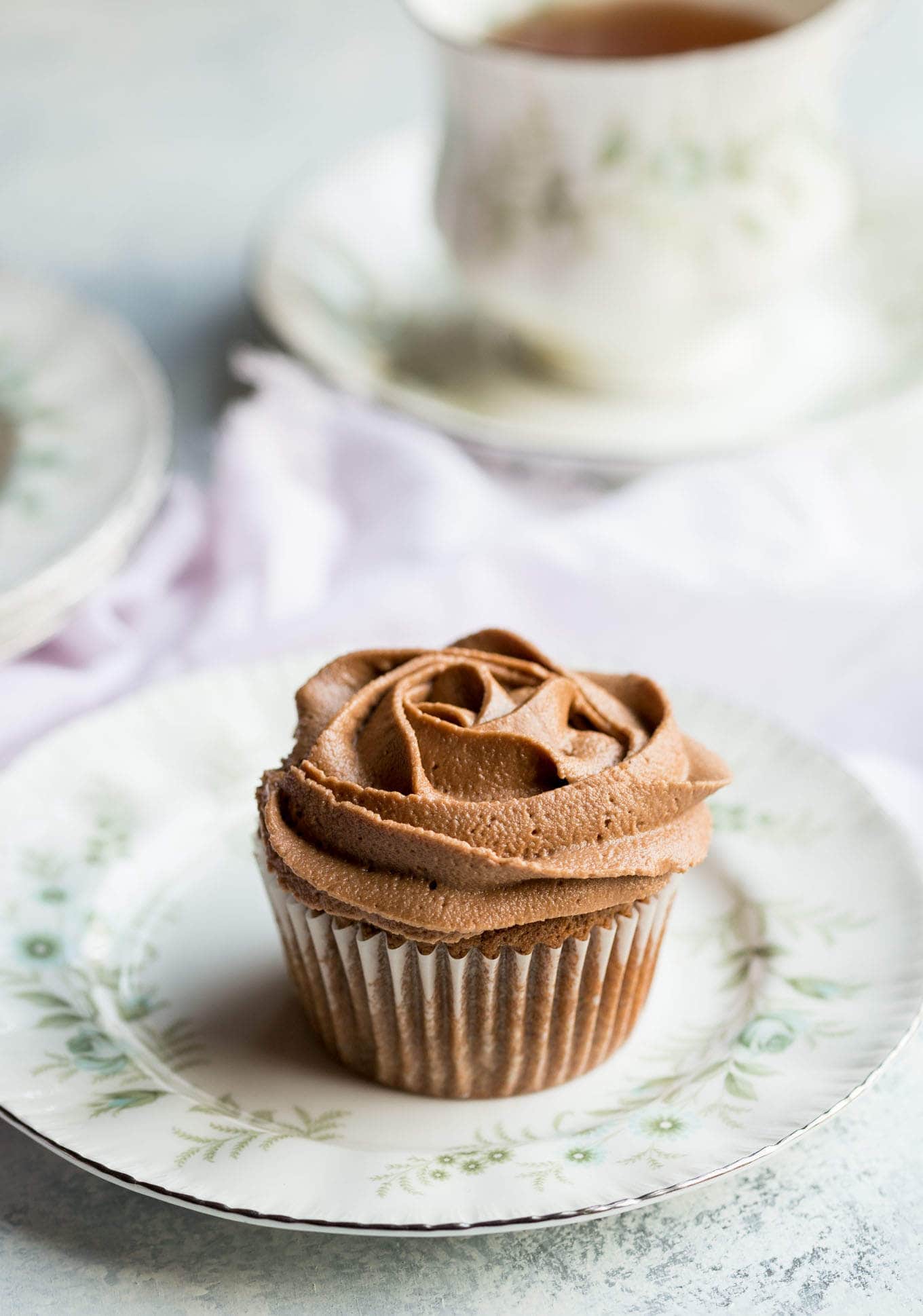 How to bake gluten free chocolate cupcakes
Some gluten free baking recipes are tricky, there's no doubt about that. Others though, like my gluten free chocolate cupcakes, are very forgiving and work well with different flour blends.
So please don't be put off by the idea that gluten free baking is complex, I promise this recipe is very easy and you should have great results every time.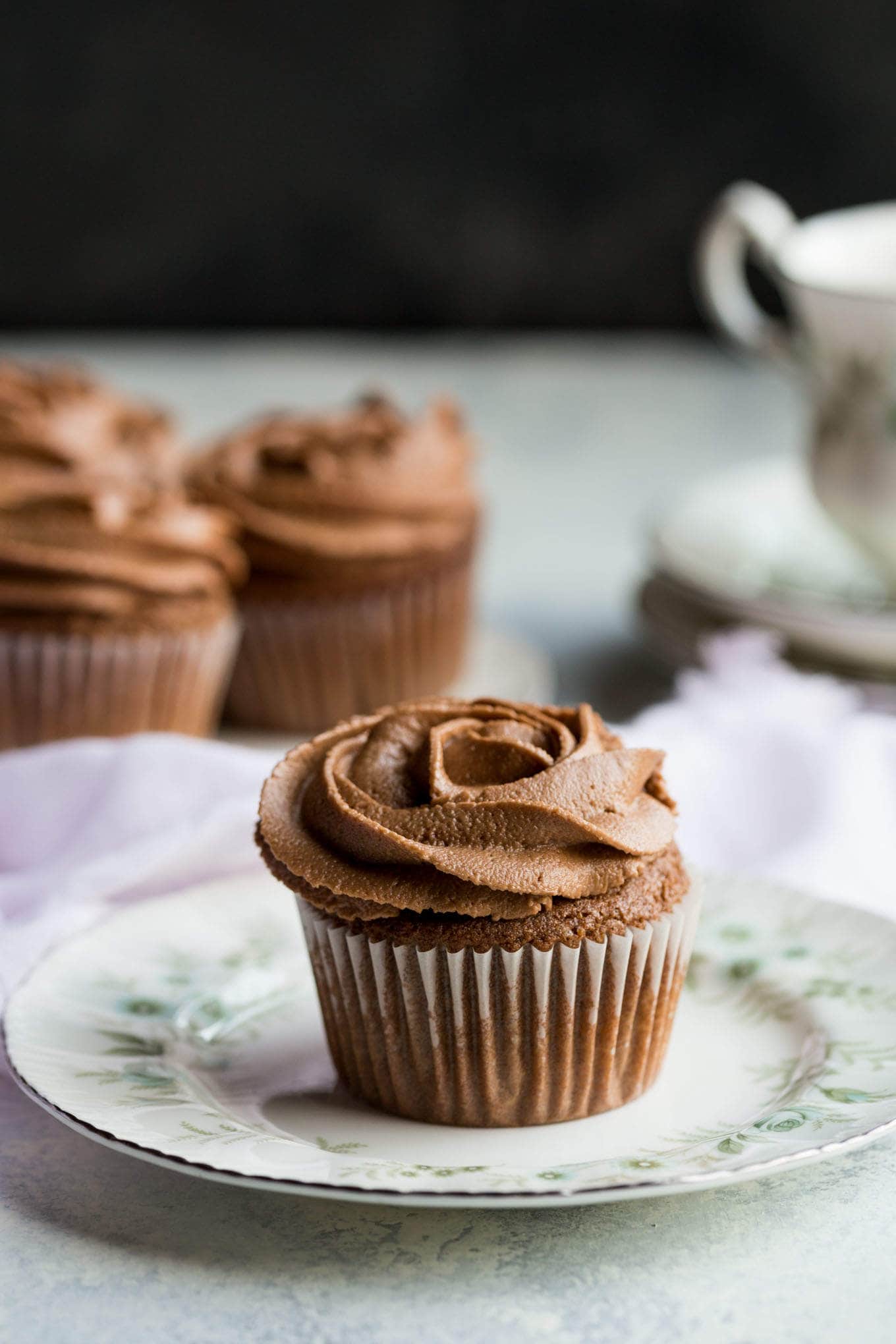 Kitchen Items and Ingredients you'll need to make this recipe
You don't need any fancy machines to make this recipe. In theory you could make it with a wooden spoon, a couple of bowls,  and a little elbow grease!
I prefer to use a stand mixer, but if you don't have one then a simple hand held mixer will work equally well. You'll also need a regular sized muffin pan and baking cups.
I like to use my own gluten free flour blend as I find I get better results than I do if I use a ready made flour mix. If you prefer to buy ready made mixes then I would choose one that doesn't have any bean flour in it, they don't taste great in baked goods.
You'll also need Xanthan gum if your gluten free flour blend doesn't have it, it helps hold gluten free baked goods together. It is pricey but you only need a little for most recipes. It lasts for a long time if you keep it in the fridge or freezer.
This post contains affiliate links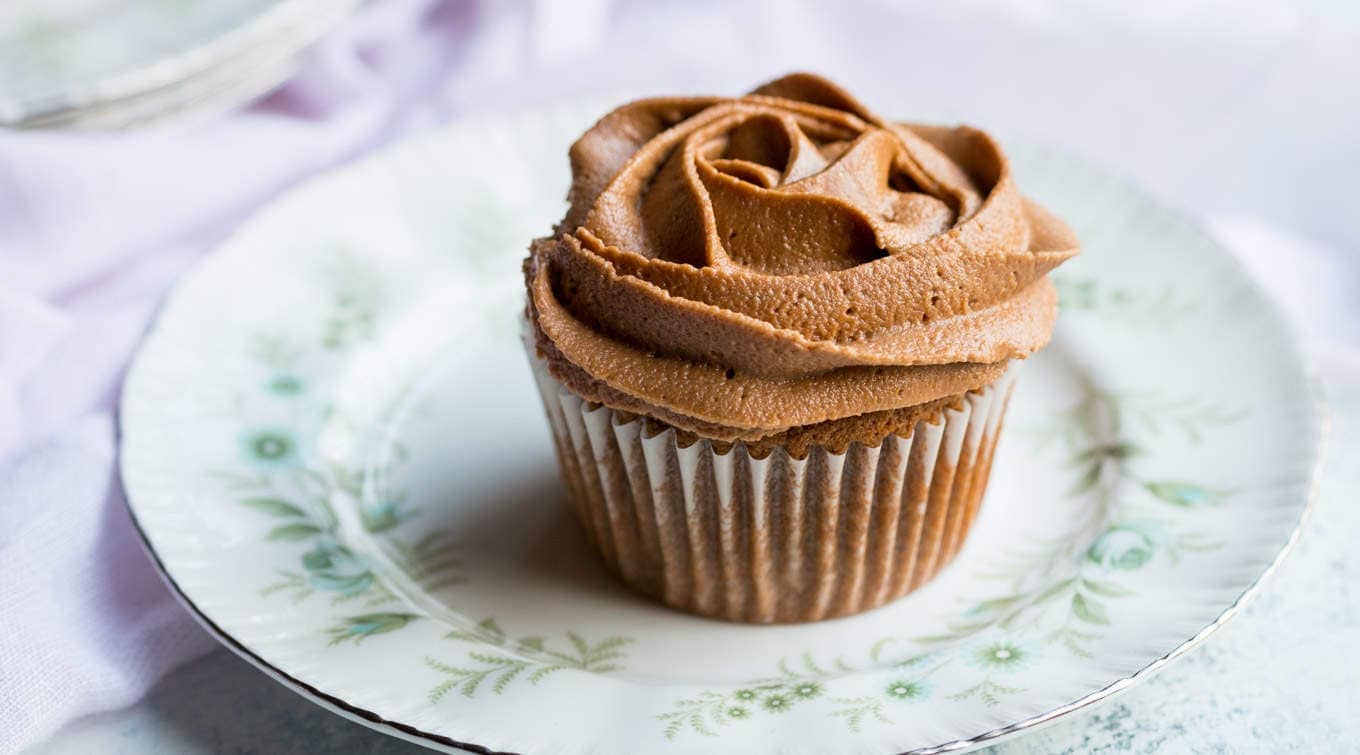 Make the Frosting
You have a choice, you can make simple vanilla frosting , or you can add cocoa powder and make chocolate frosting, it's really up to you.
I used dairy free margarine to make my frosting as I'm dairy free, but if you can tolerate butter and you normally cook with that then I think it will taste best.
You can start with 1 tbsp cocoa powder mixed in with the frosting and just add more cocoa powder to get the desired amount of chocolate flavor.
Lastly, make sure the cupcakes are totally cooled before you add the frosting otherwise it may melt on the top of the cupcake.
MORE GLUTEN FREE RECIPES YOU MAY ENJOY!
My friend Sharon from What the Fork Blog (all lovely gluten free recipes) has a brand new Gluten Free Chocolate Cake recipe that looks like the perfect treat, I can't wait to try it!
If you enjoyed my gluten free chocolate cupcakes then don't leave without checking out some more of my gluten free baking. One of my most popular recipes is for my gluten free lemon cupcakes, they are really easy to make too!
If you want to make a gluten free chocolate layer cake then I've got you covered! I also have several cookie recipes I know you'll love.
One of my very favorites is for gluten free chocolate chip cookies, they are thin, crispy and delicious! And lastly don't miss my gluten free Empire Biscuits, they are a classic Scottish sandwich cookie that I grew up eating.
Or what about this delicious Gluten Free Cherry Chocolate Chip Muffin from Fearless Dining, don't they look good?!
WATCH MY CUPCAKES VIDEO!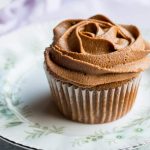 Gluten Free Chocolate Cupcake
An easy gluten free chocolate cupcake recipe that even a beginner can make, throw it all in one bowl, mix and bake! it's also dairy free.
Instructions
Make sure you watch the short video of me making the cupcakes! It's right above the recipe.

Preheat your oven to 375F (190C)

Line the cupcake pans with baking cups

Combine the flour, baking powder, xanthan gum, and cocoa powder in a bowl and mix well so that everything is evenly distributed.

Place the butter and sugar into another bowl, whisk until combined.

Add the eggs one at a time to the butter and sugar mixture, then the vanilla extract, and mix well.

Add the flour blend a little at a time until it's all combined, use a spatula to scrape down the side of the bowl properly.

Add the batter to the baking cups, if you divide it evenly you should get about 24 cakes. Bake for 20 minutes, or until a toothpick comes out clean.

Make the frosting by mixing together the sifted powdered sugar and margarine or butter until well combined.

If you want chocolate frosting like I have in the picture add 1 tbsp cocoa powder to the powdered sugar and then taste it once it's combined, and add more cocoa powder to your taste. If you want vanilla frosting, just add a little vanilla extract to the margarine, powdered sugar mixture and omit the cocoa powder.

When the cupcakes have fully cooled, place the frosting into a piping bag and decorate the cupcakes.
Recipe Notes
This recipe is best baked by weight as different gluten free flour blends do not weigh the same, cup for cup, so the outcome may be affected. I have included cup measures for those of you who don't yet have a digital kitchen scale.
I prefer to use my own gluten free flour blend.
Adapted from BBC Food
Nutrition Facts
Gluten Free Chocolate Cupcake
Amount Per Serving
Calories 238
* Percent Daily Values are based on a 2000 calorie diet.