My low carb Grilled Paleo Lemon Chicken with Thyme is delicious and bursting with fresh herb flavor and garlic! You can easily cook it on an indoor cast iron grill pan as I did or use an outdoor grill.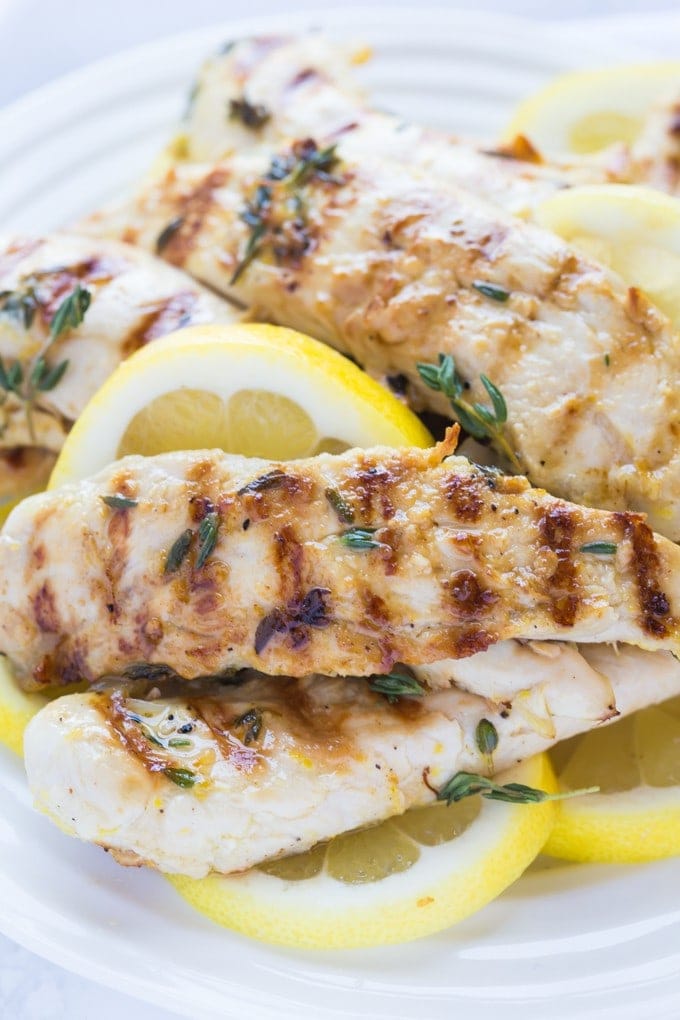 Grilled Paleo Lemon Chicken
A short while after I started on my gluten free journey we were invited to a friend's house for a cookout. Most of the food that they were serving was not safe for me to eat so I chose to bring my own to cook on the grill. My sweet husband said that he would make me something tasty that I could eat and so he created this simple grilled lemon chicken recipe, I'm sure it's not an idea thats original to him but I really love it and we still cook it on a regular basis as it is quick and easy to prepare and tastes great.
Recently we bought a Lodge cast iron grill pan which means that I can cook my paleo lemon chicken indoors and still get fabulous grill marks on the meat! I have a regular cast iron skillet that I love and use all the time, I don't know why we waited so long to get the grill pan version but I just love it and it's not too expensive to buy.
This chicken recipe doesn't require a very long marinate time, 30 minutes should do it, but if you have time to leave it in the fridge for a couple of hours before you cook it I think it will enhance the flavor all the more. I've used fresh and dried thyme for this recipe and it's much, much, better if you can use fresh thyme. I like to serve the grilled chicken over rice, with a side salad dressed with balsamic vinaigrette.
This post may contain Amazon affiliate links
MORE RECIPES YOU MAY ENJOY: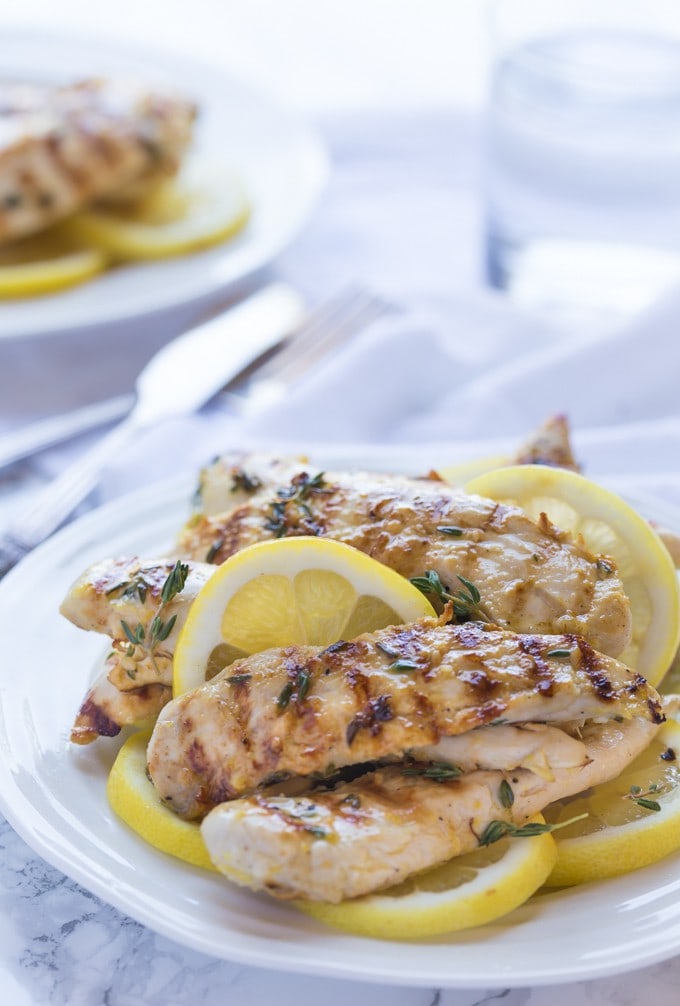 Grilled Lemon Thyme Chicken
Low carb Grilled Paleo Lemon Chicken with Thyme, delicious and bursting with fresh herbs and garlic! Cook on an indoor cast iron grill pan or outdoor grill.
Prep Time: 30 minutes
Cook Time: 10 minutes
Total Time: 40 minutes
Total Carbs: 4 g
Net Carbs: 3 g
Protein: 36 g
Servings: 4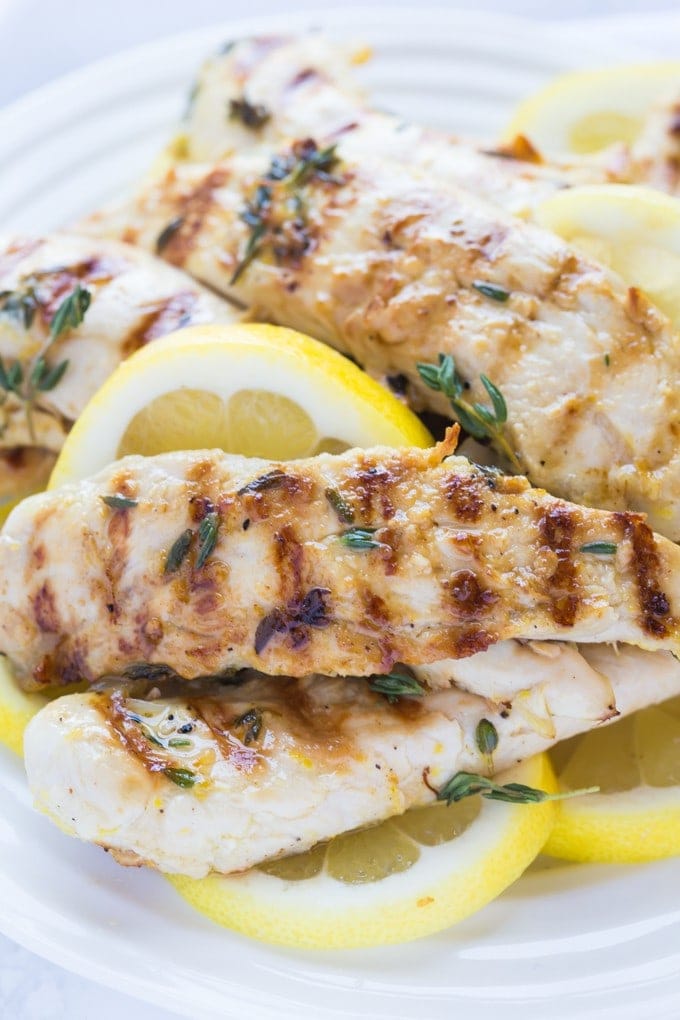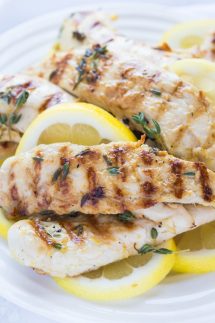 Ingredients
Instructions
Add the marinade ingredients into a small bowl or jug and mix well to combine.

Put the chicken into a ziplock type bag and pour in the marinade.

Turn the chicken around in the marinade to make sure it's well coated.

Marinate in the fridge for 30 minutes to a couple of hours, the longer the better!

Grill for approximately 4 minutes per side or until chicken is cooked through.

Serve hot or cold.
Nutrition Facts
Grilled Lemon Thyme Chicken
Amount Per Serving
Calories 239 Calories from Fat 72
% Daily Value*
Total Fat 8g 12%
Saturated Fat 1g 5%
Cholesterol 108mg 36%
Sodium 489mg 20%
Potassium 689mg 20%
Total Carbohydrates 4g 1%
Dietary Fiber 1g 4%
Protein 36g 72%
Vitamin A 2.7%
Vitamin C 24.3%
Calcium 2.8%
Iron 6.4%
* Percent Daily Values are based on a 2000 calorie diet.
Nutritional information on Noshtastic is provided as a courtesy and is approximate only. We cannot guarantee the accuracy of the nutritional information given for any recipe on this site.