Paleo Singapore Street Noodles, made with zucchini noodles, shrimp, chicken and tasty mild curry flavored sauce with added turmeric! Gluten free, healthy and low carb with Whole30 options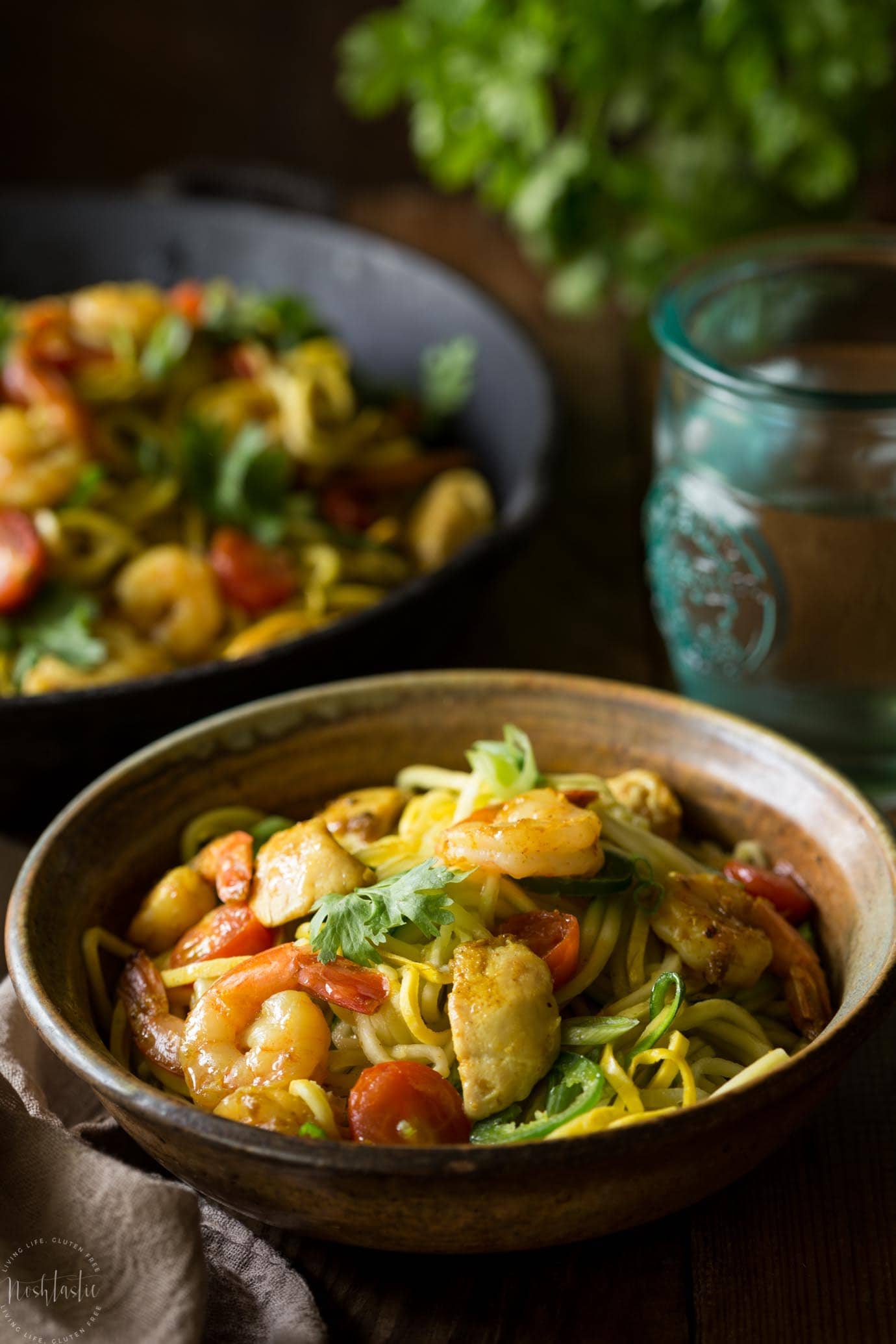 What are Singapore Street Noodles?
Did you know that Singapore Street Noodles don't, in fact, come from Singapore? Some sources [1] suggest that they are actually Cantonese street food, so I have no idea why they have the name that they do! They are very popular in Chinese restaurants here in the USA and it's one of my favorite dishes to have from the gluten free menu at PF Changs.
It's a simple, classic stir fry dish that usually includes very thin rice noodles or vermicelli, though for this low carb paleo version I've opted for zucchini noodles instead.
The protein content varies widely depending on what recipe you choose but often includes some combination of shrimp, pork, chicken and egg, though not necessarily all of them in one recipe. I've added  shrimp (prawns) and chicken breast in this version.
The finished noodle dish usually has a vibrant yellow color. I've achieved this with a combination of turmeric and curry powder in the sauce. Personally I think the addition of curry powder is what sets this apart from an average stir fry that relies mostly on soy sauce for flavor.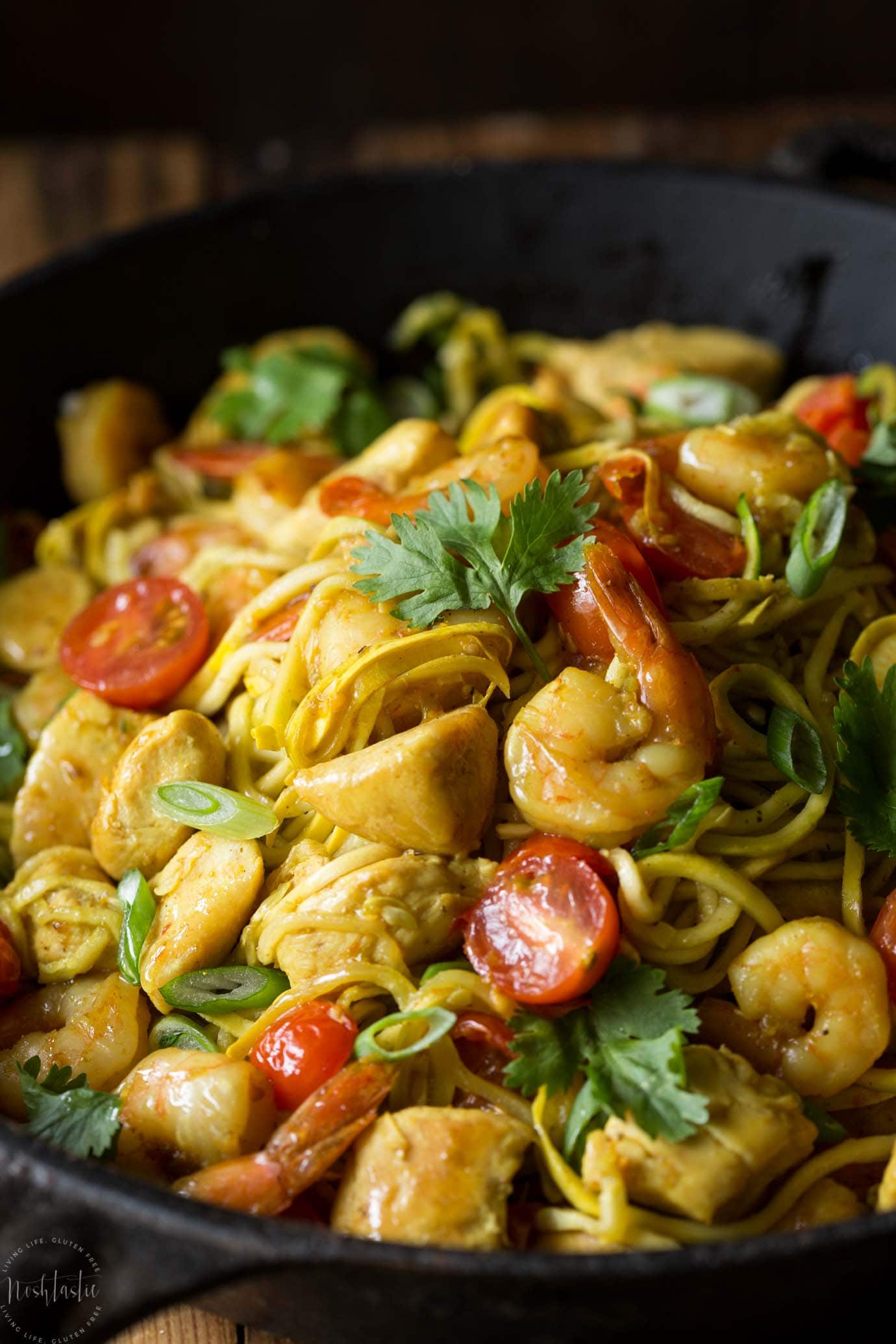 How to cook Paleo Singapore Noodles
This is a simple dish to prepare, you just need to get everything ready ahead of time so that you can quickly add the ingredients to the pan and get cooking! I've included a few simple steps here, the full recipe is at the end of the post.   (This post contains affiliate links)
The authentic curry sauce is really easy to make, simply add the sherry, curry powder, coconut aminos (or gluten free soy sauce if you are not paleo/w30), turmeric, and pepper to a bowl, and mix together.
Cut up and prepare the chicken, shrimp, garlic, cherry tomatoes, Jalapeno peppers, cilantro and scallions as directed in the recipe.
Ideally you'll need a spiralizer to make the zucchini noodles, it's really the easiest way to do it. I love the Paderno Spiralizer, but the Inspiralizer is another awesome option. If you don't have a spiralizer you can buy the noodles ready made in many grocery stores now (next to the bagged salad usually)
Next, you will need to get out a wide bottomed pan to make this, you don't need to use a wok. Start by cooking the chicken first as it will take the longest, then cook the shrimp separately after the chicken.
Then, add in tomatoes, zoodles, scallions, shrimp and cook until warmed through for about 2-3 minutes, do not overcook the 'noodles', they literally only need to be warmed through for a minute or so as they can create a lot of liquid and turn soggy if you overcook them.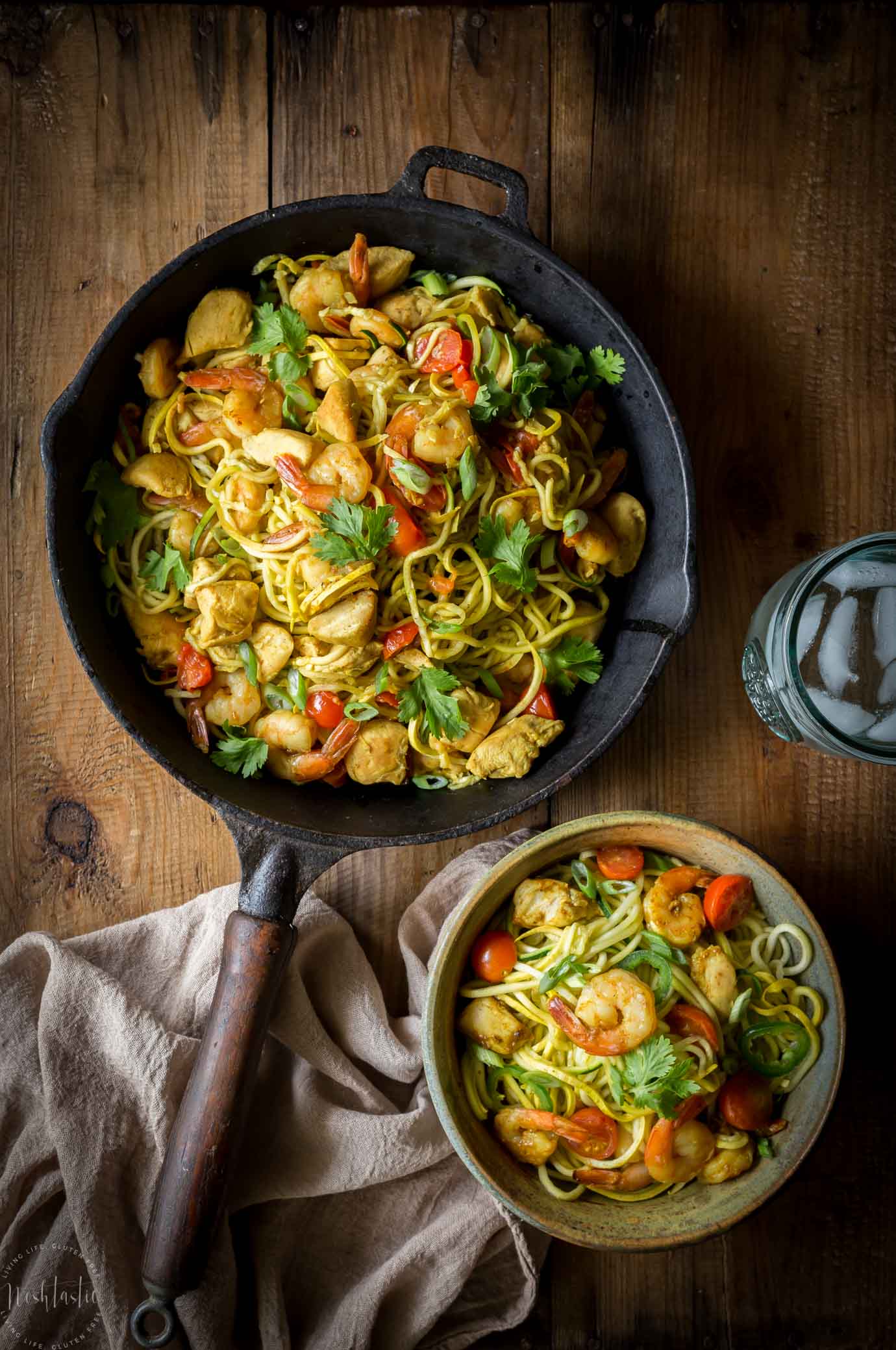 More Easy Dinner Recipes!
If you love the look of this recipe then I think you'll also enjoy some more of my other recipes! I love to make tasty, easy, weeknight meals so here are some of my favorites:
I recently made these Slow Cooker Baby Back Ribs with an easy homemade rub that will transform these slow cooker ribs from good to great! They cook over a few hours in the slow cooker and while they are cooking you can make the delicious BBQ sauce and let it simmer on the stove until the ribs are ready.
How about some Lemon Pepper Chicken? I've always loved Lemon Pepper flavors! My recipe is 100% from scratch and includes fresh lemon zest and some other simple spices to really amp up the flavor, it's so much better than straight from the bottle!
My friend Taylor from Food Faith Fitness has a delicious Vegan Sweet Potato Noodle Coconut Curry that looks tremendous, plus it's Paleo too!
Lastly, these awesome Smashed Potatoes make a fabulous side that would go with almost any main course, they are so crispy and delish!
Paleo Singapore Street Noodles
Paleo Singapore Noodles, made with zucchini noodles - zoodles , shrimp, chicken and tasty mild curry flavored sauce with added turmeric! This Singapore street noodles recipe is packed with authentic flavors, it is Gluten free, healthy, low carb with Whole30. If you're looking for a PF Chang's Street Noodles recipe to make at home, this is it!
Prep Time: 15 minutes
Cook Time: 15 minutes
Total Time: 30 minutes
Total Carbs: 9 g
Protein: 21 g
Servings: 6
Ingredients
1 tbsp coconut oil , or olive oil
1 lb chicken thighs, boneless, skinless, , cut into 3/4 inch cubes
24 raw shrimp , shelled and deveined
4 cloves garlic , crushed
4 zucchini , or yellow squash, made into noodles
4 inch scallions , cut crosswise into 2- long pieces
1 cup cherry tomatoes
1 jalapeno , thinly sliced into rings, or more to taste
leaves cilantro , to garnish (optional)
CURRY SAUCE
1 tbsp dry sherry - omit for whole30
2 tbsp mild curry powder
1 pinch turmeric
1/3 cup coconut aminos , 75mls, gluten free soy sauce, if not paleo
1 tsp fish sauce , I use Red Boat
1/2 tsp ground black pepper
Instructions
Watch my recipe video first! It's right after the directions.

Make the curry sauce by adding all the sauce ingredients into a bowl and mixing well.

Chop and prepare and all the vegetables, chicken and meat as directed so that you are ready to cook them quickly.

Heat the oil gently in a large wide bottomed pan and lightly fry the chicken for a 4-5 minutes on a medium heat, stirring all the time until cooked through, then remove the chicken from the pan and set to the side.

Quickly cook the peeled shrimp in the same way until it's pink, it should only take a minute or two, and remove it from the pan and set to one side.

Return the cooked chicken to the pan, along with garlic, curry sauce, and jalapenos, and cook for 3-4 minutes, stirring all the time.

Add in tomatoes, zoodles, scallions, and shrimp and cook until warmed through for about 2-3 minutes. Be careful not to overcook the 'noodles' or they will turn to mush and produce a lot of liquid.

Garnish with cilantro leaves and serve hot.
Nutrition Facts
Paleo Singapore Street Noodles
Amount Per Serving
Calories 184 Calories from Fat 54
% Daily Value*
Fat 6g9%
Saturated Fat 2g13%
Cholesterol 132mg44%
Sodium 909mg40%
Potassium 641mg18%
Carbohydrates 9g3%
Fiber 2g8%
Sugar 3g3%
Protein 21g42%
Vitamin A 340IU7%
Vitamin C 29.9mg36%
Calcium 75mg8%
Iron 2.4mg13%
* Percent Daily Values are based on a 2000 calorie diet.
Nutritional information on Noshtastic is provided as a courtesy and is approximate only. We cannot guarantee the accuracy of the nutritional information given for any recipe on this site.
Course: Main Course
Cuisine: American, Singapore