Make this healthy Chinese Beef and Tomato recipe in less than 20 Minutes, with easy Paleo option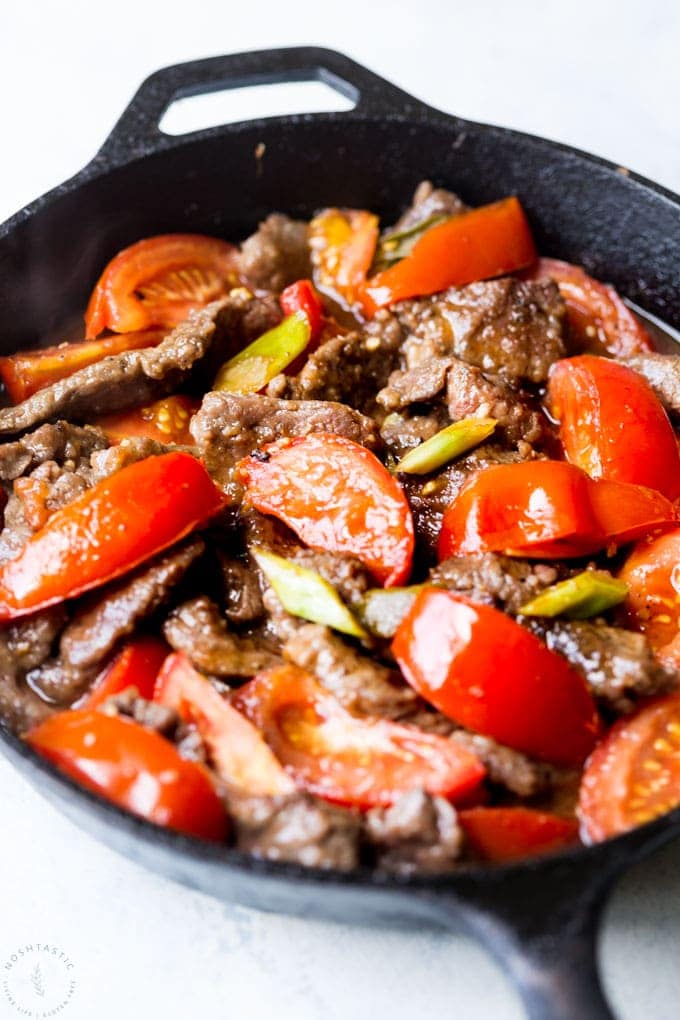 I live thousands of miles from my homeland  and spend a lot of time daydreaming about nostalgic food from my childhood and young adult days, needless to say the vast majority of it is not available in Mississippi so my only option is to either buy a ticket to Scotland for the weekend (not really an option) or attempt to recreate the recipes myself.
My most recent obsession was a Chinese Take Out recipe called 'Beef and Tomato' that I ate a lot when I was a student nurse.
It's a pretty simple dish, but it was a tad challenging to recreate as it's been about 20 years or more since I've had it and for obvious reasons I can't remember exactly what it was like, only what I *think* it was like!
So after a lot of internet research and a couple of conversations with my husband who also remembered the same meal, but was much less excited about it than I was, I set about trying to make it.
After several attempts I now have a recipe that I love even if it's not an exact reproduction of a Beef and Tomato recipe from a Scottish Chinese take away!
One of the key things is to not cook the tomatoes for so long that they turn into a sauce, you want them to be cooked but still retain their shape.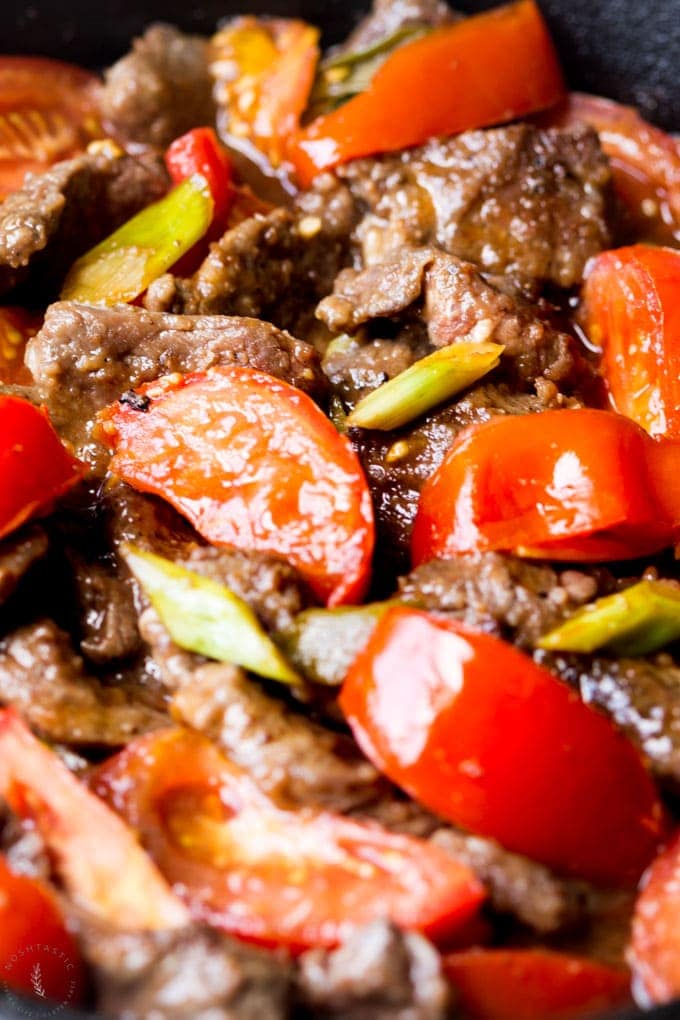 Chinese Beef And Tomato Recipe
The sauce that I remember was not spicy nor was it curry flavored as some recipes I've found are, it had a very mild flavor so that's what I've gone for.
I think the real thing would have Shaoxing Rice Wine but I have yet to find any that is gluten free so for now I'm sticking with sherry and it works pretty well and adds to the flavor of the sauce.
This recipe can easily be tweaked to make it Paleo compliant, you just need to thicken the sauce with arrowroot instead of cornstarch, exchange the soy sauce for coconut aminos,  and you're all set.
If you're counting calories then you'll be pleased to know that one serving size has less than 400 calories plus you can make it in less than 30 minutes so it's a great quick midweek dinner option.
If you're looking for a nice soup starter to serve with it then this Egg Drop Soup would be a great option, just use gluten free chicken stock.
Now if you're still on the hunt for some more great dinner options to try this week then I think you'll also enjoy my recipes for Grilled Flat Iron Steak, Pork Carnitas and Best BBQ Baked Beans (also known as Cowboy Beans).
Tools And Ingredients You May Need
This post contains Amazon affiliate links
Chinese Beef and Tomato
Make this healthy Chinese Beef and Tomato recipe in less than 20 Minutes, with easy Paleo option
Prep Time: 15 minutes
Cook Time: 10 minutes
Total Time: 25 minutes
Total Carbs: 11 g
Protein: 27 g
Servings: 4
Ingredients
1 lb beef flank or sirloin , thinly sliced
3 tbsp oil
4 large tomatoes , cut into eighths
3 green onions , sliced
4 cloves garlic , finely chopped
SAUCE
3 tbsp gluten free soy sauce, or coconut aminos for paleo
2 tbsp cornstarch, or arrowroot for paleo
1 tbsp dry sherry
salt and pepper
2 tsp fish sauce , I use Red Boat
Instructions
Cut your beef into thin slices and toss in the cornstarch and then shake of excess. If you are following the Paleo diet, omit the at cornstarch this stage (we will add arrowroot later for Paleo)

Cook the beef in hot oil for just a few minutes, do not overcook and remove to a plate as soon as it's cooked.

Add a little more oil to your pan if you need it, then add tomatoes, green onions, and garlic and cook for two minutes.

In a bowl, mix together gluten free soy sauce, or coconut aminos for paleo, and if you are following the Paleo diet and you didn't add cornstarch to the meat earlier, now add the arrowroot along with the sherry, fish sauce, and salt and pepper, and mix well to combine.

Add the sauce to the tomatoes and cook for a few more minutes until tomatoes soften. Don't cook for too long or the tomatoes will turn to mush, you want to them to retain their shape.

Add the beef and warm through for 1-2 minutes.

If you are not paleo you can serve this over rice.
Nutrition Facts
Chinese Beef and Tomato
Amount Per Serving (351 g)
Calories 305 Calories from Fat 144
% Daily Value*
Fat 16g25%
Saturated Fat 2g13%
Cholesterol 69mg23%
Sodium 945mg41%
Potassium 744mg21%
Carbohydrates 11g4%
Fiber 1g4%
Sugar 3g3%
Protein 27g54%
Vitamin A 1115IU22%
Vitamin C 19.5mg24%
Calcium 59mg6%
Iron 2.7mg15%
* Percent Daily Values are based on a 2000 calorie diet.
Nutritional information on Noshtastic is provided as a courtesy and is approximate only. We cannot guarantee the accuracy of the nutritional information given for any recipe on this site.
Course: Main Course
Cuisine: Chinese