My Low Carb Keto Beef Kabobs are a super easy weeknight meal that you can throw together really quickly. Now they do require a marinate time of a couple hours for maximum flavor,  but it's so simple to make this Beef Kabob recipe ahead of time and then quickly assemble the kabobs when you're ready to cook!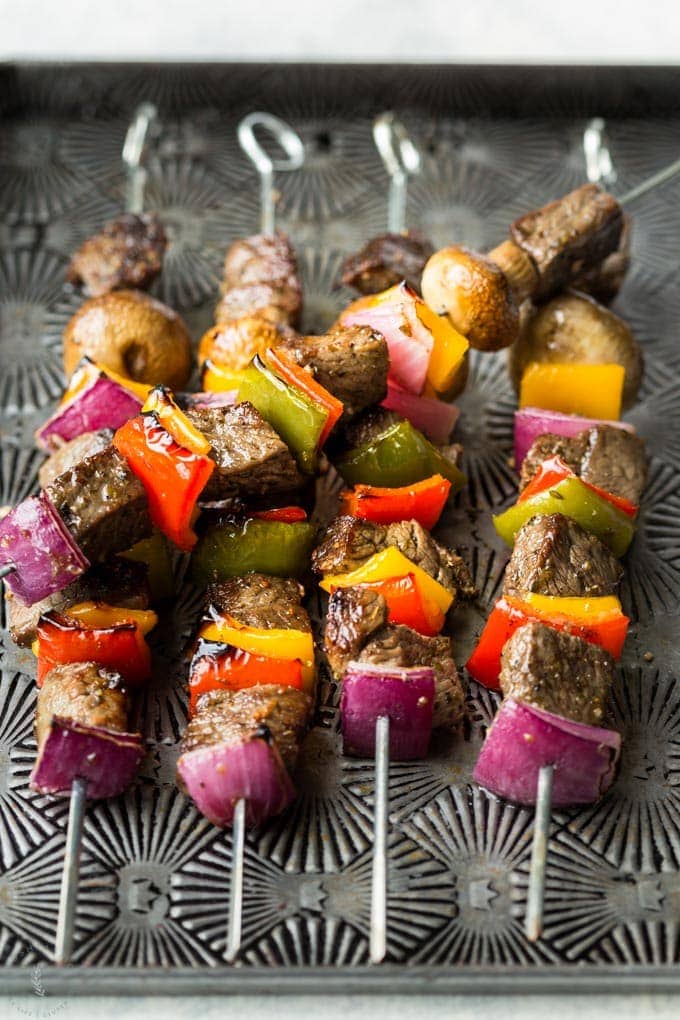 Tips for Making Low Carb Keto Beef Kabobs
Use the full marinating time for your Keto Beef Kabobs listed in the recipe. If you only marinade the beef for a short time it won't taste of much of anything. Don't forget to turn the bag in the fridge halfway so that the meat is evenly marinated.
Make sure you use the correct cut of beef for your Keto beef kabobs, I prefer to use sirloin steaks, but as long as you have a cut that will not become tough when cooked quickly you're good to go!
You can change up the vegetables if you prefer, but the macros are calculated to match the vegetables listed in the recipe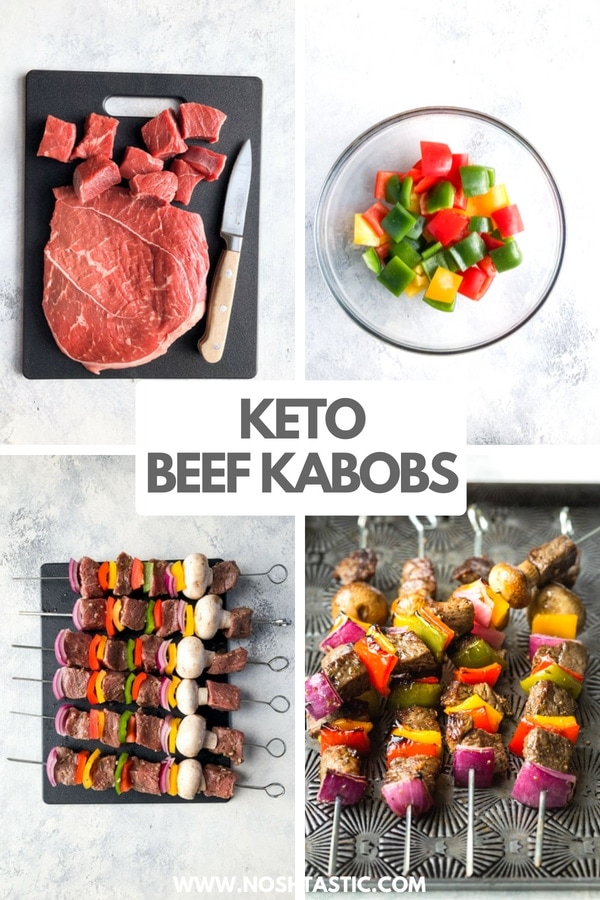 What is the best meat for Keto Kabobs?
The best beef for Kabobs is a cut that will remain tender when grilled or broiled, I chose sirloin for my keto beef kabobs because it's relatively cheap and does not get tough when cooked quickly. Other options include tenderloin or filet mignon but they are much more pricey.
How Long do you cook Kabobs?
Kabobs do not take long to cook at all and the length of time will depend on whether you cooking them on a grill, which will likely be very hot, or under a broiler.
It should take about 4 – 5 minutes per side to cook beef kabobs on a grill, and up to 10 minutes per side under a broiler depending on how far from the heat source your kabobs are.
What do you put on a Kabob?
We like to make our beef Kabobs with vegetables that cook quickly, add flavor, and fit with our low carb diet at the same time. We chose bell peppers of various colors, a small amount of red onion, and mushrooms for our kabobs.
This post contains affiliate links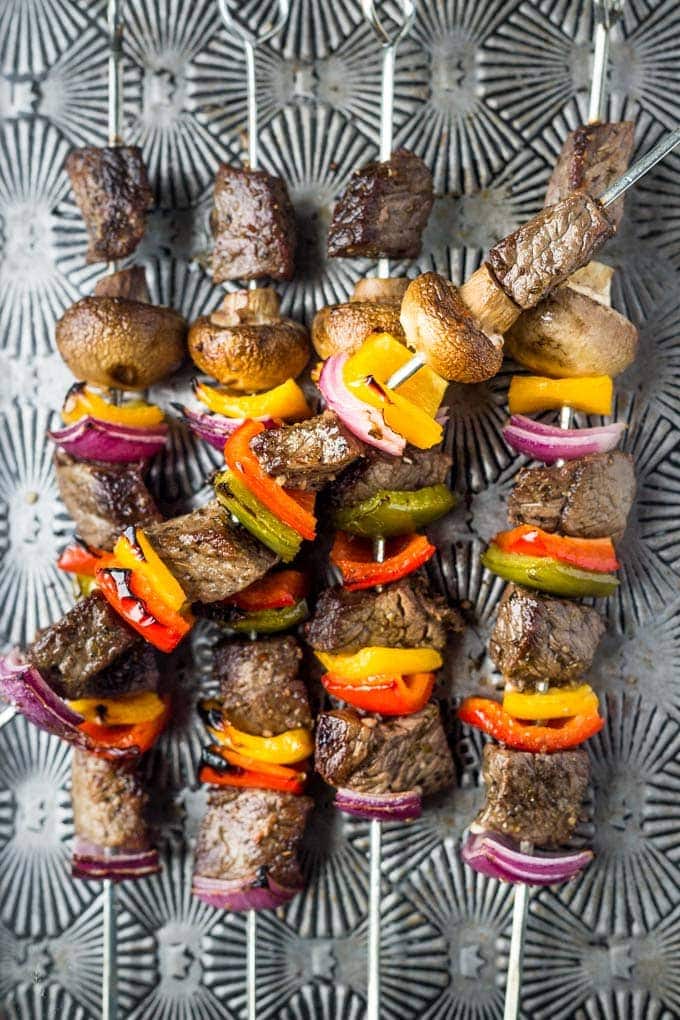 More Low Carb and Keto Recipes
Low Carb Keto Beef Kabobs
Quick and Easy Low Carb Keto Beef Kabobs with a simple red wine vinegar and herb marinade
Prep Time: 30 minutes
Cook Time: 20 minutes
Marinate: 6 hrs
Total Time: 6 hours 50 minutes
Total Carbs: 4 g
Protein: 19 g
Servings: 8 kabobs
Ingredients
1.5 lb sirloin steaks , Cut into inch size cubes
3 oz red bell pepper , 85g
3 oz yellow bell pepper , 85g
3 oz green bell pepper , 85g
8 small mushrooms
4 oz red onion slices , 113g
Instructions
Mix the marinade ingredients into a Ziplock bag then add the chopped steak pieces.

Marinate the beef in the fridge for at least 4 - 12 hours for best results, a shorter marinate time will result in much less flavor.

After the minimum 4 hours marinate time is up thread the beef and vegetables onto the kabob skewers, do not pack them on too tightly.
Cook Keto Beef Kabobs on a Grill
Preheat a grill to medium-high heat

Brush the grill grates with oil. Grill the kabobs directly over the heat turning occasionally and basting with remaining marinade for 5 to 10 minutes, or until they are cooked the way you like them.
Cook Keto Beef Kabobs under Broiler
Turn on the broiler onto the high setting.

Lay the keto beef kabobs on to a small baking sheet (see photo in post) and balance them so they are not touching the bottom of the baking sheet.

Broil for up to 5- 10 minutes per side, turning at least once and basting with remaining marinade until the meat is cooked.
Recipe Notes
Don't forget to join our Keto Low Carb Facebook Group!
Makes 8 Keto beef kabobs with 3g net carbs per kabob if you use the ingredients as weighed and measured in the recipe. 
Nutrition Facts
Low Carb Keto Beef Kabobs
Amount Per Serving
Calories 168 Calories from Fat 63
% Daily Value*
Fat 7g11%
Saturated Fat 1g6%
Cholesterol 51mg17%
Sodium 204mg9%
Potassium 425mg12%
Carbohydrates 4g1%
Fiber 1g4%
Sugar 1g1%
Protein 19g38%
Vitamin A 405IU8%
Vitamin C 42.9mg52%
Calcium 37mg4%
Iron 1.9mg11%
* Percent Daily Values are based on a 2000 calorie diet.
Nutritional information on Noshtastic is provided as a courtesy and is approximate only. We cannot guarantee the accuracy of the nutritional information given for any recipe on this site.
Course: main
Cuisine: American