Low Carb Chicken Parmesan is my healthier remake of the classic Italian-American dish. Typically this dish of fried, breaded chicken is high in carbs and not suitable for a Keto or low carb diet.
I've changed it up and breaded the chicken in seasoned almond flour instead of regular flour, smothered it in a homemade low carb marinara sauce, and then baked it to perfection with plenty of mozzarella and parmesan cheese!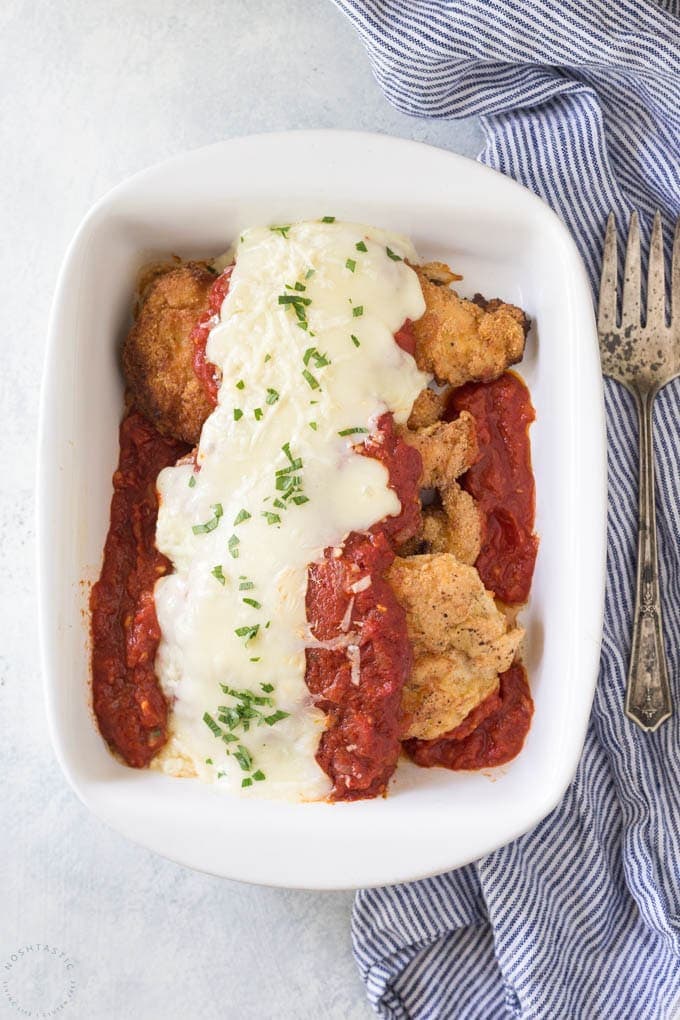 Tips for Making Low Carb Chicken Parmesan
Start by cutting the chicken breast pieces in half lengthways so you have two pieces about 3/4 inch thick. Then, put the chicken pieces between two pieces of cling wrap and use a mallet or rolling pin to thin them out to about 1/2 inch thick.
Put the almond flour in one plate or container, and the beaten egg in the other. Then heat the oil in a cast iron or heavy bottom skillet and dip the chicken in the flour, then egg, then flour again, then add it to the hot oil.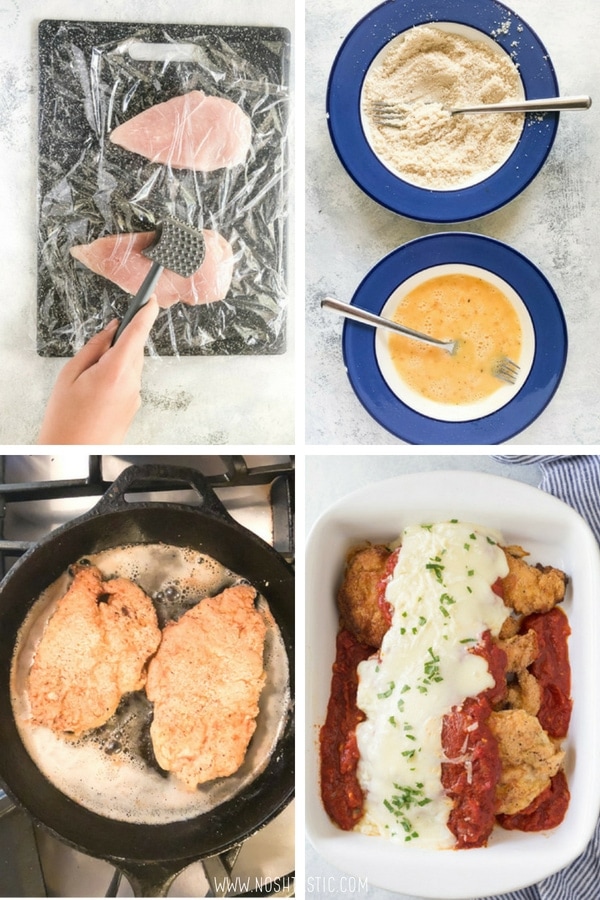 Take care not to have the heat too high, it's easy to burn the almond flour if it's too hot. Cook for about 6 minutes per side or until it's lightly browned and the chicken is cooked all the way through.
Once you've cooked the chicken, add it to an oven proof baking dish and add the homemade low carb marinara sauce over the top of the chicken, then add the mozzarella and parmesan cheese and bake until the cheese melts.
This post contains affiliate links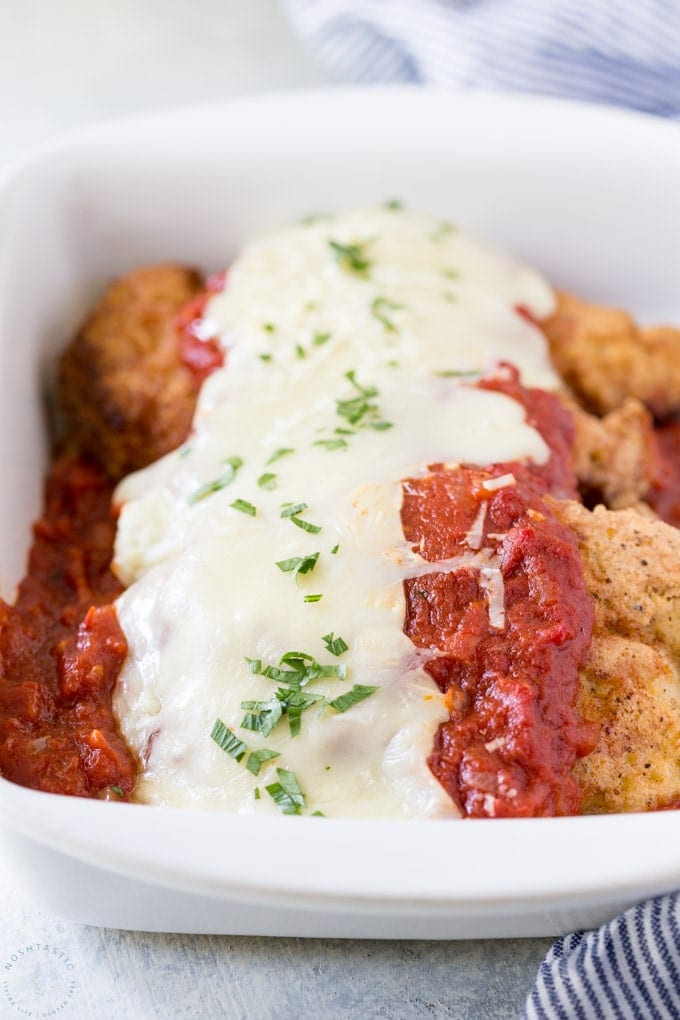 More Low Carb Recipes
Low Carb Chicken Parmesan
How to Make Easy Keto Low Carb Chicken Parmesan with step by step instructions.
Prep Time: 15 minutes
Cook Time: 35 minutes
Total Time: 50 minutes
Total Carbs: 13 g
Protein: 28 g
Servings: 4
Ingredients
2 large Boneless skinless chicken breasts , cut in half lengthways, pounded thin
Salt and freshly ground black pepper
1 cup Almond flour
4 large Eggs , beaten with 2 tablespoons water and seasoned with salt and pepper
1 cup Coconut Oil , or other high smoke point oil
1 + 1/3 cups Low Carb Marinara Sauce
1/2 lb Mozzarella , sliced
1/4 cup Parmesan , freshly grated
Fresh basil, or parsley leaves , for garnish
Instructions
Cut the chicken breasts in half length ways to make two equal sized thinner pieces of chicken breast that are both about 3/4 inch thick (see photo in post)

Pound each chicken breast between pieces of cling wrap to about 1/2 inch thick using the flat side only of the meat mallet, or a rolling pin.

Season both sides of chicken with salt and pepper.

Add almond flour to wide flat dish and season with 1tsp salt and 1tsp pepper.

Add the eggs plus 2 tbsp water to a bowl and beat well, add 1/2 tsp salt.

Add the oil to a large skillet suitable for frying, such as stainless steel or cast iron. Heat it until hot but not smoking.

Dredge each breast in the seasoned almond flour first, tap off excess, then dip in the seasoned egg, then dip again in the almond flour.

Add 2 chicken breast pieces to the pan at a time and cook until golden brown on both sides, about 6 minutes per side or until the chicken is fully cooked. Turn the heat to medium, if it's too high you will burn the almond flour crust.

Transfer to a baking dish and top each breast with 1/3 cup marinara sauce, slices of the mozzarella, salt and pepper, and grated Parmesan.

Bake in the oven until the chicken is heated through and the cheese is melted, about 5 to 8 minutes.

Remove from the oven and garnish with chopped basil or parsley.
Recipe Notes
Don't forget to join our Keto Low Carb Facebook Group! 
Serving size is 1 piece chicken breast with sauce and cheese topping. 
10g net carbs per serving if you use 1/4 cup almond flour for breading each chicken piece, and 11g net carbs if you use 1/3 cup.
Nutrition Facts
Low Carb Chicken Parmesan
Amount Per Serving
Calories 537 Calories from Fat 378
% Daily Value*
Fat 42g65%
Saturated Fat 15g94%
Cholesterol 235mg78%
Sodium 632mg27%
Potassium 356mg10%
Carbohydrates 13g4%
Fiber 3g13%
Sugar 4g4%
Protein 28g56%
Vitamin A 870IU17%
Vitamin C 8mg10%
Calcium 477mg48%
Iron 3.3mg18%
* Percent Daily Values are based on a 2000 calorie diet.
Nutritional information on Noshtastic is provided as a courtesy and is approximate only. We cannot guarantee the accuracy of the nutritional information given for any recipe on this site.
Course: Main Course
Cuisine: American