How to clean a gas grill, with step by step instructions for you to follow!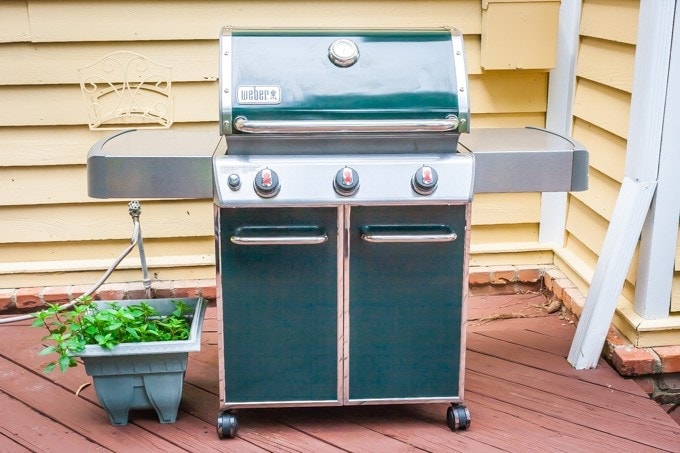 We've had our Weber Genesis gas grill for about a year now, prior to that we had a charcoal one which worked well but my husband was getting a bit fed up of having to clean out the ashes every time he wanted to use it.
While we clean the cooking grates on our gas grill every time we use it, I confess that we have not really cleaned it much beyond that, shame on us! I've been avoiding the full on grill spring cleaning for a while now, because procrastination is what I do best 🙂
Last week our hand was forced as we had a bad flare up/fire after cooking some burgers so ignoring the much needed cleaning was no longer an option as there was no way we could cook anything on it until it was properly cleaned.
Thankfully cleaning a gas grill is not overly complicated, it just requires a bit of elbow grease and some everyday cleaning products, and remembering where to put back all the grill parts!
What you need
You will need a pair of rubber gloves, an apron or some old clothes ( you will get dirty!), Dawn dish washing soap, stainless steel grill polish,  green nylon pot scrubbers, warm water in a bucket, cloths for buffing and wiping, a stainless steel grill brush and if your grill is really dirty and has layers of grease on it you may also need a paint scraper to get all the gunk off.
I found a garden hose to be helpful for blasting off some of the dirt from the grill parts that I had on the grass and rinsing off the clean grill parts, but it's certainly not essential. Before you start cleaning you should consult the manual for your grill as it may have different parts to mine and require different care.
EASY SUMMER RECIPES YOU'LL LOVE!!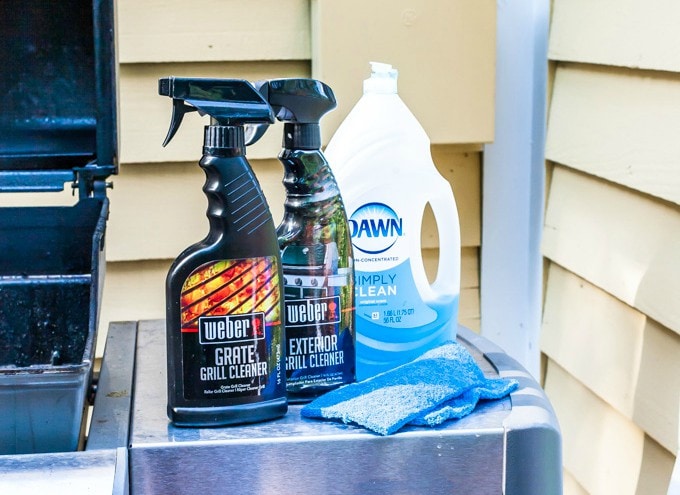 Getting started – the lid
Make sure the gas to the grill is switched off and your grill is not hot. I started with the interior of the lid and used the green nylon pot scrubber to scrub it down with hot water with some Dawn soap mixed in .
If you have a lot of black flaky carbon material (it's not paint, so don't panic) built up on the inside of the lid up you can use the grill brush to get it off, or the paint scraper if it's really thick and greasy. When you're done scrubbing, rinse it down with warm water.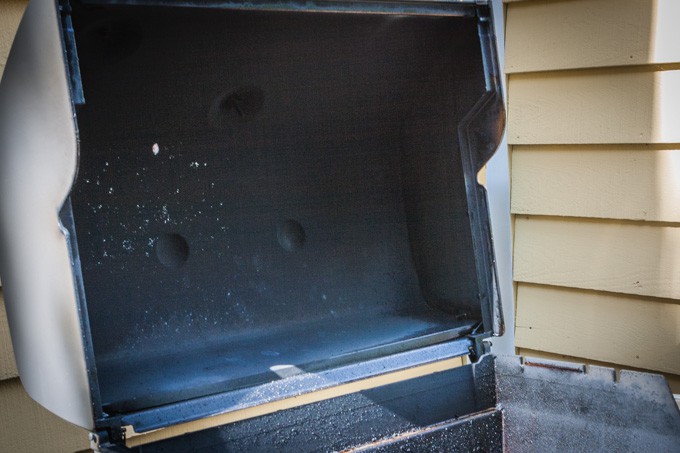 Cleaning the inside of the grill
Scrub the cooking grates with the grill brush while they are still in place, then remove them, the flavorizer bars and heat deflectors if you have them. I put all these parts on to the grass in my back yard, so that all the burnt on stuff that came off wasn't all over the deck as I cleaned them.
I found that a lot of the burnt on gunk came off easily when I blasted them with the garden hose while they were lying on the grass, so you might want to try that.
I cleaned the flavorizer bars and heat deflectors with the green nylon scrubber and a bucket of hot soapy water, then I rinsed them off with the garden hose and placed them up on the deck to dry. For the cooking grates I scrubbed them on both sides with the grill brush and then finished scrubbing them with the green nylon scrubber, I also rinsed them off with the hose.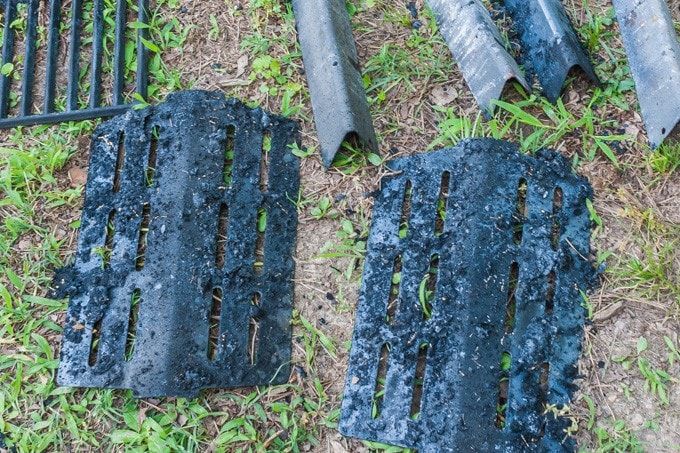 Now you want to clean the burner tubes, that's the part where the gas flame comes out. Clean the little holes with your grill brush in a side to side motion across the holes. Do not scrub up and down the length of the tubes or you will end up pushing debris into the holes.
Once you've cleaned the burner tubes use your nylon scrubber and some hot soapy water to scrub and clean the rest of the inside of the grill, working from the top down. If you need to, use the paint scraper tool to remove excess grease and gunk from the inside of the grill and into the tray beneath. When you're done, rinse it off or wipe clean with clean warm water.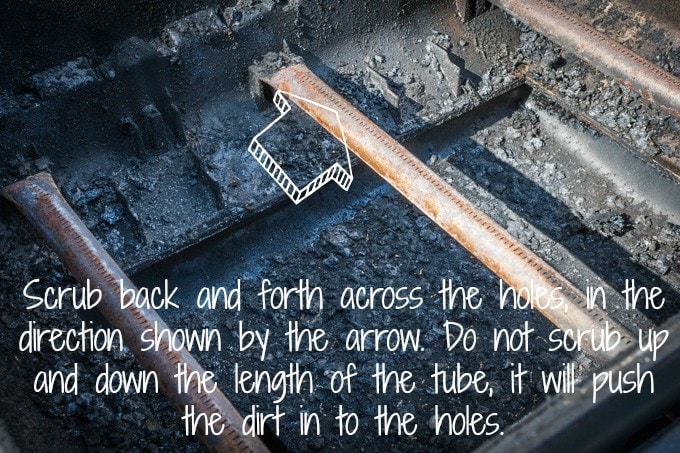 Next you want to remove the bottom tray and catch pan and wash them clean with warm soapy water. Then you can wipe out inside the bottom part of the grill where the gas bottle is stored. When everything is dry return all the parts to the correct place inside your grill.
Washing the exterior is easy, just use a soft cloth and clean warm soapy water. Rinse with clean water, then buff with a dry cloth. I used a stainless steel polish to get a really nice shine on it after I buffed it dry.
Here's some pictures of the grill after I cleaned it, it looks a whole lot better than it did before and our grilled food tastes better too!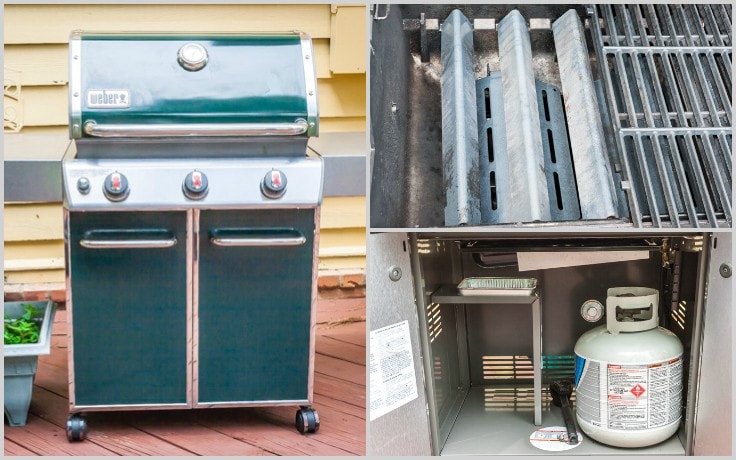 Now you're ready to crank up the grill and cook some tasty food!  I have some great recipes I know you'll enjoy for your next cookout, how about some Chimichurri sauce to go with your steak, or some Pineapple Salsa? If you prefer fish you could try my recipes for Easy Grilled Salmon with Orange and Thyme or Grilled Sesame Ginger Salmon. What's your favorite thing to cook on the grill?
MORE OF MY FAVORITE EASY RECIPES!