Gluten Free White Chicken Chili recipe that's ready in less than 30 minutes!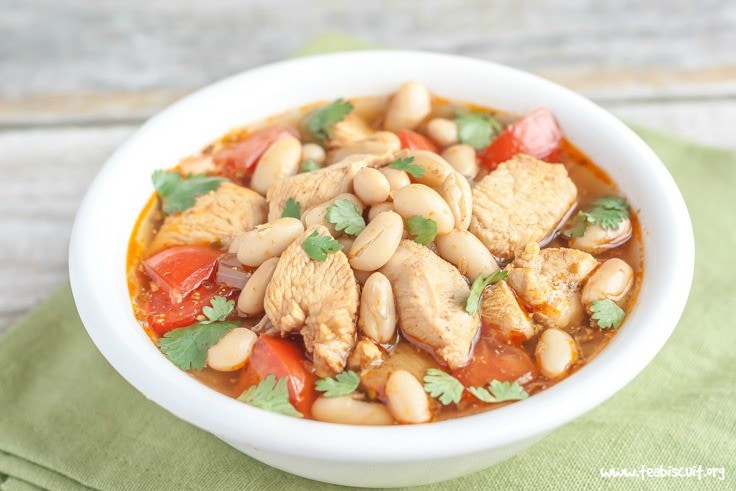 Next week it's Spring Break where I live in Mississippi but I don't think the weather has got the memo, it's been really cold for the last few weeks and we are due to have more sub freezing temps at the end of the week, not very spring like at all! Maybe by Saturday we'll have some beach worthy, grilling out weather, until then I'll keep on with the winter clothes and continue sitting by the window looking for the sun and eat another bowl of gluten free white chicken chili!
Winter temps need winter food, and chili is always a good option. I confess that I'd never had a white chili or even heard of it before I moved to the USA in 2008, I first saw it on a cooking show several years ago and was pleasantly surprised with the finished product when I eventually made it. Most of the time I prefer it to the ground beef version as it's much lighter and I'm not mad keen on red kidney beans, apologies to all you red beans and rice fans 🙂
You can use ready cooked chicken if you have it, but you might want to shorten the cooking time a little. Any kind of white beans will do, I'm not sure it you can get Great Northern Beans in the UK so just substitute with whatever you can find.
This post may contain Amazon affiliate links

Gluten Free White Chicken Chili
Really Easy Gluten Free White Chicken Chili - ready in less than 30 minutes!
Recipe type:
Stews and Soups
Ingredients
2 tablespoons olive oil
2 medium onions, diced
1½ tablespoons Ancho chili powder (or substitute regular chili powder)
3 cloves minced garlic
2 teaspoons ground cumin
2 teaspoons dried oregano
4 (1 litre) cups gluten free chicken broth
3 large skinned chicken breasts, chopped
1 can Great Northern beans, rinsed and drained
1 can Cannellini beans, rinsed and drained
½ cup diced seeded plum tomato (about 2)
⅓ cup chopped fresh cilantro
2 tablespoons fresh lime juice
½ teaspoon salt
½ teaspoon freshly ground black pepper
lime wedges to serve
Instructions
Heat oil in a large pan over medium heat.
Add your chopped onion and cook gently for five minutes, then add chili powder, garlic, cumin, oregano and cook gently for a couple of more minutes.
Add broth and the chopped chicken breast ; simmer gently for 10 minutes.
After 10 minutes add in the rinsed beans and cook for a further 10 minutes.
Remove from heat and add chopped tomato, chopped cilantro, lime juice, salt, and pepper.
adjust seasoning to taste.
serve with lime wedges.