We just love this flavor packed Shrimp Avocado Salad around here, it's hearty enough for dinner but also makes a great lunch option and if you have a fridge at work you can meal prep it and take it with you!
We used delicious Gulf Shrimp to make the salad, but you can use whatever shrimp is available in your own grocery store. Once you've cooked the shrimp you can pull the salad together in minutes, read on to find out how I make it!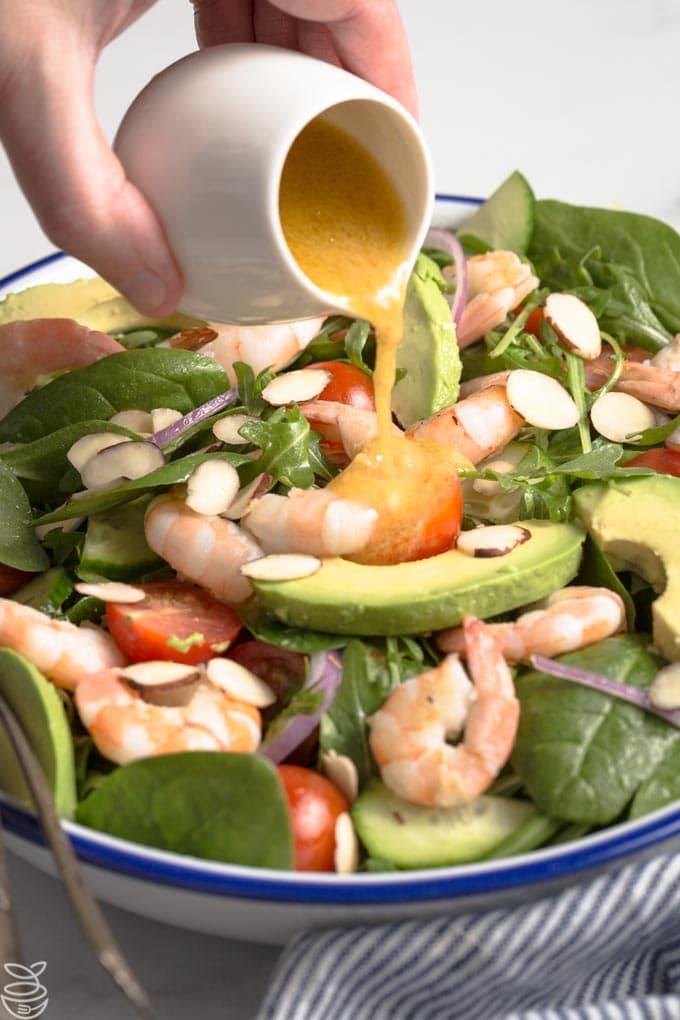 Last week the family were feasting on my shrimp taco bowls and I thought that maybe a shrimp salad would be another awesome way to eat shrimp for lunch, so I've gone ahead and created this simple salad with fresh ingredients that we love, and I think you will too!
this post contains affiliate links
TIPS FOR MAKING SHRIMP AVOCADO SALAD
Finding fresh salad greens are  a must for my shrimp salad.
Don't pick your salad out of the serve yourself boxes where they've been sprayed with water (why do they do that?!) as they rot much quicker, and avoid those leaves that look dry and wilted. I just love the peppery taste of arugula and then mix it up with a little baby spinach but you can easily change that up to included your own preferred salad leaves.
I'm a little bit fussy about finding decent shrimp! My preference if I can find it is for US shrimp, or North Atlantic shrimp, I won't eat imported shrimp any more.
We are fortunate to live near the Gulf Coast so that's usually where our shrimp comes from. I also think it's worth reading the labels of frozen shrimp and avoiding any that add sodium tripolyphosphate, it has a nasty taste that spoils the shrimp in my opinion, so look for shrimp that's frozen with no additives.
How to Cook Shrimp
There are a myriad ways to cook shrimp but the main thing you need to know is that whatever method you choose, you want to ensure that you don't overcook it!
For this recipe you can pan fry it in a olive oil or butter for two to three minutes, or if you are cranking up the grill you can cook it on there.
I like to use a basket to cook my shrimp on the grill so it does not fall through the grates, or you can thread them onto skewers.
Just make sure you oil the grill grates so the shrimp doesn't stick. Shrimp cooks even faster on the grill because of the high heat so don't walk away! You'll have it cooked in minutes.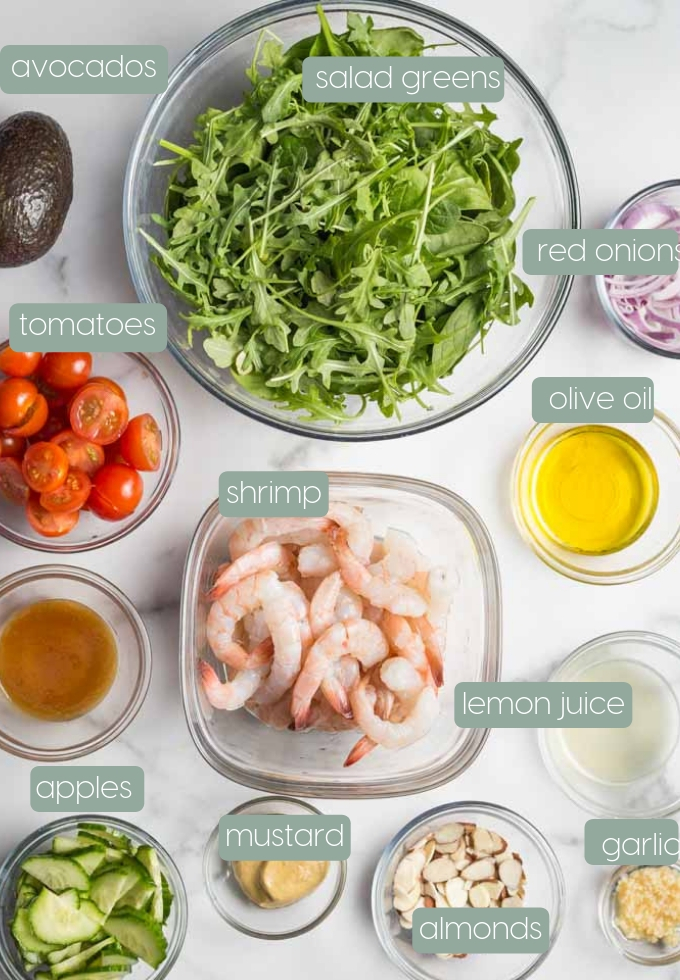 Once you've cooked the shrimp it's simply a matter of chopping up the red onion, tomatoes, cucumber and avocado and assembling the salad. (there's no apples, it's cucumber, that's my mistake in the above photo, ooops!)
The dressing for my shrimp avocado salad only takes a minute to whisk together, you can pour over a little at a time, toss the salad and then taste it. I love my salad kind of drowned in dressing, but maybe y'all like a little less than me so you may not need it all!
If you want to make your salad ahead of time I'd cut up all the vegetables (except the avocado), cook the shrimp, and make the dressing but keep everything separate in the fridge until you are ready to serve, then you can throw it together in a bowl very quickly.
More Shrimp Recipes
Shrimp Avocado Salad
Quick and easy, this healthy Shrimp Avocado Salad will have you coming back for more!
Prep Time: 10 minutes
Cook Time: 5 minutes
Total Time: 15 minutes
Total Carbs: 11 g
Net Carbs: 6 g
Protein: 27 g
Servings: 4
Ingredients
1 lb shrimp , 453g peeled and deveined
1 tsp salt
1 tbsp olive oil
1/2 cup red onion , thinly sliced
1 cup cherry tomatoes , 150g
3 cups baby spinach
3 cups arugula
1 avocado , cut into slices
1/4 cup sliced almonds
Shrimp Avocado Salad Dressing
Instructions
Peel the shrimp and add the salt.

Heat a large skillet over medium heat and add a little olive oil, cook the shrimp for about 3 minutes, turning at least once, or until the shrimp is fully cooked.

Thinly slice the red onion, cherry tomatoes, cucumber, and avocado, and add to a large bowl with your choice of salad leaves, we used arugula and baby spinach.

Mix the salad dressing ingredients together with a whisk.

Add the shrimp to the salad bowl with the salad, pour over the dressing, and toss it all together. Serve with a sprinkle of sliced almonds.
Nutrition Facts
Shrimp Avocado Salad
Amount Per Serving
Calories 356 Calories from Fat 207
% Daily Value*
Fat 23g35%
Saturated Fat 3g19%
Cholesterol 285mg95%
Sodium 1536mg67%
Potassium 695mg20%
Carbohydrates 11g4%
Fiber 5g21%
Sugar 3g3%
Protein 27g54%
Vitamin A 2720IU54%
Vitamin C 31.8mg39%
Calcium 243mg24%
Iron 4.1mg23%
* Percent Daily Values are based on a 2000 calorie diet.
Nutritional information on Noshtastic is provided as a courtesy and is approximate only. We cannot guarantee the accuracy of the nutritional information given for any recipe on this site.
Course: Salad
Cuisine: American