Instant Pot Sweet Potatoes – there's no need to turn on your oven with my faster foolproof method for cooking sweet potatoes. You'll have your pressure cooker sweet potatoes ready and on the table in less than 30 minutes, quick, easy and delicious!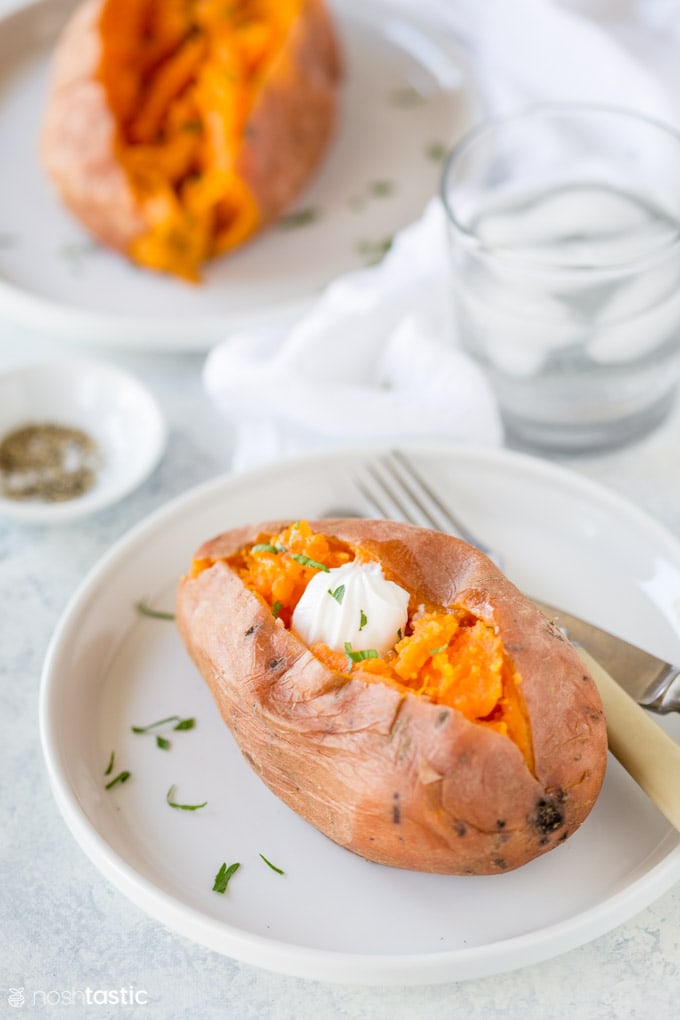 This post contains affiliate links
How to make Instant Pot Sweet Potatoes
It really is very straightforward and easy to cook sweet potatoes in a pressure cooker. I've included a step by step guide below with detailed photos so you can see at a glance exactly how to do it.
Step 1 – Start by adding the trivet that came with your Instant Pot, to the inner pot. If you do not have an Instant Pot brand pressure cooker then simply use any trivet or steamer basket that is suitable for pressure cooking instead.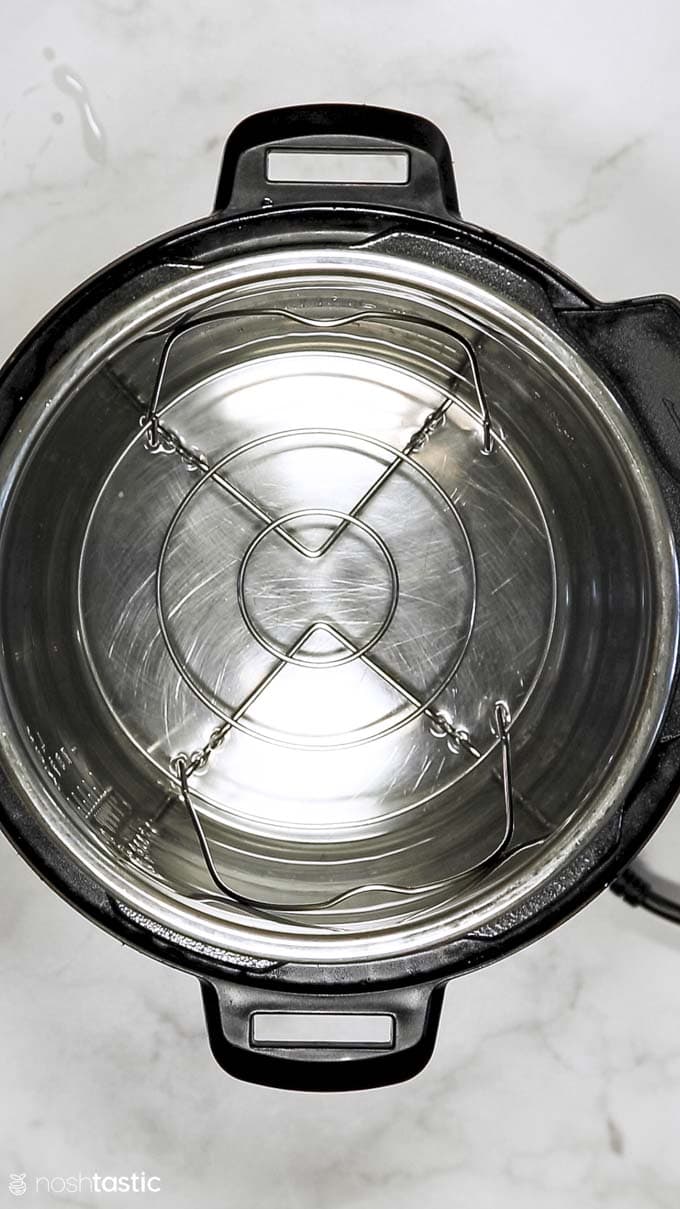 Step Two – Add one cup of water to your Instant Pot. You may need a little more water if you have an 8 quart model so check your manual for details. Then add your washed sweet potatoes on top of the trivet like you see in the photo below.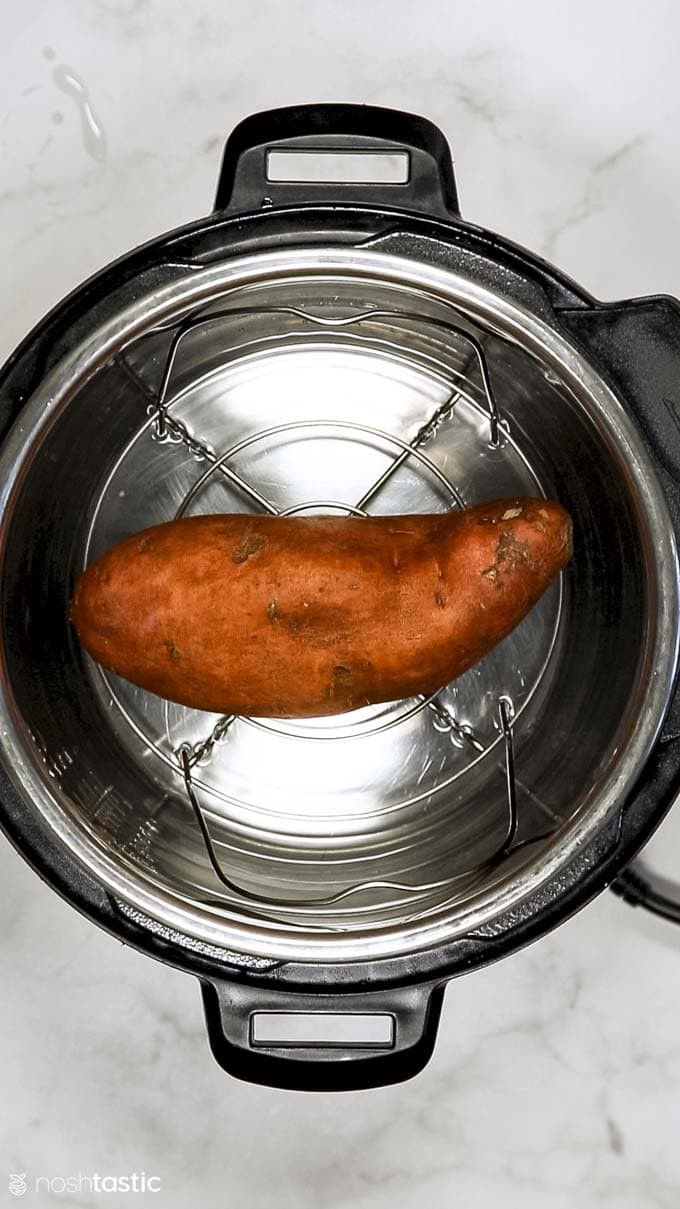 Step Three – Carefully lock the pressure cooker lid (make sure you have the silicone ring in securely) and then turn the vent to 'sealing'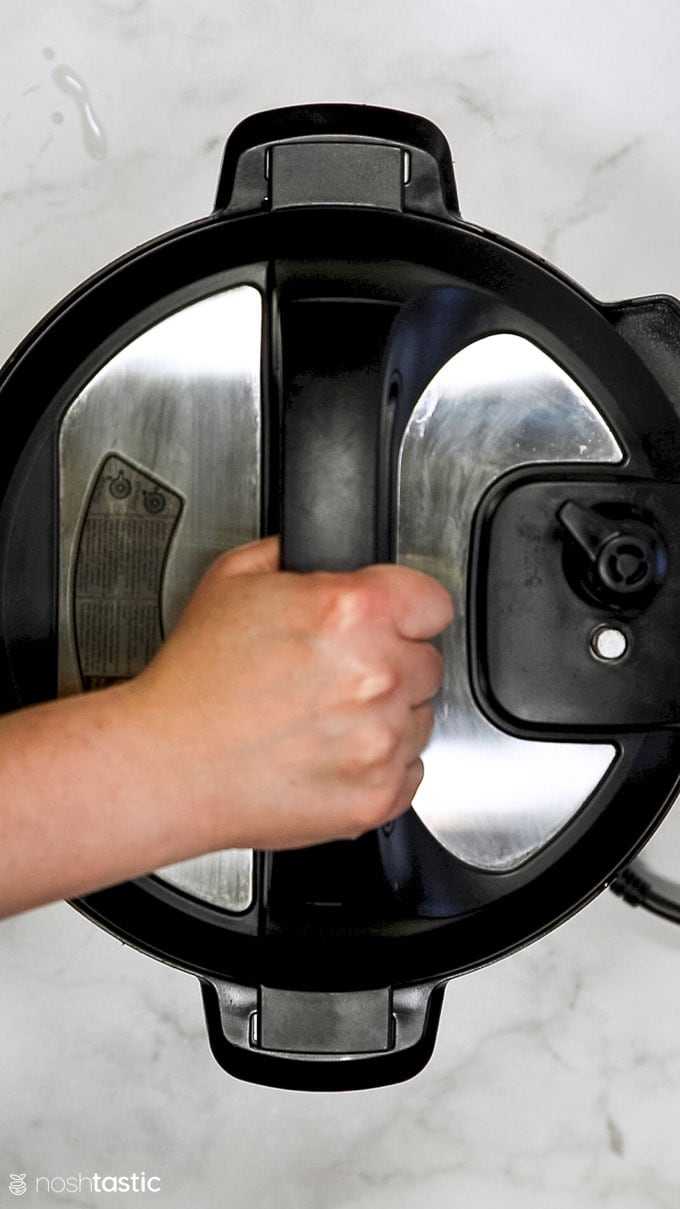 Step Four – Once the lid is locked adjust your pressure cooker using the pressure cook or manual button to cook at high pressure for the appropriate time for the size of your sweet potato (see my cook time guide below for specific timings)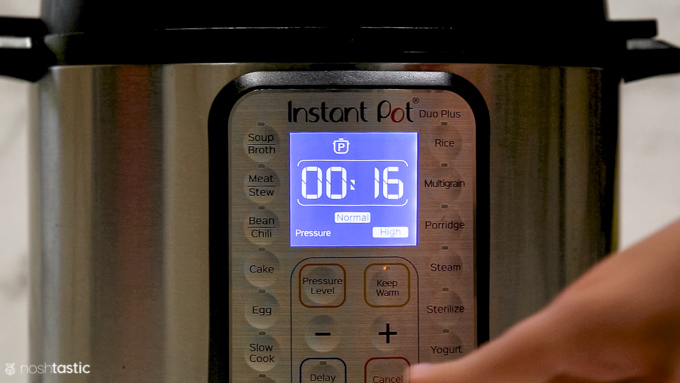 Step Five – At the end of the cook time, you can release the pressure quickly and then carefully remove the lid. There's no need to wait for 'natural pressure release' for vegetables, we can open it right away.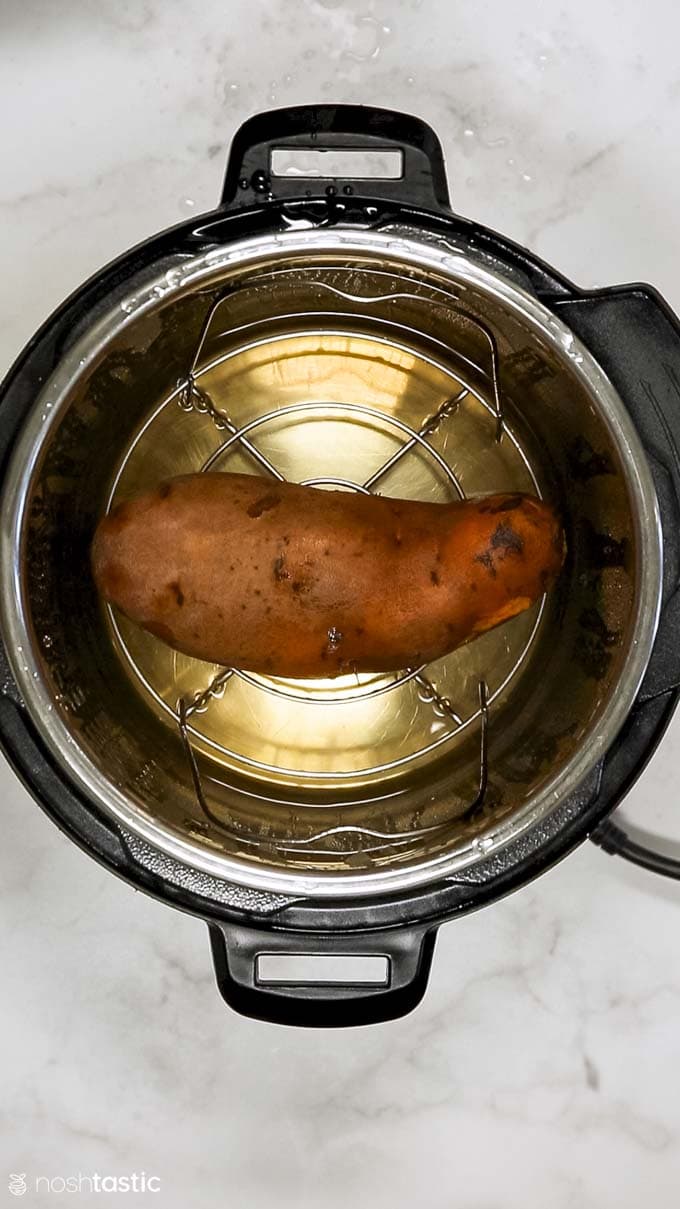 Step Six – When you open it you can remove the sweet potato and use a sharp knife and insert it into the fattest part of the potato to see if it is soft all the way through. If it is not cooked enough then simply put it back into the pot and cook for two or three more minutes, or if you feel like it's almost cooked, you could simply microwave it for 30 seconds.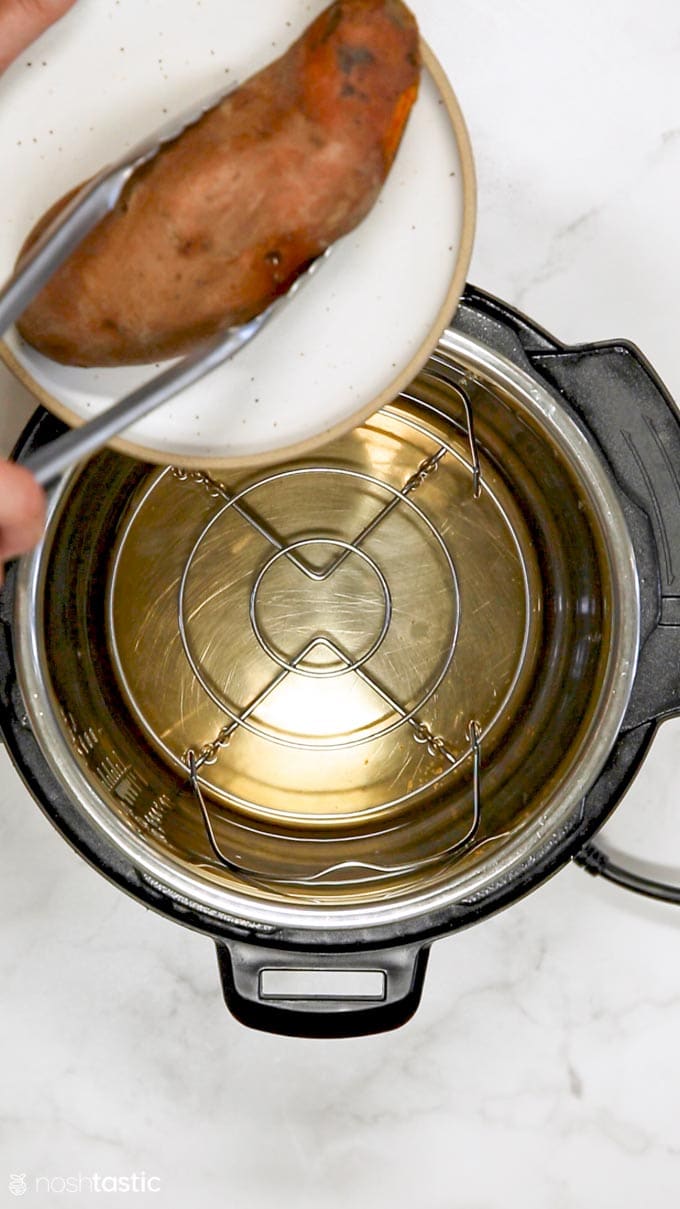 Instant Pot Sweet Potatoes – Cook Time Guide
Cook time for pressure cooking sweet potatoes is not an exact science and it's going to vary, depending largely on the thickness of the sweet potato.
I've given a visual guide below that will help you get started, but as always, if you find that your sweet potatoes are not quite cooked at the end of the programmed cook time all you need to do is pop the lid back on and cook for a little bit longer, it's very easy.
Small Sweet Potatoes – 16 minutes – This includes sweet potatoes that are very skinny!
Medium Sweet Potatoes – 18 minutes – I would say this is an average sized sweet potato
Large Sweet Potatoes – 20 minutes
Quick Troubleshooting Guide
As someone who has been pressure cooking for years I understand many of the issues and frustrations that may crop up related to Instant Pot and Pressure cooking in general so I want list some of the most common ones I get asked about and more specifically those that relate to cooking sweet potatoes in an instant pot or other electric pressure cooker.
Burn Notice – this warning comes on usually when something sticks to the base of the pot, but if your sweet potatoes are lifted off the base and on a trivet it should not happen for this recipe as you are only adding water. Here are a couple of reasons you could see the burn notice with this recipe. 1) if you fail to add water to your pot then you are likely to see the 'burn' notice. 2) If your pot lid is not secure allowing steam to escape around the sides then it will not come to pressure and may boil dry and then you're likely to see the 'burn' notice. And 3) if you forget to close the valve it will also never come to pressure and eventually will evaporate all the water also causing the burn notice.
Overcooked Sweet Potatoes – this is not an exact science and depends solely on the size of the sweet potato as opposed to the weight so my timings are just a guide, but the more you cook them the more you'll get to know what timing you prefer in your machine.
Undercooked Sweet Potatoes – This is an easy fix as all you need to do is put the lid on and add two to three minutes more cook time! Or if the sweet potatoes are almost cooked, but not quite, then I usually just microwave them (cut open first!) for 30 seconds.
High altitude – As I don't live at altitude I am not able to test this recipe for pressure cooking at higher elevations, but generally speaking cooking at altitude will take 25% longer or thereabouts. Here's a helpful discussion that goes into more detail about it.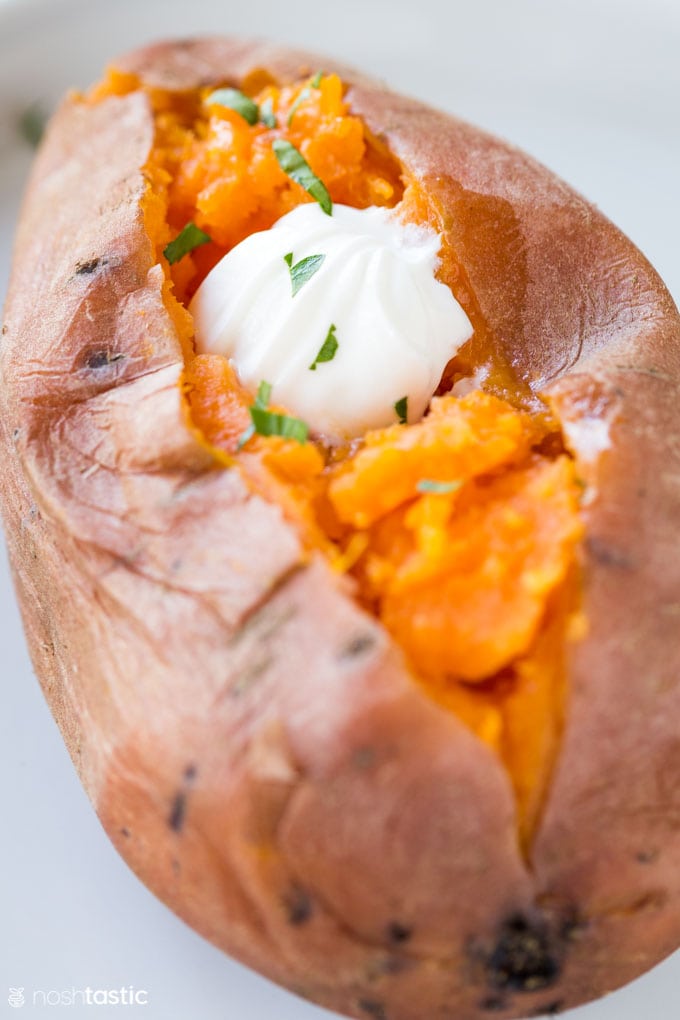 More Instant pot sweet potatoes FAQ
Do I need to poke holes in them?
No! it's not necessary and they will cook just fine without holes in the skin.
What if they are different sizes?
It will work best if all the sweet potatoes you are cooking together are of similar dimensions, the cook time is largely dependent on the thickness of the potato rather than the overall weight. Skinny sweet potatoes will cook faster than fat sweet potatoes, even if they are the same weight.
Should I peel them first?
Personally I wouldn't go to the trouble of doing that because the skin will slip off the sweet potatoes so easily after you have pressure cooked them!
What if I want mashed or pureed sweet potatoes?
As before just cook them whole then the skin will slide off very easily, then all you need to do is mash or puree them the way you like them.
What if I want to cook more than two potatoes at a time?
You can totally do that, just don't stuff the pressure cooker full to the top or the stacking of potatoes may mean it takes longer to come to pressure.
How Long will my cooked sweet potato keep for?
Cooked sweet potatoes can be kept safely in your refrigerator in an airtight container for up to four or five days.
Can I Freeze my cooked sweet potatoes?
You can freeze them very easily.
I prefer to mash them first, then add to an airtight container leaving 1/2 inch of space between the lid and the food. If you want to freeze them whole simply wrap them individually in foil, then place in a small plastic bag in the freezer.
How can I reheat them?
I use the microwave to reheat them, it works really well.
What can I put on my Instant Pot Sweet Potatoes?
My kids love to eat them with either butter, sour cream or cheese, or sometimes all three if I'm not looking! 😉
I love to add a little homemade chicken salad on top of mine, or if I don't have any of that ready I just use a little butter, salt and pepper.
Another idea would be to make my very popular and totally tasty Instant Pot Chili, that would make an awesome topping and a really easy weeknight dinner idea that's 100% made in your pressure cooker, a win win!
We also love to make a simple tuna and mayo salad, throw in few chopped salad onions and it will taste fantastic and very budget friendly too.
Want them sweeter still? Then you can't go wrong with a little maple syrup and sprinkling of cinnamon!
More Instant Pot Recipes
Instant Pot Sweet Potatoes
The best way to cook Instant Pot Sweet potatoes, it's simple, quick and very easy.
Prep Time: 5 minutes
Cook Time: 15 minutes
Total Time: 20 minutes
Total Carbs: 26 g
Protein: 2 g
Servings: 2
Ingredients
2 sweet potatoes
1 cup water
Instructions
Add 1 cup of water to your Instant Pot or other electric pressure cooker.

Add a steamer basket that suitable for pressure cookers to the inner pot, or simply use the triver that came with your pressure cooker, and then place in two sweet potatoes.

For further cook time details for different sized potatoes see the recipe notes.

Lock the lid, turn the vent to 'sealing' and using the manual setting, adjust it to cook for 16 minutes for a medium potato at High Pressure. Refer to the chart in the post for other cook times.

At the end of the cook time, you can release the pressure quickly and then carefully remove the lid.

If the potato is not fully cooked you can either microwave it on full for about a 30 seconds to a minute and see if that is cooked enough (often it is) or you can put the lid back on and and cook for an additional 2 minutes under pressure, then release the pressure in the same way as before when the time is up.
Recipe Notes
Cook time – this will vary and depends on the thickness of the potato rather than on the weight of the potato, so I would start at 14 minutes for very skinny sweet potatoes, 16 minutes for medium, and 18 minutes for large potatoes. 
Sweet Potato Toppings – we like savory toppings and I've given a full and detailed list of our favorites in the post. If you like sweet toppings then a little cinnamon and maple syrup tastes fabulous!
Reheating – I think the best and my preferred method is to use the microwave.
Nutrition Facts
Instant Pot Sweet Potatoes
Amount Per Serving
Calories 111
% Daily Value*
Sodium 77mg3%
Potassium 438mg13%
Carbohydrates 26g9%
Fiber 3g13%
Sugar 5g6%
Protein 2g4%
Vitamin A 18445IU369%
Vitamin C 3.1mg4%
Calcium 39mg4%
Iron 0.8mg4%
* Percent Daily Values are based on a 2000 calorie diet.
Nutritional information on Noshtastic is provided as a courtesy and is approximate only. We cannot guarantee the accuracy of the nutritional information given for any recipe on this site.
Course: Side Dish
Cuisine: American