Low Carb Tortillas are pretty much a staple in our house these days, we use them for low carb wraps, low carb tacos, and quick lunches, and you can also serve them with my delicious Chicken Shawarma which is a must try!
I already have a recipe for keto tortillas made with coconut flour and they taste great and work super well, but I wanted to make sure that there was an alternative for those of you who don't want to use coconut flour so now I also have a great recipe for Almond Flour tortillas too!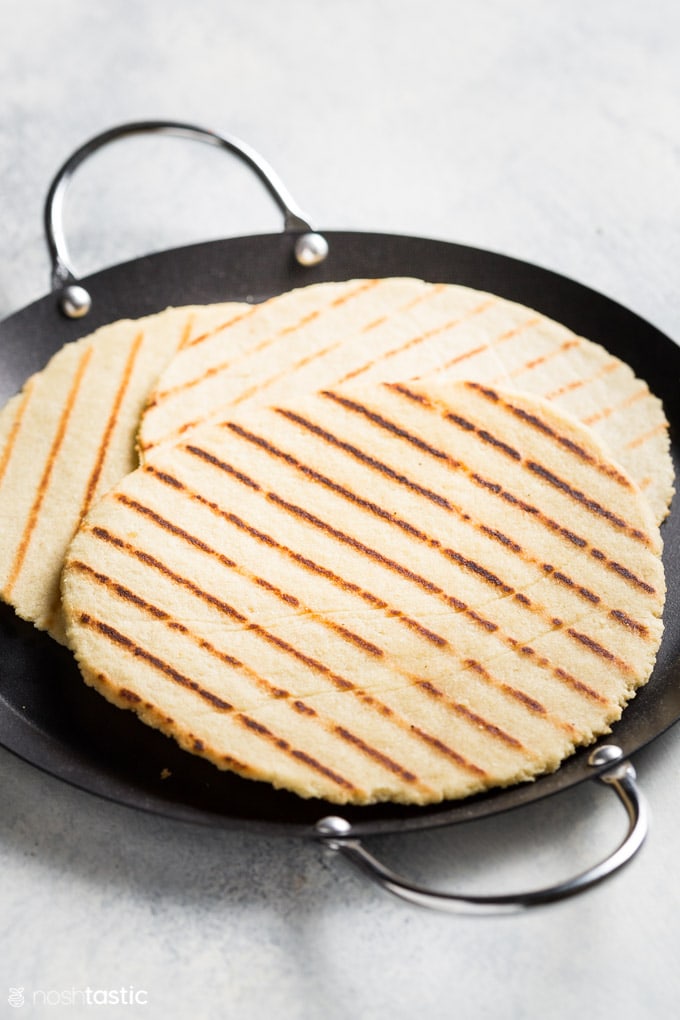 This post contains affiliate links
The macros for my almond flour tortillas are pretty good as they come in at about 3g net carbs per tortilla.
Because they are made with almond flour they are very filling so I didn't eat more than one. Each tortilla is small, about the size of a regular corn tortilla.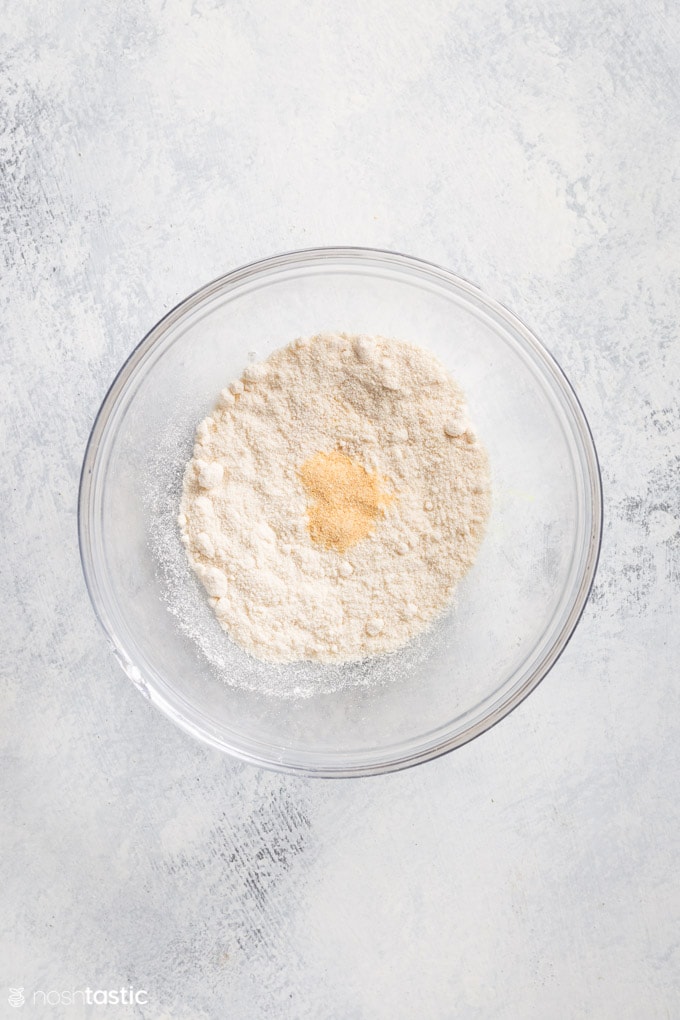 Dry Ingredients for Low Carb Tortillas
How to Make Low Carb Tortillas
Start by measuring out your almond flour, you'll need one and one quarter cup to make four low carb tortillas, that's about 136 grams
Add the xanthan gum, baking powder, and the salt and mix well.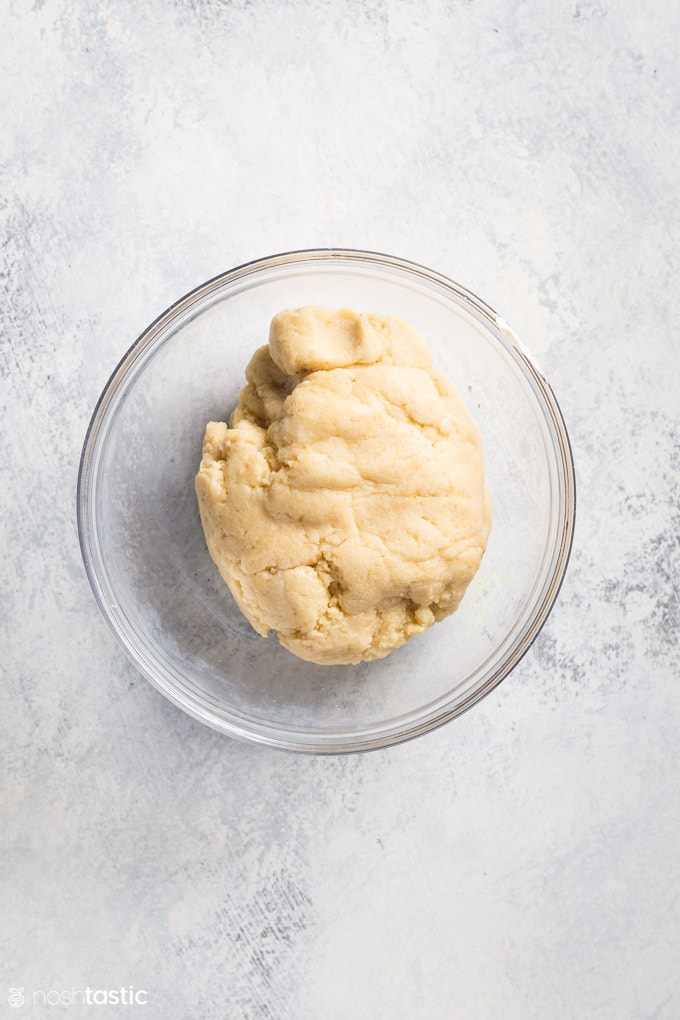 Low Carb Tortilla dough mixed together
Next, beat the egg really well and then mix it with the oil and water.
Then you simply need to mix the wet and dry ingredients together so that it forms a ball like you see in the photo above.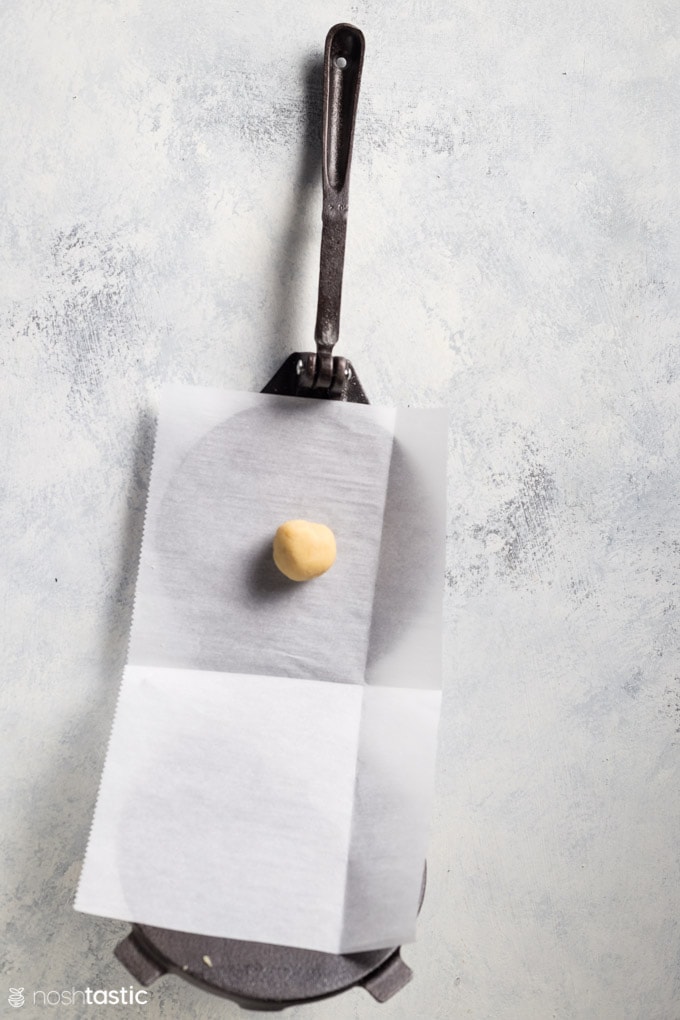 Cut the almond flour tortilla dough into four equal parts and form them into balls.
This recipe for low carb tortillas makes about four small tortillas, you can see the size in the photo below but they are more or less the same size as regular corn tortillas.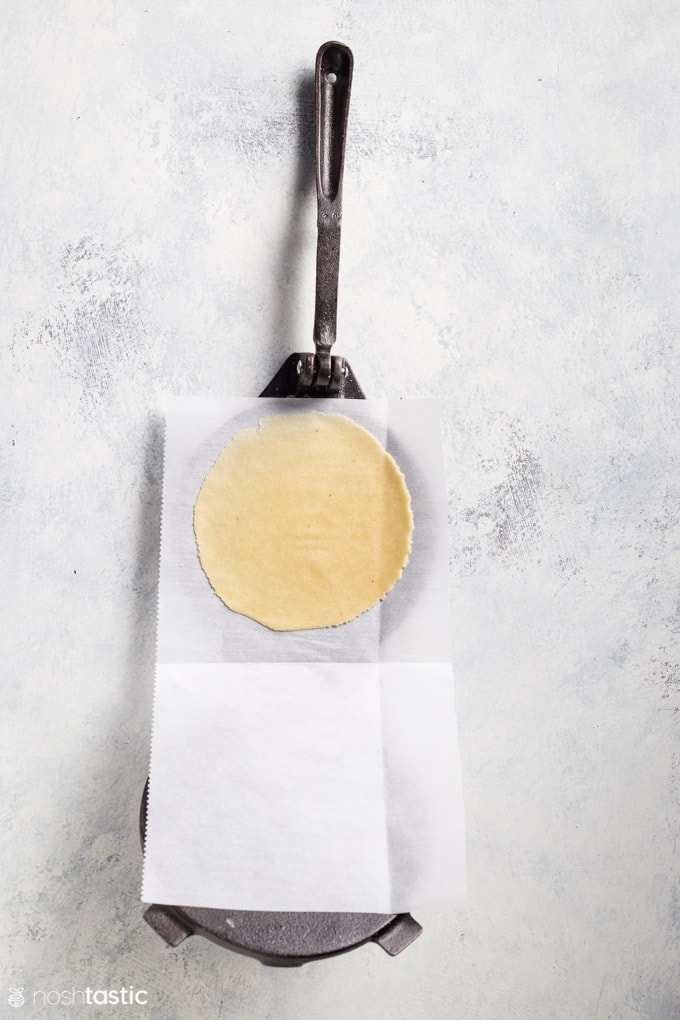 A tortilla press lined with parchment is the best thing to use to make your tortillas, but failing that you could attempt to flatten them out with a rolling pin and putting the dough between parchment in a similar fashion.
Once you have your low carb tortillas pressed flat, heat up a cast iron skillet over a medium high heat and once the skillet is properly hot add one tortilla at a time.
You'll want to cook it until it's slightly browned on one side, this may take a minute or two, then flip it and cook for another minute or so.
I cooked my almond flour tortillas in a cast iron grill pan, but a flat cast iron skillet is perfectly fine if that's what you have.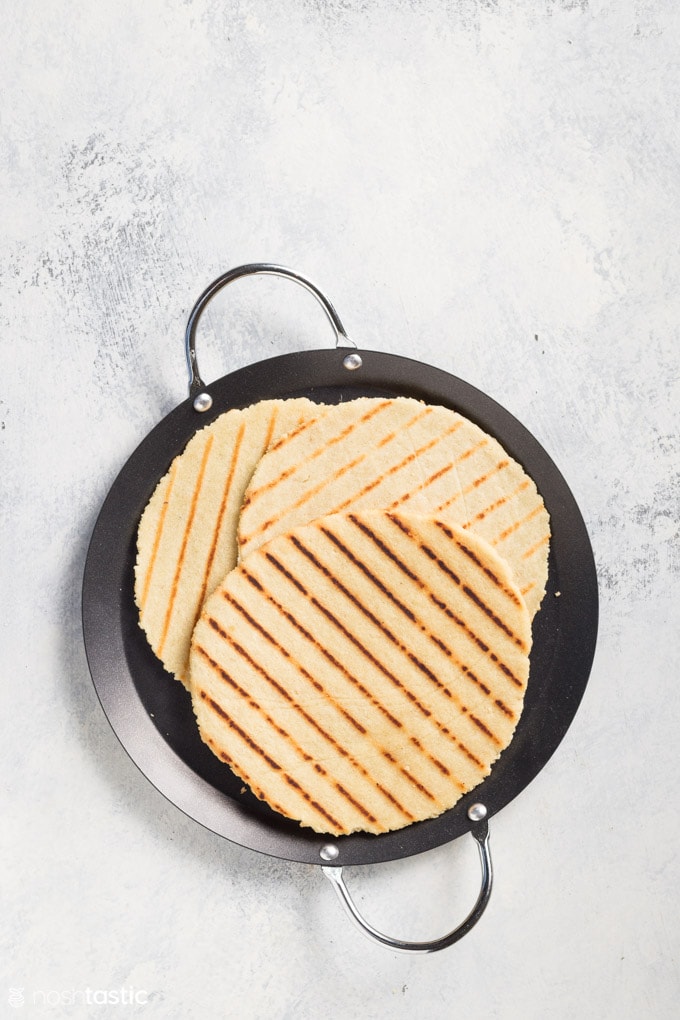 Can I make Low Carb Tortillas with Coconut Flour?
Yes you can! But not with this recipe as it's been created just to be cooked with almond flour only.
The good news is that I already have a recipe for Keto coconut flour Tortillas that I published recently and it's only made with coconut flour, no almond, so it's a great alternative if you are avoiding almond flour.
How Many Carbs are in Low Carb Tortillas?
There are 3g net carbs per tortilla in my almond flour tortillas, and there are 2g net carbs in my keto tortillas (linked above)
What can I serve with Low Carb Tortillas?
My almond flour tortillas are super versatile so you can use them with a variety of different recipes. We love to make blackened shrimp tacos, they taste great!
My Picadillo recipe would be perfect with these tortillas, it's not strictly taco meat but it's very similar and that's how my kids ate it.
If you want the real deal then you could use my homemade taco seasoning to make your own taco meat instead.
They are also perfect as Keto or low carb wraps and we just add in a variety of deli meats, sliced cheese, avocado and salad greens depending on what we have in the fridge.
How long can I keep Almond Flour Tortillas?
So just remember that many store bought tortillas contain preservatives such as propyl parabens, and propionic acid to name a few.
Our homemade low carb tortillas do not contain any preservatives of any kind so their shelf life is limited and I would say they are good for only one, or maybe even two days after they are cooked.
The good news is that they are really quick to make and you can even make the dough ahead of time and refrigerate it then cook it later on, again I would only do this up to a day ahead for best results.
Low Carb Tortillas
You'll love these healthy easy Low Carb Tortillas, they are perfect for lunches, dinners and more!
Prep Time: 10 minutes
Cook Time: 20 minutes
Total Time: 30 minutes
Total Carbs: 6 g
Net Carbs: 3 g
Protein: 7 g
Servings: 4 small tortillas
Instructions
Whisk the almond flour, baking powder, xanthan gum, and salt together in a mixing bowl.

Beat the egg with a fork in another bowl or a jug, then add the olive oil and water and mix again.

Pour the liquids into the dry ingredients and mix thoroughly until a dough forms.

Cut the dough into four equal pieces, then form each piece into a ball.

Place parchment paper on either side of your tortilla press and flatten out a ball of tortilla dough, it you squeeze it too thin it will be hard to remove from the paper. If that happens simply form back into a ball and try again.

Cook each tortilla for 45 seconds to 2 minutes per side until it browns a little on each side.

I like to keep my warm tortillas between a kitchen towel, it also helps keep them pliable.

Store cooled tortillas in a ziplock back, you can reheat them again in a skillet or for a few seconds in a microwave. They will keep for one to two days.
Recipe Notes
3g net carbs per tortilla, makes four tortillas
Nutrition Facts
Low Carb Tortillas
Amount Per Serving
Calories 208 Calories from Fat 162
% Daily Value*
Fat 18g28%
Saturated Fat 1g6%
Cholesterol 46mg15%
Sodium 174mg8%
Potassium 80mg2%
Carbohydrates 6g2%
Fiber 3g13%
Sugar 1g1%
Protein 7g14%
Vitamin A 70IU1%
Calcium 93mg9%
Iron 1.3mg7%
* Percent Daily Values are based on a 2000 calorie diet.
Nutritional information on Noshtastic is provided as a courtesy and is approximate only. We cannot guarantee the accuracy of the nutritional information given for any recipe on this site.
Course: Side Dish
Cuisine: American