Quick, easy, and healthy, this easy Paleo Honey Sesame Chicken is a winner and cooks in only ten to fifteen minutes!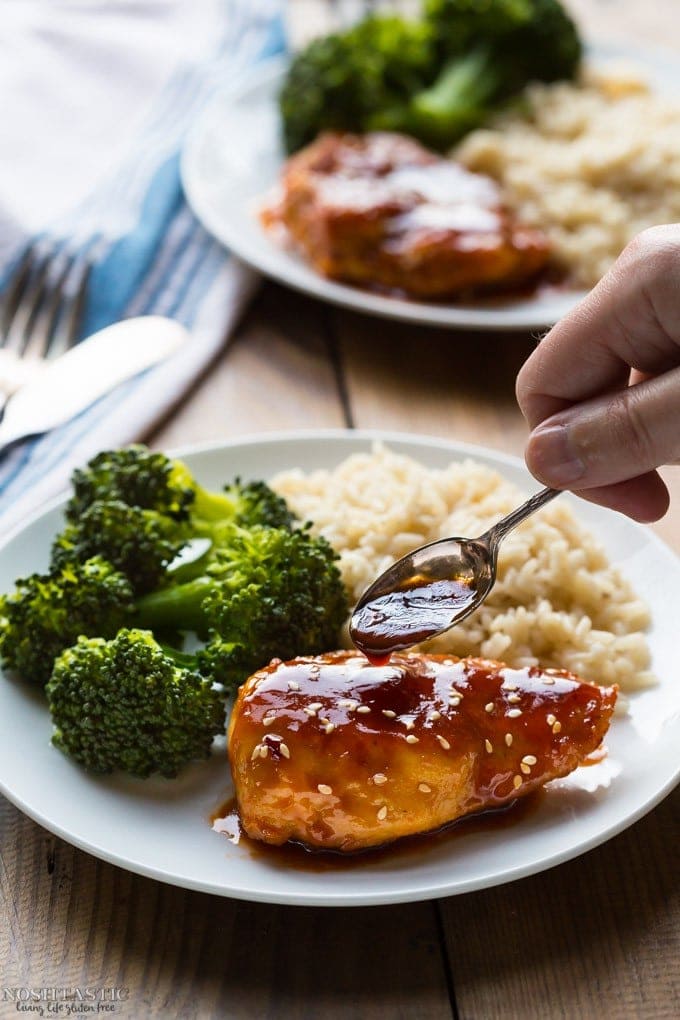 How to Make Paleo Honey Sesame Chicken
I'm always on the look out for more easy weeknight dinners that I know my family will love. Thankfully my boys are not super picky and are pretty easy to please.
I saw this recipe last week when I was searching round the internet for dinner inspiration and knew right away that it would be a crowd pleaser so I tweaked it a little to make a paleo honey Sesame Chicken recipe that would be safe for us to eat.
I sometimes adjust down cayenne pepper or red pepper flakes if I find them in a recipe as my kids will sniff that stuff out at 50 paces and probably not eat whatever it is I've prepared.
The 1/4 tsp in this recipe adds very little heat and this time they didn't even notice. If you prefer a little more heat then, by all means, add more chili flakes!
This post may contain Amazon affiliate links
MORE EASY WEEKNIGHT DINNER RECIPES!
Easy Paleo Honey Sesame Chicken
Prep Time: 15 minutes
Cook Time: 12 minutes
Total Time: 27 minutes
Total Carbs: 23 g
Protein: 37 g
Servings: 4
Ingredients
2 tablespoons sesame seeds
1/4 cup honey , 60 mls
3 tablespoons coconut aminos , or, gluten free soy sauce, if not paleo
2 tablespoons tomato sauce , or, ketchup if not paleo
2 teaspoons sesame oil
3 cloves garlic , chopped
1/4 teaspoon crushed red pepper flakes
1.5 lb skinless chicken breast halves, cut in half lengthways , 680g
Salt and pepper
1 tbsp arrowroot , or cornstarch, if not paleo
2 tablespoons olive oil
Instructions
For non - Paleo (with soy sauce and cornstarch) cooking instructions, please read the notes!

Toast the sesame seeds in a dry pan over a medium heat. It will take about three minutes. You will need to stir them all the time so they don't burn and toast evenly, toss them out onto a plate once they are done.

Mix honey, coconut aminos, tomato sauce, sesame oil, garlic, and red pepper flakes together in a bowl, and mix in the arrowroot.

If you haven't already done so, cut your chicken breasts in half lengthways, so that you get a thin fillet.

Season the chicken pieces with a little salt and pepper on each side.

Heat the oil in a large cast iron skillet over medium-high heat and then add the chicken pieces.

Do not crowd the pan and just do a few at a time. it will take about four minutes per side, eight minutes total.

Add the honey and coconut aminos mixture to the pan with the chicken pieces and stir well, cook for a minute or so and then turn the chicken pieces so they get coated in the sauce and cook for a further minute or two. Check that your chicken is cooked through, then remove from the heat.

Sprinkle with sesame seeds and serve hot over zoodles for paleo, or rice if you are not following paleo.
Recipe Notes
NON PALEO VERSION - for the regular gluten free version you can substitute GF soy sauce for coconut aminos, ketchup for the tomato sauce, and cornstarch for arrowroot. You can also season the chicken and then dredge it in cornstarch (shake of the excess) and then pan fry it as per the directions, and the sauce will thicken in the pan along with the chicken as it cooks. This does not work as well with arrowroot and tends to result in somewhat slimy chicken, so it's better to skip this step and simply add the arrowroot to the sauce directly.
Nutrition Facts
Easy Paleo Honey Sesame Chicken
Amount Per Serving
Calories 384 Calories from Fat 135
% Daily Value*
Fat 15g23%
Saturated Fat 2g13%
Cholesterol 108mg36%
Sodium 492mg21%
Potassium 692mg20%
Carbohydrates 23g8%
Sugar 17g19%
Protein 37g74%
Vitamin A 85IU2%
Vitamin C 3.3mg4%
Calcium 52mg5%
Iron 1.4mg8%
* Percent Daily Values are based on a 2000 calorie diet.
Nutritional information on Noshtastic is provided as a courtesy and is approximate only. We cannot guarantee the accuracy of the nutritional information given for any recipe on this site.
Course: Main Course
Cuisine: Asian