A ten minute PF Changs Gluten Free Mongolian Beef copycat recipe you can make at home!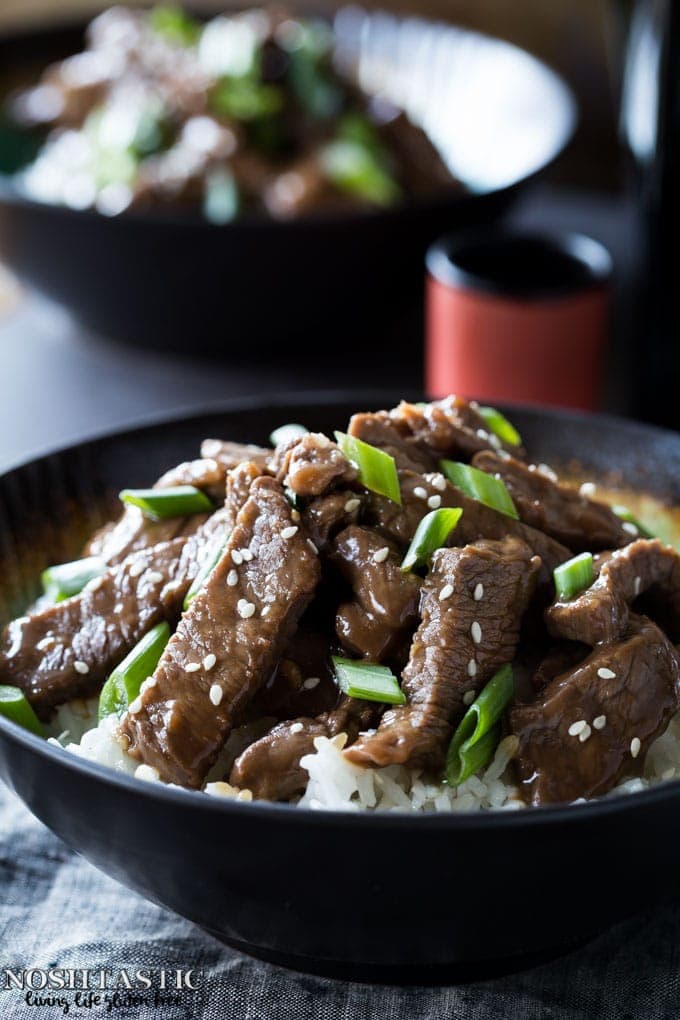 Gluten Free Mongolian Beef
PF Changs is one of our go to places for gluten free food. We don't eat out very often as we've only found a couple of places that we feel are safe to eat at.
PF Chang's has an extensive gluten free menu included in the main menu, not on some scrappy bit of paper with two or three items on it which is the way most restaurants seem to present it.
Lots of restaurants offer gluten free menus these days but the vast majority seem to have no idea about cross contamination.
Some don't even know what gluten is or what foods you find it in. This past summer I went to one of the fancier restaurants in town for a birthday lunch with my husband. We called ahead, asked all the appropriate questions about their gluten free menu.
When we arrived they had a printed two page gluten free menu waiting for us at the table. I was confused and dismayed to discover that right there on the second page of the gluten free menu was salmon with cous cous. I asked to talk to the chef, when he appeared I asked him why they had a gluten item on the gluten free menu he said "I looked it up on the Internet and it said it (cous cous) was gluten free."
You can't make this stuff up!
I think we'll stick with PF Changs! One of our favorites is their Gluten Free Mongolian beef, it's available on both their regular and gluten free menu. I've made a copycat version which tastes better than anything you'll find in a restaurant and it's only got a handful of ingredients and takes ten minutes or less to throw together.
I used thin cut eye of round beef cut into strips, but you can choose from a variety of cuts including rib eye, top round, sirloin and flank steak. You should also find packages of pre-cut beef labeled for stir fry in the meat case in the grocery store, but the quality can vary sometimes depending on what cut they've used.
This post may contain Amazon affiliate links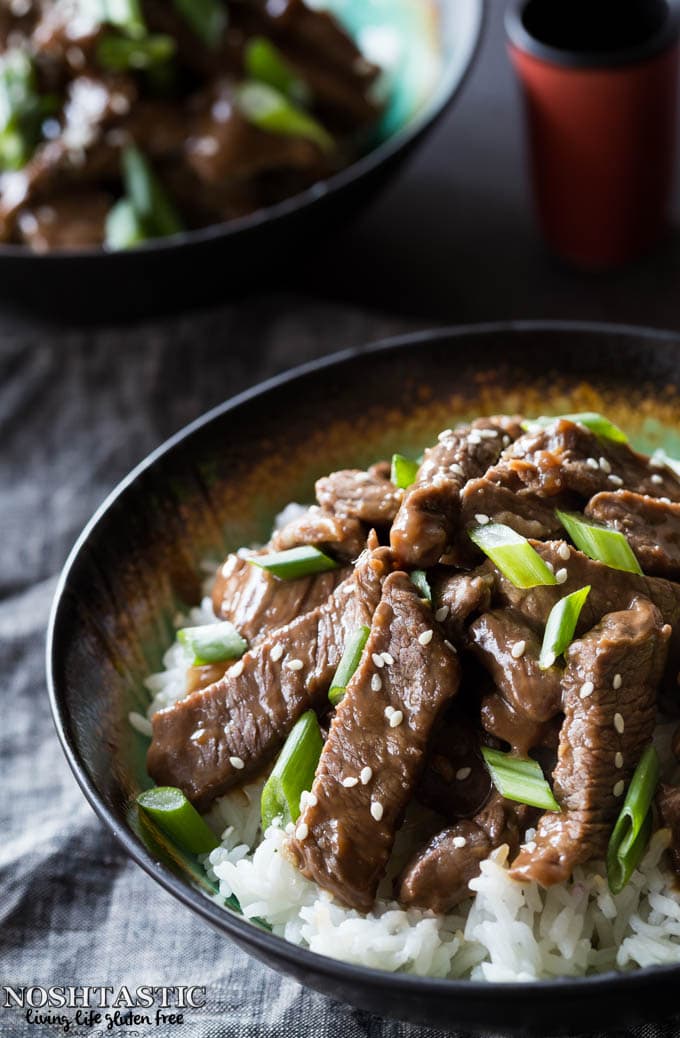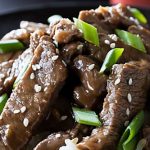 Gluten Free Mongolian Beef - PF Chang's Copycat Recipe
A quick and easy ten minute PF Changs Gluten Free Mongolian Beef recipe (copycat) you can make at home!
Ingredients
1/2

lb

stir fry beef, I used thin cut eye of round

225g

1

tbsp

cornstarch

1

tsp

fresh ginger

grated

1

large clove garlic

crushed

1/4

cup

gluten free soy sauce

60mls

4

tbsp

brown sugar

2

tbsp

water

sesame seeds

optional, for garnish

3

green salad onions
Instructions
Cut your beef into thin strips and in a bowl (or ziplock bag) stir it together with the cornstarch until it is well coated.

Finely chop the garlic and grate your ginger, then prepare your salad onions by cutting them at an angle. Set a small handful of the onions aside to garnish the dish later.

In a bowl mix together the soy sauce, sugar and water.

Heat a couple of tablespoons of oil in a wok on a medium heat.

When it's hot add in the garlic and ginger and stir for a couple of seconds then immediately add in soy sauce mix, then the beef.

Give it a quick stir around and then add in the onions (minus some for garnish)

Stir continuously for 5-10 minutes until the beef is cooked and the sauce has thickened. If you find it is too thick then add in a little more water and stir well until it thins out a bit.

Serve immediately over rice, garnish with salad onions and sesame seeds if desired.
Recipe Notes
I chose beef in the grocery store that was thin cut eye of round and labeled for stir frying, it worked well. There are many cuts you could use, just ask in your grocery store if you are not sure as there are many options that would work well.