This is the only Gluten Free Pineapple Upside Down Cake recipe that you'll ever need, it's so easy to make and tastes delicious!
I've been planning on making my own version of a Gluten Free Pineapple Upside Down Cake since last year but I never managed to get around to it until now. Actually I tell a lie, I did make one last Fall but it didn't make it to the blog because I had a bit of a mishap with the cherries. 
Back in Britain the only cherries people typically use for baking are what we call glacé cherries, I think they are called candied cherries or red cherries here. I hunted high and low for them but the only cherries I could find were maraschino cherries in a jar of liquid. I made the cake and it turned out perfectly except for the fact that when I turned the cake upside down the bottom of it (including all the pineapple pieces) was a pretty shade of pink! The dye had leaked out from the cherries, but the cake still tasted great.
Then back in December as we were getting ready for Christmas my husband returned from Kroger looking very pleased with himself as he had spotted a small tub of red candied cherries, hooray! I didn't have time to make the cake until now but as you can see it turned out very well and you'll just have to take my word for it that it tasted great or better still, make it yourself. 🙂
One note on the cake recipe, I essentially doubled my regular cake recipe to make my gluten free Pineapple Upside Down Cake but most of the recipes I've seen have a much smaller/thinner cake. If you prefer a smaller cake just half my ingredients and bake it for a little less time, you can still use the same 9 inch pan but obviously the cake with be much thinner. Personally I'll take all the cake I can get so a double batch works for me!
This post may contain affiliate links.There are no additional costs to you if you click on the links in this post. Any money earned from commission helps me cover the cost of maintaining this website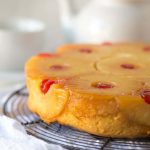 Gluten Free Pineapple Upside Down Cake
Total Time
1
hour
5
minutes
Ingredients
1 3/4

cups

all purpose gluten free flour

230g

4

tsp

baking powder

4

large eggs

1

cup + 2 tbsp

sugar

230g

1

cup

dairy free margarine, or butter

230g

1

tsp

xanthan gum

1

tsp

vanilla extract

2-3

tablespoons

milk

I used unsweetened soy

BASE

1/4

cup

dairy free margarine

60g

1/2

cup

packed light brown sugar

100g

1

can sliced pineapple

8-9 whole pieces

20

candied cherries or maraschino cherries
Instructions
PLEASE READ NOTES FIRST!

Put the flour, baking powder, eggs, sugar, margarine, xanthan gum, vanilla and milk into a bowl and mix until well blended.

Melt the remaining margarine and sugar together and pour into the bottom of a 9inch cake pan.

Do not use a springform pan or the margarine sugar mixture will leak out.

layer the pineapple and cherries like you see in the photograph in the post.

Pour the batter over the top and spread out evenly.

Bake for 40 - 50 minutes minutes at 350, or until a toothpick comes out clean from the middle of the cake.
Recipe Notes
1. I bake by weight as I find that gives the most consistent results, especially when baking gluten free.
One cup of your gluten free flour blend may not weigh the same as my blend, all the commercially available blends have different mixes and ratios of flour in them.
I've weighed cups of different blends of flour and noted that a cup of gluten free flour can vary in weight from 125g up to as much as 170g depending on how you scoop it, and what type of mix you use. You can see how this could drastically alter the outcome of a recipe.

I recognise that most Americans are used to the cup method which is why I also include those measurements, but they may not give you accurate results as they are approximate only. If you are a keen gluten free baker I would encourage you to invest in a digital kitchen scale (affiliate link) you can get one for only $10 - $15.

2.I prefer to use my own homemade gluten free flour blend as it's cheaper and I get really great results.

3. If you can, avoid buying flour with gums already added. The reason for this is that you have no way of knowing how much gum is in there and that can alter the outcome of the recipe. So for example, too much gum can give you a more sticky texture in a cupcake. And though the cupcake recipe will still work, it won't be as nice as if you measured and added the gum yourself.