Pressure Cooker Beef Bourguignon is a very easy weeknight meal that you can whip up in about 30 minutes in your pressure cooker!
My version of Instant Pot Beef Bourguignon is already gluten free and I've included a couple of substitutions so that you can make it Paleo if you prefer.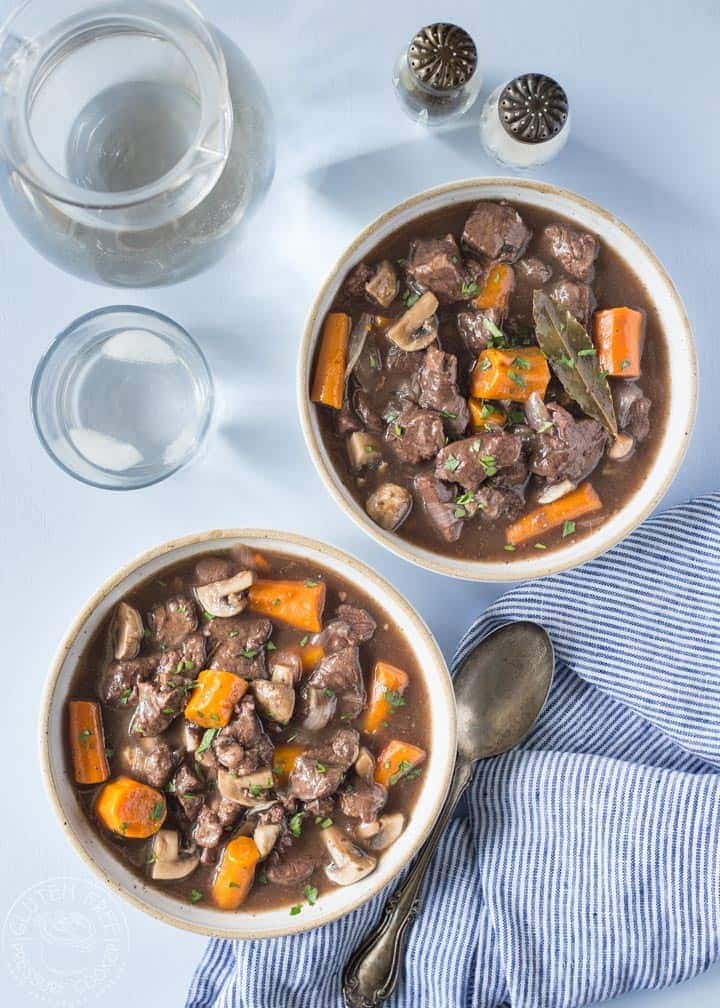 Where does Beef Bourguignon come from?
Beef Bourguignon, or le boeuf bourguignon, hails from the beautiful Burgundy region of France. It's a simple beef stew where the meat is braised in the red wine and cooked with onions, mushrooms and a variety of other vegetables depending on the specific recipe.
It's a good example of 'peasant cooking' that's evolved over time to become popular and trendy. In fact, it's the sort of dish you might expect to find on the menu of a fancy restaurant, although it's really easy to make at home.
This post contains affiliate links
What's the best wine to use for Beef Bourguignon?
I'm no wine expert, but if you wanted to stay authentic to the recipe then of course a rich Burgundy wine would be your best bet. However it's perfectly fine to make it with a Pinot Noir, Cabernet Sauvignon, or Merlot and you'll have a lovely stew with any of those choices
Whatever wine you choose, please, PLEASE don't ever use the cooking wine you find in the grocery store next to the vinegar, it will ruin your recipe and is a poor choice for this recipe, and any recipe actually!
That sort of 'Cooking Wine' has added salt and it tastes dreadful. A good rule of thumb is that if the wine doesn't taste nice to drink, then you shouldn't use it to cook with.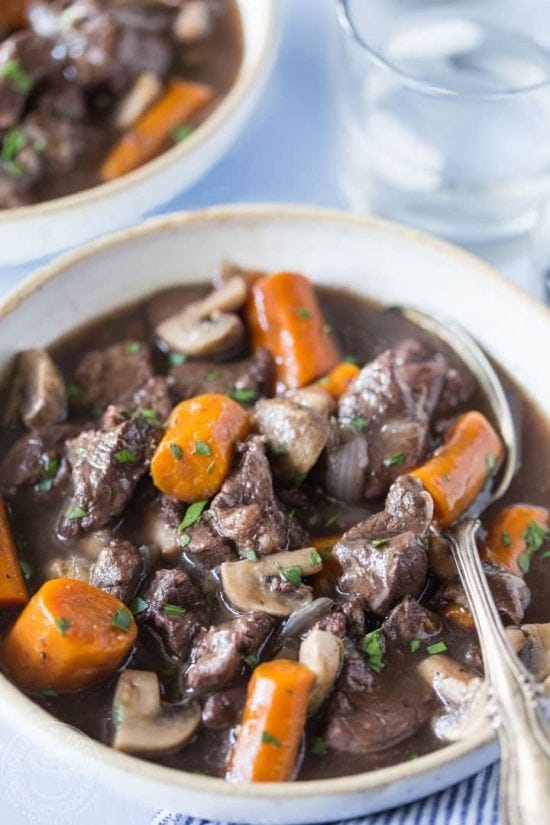 How to Make Pressure Cooker Beef Bourguignon
I have the full recipe with ingredients and instructions in the recipe card at the end of the post, here are some simple step by step photos and directions that will help you.
Turn on the saute function in your pressure cooker, add a little oil quickly cook the bacon pieces, remove them, and then saute the beef. You may need to do it in batches depending on the size of your pressure cooker.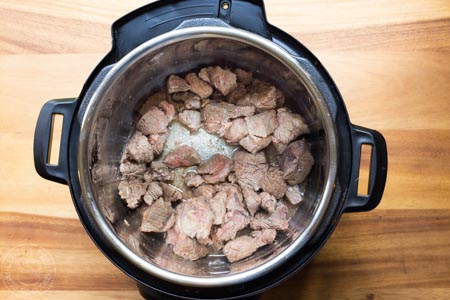 As soon as the meat is browned a little on all sides, add the carrots, onions and garlic and bacon.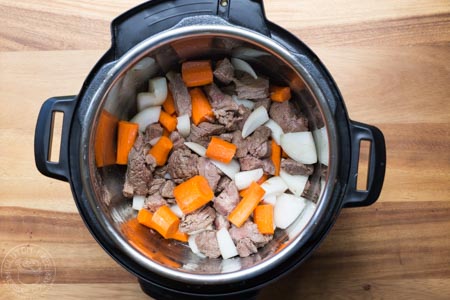 Then add the red wine and the beef broth, bay leaves, thyme and seasonings. Now shut the lid and make sure the vent is set to sealing, and set it on manual at high pressure for 12 minutes. While it's cooking mix your starch of choice with a little cold beef broth.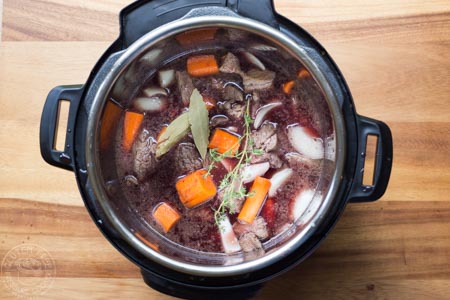 Once it's cooked and the buzzer sounds, you can let it NPR (Natural Pressure Release) for 10-12 minutes. Then you can carefully release the rest of the pressure. Add the starch mixture and mushrooms to the pot and stir well, then turn on the saute function to cook the mushrooms and allow the sauce to thicken, this will just take a few minutes.
More Easy Instant Pot Recipes
Pressure Cooker Beef Bourguignon
A really rich hearty French beef stew that's so easy to make at home in your pressure cooker! Adapted from Noshtastic.
Prep Time: 15 minutes
Cook Time: 12 minutes
Total Time: 27 minutes
Total Carbs: 18 g
Protein: 40 g
Servings: 4
Ingredients
6 oz bacon
1.5 lb boneless chuck , 680g - cut into large cubes
2 tbsp olive oil
1 onions , chopped into large pieces
4 carrots , cut into large chunks
1 clove garlic
1 sprigs fresh thyme
1/2 tsp salt
1 tsp pepper
1.5 cups gluten free beef stock , 375 mls
1.5 cups red wine , 375 mls
1/2 lb white mushrooms , 225g - cut in half
2 tbsp cornstarch, or arrowroot , arrowroot for paleo
2 tbsp Parsley , chopped for garnish
Instructions
Start by cooking the bacon in a little olive oil in the inner pot by turning on the saute function on your electric pressure cooker, and adjust it to the medium heat option.

Don't wait for the display to say 'hot', add oil right away and brown the meat on both sides then turn off the saute function.

When the bacon is cooked remove it and set aside.

Then, brown the beef pieces and add a little more oil if you need to.

Add the cooked bacon, carrots, onions, bay leaves, thyme, garlic, salt and pepper to the pot with the meat and pour over the red wine and gluten free beef stock. You can use this one for Paleo

Lock the lid, turn the steam release vent to 'sealing' and using the manual setting, adjust it to cook for 12 minutes at High Pressure.

When the cook time time is up, allow the unit to reduce pressure on its own without opening the steam release vent (Natural Release) for at least 10 minutes.

Mix 2 Tbsp cornstarch, or arrowroot or tapioca starch for paleo, with about 1-2 Tbsp cold beef broth and add to the pot and mix well, now add the mushrooms.

Turn on the saute function to allow the sauce to thicken and the mushrooms to cook, this will take only a few minutes. If it's not thick enough for you, simply add more cornstarch as before.


mix in the chopped parsley just before serving.
Nutrition Facts
Pressure Cooker Beef Bourguignon
Amount Per Serving
Calories 489 Calories from Fat 189
% Daily Value*
Fat 21g32%
Saturated Fat 7g44%
Cholesterol 112mg37%
Sodium 638mg28%
Potassium 1327mg38%
Carbohydrates 18g6%
Fiber 2g8%
Sugar 6g7%
Protein 40g80%
Vitamin A 10270IU205%
Vitamin C 8.7mg11%
Calcium 66mg7%
Iron 5.1mg28%
* Percent Daily Values are based on a 2000 calorie diet.
Nutritional information on Noshtastic is provided as a courtesy and is approximate only. We cannot guarantee the accuracy of the nutritional information given for any recipe on this site.
Course: Main Course
Cuisine: American