Keto Low Carb Chicken Stir Fry – this quick and easy weeknight recipe is perfect to feed the hungry hordes in your house! Made with everyday ingredients you already have in your pantry, you can throw this tasty stir fry together in next to no time.
It clocks in at around 7g net carbs per serving so it's a perfect chicken dinner for your low carb and Ketogenic diet.
This post contains affiliate links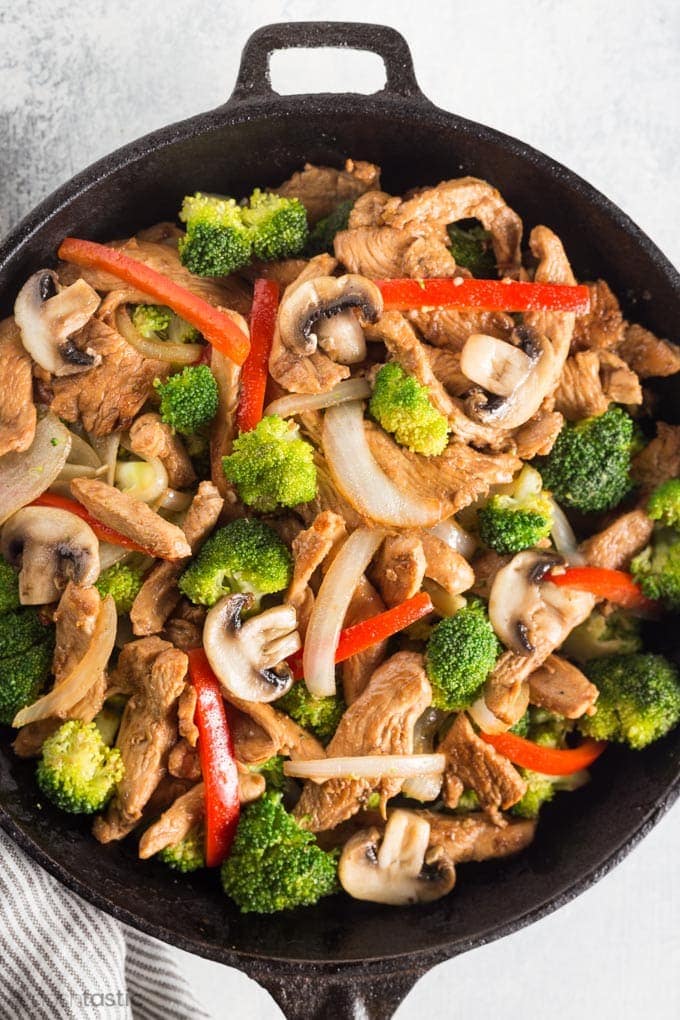 Tips for Making Keto Low Carb Chicken Stir Fry
Don't skip the marinating time, this is essential to getting the maximum flavor from this stir fry recipe.
It helps to drain the marinade from the chicken before the chicken is cooked, you'll get nicely browned chicken this way. If you simply cook it in the sauce it won't be quite as nice.
Prep all the vegetables and have everything ready to go before you start cooking. This recipe does cook quickly once you start so it'll work much better if you can prep ahead.
I like my vegetables barely cooked and with a little crunch so the cook time reflects that. Remember they are cooked twice in this recipe, first on their own in the skillet and then again when you add back the stir fry sauce so bear that in mind for the timing.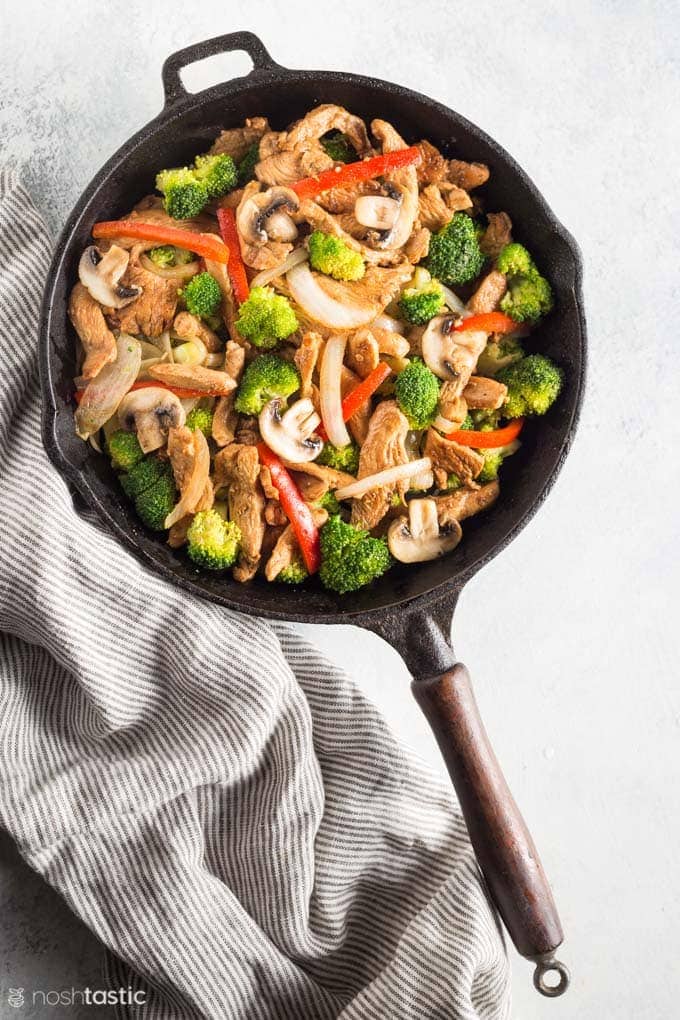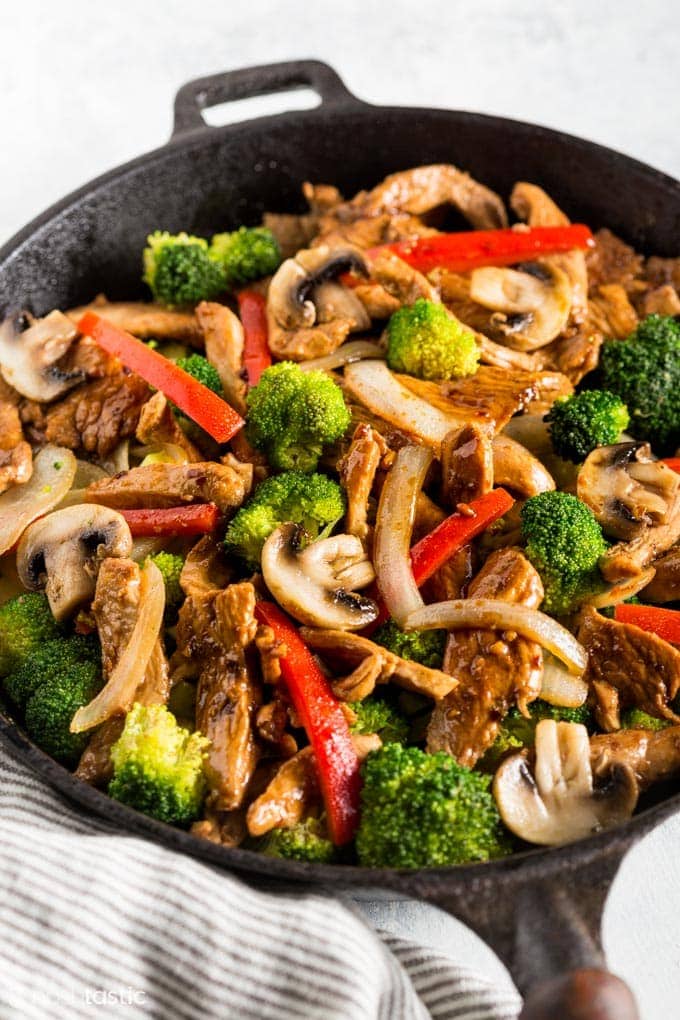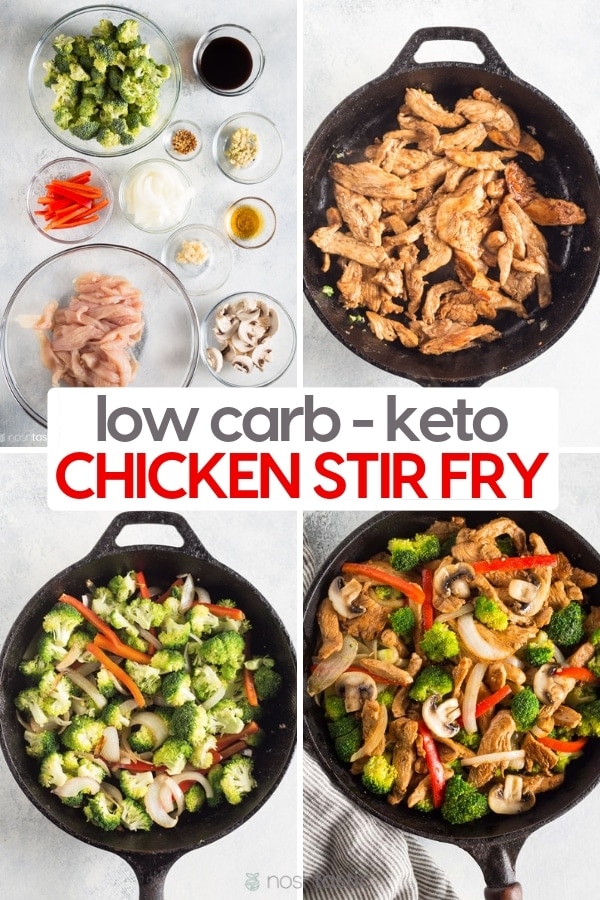 Keto Low Carb Chicken Stir Fry
Quick and easy Keto Low Carb Chicken Stir Fry recipe.
Prep Time: 10 minutes
Cook Time: 12 minutes
Total Time: 22 minutes
Total Carbs: 9 g
Net Carbs: 7 g
Protein: 28 g
Servings: 4
Ingredients
1 lb chicken breasts , cut into thin slices
CHICKEN STIR FRY
2 tbsp olive oil
1/2 cup onion , 80g
2 cups broccoli , 200g
1/2 red bell pepper , 100g
1 cup mushrooms , 80g
2 tsp sesame oil
1/2 tsp red pepper flakes
Instructions
Marinate the chicken in the garlic, ginger, gluten free soy sauce, and apple cider vinegar in a bowl or ziplock and refrigerate for at least 30 minutes.

Heat the olive oil in a large wok and cook the onions for two minutes then add the broccoli and bell peppers and cook for a few more minutes until crisp tender, then remove the vegetables from the wok and add to a bowl with a foil cover to keep warm.

Drain the chicken from the marinade (keep the marinade, we will cook it later) and add a little more oil to your wok and cook the chicken over a high heat for 3-4 minutes per side or until chicken pieces are fully cooked.

Return the cooked vegetables to the wok along with the remaining stir fry marinade, mushrooms, sesame oil, and red pepper flakes and cook for about three to four more minutes until the mushrooms are cooked.
Nutrition Facts
Keto Low Carb Chicken Stir Fry
Amount Per Serving
Calories 262 Calories from Fat 108
% Daily Value*
Total Fat 12g 18%
Saturated Fat 1g 5%
Cholesterol 72mg 24%
Sodium 1156mg 48%
Potassium 761mg 22%
Total Carbohydrates 9g 3%
Dietary Fiber 2g 8%
Sugars 3g
Protein 28g 56%
Vitamin A 22.6%
Vitamin C 97.3%
Calcium 4%
Iron 7.9%
* Percent Daily Values are based on a 2000 calorie diet.
Nutritional information on Noshtastic is provided as a courtesy and is approximate only. We cannot guarantee the accuracy of the nutritional information given for any recipe on this site.
Course: Main Course
Cuisine: American, Chinese