Keto Brownies that actually taste good?! YES!! It's a thing, I promise, and they are super easy to make.
This post contains affiliate links
These low carb brownies are not simply "good for Keto" they are actually very nice, properly fudgy brownies and they passed the teenager test. I have two boys in my house and if my low carb baked goods don't come up to their usual standards (read: full of sugar) they won't pass muster with them and they are very quick to let me know!
Thankfully these Keto Brownies hit the spot with everyone and as a result I ended up hiding some of them for myself to eat later on! And they come in at around 2g net carbs per serving so that works for an occasional treat!
How to Make Keto Brownies
Start by lining an 8×8 baking pan with parchment paper so that the low carb brownies don't stick to the sides and base of the pan.
Then, once you've done that turn on your oven to 350F, and break the unsweetened chocolate into pieces. You can melt the chocolate over a double boiler, I find a glass bowl over a small pan works really well.
Or, and this is my preferred method, you can melt it in 30 second bursts in the microwave, stirring after each go around until it's just melted and no more.
In another bowl mix the softened butter, low carb powdered sweetener, eggs, cocoa powder, and xanthan gum, and then add the almond flour and melted sugar free chocolate and mix on a medium speed until fully combined.
This batter is quite thick, you will need to scoop it out and then smooth it evenly in the pan with a spatula.
Next, you need to bake it for about 20-25 minutes then you need to wait until they are fully cooled before cutting them into pieces. I was able to get 16 brownies from my 8×8 pan.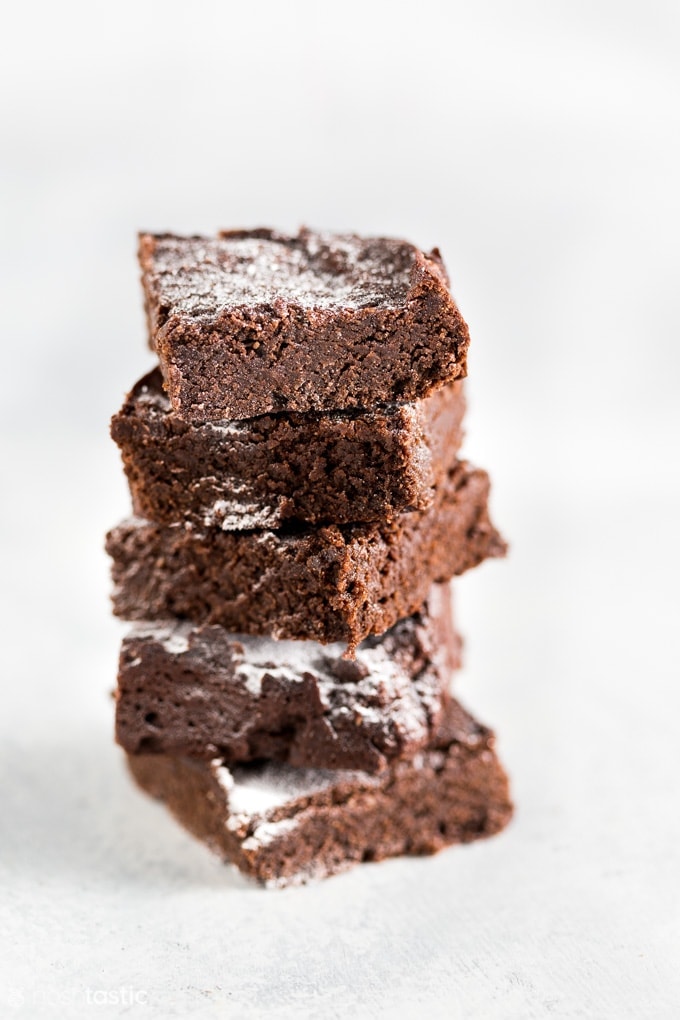 More Low Carb Recipes
Italian Seasoning | Picadillo | Keto Shrimp and Grits | Low Carb Chicken Stir Fry | Chicken Korma | Instant Pot Greek Chicken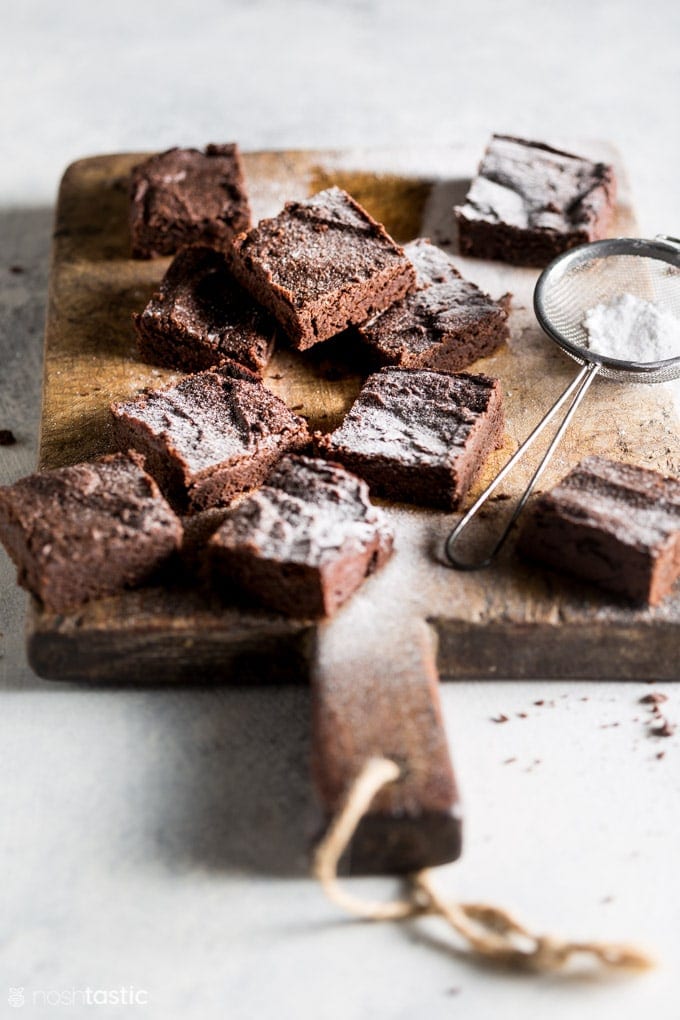 What's the best low carb sweetener to use for keto brownies?
My favorite low carb sweetener is Lakanto, I've tried most of the major brands you can find and this one comes out tops in my opinion.
I particuarly love their blend of monkfruit and erythritol the best as I find that compared to stevia on its own, this has a much more palatable flavor and their granulated monkfruit blends are excellent for low carb and keto baking recipes.
I contacted the company to see if I could promote their products to my readers (I will only promote products I love) so if you buy through my Lakanto link here and enter coupon code: NOSHTASTIC you'll get a sweet 20% discount!
I think it's a really good idea to have tasted the low carb sweetener you use before you bake anything with it as it goes without saying, if you don't like how it tastes in small amounts you're unlikely to enjoy it in baked goods after it's cooked.
This post contains affiliate links
Low Carb Keto Brownies
Low Carb Keto Brownies, quick, easy and tasty recipe!
Prep Time: 15 minutes
Cook Time: 25 minutes
Total Time: 40 minutes
Total Carbs: 16 g
Net Carbs: 2 g
Protein: 3 g
Servings: 16 brownies
Instructions
Please scroll up to watch the recipe video!

Preheat your oven to 350F

Melt the unsweetened chocolate slowly in a double boiler, or carefully in 30 second bursts (stirring in between) in the microwave until fully melted.

Mix the softened butter, low carb powdered sweetener, eggs, cocoa powder, and xanthan gum in a mixer.

Add almond flour and melted chocolate to your mixer and mix on a medium speed until all combined.

Scoop the low carb brownie batter into the parchment lined pan and spread out evenly, it will be a thick batter.

Bake for 20-25 minutes, or until the top is firm to touch.

Let the low carb brownies cool in the pan before you remove them. Then cut into even sized pieces, I got 16 pieces from an 8×8 pan.
Recipe Notes
I love the taste of the granulated monkfruit/erythritol blends from Lakanto and . I especially love the Golden Monkfruit 1:1 Sugar Substitute, it's the best tasting low carb sweetener I've tried and I highly recommend it for baking and anywhere you need to replace sugar in recipes. You can get a 20% discount with my link, just enter the code NOSHTASTIC at the checkout.
2g net carbs per brownie, assuming 16 brownies per pan. We are excluding the 2g fiber, and the 12g carbs per serving from sugar alcohol (erythritol) used in the low carb sweetener to calculate the net carbs.
Nutrition Facts
Low Carb Keto Brownies
Amount Per Serving
Calories 141 Calories from Fat 117
% Daily Value*
Fat 13g20%
Saturated Fat 6g38%
Cholesterol 45mg15%
Sodium 66mg3%
Potassium 97mg3%
Carbohydrates 16g5%
Fiber 2g8%
Protein 3g6%
Vitamin A 220IU4%
Calcium 30mg3%
Iron 1.9mg11%
* Percent Daily Values are based on a 2000 calorie diet.
Nutritional information on Noshtastic is provided as a courtesy and is approximate only. We cannot guarantee the accuracy of the nutritional information given for any recipe on this site.
Course: Dessert
Cuisine: American