Paleo Pots De Creme recipe is such an easy and uncomplicated dessert to make with just a few simple ingredients including eggs, coconut milk,  chocolate, and coconut sugar.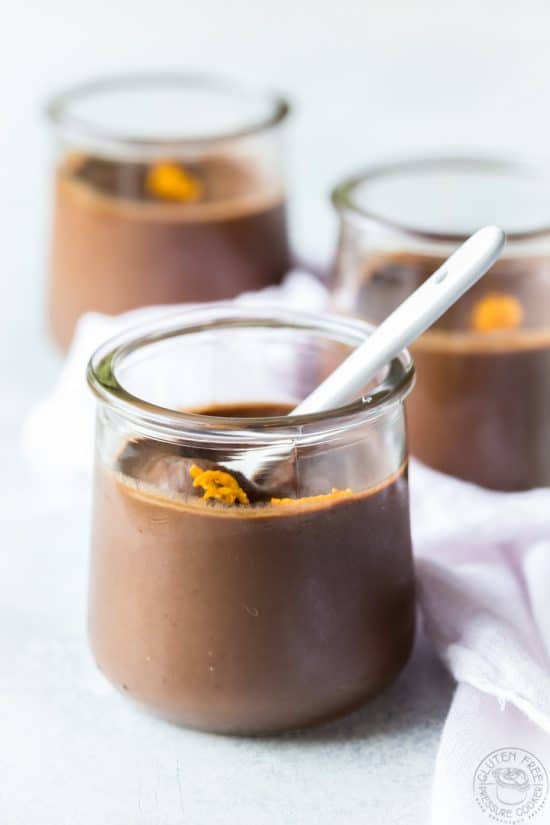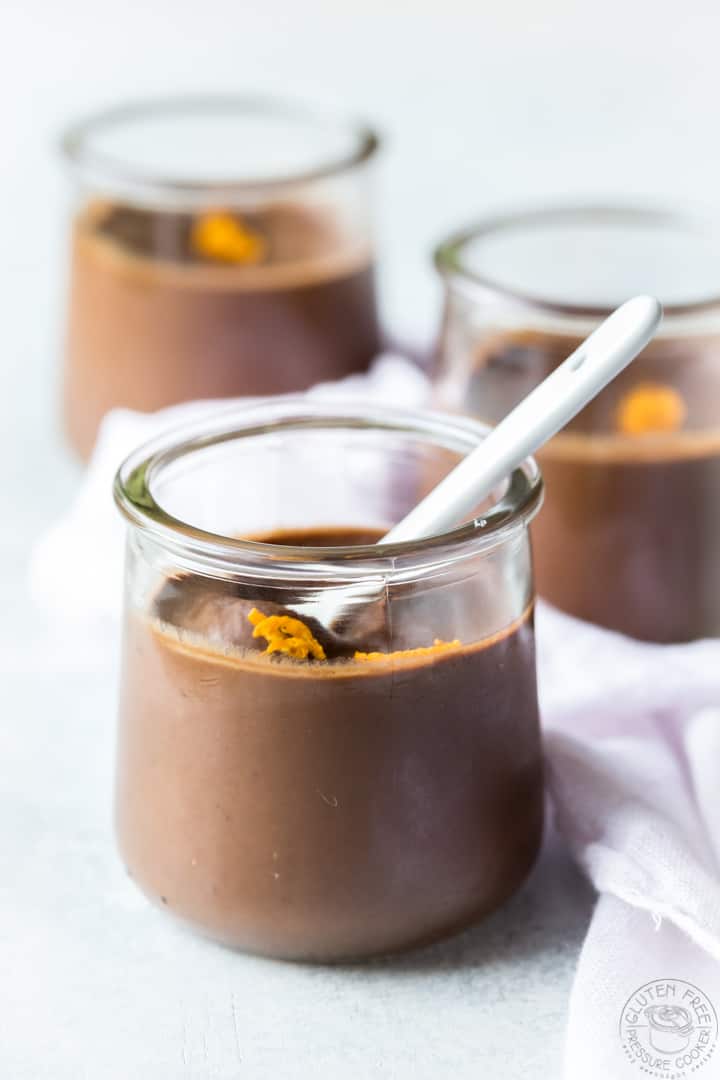 What is Pot De Creme?
It's kind of a fancy name for a pretty simple dessert! Pot De Creme is a French dessert which is pronounced 'Poh-duh-crem' and is a soft type of custard that's not quite as firm as a Creme Brulee. The name literally means "pot of custard" or "pot of cream" and also refers to the little pots that the dessert is often served in.
This post contains affiliate links
Ingredients you'll need for Paleo Pots De Creme
As this is a custard we will need some regular custard ingredients which I've listed below. I know a lot of people on the Paleo diet are happy to use Enjoy Life Chocolate chips which don't have any nasty additives, but strictly speaking they are not Paleo because they have cane sugar added.
You could also try dark Bakers Chocolate which only has chocolate listed as an ingredient but you may need more coconut sugar to compensate. These are just a few of the ingredients, you'll find the full recipe at the end of the post
Quick Tips for Making Paleo Pots De Creme
This is such an easy pots de creme recipe so here are some of my tips to make sure it works well for you! It really only takes a few minutes to make, then you have to wait for it to set up in the fridge for a few hours.
Choose a really nice full fat canned coconut milk, this will make all the difference in the creaminess of your desserts as the low fat coconut milks really don't work in the same way. I love the Native Forest brand of coconut milk as it tends to have a high fat content and does not have a bunch of unpronounceable preservatives.
Coconut sugar is more granular than regular brown sugar so do make sure that the sugar has fully disolved in the warm milk.
As I mentioned above I used Bakers dark chocolate for this recipe but I often use Enjoy Life Chocolate chips to bake with and they work well too and have no soy or dairy added.
Paleo Pots de Crème with Orange Extract
Quick and easy Paleo pots de crème! Easy to make with coconut milk, eggs, and chocolate.
Prep Time: 10 minutes
Cook Time: 5 minutes
Total Time: 15 minutes
Total Carbs: 54 g
Protein: 11 g
Servings: 2
Instructions
Watch my quick recipe video! You'll find it right below the directions.

Add the coconut milk, coconut sugar, egg yolks, and salt to a small pan over a low medium heat and gently warm until steaming hot, stirring all the time. Do not boil or eggs may curdle.

When the mixture has thickened a little and can coat the back of a spoon (about 2-5 minutes) remove the pan from the heat.

Add the chopped chocolate and stir until melted. Taste at this stage, if it's not sweet enough for you add a little more sugar and stir again until sugar has melted in.

Pour chocolate mixture into ramekins, small teacups or other small jars, refrigerate for two to three hours or until set.
Recipe Notes
CHOCOLATE - I used unsweetened Bakers Chocolate, which has no added sugar so if you go that route you may need to sweeten your Paleo Pots De Creme a little more. 
Many Paleo people are happy to use Enjoy Life Chocolate chips, though they have added sugar and are not strictly Paleo.
COCONUT MILK - I prefer to use a good quality full fat canned coconut milk such as Native Forest brand.
Nutrition Facts
Paleo Pots de Crème with Orange Extract
Amount Per Serving
Calories 795 Calories from Fat 549
% Daily Value*
Fat 61g94%
Saturated Fat 43g269%
Cholesterol 296mg99%
Sodium 219mg10%
Potassium 701mg20%
Carbohydrates 54g18%
Fiber 5g21%
Sugar 35g39%
Protein 11g22%
Vitamin A 420IU8%
Vitamin C 1.4mg2%
Calcium 100mg10%
Iron 9.4mg52%
* Percent Daily Values are based on a 2000 calorie diet.
Nutritional information on Noshtastic is provided as a courtesy and is approximate only. We cannot guarantee the accuracy of the nutritional information given for any recipe on this site.
Course: Dessert
Cuisine: French