Delicious Healthy Beef and Butternut Squash Stew! It's Paleo,Whole30, Gluten Free, Low Carb. Can be made in a slow cooker or crockpot.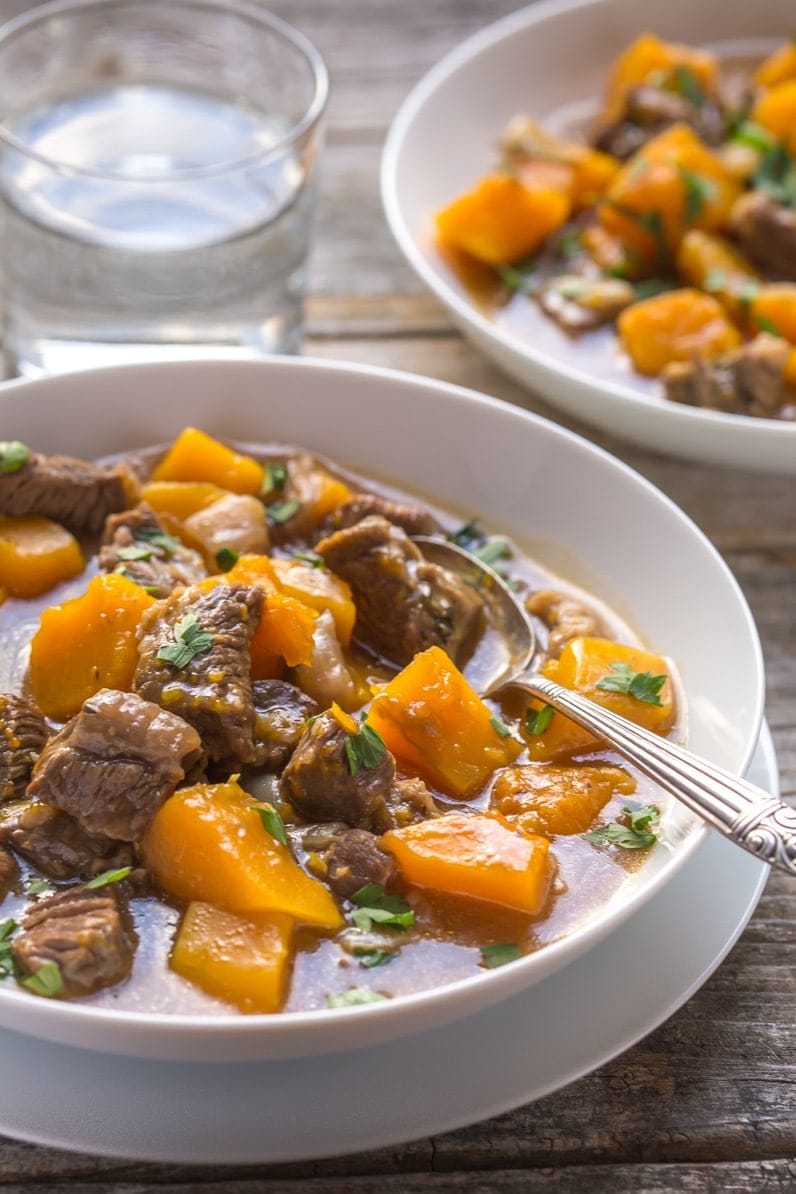 Beef and Butternut Squash Stew
While I'm admittedly not a massive Pumpkin fan I do really love Butternut Squash and have been cooking with it since my children were babies, it's an easy vegetable for kids to eat because of its natural sweetness and soft texture.
Beef and butternut squash stew is also something I've made many times over the years, though I often vary the recipe as I go along.
This is my most recent version of the stew, there's not a lot to it and it cooks all in one pot, I used an enameled cast iron pot to cook this in, it's my favorite pot of all time.
The recipe is very easy for even a novice cook, the most challenging part is cutting and peeling the butternut squash.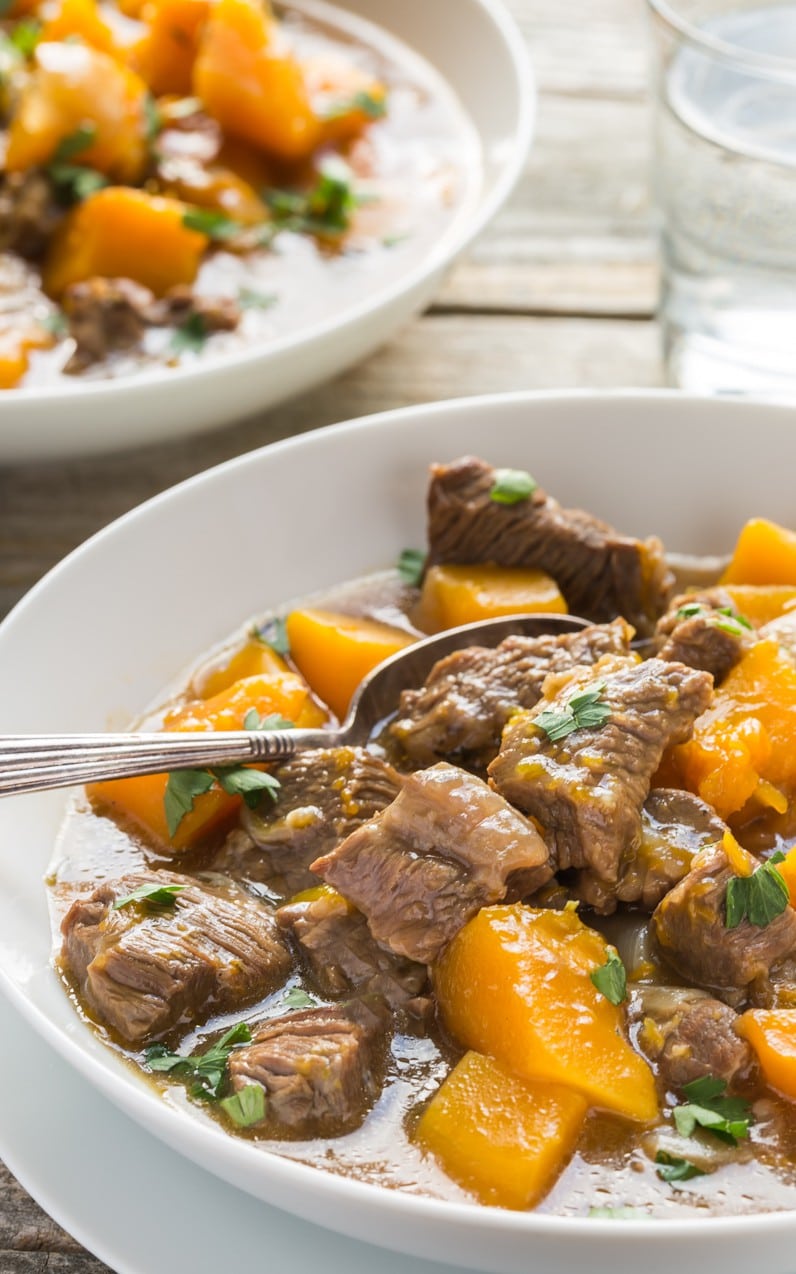 If you want to save time you can buy ready cut beef that is suitable for braising or stewing, for this recipe I used a pot roast that I cut up into pieces.
I usually prefer to do that because I've not always had great success with the type of beef that comes ready cubed, you might have better options in your grocery store though!
While it's all cooked in one pot you really want to wait until near the end of the cooking time to add the butternut squash.
As I know from experience it cooks really quickly and if you cook it too long it will disintegrate into the stock and you'll end up with a great tasting beef soup!
If you prefer to use your slow cooker I have included directions for that too, it cooks well that way too.
I used fresh herbs because I happened to have some on hand, but dried herbs should work just as well. I also used a good quality ready made beef stock which made a very nice flavored gravy, if your stock doesn't have a nice taste then it will, of course, affect the outcome of the stew.
*This post may contain Amazon affiliate links*
 MORE OF MY FAVORITE EASY RECIPES!
Nutrition Facts for Beef and Butternut Squash Stew
Weight Watchers SmartPoints: 6 Points
(Calorie Count updated: 340 calories per serving)
Beef and Butternut Squash Stew
Delicious Healthy Beef and Butternut Squash Stew! It's Paleo,Whole30, Gluten Free, Low Carb. Can be made in a slow cooker or crockpot, make it TODAY!
Ingredients
2lb Butternut Squash, peeled and cubed
3 - 4 tbsp Olive Oil
1 large onion, chopped
2lb lean beef chuck
32oz Beef Stock (gluten free) *see notes for whole30/paleo
2 garlic cloves, crushed
sprig fresh thyme, or dried
sprig of rosemary, or dried
1 tsp salt
1 tsp pepper
Instructions
*READ NOTES*
Prepare the squash by peeling it, removing the seeds and cutting it into cubes.
If your beef is not already cut into pieces then cut it up into cubes, and the same for the onion.
Heat the oil on a medium heat in alarge pot with a solid bottom, then add the onion and saute for a couple minutes, now add the beef and brown it for a couple of minutes.
Add the beef stock, herbs, salt and pepper.
Cook it on the stove top on a low simmer for about an hour with a lid on the pot, do not boil.
Finally add the butternut squash and cook for a further 30 minutes or until beef is tender.
SLOW COOKER INSTRUCTIONS:
Follow the directions as before and saute the onions and brown the beef.
Now you want to add the beef, onions, butternut squash and all remaining ingredients into the slow cooker.
Cook it on low for 5 - 6 hours, or high for about 3 - 4. how long it takes will depend on the heat of your slow cooker, I would check it after 3 hours so see if the meat is tender and the squash is soft.
I have two slow cookers and the newer one is hotter on the high and low settings than the older one.
Notes
*I have found it hard to find store bought paleo or whole30 beef broth for this recipe so you would need to use homemade beef broth, or you could just use water as an alternative, it won't be quite as rich but it will work.
You will need a decent sized pan with a heavy bottom, or
Dutch oven
, to cook this stew on the stovetop. If your pan is very thin your stew will almost certainly burn before it is cooked.
Alternatively you can cook it easily in a
slow cooker
, that would work well too.