I'm partnering with Lance to bring you these crispy, crunchy, Gluten Free Chicken Tenders! They are made with a delicious gluten free Lance cheddar cheese cracker crumb, mixed with grated parmesan and then baked to perfection in a hot oven, your whole family will love them!  I've been compensated for this post.

About a year ago I got a text from a friend who asked, "Have you tried these Lance gluten free cheese sandwich crackers? My son LOVES them, you should go get some!"
We were out running errands that day and made an immediate detour to the store in search of these fabulous new crackers she was raving about.  The prospect of gluten free crackers that were made with REAL cheese was simply too much for us to pass up, my son was giddy at the thought!
He spotted them right away and we cleared the shelf of ALL the boxes of Lance gluten free crackers they had in stock, it's true! We were barely out the door  before he'd ripped open the box and started munching on them declaring the crackers to be the best thing he'd ever tasted, it had been over five years since he'd eaten a real cheese cracker of any kind.
As a gluten free mom to a gluten free son, it thrills me when I find a new product that he really loves, and that satisfies his cheese cracker craving!
For me, the thing that sets these cheese crackers apart is that they are a great tasting snack that happens to be gluten free, not simply a gluten free snack that also tastes great, it's an important distinction! Plus they are made with real cheese, have no artificial colors, flavors, preservatives, no high fructose corn syrup or hydrogenated oils either.
They easily pass the kid test and my son definitely knows a real cheese cracker when he tastes one, so it's a no brainer to wholeheartedly recommend them to my readers!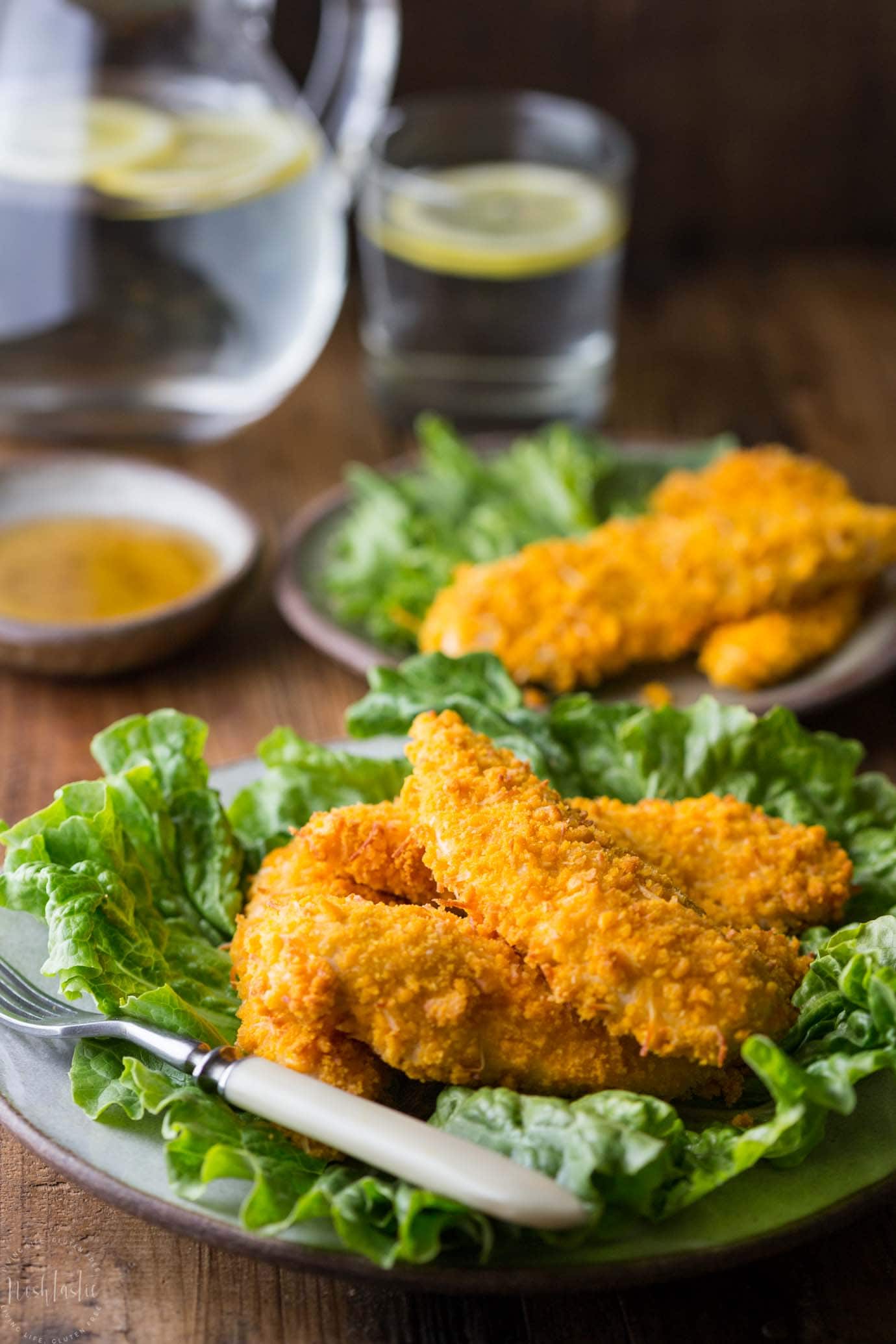 How to make Gluten Free Chicken Tenders
The hardest part of this recipe is not eating the cheese crackers before you cook the chicken, once you start it is VERY hard to put the box down! 🙂
Start by preheating your oven to to 375F or 190C
I used ready cut chicken tenders for a couple of reasons:
1. They are convenient, and it's quicker to prepare the recipe, 2. They are cut into even sized pieces so they all cook at the same rate. If you are cutting your own tenders from chicken breast pieces this is the main thing to be aware of. If you have some small and some large pieces, the smaller pieces will be overcooked by the time the larger ones are done.
Now add the Lance Gluten Free Cheddar Crackers to a small bag, close the bag, and crush them gently with a rolling pin into small pieces.  If you smash them too hard you risk bursting the bag, so be gentle.
Set up one bowl with the beaten egg mixture, another with the cracker crumb and parmesan, and lastly the sheet pan with a wire rack in it.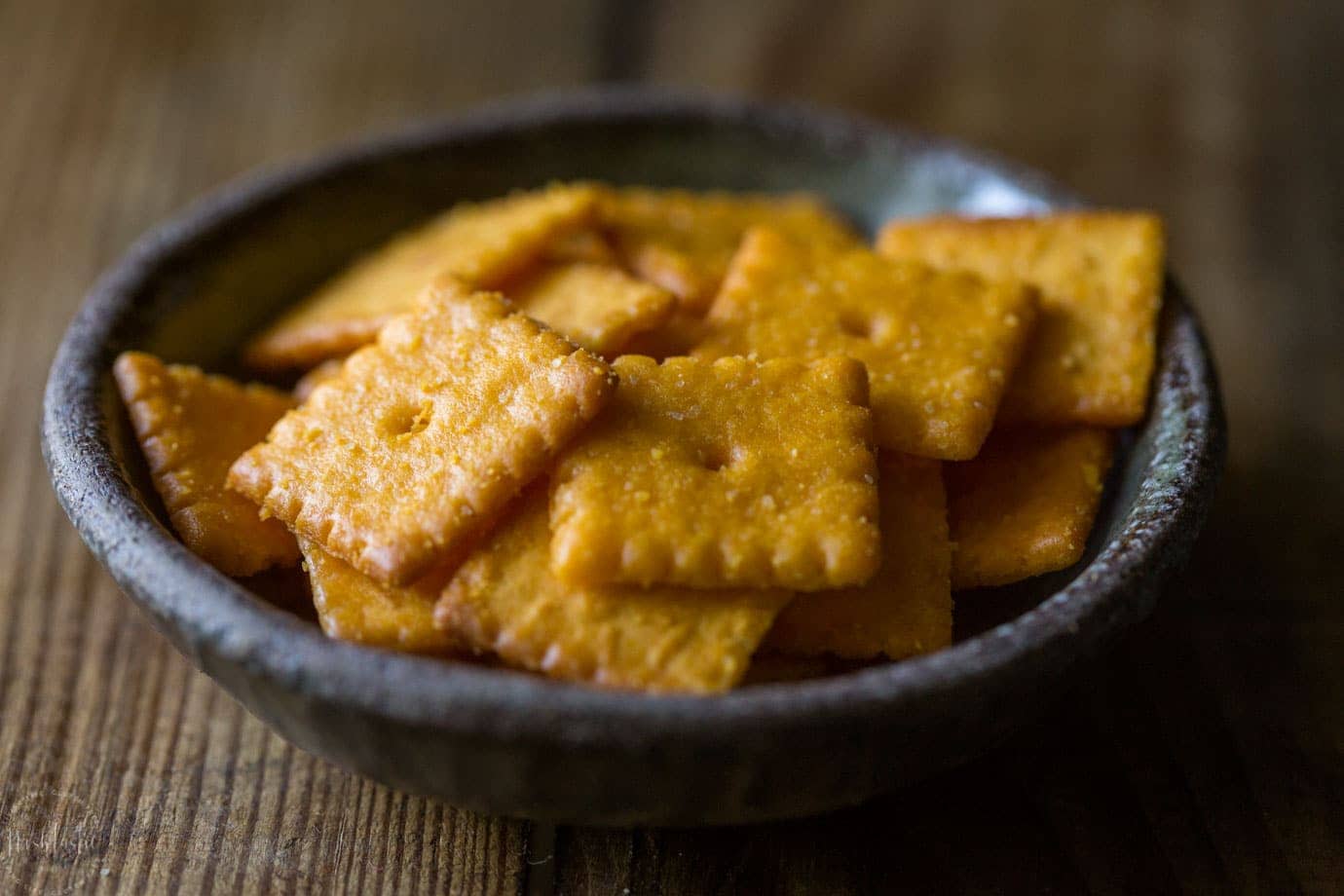 Use one hand to dip the chicken in the egg then drop the chicken into the cracker crumb mixture. Using your other dry hand, press the cracker crumbs firmly onto both sides of the chicken tender. You can use tongs if you prefer and use a spoon or something similar to press the crumbs into the chicken.
I have made these several times, both with and without baking them on a wire rack. You can bake them directly on a parchment lined baking sheet if you don't have a rack, but just know that the cracker crumb on base of the chicken may be a little softer cooked this way.
They are best served hot from the oven, the cracker crumb will soften over time if you leave them to sit for too long. I have reheated them for my kids and they were still raving about how good they were, but I don't think they were quite as crispy after reheating.
Where to buy Lance Gluten Free Cheese Crackers
These yummy gluten free cheese crackers are still pretty new to the market but they are available already in some Publix, Wegmans, Meijer, and Harris Teeter grocery stores.
I've also found the sandwich crackers in my local Target and Walmart, and Amazon carries many of their gluten free varieties too!
You can order them online directly from the Synder's Lance website, either by the Half Case – (6)  5 oz. Boxes, or Full Case – (12) 5 oz. Boxes.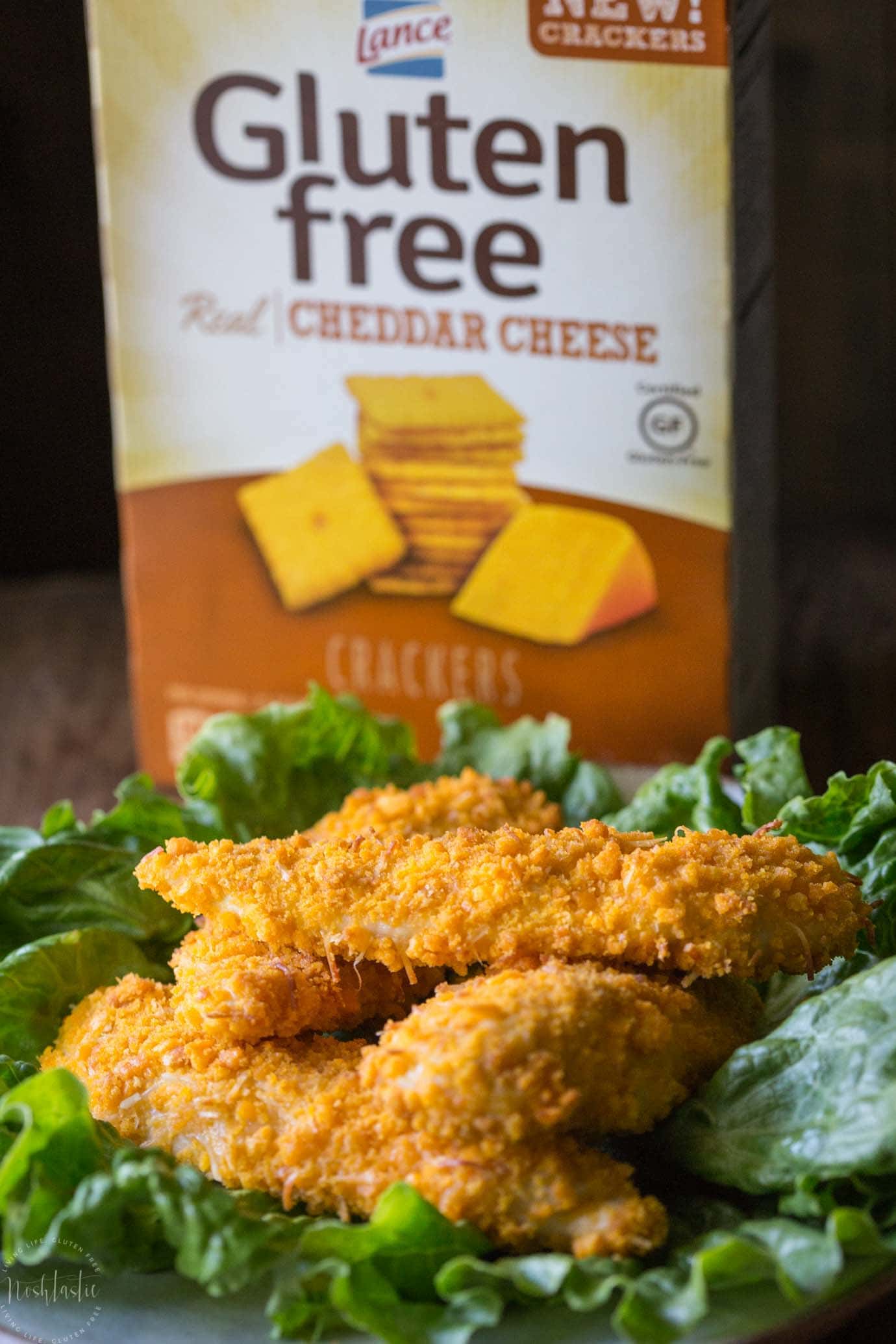 Where can I  Find Lance Gluten Free Crackers?
If you go directly to the Lance website you'll be able to use their product locator to find out which Lance gluten free products are available in your local stores. You can actually search for the specific product you want, which is really neat!
If you can't find the product you are looking for then you there are several places online where you can buy them, including Amazon and directly from Snyder's Lance website.
We have tried ALL their cracker varieties, including the cheese sandwich crackers, the peanut butter sandwich crackers, and the original baked crackers, and we are huge fans! I promise you'll love them too as the taste and texture is great
They have a couple of sizes including small on the go pouches that are the perfect for a packed lunch or for a snack while traveling. They also have a larger 5 oz sized box which is about the right size for sharing with a couple of people, or for a teenaged boy snack (true story)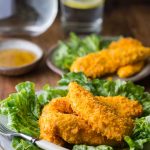 Gluten Free Chicken Tenders
Ingredients
5 oz

box

Lance Gluten Free Cheddar Crackers, crushed

142g (about 1 cup, crushed)

1/4

cup

parmesan cheese

2

eggs

beaten

1

tsp

garlic powder

8-12

chicken tenders
Instructions
Please watch my short recipe video before you start! It's in the post right above the recipe card.

Preheat your oven to 375F or 190C.

Line a sheet pan with parchment paper and add a wire rack to it, this will stop the chicken tender cracker crumb from getting soft on the bottom.

Add the Lance Gluten Free Cheddar Crackers to a small bag, close it, and crush them gently with a rolling pin into small pieces. You don't want to turn them into dust so go easy!

Beat the eggs in a large wide bowl with the garlic powder.

Mix the gluten free cheese cracker crumbs with 1/4 cup parmesan cheese and place them onto a wide plate or bowl.

Use one hand to dip a chicken tender in the egg mixture then place it gently into the cracker crumbs.

Now use your other hand (which should be dry) to press cracker crumbs firmly onto the surface of the chicken.

If you put your wet hand into the cracker crumbs you'll just make them stick to your hand instead of the chicken.

You can also use tongs, but you need to use a spoon or something similar to firmly press the crumbs onto the chicken pieces.

Place the coated chicken tenders onto the wire rack on top of the sheet pan.

Bake at 375F for 20 -25 minutes, or until they are golden brown and fully cooked through with an internal temperature of 165°F or 75°C