One of the most common issues  that people have with their Instant Pot is knowing how to clean the Instant Pot sealing ring that sits inside the lid, this guide will help you find the best methods to clean yours.
---
Buy the NEW INSTANT POT DUO MINI I love it!
Here's my Top Instant Pot Accessories list.
---
This post contains affiliate links
How to Clean the Instant Pot Sealing Ring
The Instant Pot silicone seal that sits in the lid  is prone to absorbing smells from your food and it can be tricky to remove them completely. So here are a few tips and tricks that have worked for some people and may help you out, though I can't guarantee that any of them are foolproof as I've not tried them all.
If you have some ideas that have worked for you that I've not covered then please let me know in the comments!
BAKING SODA – place the silicone seal in a sealed container or bag with baking soda and leave it overnight. You can either just add the dry baking soda or make a paste with water and baking soda to cover the ring with it. Leave it overnight and check it in the morning
STEAM IT – you can steam clean the pot and the seal by simply adding 2 cups of white vinegar, or 2 cups of water with a cut up lemon. Then run your pot on the steam cycle for at least two minutes.
DISHWASHER – run it through the top rack of the dishwasher on the hottest cycle, this seems to work well for many people.
LEMON JUICE – soak it overnight in lemon juice and rinse in the morning.
WHITE VINEGAR – soak it in diluted white vinegar and see if that works.
SECOND SEALING RING – It's a good idea to have separate sealing rings for dessert and savory foods. I have a third ring that I use for strong spicy food as it tends to 'stick' to the sealing ring more than my other recipes.
PUT IT IN THE SUN – I've read that some people have had some success leaving the cleaned ring in the sun for a while. As it's the dead of winter right now I haven't had a chance to try this option..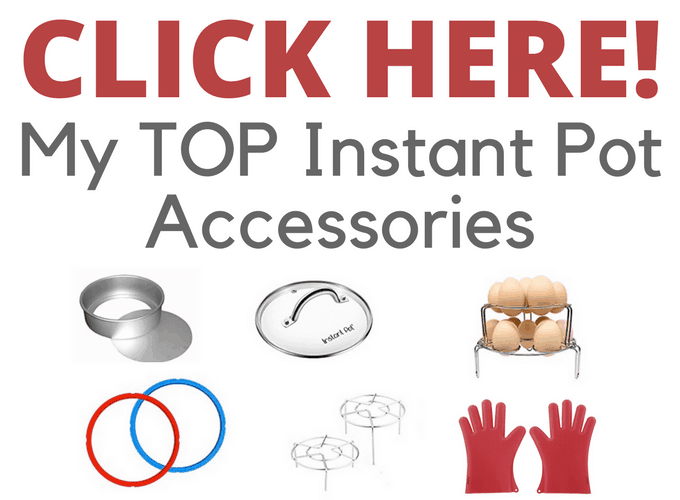 Are there any other methods you prefer to clean the Instant Pot sealing ring?
Let me know in the comments what's worked for you