I've learned that planning ahead of time for gluten free travel when I'm flying is absolutely crucial if I want to avoid accidentally eating gluten, or starving at 30,000 feet with another 8hrs still to go in flight!
I've been caught out too many times, so read on if you want my top tips for avoiding gluten free travel mishaps!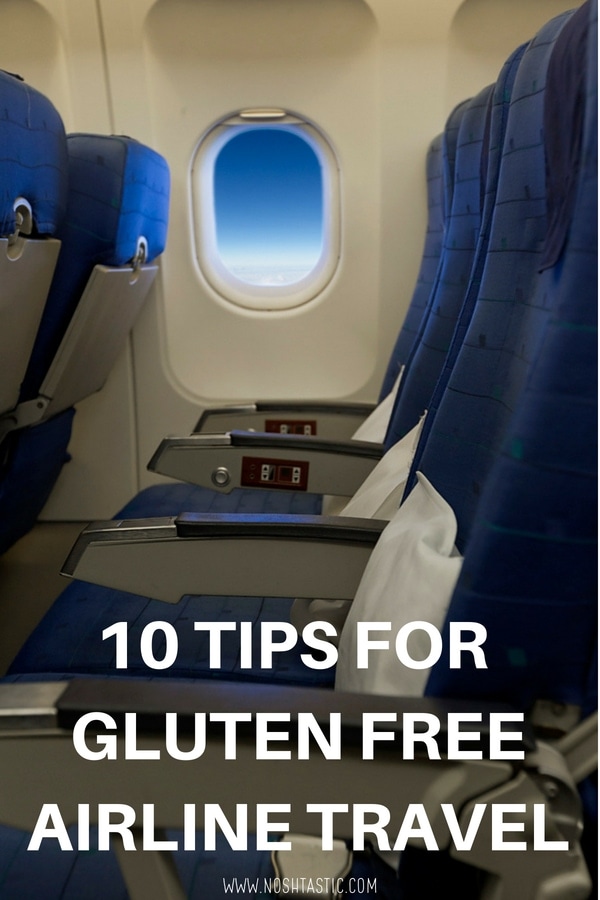 Order your Gluten Free Airline Meals Ahead
Most of the major airlines provide gluten free meals for long haul international flights, and some on longer US domestic flights from coast to coast. You typically have to call and order the meal at least a day or more ahead, they don't carry them on board otherwise.
I'm from the UK but live in the USA so I'm frequently on transatlantic flights but I've yet to find an airline that has a gluten free and dairy free meal option, so just bear that in mind – and do let me know if you find one that does.
This post contains affiliate links
Download your FREE Gluten Free Travel Checklist!
I always make a checklist before I travel to ensure that I'm totally prepared for my trip and hopefully for every eventuality when it comes to sourcing safe gluten free food. Fortunately I've got you covered with our FREE printable gluten free checklist I know you'll love! Just fill in the form below to access it!
Don't assume your Gluten Free Meal is 100% Gluten Free!
Just like ordering gluten free meals anywhere else, don't simply assume that your airline meal will be 100% gluten free because it's a special order. I mean, you'd think it would be a no brainer if you've ordered it ahead of time and it's got the gluten free sticker on it, but sadly that's not always the case.
It's not uncommon for Cabin Crew to add a regular gluten filled bread roll to your gluten free meal tray, so double check before you eat any bread put in front of you, it's just another one of the hazards of gluten free travel!
It's been a couple of years and I really hope things have changed, but on a Delta flight out of Atlanta to London I was served Kellogg's Rice Crispies as the gluten free option for breakfast, they have barley malt in them so are most definitely not gluten free! I was able to eat the banana that came with it, so I didn't starve. Someone else wrote about a man being given a banana for his gluten free meal on a long haul flight, looks like it wasn't just me!
Download Gluten Free Apps before you go
There are a couple of gluten free apps that you might find helpful, so make sure you familiarize yourself with them before you go and have them on your phone already. Airport wifi is notoriously slow so it's a good idea to download them at home before you get to the airport and make your gluten free trip much easier.
Find me Gluten Free is the one that I use most often. I also use YELP and Trip Advisor to find gluten free friendly restaurants.
Scope out your Airport for Gluten Free Food
When I'm planning a gluten free travel trip I always check ahead to see what gluten free restaurants and shops are in the airports I'm planning on traveling through. We travel through Atlanta and Dallas fairly often and they have a Five Guys and a Chick Fil A in some of the terminals. Also make sure you have time to get to the places you pick out, they may be in different terminals from the one your flight is in so you'll need to make sure you have left enough time to eat.
Pack Medication in your carry on
You just never know what might happen with your checked bags these days! Last time we arrived in the UK our bags were still in the USA. I also know of people who have had their checked bags inspected while they were not there and medication and other items were missing after they picked up their luggage, so always pack your medication in your carry on.
Get Gluten Free Dining Cards for Overseas Travel
It's a good idea if you are traveling in a country where you are not fluent in the language to get some gluten free dining cards that explain what you can and can't eat, they will be very helpful for eating out.
The best ones available are from Triumph Dining.
Pack Gluten Free Snacks for Travel
I learned my lesson early on with this! And there are two main reasons to pack your own food for gluten free airline travel. The first is that you might find yourself on a flight where the gluten free meal is not gluten free at all, as I mentioned above.
On a more recent flight from Chicago to London we ended up missing our original flight because of delays on our connecting flight, so the gluten free meal that I ordered was not on the new flight and there would have been nothing for me to eat. I did have time to find something in the airport, but it was less than ideal as we were pushed for time.
Now I always take enough snacks to last the duration of the door to door trip. Things like Kind Bars, Gluten Free Jerky, and gluten free pretzels are enough to keep me full on a long trip like that and are not perishable.
Request a Fridge and Microwave in your Hotel
I've had great success requesting both a fridge and microwave in every hotel I've stayed in, they are usually happy to oblige if it does not come standard in the room.
It has meant that I could take a frozen gluten free dinner that I knew to be safe, store it in the fridge, and microwave it to eat if there were no gluten free dining options nearby as is often the case if you are staying in an airport hotel.
Use Google Maps to Plan where you can Eat at your Destination
I love to plan ahead of time and find out all the gluten free places that will be in or near to where I'm staying. Then I create a google map that's just for me and bookmark and label all the places I plan to visit. I read reviews online of all sorts of different places including restaurants, bars and grocery stores that had gluten free options, then I added them to my map and I can look at it on my phone when we are on the go.
We were in New York last year and it was invaluable! It saved me so much time and we were much better able to plan exactly where we wanted to eat.
This link will show you how to create your own gluten free travel google map!