You don't need to wait until St Patrick's Day to enjoy this traditional Gluten Free Irish Stew recipe, delicious at any time of the year! Paleo and Whole30

There are few things more satisfying than a hearty, well made gluten free Irish stew in the middle of a freezing cold winter. What makes it even more delightful is that there's really very little to it in terms of ingredients and preparation, it's all thrown together in one pot, cooked for an hour and it's ready to eat!
Growing up in Achiltibuie in the Highlands of Scotland I was surrounded by sheep, they roam freely on the hills, on the roads, and right outside your door, so it's no great surprise that lamb has always been my favorite meat. Because of the high fat content it's almost always moist and flavorful once cooked, its great rare and still holds up well if you forget and leave it cooking for longer than you intended.
Traditional Irish Stew is always made with mutton which is the meat  from an older sheep and has a slightly stronger flavor than lamb. It's almost impossible to find in your local grocery stores so lamb shoulder chops will work well instead and the flavor will be equally delicious.
Serve it with some lovely crusty bread if you can find it, green beans would be good too. Most of the time though I just eat it as it is, it's very filling with the potatoes added to it.
The picture above was taken in my home village of Achiltibuie, Scotland.  It was the summer of  2008, just before we moved to Mississippi. We were making the rounds, visiting family and familiar places before we left the UK  with our two boys to start a new life in the USA.  That's my Uncle Kenneth shearing one of his sheep, you can see some other sheep peeping through the fence waiting their turn! It was an unusually warm summer day when we visited, most of the time it doesn't get much above 70f even in the middle of summer, so I have great memories of that trip, often it's overcast, cold and raining.
This post may contain Amazon affiliate links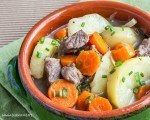 Gluten Free Irish Stew
You don't need to wait until St Patrick's Day to enjoy this traditional Gluten Free Irish Stew recipe, delicious at any time of the year! Paleo and Whole30
Total Time
1
hour
25
minutes
Ingredients
4

lamb shoulder chops

whole, halved or cut into cubes., 2.5 - 3.5lbs

1-2

tablespoon

coconut oil

4

large onions

peeled and sliced into thin rounds

8

large carrots

peeled and cut into large chunks

6 -8

inch

waxy potatoes

peeled and cut into 1/2 slices, sweet potatoes if paleo

Salt and pepper

1½

pints

water

1

sprig thyme

2

tablespoons

cornstarch, or arrowroot for Paleo, optional

1

tbsp

freshly chopped parsley or chives
Instructions
Preheat oven to /350F/180C

Cut the chops in cubes or in half,whatever your preference is. If the bone is in the way skip this step and leave them whole.

In your Dutch oven (or large oven proof pan with a tight fitting lid), brown the lamb chops on both sides in a little oil.

with the lamb chops on the bottom of the pan, layer it up with onions, carrots, then thyme.

Salt and pepper well in between each vegetable layer.

layer the potato slices to cover the top, add the water and them some more salt and pepper.

Cook in the oven with the lid on for 1hr to 1hr and 15 minutes.

sprinkle with chopped chives or parsley (optional)

(optional)

If you want to thicken the liquid once the meat is cooked, pour it off carefully into another pan.

mix together 1-2 tablespoon of cornstarch (or arrowroot) and mix with 2-3 tablespoons of cold water, add half of the starch to the pan with the liquid and return to a low/medium heat stirring all the time until it starts to bubble and thicken. If its not thick enough for you repeat the process and add the remaining starch.

pour the thickened gravy back over the meat.
Recipe Notes
I use a large 6-7quart enameled Dutch oven to cook this in, you could use any large oven proof pan (stainless steel) with a tight fitting lid.