You'll love my Easy Gluten Free Beef Stroganoff!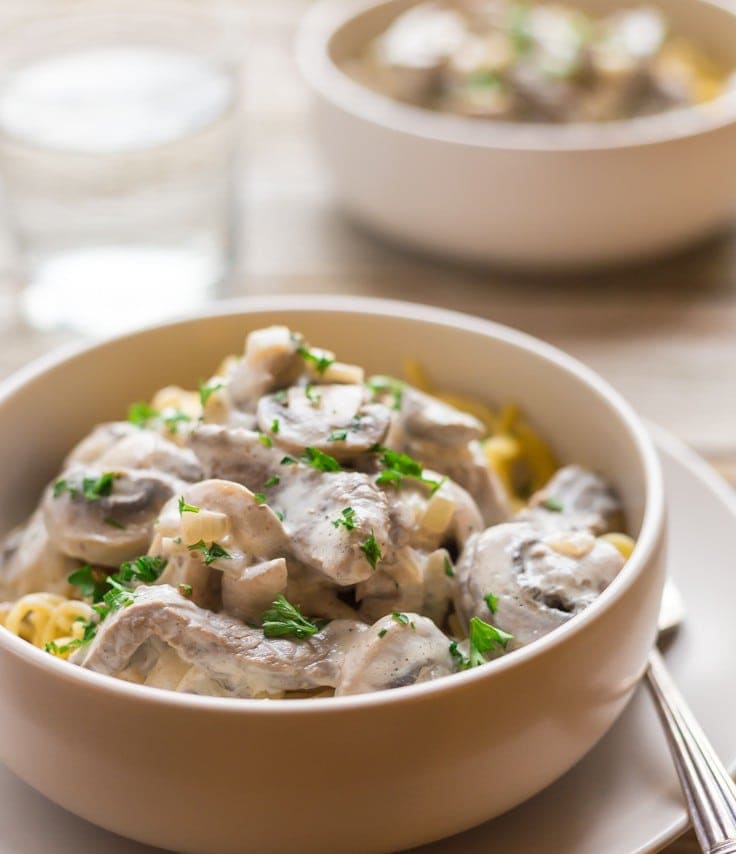 It's been really busy round here with back to school nights and all sorts of other things, as a result getting dinner on the table before the sun starts to set has been challenging at times.  If I can make a meal in less than thirty minutes and the kids love it, that's a win-win for me so my easy Gluten Free Beef Stroganoff really hit the spot!
It's been a while since I've had Beef Stroganoff, mainly due to the fact that I'm no longer able to eat dairy products.  I recently found a dairy free sour cream in my local grocery store and made half the batch with it for me and my youngest son, and half the batch with Greek yoghurt for my husband and oldest son. I have to say I was really impressed with the taste of the dairy free version, in fact there was a moment of panic when I briefly forgot which pan was dairy free and which was not, I had my husband taste both and he couldn't tell the difference! Thankfully I did remember which pan was which before I served it up to anyone.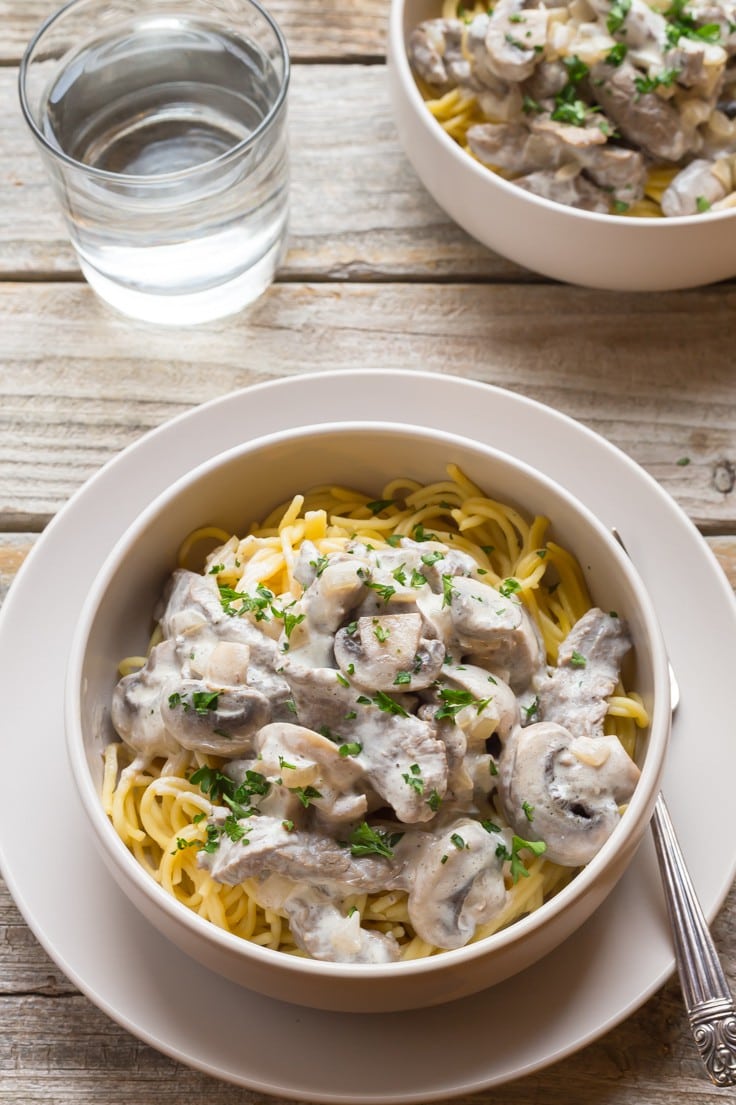 I checked out a few Beef Stroganoff recipes from some of my old cook books and online before I settled on a recipe for our family that would be quick, easy and not require any fancy ingredients that I didn't already have. Many of the British based recipes had paprika and brandy added to the sour cream or yoghurt, while some of the American ones had nutmeg or canned cream of mushroom soup. I don't typically have brandy in my pantry so I opted not to use it. My husband did ask where the paprika was, but I didn't use it either,  but you might want to try a little sprinkle on top of the cooked dish, I'm sure it would be very good.  I used Worcestershire Sauce with the sour cream.
This is one dish where you want to have your onions, mushrooms and beef all pre-sliced and ready to go before you start to cook. All the ingredients cook up very quickly so you don't want to be fussing trying to get the mushrooms cleaned and sliced while the beef cooks, you may not have enough time! I used small beef sirloin steaks cut into thin slices, but any cut of beef that doesn't require slow cooking or braising should work equally well. We served this over gluten free noodles, but you can serve it with mashed potatoes, rice, pasta or just a side of whatever other vegetables you prefer.
****
If you are looking for more quick dinner ideas then you won't want to miss this Healthy Slow Cooker Beef Burgundy from Healthy Seasonal Recipes, it looks delicious.
Also don't miss my recipes for   Dijon Chicken Stew with Kale and Potatoes, Easy Ground Beef Chili, and my Gluten Free Chicken and Dumplings, 
****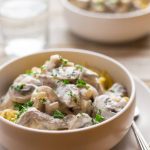 Easy Gluten Free Beef Stroganoff
You'll love my Easy Gluten Free Beef Stroganoff!
Ingredients
2

tbsp

oil

1

lb

beef sirloin steak

1

lb

mushrooms, sliced

1

onion

small dice

1

cup

sour cream or Greek yoghurt

1

tsp

gluten free Worcestershire sauce

1

tsp

lemon juice
Instructions
If you are serving this with anything else such as rice, pasta, potatoes or vegetables you might want to start cooking that before this so that it's ready to serve all together, this will take less than ten minutes to cook.

Slice the beef into thin strips, chop the onions into a small dice, and wipe the dirt of the mushrooms with a paper towel and then slice them.

Add the oil to a large skillet and put it over a medium/high heat.

add the onions and soften for a minute, then add the beef and stir for two minutes

Add the mushrooms and stir and cook for a few more minutes until the mushrooms are soft.

Then add the remaining ingredients and stir well, cook for a minute or two more until the sauce is warmed, do not boil!

Serve immediately.
Nutrition Facts
Easy Gluten Free Beef Stroganoff
Amount Per Serving
Calories 354
Calories from Fat 198
% Daily Value*
Total Fat 22g 34%
Cholesterol 96mg 32%
Sodium 130mg 5%
Potassium 898mg 26%
Total Carbohydrates 8g 3%
Protein 30g 60%
* Percent Daily Values are based on a 2000 calorie diet.
This post may contain affiliate links . There are no additional costs passed on to you if you click on the links in this post. Any money earned from commission helps me cover the cost of maintaining this website.