A quick and easy treat with this no-cook homemade Gluten Free Rocky Road recipe!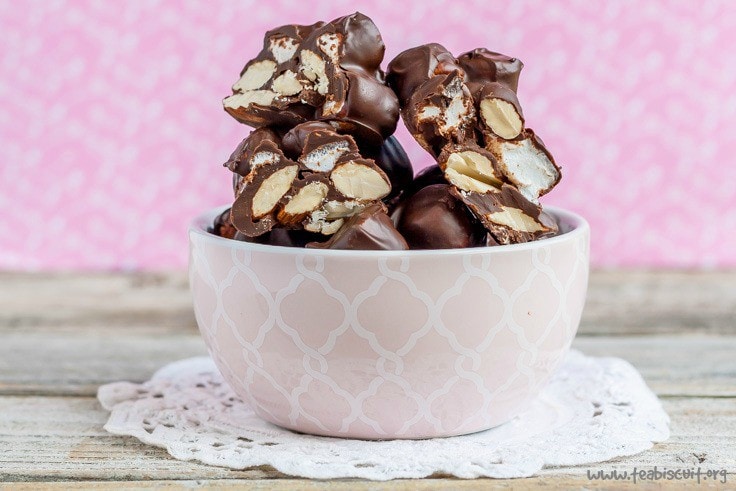 I was looking for something I could make quickly for my son this morning that he would enjoy but didn't require any cooking, I mean, it's Saturday morning and I've got HGTV to watch!
My Gluten Free Rocky Road is a no cook, super easy treat that you can throw together in a matter of minutes, it requires zero culinary skills, only the ability to throw a couple things in your basket in the grocery store, and to click start on your microwave oven 🙂 I've tried to convince myself it's healthy because it has almonds in it, but lets be honest, it's a total carb fest.
You can choose from a variety of nuts, I think brazil nuts or macadamia nuts would be very yummy but my son has tree nut allergies (but not to almonds) so they are not an option for us. If you can't do any nuts at all then perhaps golden raisins or some gluten free cornflakes or rice crispies mixed in would also be work well.
If you enjoyed this post you may also enjoy  these easy No Bake Chocolate Peanut Butter Bars from Beaming Baker, or my recipes for Dairy Free Lemon curd and Chocolate Cornflake Cake,
This post may contain Amazon affiliate links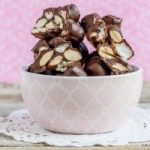 Gluten Free Rocky Road
Gluten Free Rocky Road slice recipe - no cooking required, just melt the chocolate and mix! gluten free, dairy free, egg free
Ingredients
7

oz

good quality gluten free/dairy free chocolate chips

200g

3/4

cup

almonds, or brazil nuts

75g

1/2

cup

mini marshmallows

75g

1

tablespoon

dairy free margarine, or butter.
Instructions
Melt the butter or margarine first and set aside.

Melt the chocolate in the microwave, I usually do 30 seconds at a time and check and stir to see how it's melting, do not overcook.

Once the chocolate has melted stir in the melted butter.

mix in the marshmallows and nuts until fully coated in chocolate.

place tablespoonfuls of the mixture onto a parchment lined baking sheet and leave for a couple of hours until the chocolate has hardened.

makes about 12 individual rocky roads.
Nutrition Facts
Gluten Free Rocky Road
Amount Per Serving
Calories 154
Calories from Fat 99
% Daily Value*
Total Fat 11g 17%
Cholesterol 0mg 0%
Sodium 12mg 1%
Potassium 43mg 1%
Total Carbohydrates 12g 4%
Protein 2g 4%
* Percent Daily Values are based on a 2000 calorie diet.