I don't eat Paleo all the time but a lot of my meals are naturally Paleo. I have followed the Whole 30, Paleo and SCD diets at various times in the past and it has left me preferring Paleo versions of some things, such as ketchup.
While my children are happy to slather their dinners with regular ketchup, I just can't stand how sweet it is.
I've tried a store bought Paleo ketchup which was really nice but was ridiculously expensive for a really tiny jar, so I thought it was about time I made my own. A quick search on the internet showed a variety of recipes, some cooked, some no cook and all were slightly different.
As I'm not a lover of sweet ketchup I didn't sweeten this version at all, but if you really want it sweetened a little then I'm sure you could try adding a little honey and see if that helps, though that would mean it was no longer Whole 30 compliant, but it would still be Paleo.
This is a no cook version and the amounts of spices are really just a guide, you can adjust them to your own tastes. I kept this in the fridge, not sure how long it will keep but it's only a small amount so I don't suppose it will last very long in our house anyway!
This post may contain Amazon affiliate links
MORE OF MY FAVORITE EASY RECIPES!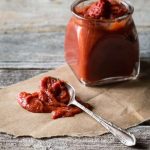 No Cook Paleo Ketchup (Whole 30)
A super easy, no cook Paleo Ketchup that is also Whole 30 compliant.
Instructions
Mix all the ingredients together and taste, you can add a little more water and vinegar to thin it out a little, and adjust the spices up or down to get it tasting the way you like it.

Store in the fridge.
This post may contain affiliate links . There are no additional costs passed on to you if you click on the links in this post. Any money earned from commission helps me cover the cost of maintaining this website.