A one pot recipe for Paleo Chicken Broth that's so much better than the store bought variety, and you can easily freeze it for use later on, it's also whole30 and low carb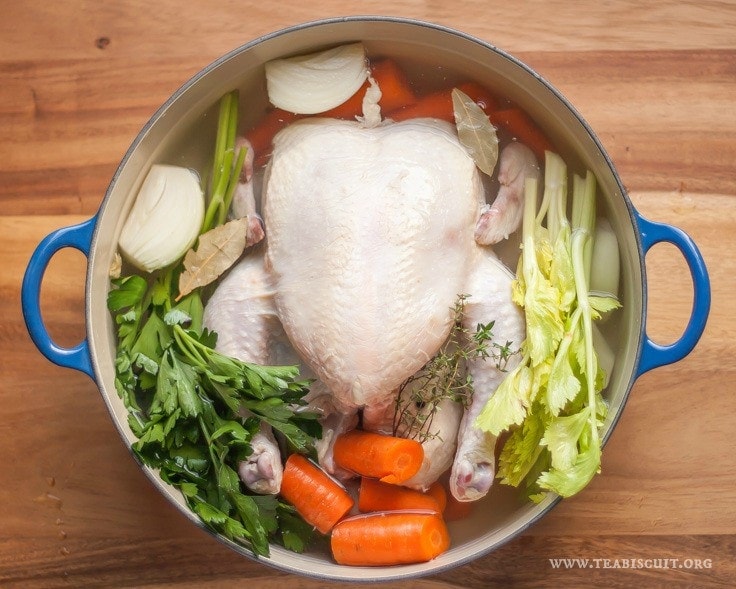 Paleo Chicken Broth
For many folk the idea of making Paleo chicken broth can seem a little intimidating, but there's really nothing to it. If you can boil water you can make stock or broth!
There is some debate out there about the difference between Chicken stock and Chicken broth, the general consensus seems to be that stock comes from bones, is cooked longer  and so you end up with more gelatin in the finished product, whereas broth can be made from meat without the bones and is cooked more quickly.
I used a 6-7 quart pan to cook this batch of stock.
You simply add all the ingredients to the pot, cover with water and bring to the boil, then reduce the heat to a simmer for two hours and it's done!
If you want a richer stock you can continue to cook it for a another couple of hours, however I often prefer to use the meat from the chicken for salad or in other recipes and if you cook it that long the meat will be stringy and pretty tasteless but your stock will taste great!
I prefer to use a whole chicken rather than chicken pieces because where I live the cost per lb for a whole chicken is a lot less than buying pieces. And of course if I choose to make a lighter stock then I can use the meat in other meals, it's a win win!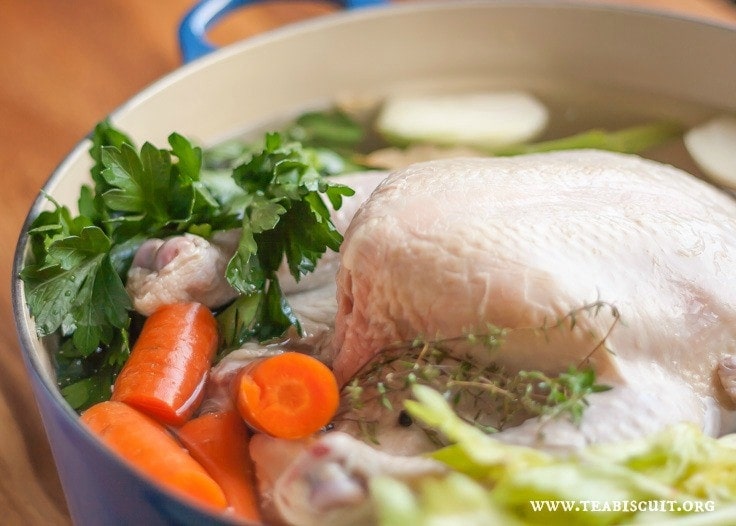 When its cooled enough to go in the fridge you can store it in there for a few days. I tend not to skim the fat off when it's warm but rather wait for the fat to solidify on the top in the fridge as it's much easier to remove that way.
I should add that I don't take off all the fat as I think it adds to the flavor, but if you want it fat free you can easily remove all of it.
I usually freeze mine in smaller quantities so that I can pull it out for soup or stews as needed, it will keep for months this way.
This post may contain Amazon affiliate links
Paleo Chicken Broth
A One Pot recipe for Paleo Chicken Broth that's easily made in one pot!
Prep Time: 15 minutes
Cook Time: 3 hours
Total Time: 3 hours 15 minutes
Total Carbs: 3 g
Net Carbs: 3 g
Protein: 15 g
Servings: 8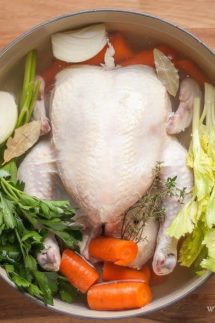 Ingredients
1 whole Chicken
2 unpeeled carrots , washed
1 medium onion , peeled and quarteres
2 celery stalks , washed
3-4 stalks of parsley
couple of sprigs of thyme
2 - 3 leaves bay
10 peppercorns
Instructions
Add all the ingredients to a 6-7 quart pot and cover with cold water.

Bring to the boil,skim off any foam or scum that forms on the top of the water, cover the pan, then reduce to a very gentle simmer for 1.5-3 hours.

If you cook it for 1.5hrs - 2hrs that will yield a light stock and the chicken meat will still be nice enough to use for other recipes (such as chicken mayo)

If you cook it for 3hrs or more you will get a more robust and tastier stock or broth but the meat will have lost most of its taste by that point and will not be usable for other taste, so it's really up to you how long you cook it depending on what you want it for.

When cool enough, chill in the fridge overnight. You will then be able to remove the solidified fat easily if you prefer.

Freeze right away or use refrigerated stock within 2-3 days.
Nutrition Facts
Paleo Chicken Broth
Amount Per Serving
Calories 186 Calories from Fat 108
% Daily Value*
Total Fat 12g 18%
Saturated Fat 3g 15%
Cholesterol 60mg 20%
Sodium 75mg 3%
Potassium 246mg 7%
Total Carbohydrates 3g 1%
Sugars 1g
Protein 15g 30%
Vitamin A 54.7%
Vitamin C 4.9%
Calcium 2.1%
Iron 4.6%
* Percent Daily Values are based on a 2000 calorie diet.
Nutritional information on Noshtastic is provided as a courtesy and is approximate only. We cannot guarantee the accuracy of the nutritional information given for any recipe on this site.
Course: Broth or Stock
Cuisine: European