An easy Christmas Cookie Decorating Tutorial for  Hat and Mitten Cookies with step by step photos!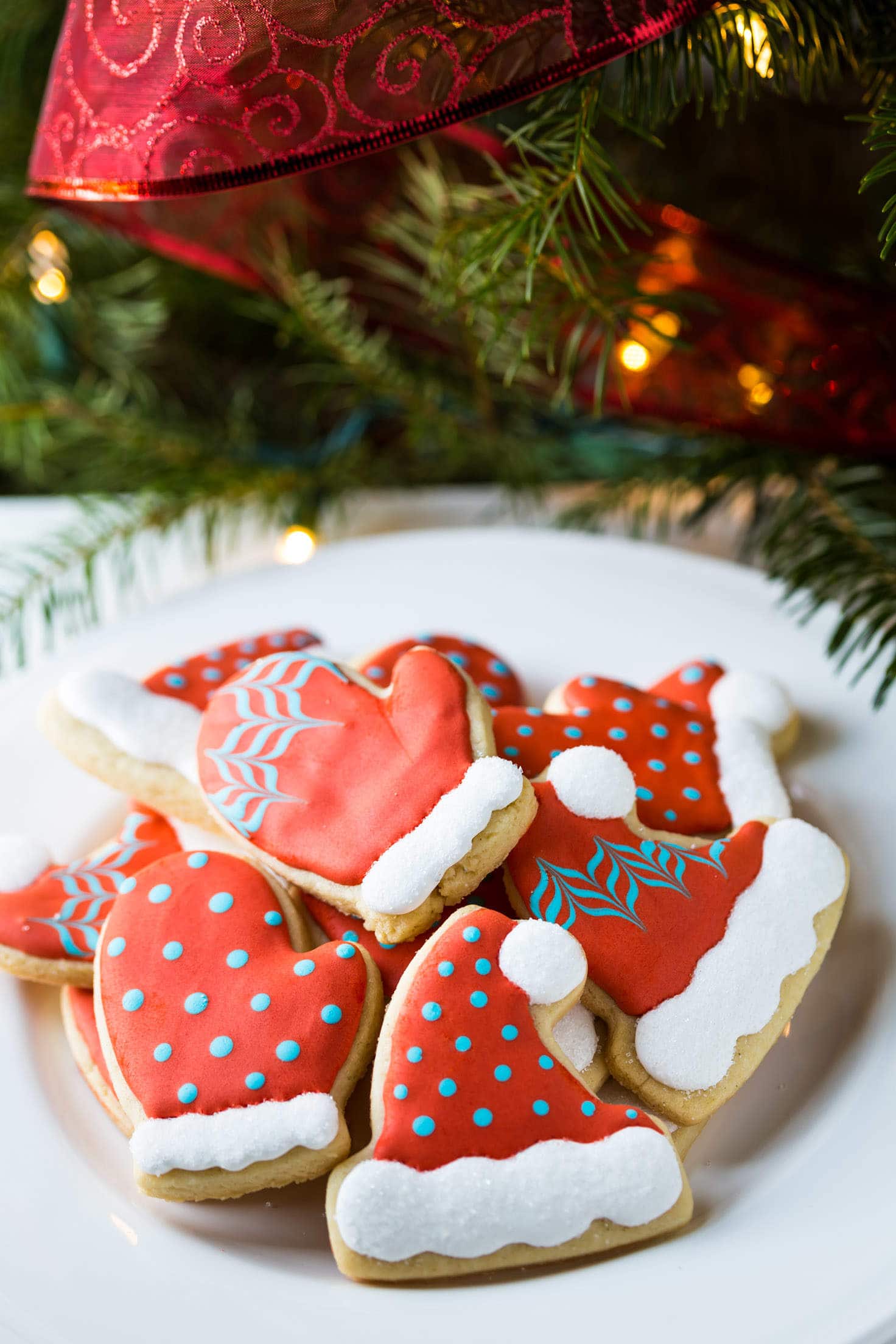 Christmas Cookie Decorating Tutorial
I'm on a roll with my Christmas Cookies this week!
Last year before I started my blog I spent a lot of time making decorated cookies, my dining table was permanently covered in drying iced cookies and especially in the fall when I made more football cookies than I could count.
Well after I started my blog I just didn't have the time to devote to my cookie decorating hobby as I had before but I think Christmas is a perfect time to break out the cookie cutters again.
I took some photos as I went along so that you can try these cookies with my cookie decorating tutorial.
If you've never made a decorated cookie before it's really not as hard as you might think, one of the keys  to cookie decorating success is getting the icing consistency right and if you're patient, take your time, and follow the directions in Royal Icing for cookies recipe, it's easy.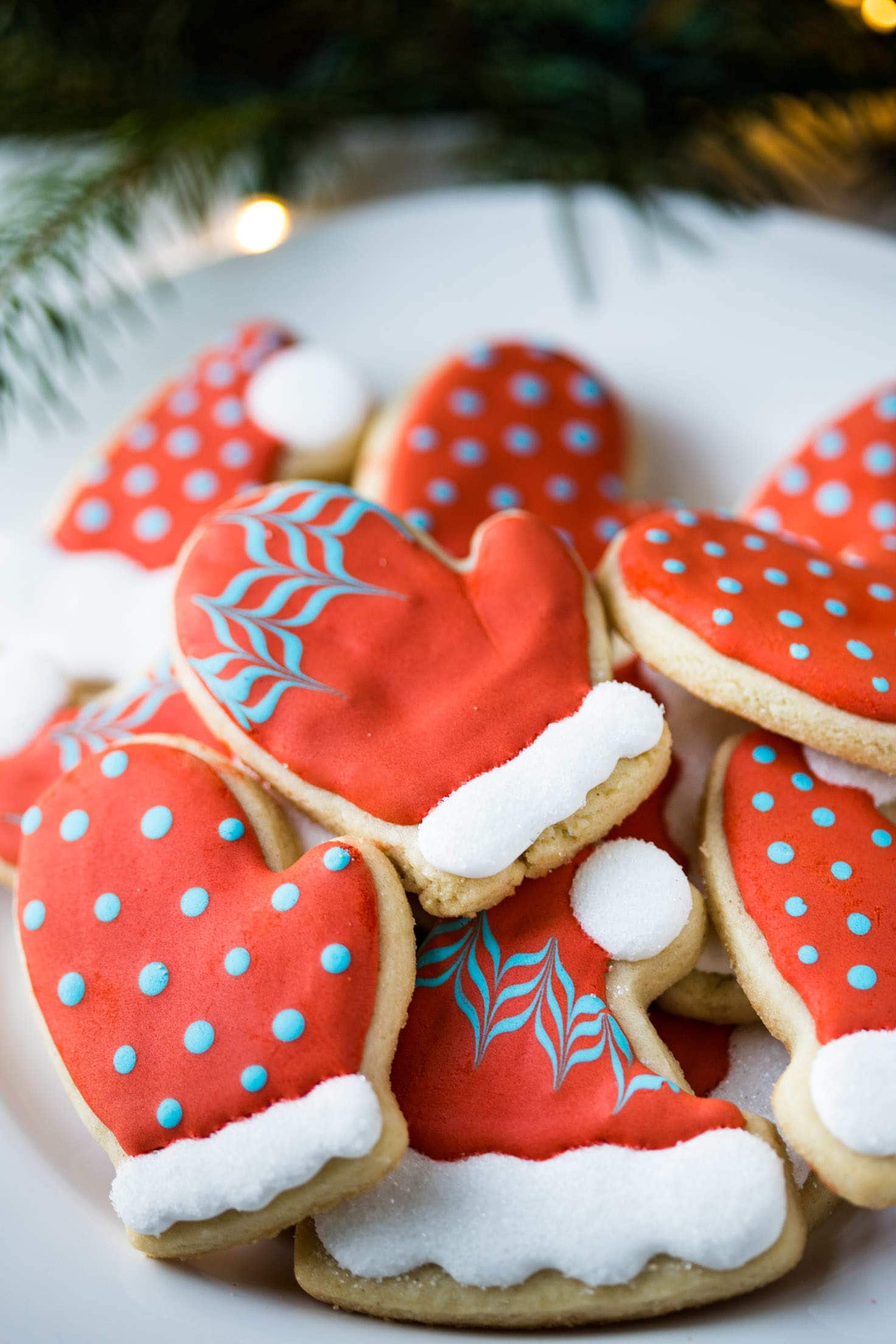 Items you'll need for this Cookie decorating tutorial
I used three colors for these cookies, White, Tulip Red and Sky Blue. I use Americolor for all my cookie decorating and the Tulip Red color is their no taste red, most of the dark icing colors tend to be bitter so I always use that red color.
You can find details showing you how to make a batch of my royal icing for cookie decorating in the link.
For these cookies, I used 20-second count icing.  Scoop out about two quarts of icing into a bowl or jug, then little by little add some water until you get 20-second count icing (I sometimes add a teaspoon or two of  lemon juice for flavor too).
In order to get the correct consistency for decorating these cookies you need to take a spoon and drizzle the thinned icing back into your bowl, (see first photo in my royal icing recipe) it should take between 15 – 20 seconds for the drizzle of icing to disappear and the surface of the icing to become smooth.
If you make it too runny simply add in some more of the stiff icing to your bowl and mix well to thicken it up.
Cookie Decorating Tutorial
Now you can divide the thinned icing up into three bowls so that you can add the colors you prefer, as you can see I used mostly red icing and only a little of white and blue, make sure you keep the bowls covered until you get the icing in the piping bags, I used a no:2 tip on all three bags.
Using white icing outline and fill the pom pom and cuff of the hats and mittens as shown in the image, use a toothpick if you need to pop bubbles and smooth out the ocing.
While the icing is still wet sprinkle on the sanding sugar and gently tap the cookie to remove the excess, or you can pour the sugar in a saucer and dip the cookies into the sugar, but I find that sometimes flattens the icing if you're not careful.
Wait at least ten minutes before outlining and filling the hat and mittens in red, I usually do two or three cookies at a time.
Now you need to take your other color of icing (I used blue) and while the red icing is still wet, and holding the bag upright, gently squeeze dots onto the red icing, when you have piped the dot lift the bag straight up to avoid dragging the wet dots.
I don't have a photograph of the zigzag lines, in order to make them you will need a toothpick and a damp towel or napkin. Simply pipe on two to three straight parallel lines with a little space in between each line across your cookie. Now take a toothpick and starting at one end of the lines gently drag the toothpick from the red icing up through the blue lines, wipe your toothpick and do the same thing in the opposite direction, repeat all the way along the lines to get the zigzag effect.
Your cookies will take at least eight hours to dry fully, when they are fully dry you can freeze them in an airtight ziplock bag or store them in a cookie tin.
If you are using my gluten free cut out cookie recipe the cookies will get soft after a couple of days so you need to eat them or freeze them when they dry.