Insanely delicious Gluten Free Pumpkin Spice Oatmeal Cookies!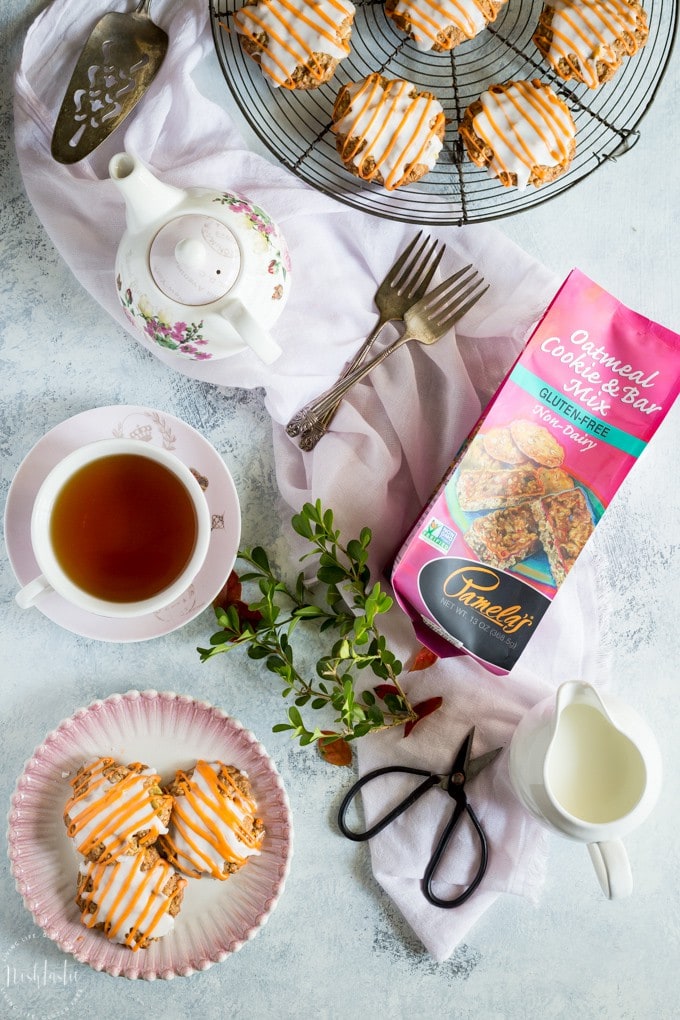 Gluten Free Pumpkin Spice Oatmeal Cookies
This post is sponsored by Pamela's Gluten Free Products, all opinions are mine
I just love the Fall in Mississippi!
It's a wonderful mixture of pumpkin spice and apple baking smells. It's hard to beat the cool crisp weather in the early mornings, even if it's still t-shirt and shorts weather by midday.
At this time of year some of my neighbors have beautifully decorated porches complete with hay bales and pumpkins of all shapes and sizes. I on the other hand, have tried and failed to summon up my inner Martha when it comes to porch decor. I have managed to keep two large hanging ferns on my porch alive all summer despite an almost total lack of care, so I'd say that's a win for me!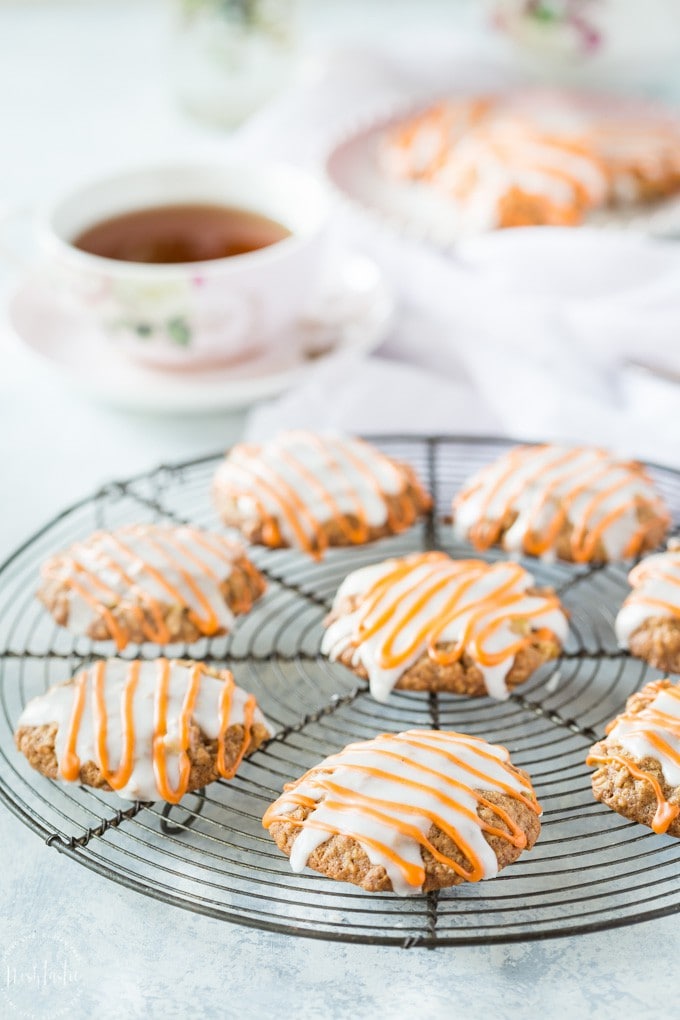 But back the Fall baking smells, you can't get those wonderful smells unless you actually bake something with pumpkin spice and apples, right? Those smelly candles don't count, they're not the real deal folks.
Today I'm collaborating with Pamela's Gluten Free Products on this post. If you've been gluten free for a while then I'm sure you've come across their products in your grocery store, their Chocolate Chip cookies are fabulous and I've eaten them often enough to know!
For this recipe, I'm using their Oatmeal Cookie & Bar Mix to create my Gluten Free Pumpkin Spice Oatmeal Cookies with real apple pieces. They are wonderfully soft and cakey in texture with just a tiny bit of crunch and a gorgeous pumpkin spiced glaze to top them off.
I'm rather particular when it comes to using baking mixes and would not be recommending one to you that my own family wouldn't eat and enjoy, and if they can pass muster with my kids and husband then I know I've found a winner.
I made various different types of cookie with this mix and they ALL were all given rave reviews by my boys. One version had chocolate chips and pumpkin spice mix with a chocolate topping. That produced a much more crispy cookie than the version I'm sharing with you today, so if a crispy cookie is your thing you could try adding 3/4 cup of chocolate chips instead of the apple.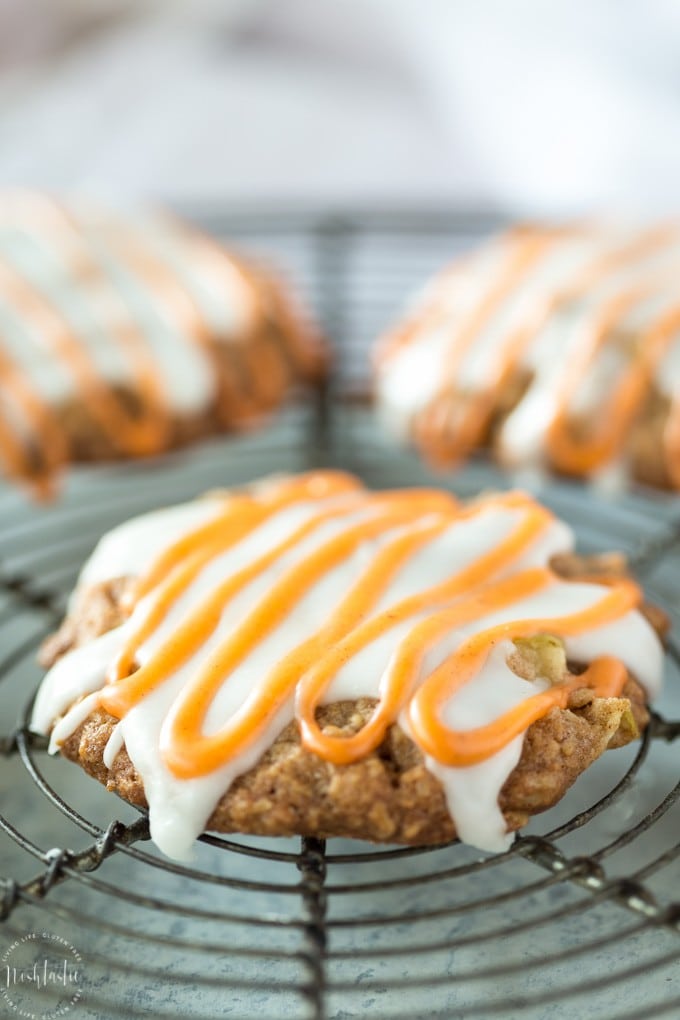 I wanted to evoke the flavors and smells of fall in my cookies so I added  pumpkin spice and finely chopped real apple in combination. Because the apple is not a dry ingredient like chocolate chips it produced a much softer more cake like cookie. I'm not a scientist but I'm sure it's because the apple pieces softened as they cooked and gave off steam producing a softer baked cookie.
What about dried apple pieces? I think for sure you could use those if you can find them, but as I'm gluten free I had to go with what I could find locally. They do have dried apple in my grocery store but the only kind I could find were not suitable for Celiacs due to wheat cross contamination, so I just went with the real thing instead.
I wanted to make my cookies just a little bit more special so I topped them with a vanilla icing glaze and then drizzled on some pumpkin spiced icing, perfect with a lovely cup of tea in the morning!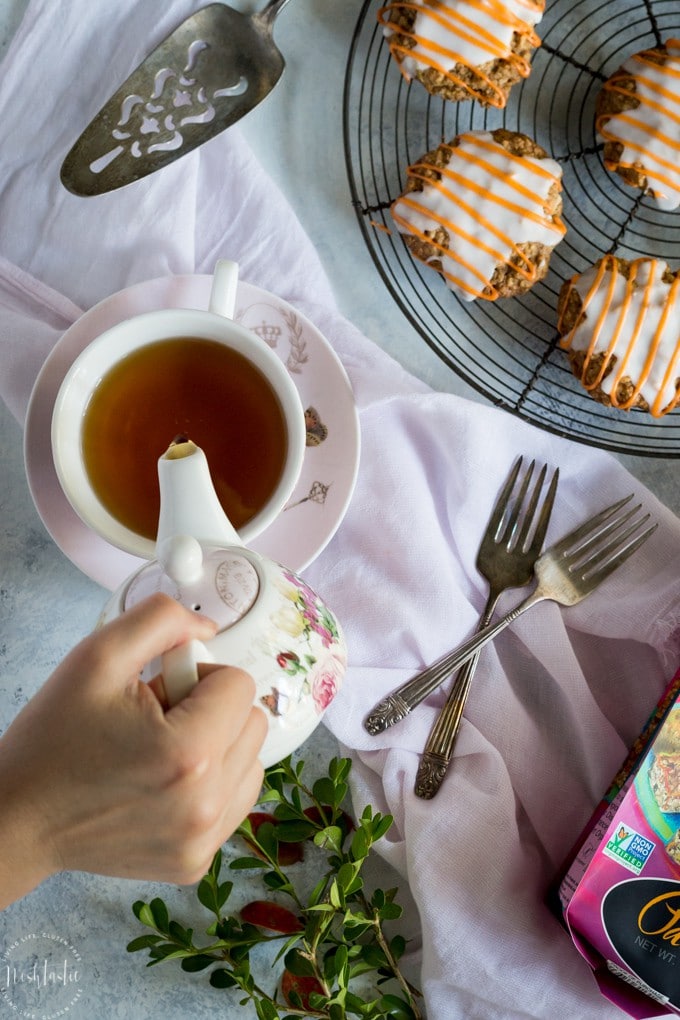 Looking for more gluten free cookie recipes? Make sure you check out my Orange Pumpkin Spice cookies, they are very tasty! I'm also partial to chocolate cookies of all kinds so I know you'll love my Gluten Free Chocolate Chip Cookies with Orange and if chocolate's not your thing then try my gluten free lemon cookies instead.
Or, you could take a look at this lovely flourless Oatmeal Cookie from Dishing Delish or these No Bake Oatmeal Cookies from Gluten Free On a Shoestring, and lastly these lovely Gluten Free Oatmeal Raisin Cookies from Fearless Dining.
Gluten Free Pumpkin Spice Oatmeal Cookies
Insanely delicious Gluten Free Pumpkin Spice Oatmeal Cookies!
Prep Time: 10 minutes
Cook Time: 15 minutes
Total Time: 25 minutes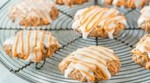 Ingredients
1 x 13oz pack Pamela's Gluten Free Oatmeal Cookie & Bar Mix
1 egg , or egg replacer
1/2 cup butter , or dairy free margarine suitable for baking
1/2 tsp pumpkin pie spice
1/2 cup granny smith apple , cored and chopped very small
GLAZE
2 cups powdered sugar
1 tsp pumpkin pie spice
orange coloring , optional
Instructions
*Please read the notes before you start!*

Preheat your oven to 350F

Add one 13 oz pack of Pamela's Oatmeal cookie mix, egg, pumpkin pie spice and butter or dairy free margarine to your mixing bowl and mix well until fully combined.

Chop the apple with the skin still on into very small pieces, if your apple pieces are too big it makes it harder for the cookie to stay together.

Now add those apple pieces to the bowl and mix until they are evenly dispersed in the cookie dough.

Line a couple of half sheet pans with parchment and using a tablespoon measure approximately two tablespoons of cookie dough per cookie and drop onto the baking sheet, I put six cookies at a time per half sheet pan as they spread out when they are cooking.

If you add apples to your cookie dough you will need to flatten the cookie dough balls on the sheet a bit with your hand before you put them in the oven as I've found they will not naturally spread into a cookie shape as easily with the apple added as they do without it. I also shaped mine just a little into a more rounded cookie shape for the same reason.

I cooked mine on the center shelf of the oven and cooked them in batches one tray at a time, I got 18 cookies from one pack.

Cook for 14-15 minutes then remove the cookies from the oven and fully cool before you move them.

To make the glaze mix 2 cups powdered sugar with a little water (about 1-3 tsp ) to get a runny glaze you can drizzle over the top of the cookies, you want it the consistency of runny honey.

Spoon out about 1/4 of the glaze mix into another bowl and add a 1/2 tsp pumpkin pie spice and a little orange food coloring if desired.

Put all the cookies on a cookie rack over some parchment paper for easy clean up, the icing glaze will spill over the sides of the cookies.

Spoon about 1 tbsp of the plain white glaze onto the top of each cookie and spread it out a little. Using a small spoon or a piping bag with a number 2 tip, drizzle the orange colored pumpkin spiced icing over the top of the white icing and let dry for one hour.
Recipe Notes
1. If you make this recipe with real apple pieces as suggested it will produce a much softer cookie than if you bake them without. This is because the apple adds moisture as it cooks. If you prefer your oatmeal cookies with a little more crunch then you can omit the real apple and add up to 3/4 of a cup of another dried ingredients such as raisins, nuts or chocolate chips, or simply make them with pumpkin spice. You could also try them with dried apple pieces if you can find them.
Nutrition Facts
Gluten Free Pumpkin Spice Oatmeal Cookies
Amount Per Serving
Calories 193
* Percent Daily Values are based on a 2000 calorie diet.
Nutritional information on Noshtastic is provided as a courtesy and is approximate only. We cannot guarantee the accuracy of the nutritional information given for any recipe on this site.